For all except the Ladies 3s and Girls Development, these are the final match reports of the season, they both have a final fixture next week.
Many thanks to Match Report writers for their submissions throughout season. The Writer's Young Writer Award goes to the International Hockey Celebrity Thomas Rutledge.  President Mike Hardy said "he's really not as old, or unfit, as he looks, we are honoured to have such an internationally renowned hockey talent at the Club, we fought off many National League Clubs to sign him, I consider the fees to have been worth every penny because we have him as he is developing into his prime – his grasp of the English language is also quite remarkable".
On the pitch, the highlight of the season has to be back-to-back promotions for the Ladies 1s who progress into East Premier, now just one Division away from National League hockey.  It is exactly 10 years since the team were last at East Premier level and it is the plan to make that the minimum level they play for many years to come.
The Men's 1s concluded the season in a very credible 3rd in Division 2N, finishing with a change in formation and a fine win over the Champions of their Division, Spalding (see match report below).
Several other teams finished in their highest positions in history, as well as the first season ever for the Men's 5s and Ladies 6s.
HOWEVER – for the match of the decade, comeback of all comebacks, 'we will fight them on the beaches' half time teamtalk, the best way to get to a hockey match – check out this week's match report for the Men's 4s.
Mens East League Division 2N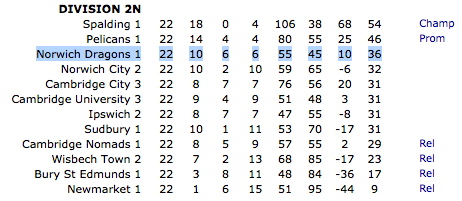 Norwich Dragons 1s 4-3 Spalding 1s

Dragons finished the season in fine style with a sparkling 4-3 victory over league champions Spalding in the sun at the Den on Saturday.  It was a fitting way to mark a celebratory occasion – the match was preceded by the unveiling of a plaque renaming the home bench "The Snelling" in honour of the legendary forward's contributions to the club.
Still without Flatman and shorn of the experience and athleticism of Wagstaff and Gosling, Smith was forced to offer a recall to Overstall and opted for a tactical reshuffle, Turnbull starting in the hole behind Knights and Browne in a midfield diamond.  And the reshuffle paid dividends, Dragons starting brightly with Spalding struggling to track the home side's midfield runners.  Turnbull it was who gave Dragons the lead, Browne turning a delightful ball round the corner for the trequartista, in perhaps his last game for the club, to crash past the advancing keeper.  Spalding replied almost at once, working an overlap down the Dragons right and scrambling the cross home at the far post.  They carried a constant threat on the break, forcing Collinge into two fine saves and skipper Smith into one of the season's more agricultural challenges.  And had Rutledge's lasso not been working the damage might have been worse – the umpire forced into taking action and noting that if the great hook came out too many more times he might just have to take the extreme move of asking that it not happen too many times more.
Dragons took the lead again, though, in what could only really be described as a modern-day miracle, a Boys' Own story for the ages:  Sloman hammered a wild shot miles wide only for Charlish to pop up and steer the shot home with what the uncharitable might describe as a miscontrolled trap.  The clouds parted to reveal choirs of angels singing Hallelujahs; only coach Wagstaff was unmoved:  "as the tallest member of his family, it was time he stepped up."  Again Spalding responded, a mazy run eluding three weak challenges before a brilliantly disguised finish left Collinge stranded.  If Spalding had sensed it might not be their day when Charlish at last got on the score-sheet, they must have known the game was up when he doubled his season's tally inside the opening 35 minutes.  Another inviting ball around the corner from Browne played Sloman in who, instead of finishing properly, chose the harder option of knocking two one-twos off the keeper before pulling the ball back to Charlish to hammer home first time.  After the game, man-of-the-match Charlish explained his belated discovery of a goal-scoring touch:  "I seem to find it easier when there's not a keeper in the way."
Dragons might have been further ahead at the break, Wilkins reverting to his Kylie routine when slipped in down the left and Knights denied by a great save from the keeper with Browne alongside him unmarked.  Instead it was Spalding who equalised for a third time at the start of the second half.  And again Dragons went ahead, an inviting ball over the top from Turnbull pounced on by Knights, once more ignoring Browne inside him unmarked but this time slipping the ball under the advancing keeper.  Spalding had chances to equalise, Collinge defusing a glorious one-vs-one chance and a fierce short-corner strike and relieved to see a very late opportunity glanced wide.  At the other end Knights was denied following a fine turn and drive at goal, Turnbull should have done better at the far post, and Overstall would have laid on a third had he been able to pick up Smyth's inviting cross; improbably, after the game he claimed his legs had been feeling a little heavier than they look.
It was a terrific win against a strong and skilful Spalding side – a marker for next season and a reminder of the standards that need to be reached more often.
After the game Smith was effusive in praise of his players.  Of Overstall, winner of two awards (including the hotly contested annual 'Skinniest Legs' title), he said "he's been a project this year; we've given him a lot of care and a community in which to thrive.  If he can just get his personal life sorted he'll have a law unto himself next season."  On Flatman, winner of the Most Improved award, he observed "the way he contributed in the last two games of the season compared with the first two shows just how far he's come this year.  Next year he might even learn how to dribble."  Of Rich Smith, he said "he's been a rock at the back for us this year – almost literally.  It's a pity he doesn't drink because I made the sloe gin for him especially."  The final words had to be reserved for Overstall, though:  "he's played his socks off this season.  You can't ask for more than that."
—————————————————————————————————————–
Mens East League Division 3NE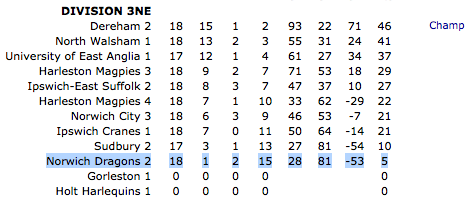 Norwich Dragons 2s 1-2 North Walsham 1s

Dragons 2xi pulled a brave face for their final outing of the Hockey season against promotion candidates North Walsham 1xi. After a commendable tail end to the season which saw inspired performances against Table Toppers Dereham by scoring first and then holding off their strong attack for 60 minutes before going behind, a nail biting game against IES 2xi which was battled to the death of the game with a last gasp goal from the IES captain and a compelling 4 -4 draw against Norwich City 3xi's proving the Dragons team to be no push over and really show team spirit to pick ourselves up from what has been quite an off season and display true colours.
What a match to finish with, North Walsham needing a win to secure their potential promotion where as the Dragons playing for pride and vengeance for the earlier defeat in the season. As seen in the recent weeks Dragons started strong, with a positive mentality and organised structure frustrating Walsham in the early exchanges. Ollie King and Jason Wolfe giving the opposition much to think about with lots of movement and link up play. Walsham haphazardly felt their way in to the game, growing with frustration by Dragons dynamic play tempers were fusing on the pitch leading to cautions being shown by the umpires. Dragons started pressing further up the pitch as their confidence grew. However the deadlock was finally broken by Walsham, who sprung a counter attack by ex-dragon Ben Miles with quick direct play was able to score an individual goal a make the dragons take the game to the next level. Dragons hit back hard with a quick response, delightful build up play from Greame Smith and Simon Long allowed the Dragons to get into the Walsham D. Paul Bullard connected with a first time sweep on the leftside backline through the keeper and into the top corner. Bullard was feverish not sure how to celebrate his first goal for Dragons.
Dragons were able to bring the half to the end at 1-1, Captain Cley Hamilton was emphatic by the way the team had been playing and pushed for the team to maintain their positive display in the half time team talk.
The Dragons continued the second half as they did the first, pressing hard and containing Walshams attack. Wide men Simon Nisbet, Barney Price and Chris Simmonds kept Walsham hot on their toes with great connecting play leading to a series of short corners. Again Walshams frustration was evident and they started pushing men up the pitch to apply pressure on the Dragon defence. Sam Mann was in fine form, plucking out Walshams constant aerial attack and right wing play. Getting into the last 10 minutes of the game, Walsham only had a few roles of the dice left and against the run of play were able to bundle the ball over the line. Dragons kept the push on for the equaliser but with the match drawing to a close were not able to find the net. Match ending 1-2 to Walsham. Dragons man of the Match Sam Mann.
Thank you to all that took part of the Mens 2xi Hockey this year…and I hope you all are looking forward to dusting off your sticks for next year.
—————————————————————————————————————–
Men's East Hockey League Division 4NE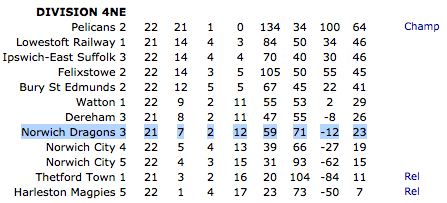 Norwich Dragons 3s 5-3 Dereham 3s

—————————————————————————————————————–
Mens East League Division 5NE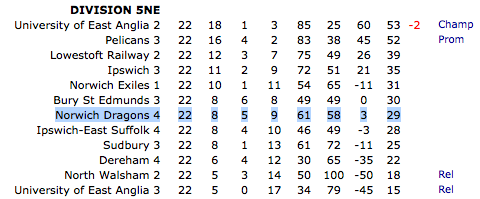 Norwich Dragons 4s 8-6 North Walsham 2s

For the last game of the season, Norwich Dragons Men's 4s let the train take the strain and took the old-fashioned method of transport to a hockey match by jumping on the train at Norwich Station for their trip to Cromer to face North Walsham Men's 2s.
Dragons started the game knowing that they were safe from relegation, whilst North Walsham were desperate for a win to give them any chance of staying up. It showed. Dragons seemed to have left their hockey skills on the train whilst North Walsham wanted it more and were up 5-0 within 20 minutes. By half time they were 6-1 up though a glimmer of hope was given to Dragons by a well-taken goal from Ollie Browne.
At half-time Captain Jon Price delivered the sort of team talk that Churchill would have been proud of.  Field Marshall Moulson suggested a slight re-jigging of the formation and we were off again. Within 5 minutes of the re-start our one goal became two and two became three with the poacher Andy Cross slotting home twice in quick succession. Walsham were starting to get nervous.
With continued drive from the midfield through Garnett Jones, Richard Moulson and Rob Jenkins, Dragons started to believe that they could claw the game back. So when Andy Saunders and Ollie Browne scored in quick succession we were at 6 – 5. Safe to say that Walsham were very jittery at this point. They had every right to be after yet another flowing move that Andy Saunders score his second to draw the game level.
North Walsham now seemed a spent force as they faced wave after wave of Dragon's attacks. Garnett Jones contrived to hit the post and Richard Moulson had a flick saved on the line. Finally with only 5 minutes to go Andy Cross completed an improbable hat-trick from his customary 6 inches out from goal. At 6 -7 Dragons twisted the knife once more with an inch-perfect if slightly pedestrian pass from Player of the Match Chris Wilkinson finding Andy Saunders in the D. He slammed it home to complete a slightly more probable hat-trick and the miraculous comeback was complete.
As we left the field feeling slightly giddy from our win we acknowledged the efforts of our captain this year, Jon Price. The role of captain is often thankless but today (for once) we thanked him and hope that he looks back on a tough but ultimately rewarding season with pride.
Experienced campaigner Mike Banham, who has played more games of hockey than most people have had hot dinners, said he had never played in a game like it.
It was truly the Comeback of all Comebacks (from losing 6-1 at halftime to winning 8-6)
—————————————————————————————————————–
Men's East League Division 7NE

Norwich Dragons 5s: No Fixture
—————————————————————————————————————–
Women's East Hockey League Division 1N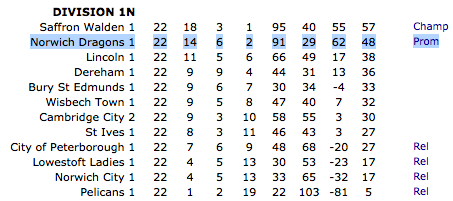 Norwich Dragons 1s 3-3 Dereham 1s
With back-to-back promotions secured for Norwich Dragons Ladies 1s, the last game of the season brought an exciting local derby to the Dragons' Den on Hall Road Norwich.
The visitors hit hard from the start but Dragons remained composed and absorbed the pressure well. The home team took the lead from a short corner. Emily ROLLS demonstrated good composure on the ball, passing the ball to Hannah PALMER who secured Dragons their first goal. Dereham were quick to attack again and Freddie BRISCOE made a great save to keep the visitors briefly in front. However, Dereham were quick to reply and were soon 2-1 ahead.
Dragons dug deep and played some simple and effective hockey. Switching it around they found space on the right and Sarah BORRETT and Olivia THOMAS linked up well.  Some great work from PALMER on the goal line resulted in an inch perfect ball for 15 year old Olivia THOMAS (photo) to pick up on the move and calmly slot into the goal out of the keeper's reach to equalise and give THOMAS her first goal for the Ladies 1s. Dereham continued to show promise in attack with some quality stick skills and linking play allowing them to put away their third goal.
Dragons fought back and started to regain momentum with Marie JAMES and Rachel KING dominating the midfield and causing trouble for the visitor's defence. Another short corner resulted in a beautiful reverse stick cross from Lizzie MOULTON which was put neatly away by Helen KELLY. Dragons continued to push and missed a couple more chances.
Throughout the game both sides played some quality hockey and provided a good game for their spectators.
Norwich Dragons Ladies 1s move into East Premier next season on the back of two highly successful seasons and look forward to bringing more high quality hockey to the Dragons' Den.  The squad has included a great mix of youth and experience throughout the season, with several teenagers playing a key role alongside players that have played National League hockey and represented their countries.
With the quality of coaching on offer, the opportunity for players to train alongside outstanding players and the facility development plans for the hockey centre on Hall Road, the future is very bright for this city centre hockey club.
—————————————————————————————————————–
Women's East Hockey League Division 2NE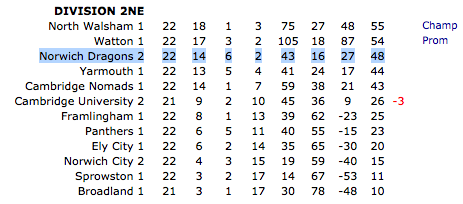 Norwich Dragons 2s 2-0 Framlingham 1s
Final game of the season saw Dragons take a strong squad to Framlingham on a bright warm spring morning. Dragons started the game brightly with Niamh Lowe-Davies looking lively on the right of midfield. The early stages saw Dragons force a number of short corners, however Framlingham defended them well.
Framlingham always looked lively on the attack, counter attacking at pace. Ally Windsor-Waite was having a good tussle at right defender and was ably supported by Angela Murgatroyd in the middle and Ruth Willmott on the left who has looked sharper and sharper as the season has progressed.
Despite dominating possession and playing some patient passing hockey, the goals didn't come before the break.
The second half saw a similar pattern start to emerge, with Dragons building play well through Alice Guest, Debs Smith and Gail Thomas. Aoife Lowe-Davies was becoming more influential in the game too, holding the ball up well and passing in her usual calm manner. Strong runs also came from the lively Sarah Radley and Emma Tabrett, Tabrett making one excellent run on the back line, which she was unfortunate to be penalised for.
It was from this spell that the first goal of the game came, having had a discussion with the umpire, Hannah Hardy was more determined than ever to intercept a defensive hit-out, having picked up the ball, she unleashed a shot from the top of the D which nestled neatly into the corner. From there on it was all Dragons, with strong quick attacks, a second goal was always likely.
Finally this came from another short corner, which Gail Thomas slipped far left, finding Dragons Player of the Match Hannah Hardy in space, her firm push finding a gap between keeper and defender on the line, to force its way in. A deserved second goal for the team, taking the 3pts and ensuring Dragons finished in their highest ever position of 3rd in the league.
Many thanks go to our travelling band of supporters for their support and encouragement this season, and for the many miles they have travelled with us. Also to sideline manager Mike Hardy who has organised and encouraged the team week in week out.
However, final word goes to this fine team for their achievements this season in taking the team to their highest ever position in this League; this team continues to grow and build and that is due to the hard work and commitment shown by everyone. The future is extremely bright for this team and for the Club.
———————————————————————————————————
Empresa Norfolk Women's Premier League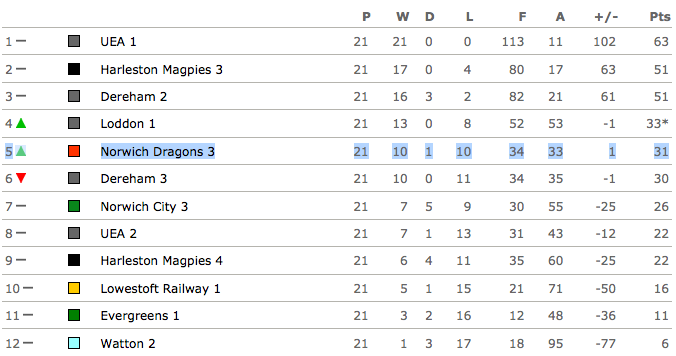 Norwich Dragons 3s 1-0 Evergreens 1s

Dragons were set to end a disappointing run of losses from previous weeks and after a tough yet close match last week Dragons were determined to bounce back, knowing full well that they needed to put 100% effort in to end victorious. The early drive to Holt had team spirits high!
From the off Dragons started strong with solid passes across the pitch, Evergreens were soon put under pressure. The defence worked as a strong unit from the back with Sarah Wagstaff confidently manoeuvring the ball across the pitch with Natasha Falzon making precise passes to Marcy Windsor-Waite. Who, to the surprise of the opposition, was comfortably using her stick skills to pass numerous players attacking the left side of the pitch. Great triangle passing with Hazel Summer put Dragons in the attacking D early on in the game. The chances were coming but Dragons needed that final touch to clench a goal.
Evergreens were putting pressure on the midfield with some quick precise passes. Player of the match Laura Tompson-Wright and Harriet Green fought hard to break down the play. Green particularly efficient at transferring the ball, soon took possession back. Evergreens were particularly good at long range passing down the wings of the pitch, making a fast paced turnover. Keeper Laura Tuck put some fine saves in to keep Dragons in the game, it was only a matter of time till either team was to score. But with captain Amelia Dawson's pre-match talk in everyone's mind Dragons were pushing hard to secure a goal.
With the 'leisurely' stick skills of Tompson-Wright, a drive for the D soon found Evergreens under a lot of pressure. Dragons were building up the passes and fighting for the all-important goal. Attacking the D, Caroline Wolfe was successfully awarded a penalty corner after some cynical challenges. A clinical straight shot from Wolfe on goal put Dragons up at half time.
After positive comments at half time Dragons were more determined than ever. Evergreens had chances to get the goal back but with strong tackles from Abi Cowe, they were finding it hard to break through. Dragons found themselves close to giving the points away as attackers were left wandering the 25 awaiting the long range ball but the defence pushed hard to see the ball out of the danger zone.
Tensions were rising as both teams knew the final whistle was soon approaching. The cliché of 'play to the whistle' was key throughout the game and Dragons kept composure. There were chances to seal the win but it only took one goal for Dragons to take home the three points.
A close game in the end but a great team performance from every player. Proud Dawson could not have expected more. Next week see's Dragons last match of the season with local rivals City. Hopes are high to finish the season on a win.
—————————————————————————————————————–
Empresa Norfolk Women's League Division 1

Norwich Dragons 4s  – NO FIXTURE

—————————————————————————————————————–
Empresa Norfolk Women's League Division 2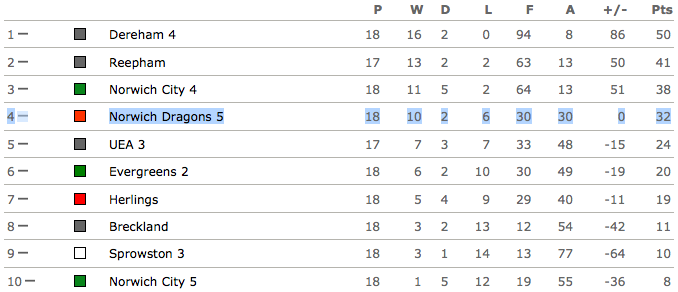 Norwich Dragons 5s 0-1 UEA 3s
A hard fought battle against UEA meant Ladies Dragons 5s lose 1-0 in  their final game of the season in a match which was so evenly matched it felt like it should be a draw.
The pressure was on from this speedy UEA team who had lots of subs and lots of energy. A final match of the season for the Ladies 5s and final game for some players who are moving to pastures new.
The defence of Sarah Nortcliff, Jess Tye Leach and Emma Buxton were immediately put under extreme pressure. Some excellent and speedy block tackles by Emma Buxton prevented some of the danger but UEA were awesome on the break leaving Jess Tye Leach to maturely handle this one on  one situation. Sarah Notcliff used her normal fearless approach to the last tackle quite often saving the 5s from the grips of letting a goal in.  Alice Smith made some good saves and one pretty good lifted ball wasn't too much for her.  It was a real shame that UEA manage to convert their only goal from a deflection but they took their chances well.
The mid field were tired by UEAs tireless battles but under pressure man of the match Rosie Korn showed her normal dexterity and persistence often closing down and taking good chances. Katie Buxton who is a reliable player without whom Dragons 5s would be left lacking in both attack and defence played her normal blinder. Connecting well Charlotte Stace and Rachael Matthews showed again how much their game has moved on this season. Effectively driving the ball up the wing again and again.
At half time Dragons 5s were determined that they would come back from this 1-0 position and shouts from Katie Buxton encouraged the team.
If the first half was the game of defence for Dragons the second half was the game of attack. Dragons were pushing up again and again returning the ball to their attacking D. Anja Finegan in her best game was making some beautiful runs handling the ball well and passing any UEA player in sight. As ever Lisa Harwood was looking very handy in the D and it was a shame her spinning pirouette goal didn't come off. Battling again and again, UEAs defence and keeper were tirelessly deflecting and defending these Dragons away. Lizzy McDonnell shot in a lovely number but unfortunately there was no one of the post to deflect she also fell over but alas there was no goal on the end of it. Winning a number of short corners Sarah Nortcliff pushed up to take the strike however she was unlucky for them not to come off.
Overall despite our loss it is with great pride I write this final match report. Ladies 5s have won , lost and drawn this season but always done it with a smile on their face (apart from the match we do not mention). They have achieved 32 points, zero goal difference 4th position (2 places higher than last year)  in a tough new league created from the upper half of last years league.  Each and every player has been dedicated to the 5s and as a result developed their game and their confidence. #Proud to be a Dragon.
—————————————————————————————————————–
Empresa Norfolk Women's League Division 3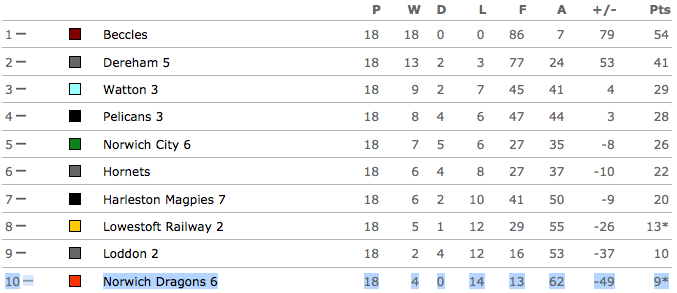 Norwich Dragons 6s 1-0 Watton 3s

It was a very close call, but the Dragons ended their season on a real high by scoring their second win in succession and keeping a second clean sheet as well. The Dragons might like to think it is down to Claire's lucky purple boots and Bridget's magic tape, but in fact at the very end of the season they have at last achieved what they needed – most of the team have trained together for a few sessions and made themselves available for the matches. At last, they are not a squad – they are a team.
One of the changes was goalkeeper Alice Smith, but she knows 6s well and looked very secure behind our much-praised defence. This time it was Lottie Korn and Katie Franks  playing wide, and Jo Eke and Jasmin Daniels giving the solid centre core, seamlessly working out who was going to advance and who would sweep. This time the player of the match award went to Katie, who let nothing and no-one past.
With the defenders playing so confidently and initiating the attacks from the back, the mids controlled the game for large periods. Laura Hansell and Helen Marsh have a good turn of foot, but they may just be eclipsed for speed by Izzy Ferguson and Charlotte Pounder, who time and again got through the Watton defence.  Laura, Helen and Claire Fairhurst are battle-hardened Dragons now and they know that this team never does anything the easy way, and a string of penalty corners (with Laura displaying her new skills as an injector) didn't bring their reward.  But the players' heads did not drop.
If there could be one criticism of our performance, it could be that we delayed the final pass. Time and again we failed to find Claire, Helen and Amy Hunter who were free in the circle. But come to think of it, only a month ago, there would never have been that many Dragons in the attacking circle. The goal, half way through the second half, was even better than last week. Bridget sent the ball through a crowd of players to Laura, who had plenty to do to steer the ball into the top of the net. A fab shot.
After that, Watton redoubled their efforts and the defenders had to deal with a string of penalty corners, with Charlotte in particular outstanding in her efforts to get back to help. But it was the day of the Dragons. Yeee har!
————————————————————————————————————–
Empresa Norfolk Girls Development League

Norwich Dragons 0-3 Norwich City

The whole team played extremely well on Saturday up at Taverham. Our defence was very strong with some very good tackles and passes from Carmel. However when the ball did get through past Carmel, Molly our goalie made some lovely repetitive saves keeping City at bay. Our attackers were also extremely strong all making good accurate passes to drive the ball forwards. Lara played extremely well in the mid-field and upfront making some accurate passes and always being in space when we needed her. It was a very hard game and although it did not end in success with a 3-0 score to City the team played the right way, fought very well and everyone stayed enthusiastic and continued to play very well until the end of the game even through the wind, rain and hail. A very well done to Lara for getting player of the match and a very well done to the whole team for playing so well and not giving up.
————————————————————————————————————–
Empresa Norfolk Boys Development League

Norwich Dragons 1-5 Pelicans
Captain: Andy Carver
Coach: George Walker
We got off to an excellent start having an opportunity within the first 5 minutes but our attacks were soon stopped by their adult and captain. Pelicans consistently broke on the counter and managed to squeeze 2 goals leaving it at 2-0 at half time. With a half time team talk directed by George Walker (Mens 3's captain) we came back strong with attack after attack but we could never get past their adult. Pelican's strong attack broke through us another 3 times leaving the score at 5-0. This would have been 6 if Ben Nkumrah hadn't made a superb re-enactment of superman's flying technique to make an astounding save.  Then through Luke Byrne's brilliant bit of skill he managed to but a great ball into the D for George Bowman to get his debut goal for the development.
POM: Ben Nkumrah