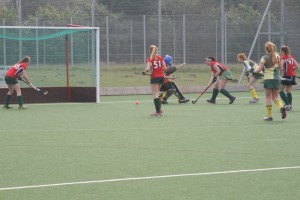 Ladies 3s
Norwich Dragons 3s 1:0 Norwich City 3s
This season's final game was won
By Dragons' thirds at Taverham
Dawson's squad came out to prove
That with the ball they all could move:
Such style and flair, they each did run
On a taxing pitch in springtime sun.
Tenacious spirit and determined play
From end to end on this derby day.
Play switched nicely around the back
With chances galore when City were slack.
A flick was won from a foot on the line;
Laura Tompson-Wright stepped up this time.
It wasn't to be – she hit the post,
And then for a while we seemed to coast.
Then back on form with running at speed
Laura G and Marcy taking heed
Of Amelia's rousing half time speech,
They frustrated City with their awesome reach.
Tash Falzon was our POM today
With tackles calmly on display.
Fluid technique and triangular passing
Tenacious energy, goals for the asking.
At last our chance with two to go:
Goodbun Racing – she's not slow;
Passed to Wolfe at the top of the D
Around the defender, Farrow's free;
Slipped to Sophie, and with her skill
She scored the goal – we won ONE-NIL!
Some photos from the game here.
Girls Development
Norwich Dragons 0:5 Magpies
Captain: Lara Taylor
Player of the match: Lara was player of match because she ran up and down the pitch quite a lot, and had a couple of close shots.
4 Memorable moments:
 Allesdandra made some really impressive saves. Rosie ran really well and was effective at passing the ball up the pitch for others to get it. Mia's defending was really good because she managed to get the ball out of the D a number of times. Issy was great at running up and down the pitch, swapping constantly from defence to attack. Anya was strong in the short corners and had some really hard shots. Rachel was brilliant at short corners and hitting it out very firmly.
 We had a close shot on goal, but it hit the post. Carmel was really great at running out and getting the shots from short corners. Also, Sophie and Megan were good at getting the ball into the D. Lucy was great at getting the ball and taking it up the pitch, but in future we should have a few more people supporting her in the D. Lastly, Catherine was strong at getting the ball off defenders and bringing it up the pitch.
 Everyone tried really hard and gave it their best, but Harleston were really good. Next time I think we should focus on tighter marking and getting to the ball more quickly, In addition, I think we should try and get a few more shots off on goal and keep defending as we did.
Tabba and Abi were very useful because they gave clear and positive advice and were always there to support us in getting the ball. Thank you Tabba and Abi