What is yellow, uses their limbs to make signals and blows lots?
Yep, it's an umpire!!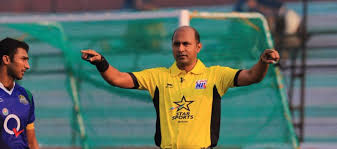 Ok, maybe they aren't always yellow these days, but you get the idea……..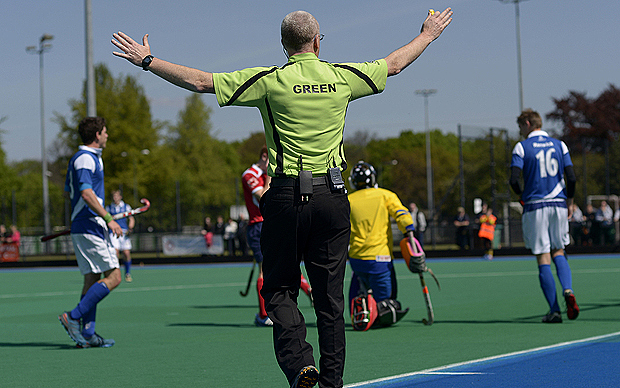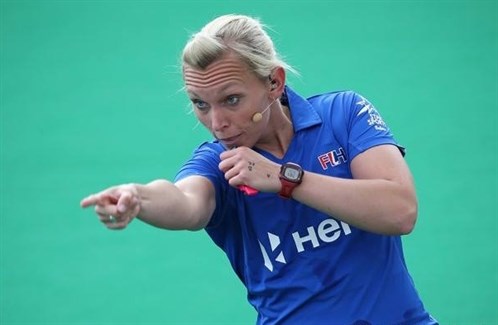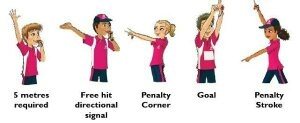 …….and without them there would be no game of hockey!
Our umpires are essential for the success of our sport, we are very lucky at Norwich Dragons to have a fantastic group of umpires that give up their time to help players enjoy their game, however we are always looking to recruit more umpires or develop our existing umpires.
England Hockey have some superb resources to help umpires learn and develop, they are located within their Hockey Hub. Other interesting resources are available across the internet, such as the FIH umpire briefing video used prior to the Rio 2016 Olympics. Also a bit of fun with the signals….
We are lucky enough to have Alan Jones as one of our regular non-playing umpires, Alan has many years of experience umpiring, developing umpires, assessing umpires and various roles running the County's Hockey Umpiring Association. Alan is always happy to give advice, assess or coach umpires.
Alan has produced this helpful guide to one of the main areas that umpires should concentrate on, that is their position on the hockey pitch. Correct positioning will help any umpire make good decisions during the game.
Umpires have their own development path (shown here) which can see an umpire progress through to national level and we have seen several local umpires progress to National League umpiring.
Norfolk Hockey Umpiring Association had a special mention by England Hockey back in 2017, the news article can be seen here.
For anyone interested in becoming a Level 1 Umpire, there are two local courses running in December, on the 2nd at Dereham HC and 9th at Culford School. Bookings can be made via the England Hockey website here.
You can find information about the Norfolk Hockey Umpiring Association here.
Helpful Advice when Umpiring Penalty Corners:
When conducting a PC there is a check list which the umpire should be going through in their mind as it gets set up.
1) Ball placed in the right place.
2) Right number of defenders.
3) Defenders all set with face masks.
4) Defenders with everything behind the goal line.
5) Attackers all outside the circle – watch your back.
6) Other defenders back at the halfway line.
7) Your colleague is ready.
8) Ball injected correctly, feet and action.
9) Ball stopped/controlled outside the circle.
10) If shot is a hit – height of ball.
The assisting umpire is concerned with:-
1) Correct number of defenders over the halfway line.
2) All attackers outside of the circle, no early breaks behind colleague's back.
3) Would any shot at goal have gone between the posts.
4) Height of ball if a hit at goal.
Back to the 'yellow' reference earlier, you will have noticed that most umpires have moved on from being yellow and an array of shirt colours can be seen on our umpires these days (avoiding clashes with playing team colours), Norfolk Hockey Umpiring Association have made arrangements with Birds of Dereham to supply our umpires with green (modelled by Alan Jones below) and orange shirts and jackets, the selection can be found here.