See details below for Club playing kit for adult teams:

Men's & Ladies Red Kukri Playing Shirts

shirts cost £25.50 and all Adult Team players are expected to purchase one these shirts.
The Club owns shirts that are used for the Youth Teams.


Men's & Ladies Bottle Green Socks if you don't have your own, then bottle green with red dragon logo for £5.20 are available. Away socks for the ladies are White and if you don't have your own, then white socks with red dragon logo for £5 can be purchased and some of the men like these socks for training.
Ladies Bottle Green Skorts Bottle green with dragon logo £20.40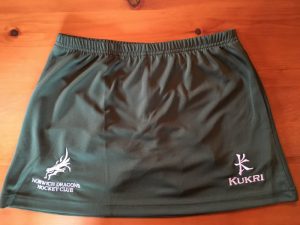 All of the above are available from our Club Kit Officer please email [email protected] with size requirements and to make payment and collection arrangements.
Men's Black Shorts have to be worn for matches these can either be purchased from Coniston (see below) with a Club Logo on them, or any other plain black shorts can be worn.
Men's Playing Shorts
(via Coniston Club Shop)
Shorts
Price From: £11.50
Also available from the Club Kit Officer are our very own Dragons Logo Ties available for £13, for that special Club event or to show you are part of the Club on other smart occasions.
All other Dragons logo training and leisurewear can be purchased from our Coniston online shop here (see below) which allows individuals to order one item to their own requirements with initials or name added. Using this method the Club does not have to hold vast stocks of kit and purchasing is in the control of Club Members, you may wish to order with others to share the delivery costs.
Important Clothing Information: Coniston Orders

All the items in the 'online shop' will bear our logo with a small green Dragon and the words NORWICH DRAGONS HOCKEY CLUB (in white) underneath the Dragon. The logo will be on the left breast of training tops (or on left leg of shorts and tracksuit bottoms). In addition a couple of the items in the shop, can be purchased with a larger white Dragon on the back (approx size 20cm x 15cm) – this option is available for the Hoodies and the Training Tops (shown as 'big logo back').
Also, if individuals wish to add their name or their initials on the right breast on tops (or on the right leg of the tracksuit bottoms), this can be done at an additional cost (at checkout).
IMPORTANT NOTICE
Please allow up to 21 days for delivery, since all orders are bespoke.
Orders will be delivered by UPS or Royal Mail and will require a signature on receipt.
Carriage charge is £4.80 per item, but is capped at £10.20 regardless of how many items are ordered. Coniston use Royal Mail for small packages and UPS for larger orders.
If you have a specific deadline please contact Coniston directly on 015394 41360.