First records of Men's Club Presidents
The first signs of the Club having a President in post date back to the 1949/50 Season.
With the first recorded President being the 1937 1st team captain C.F.Hill, who remained in post until 1962.
1949-50 Season
The message to those in the Men's 2nd XI for this season, was you will get your chance….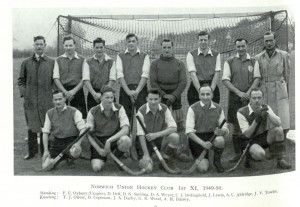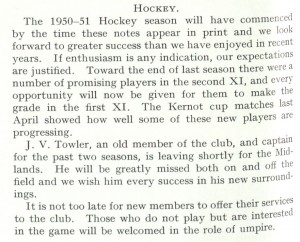 In the photo below we see a selection of those players that made up a very "womanlike" (see article) group of ladies and look at the size of those sticks!!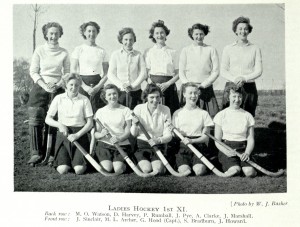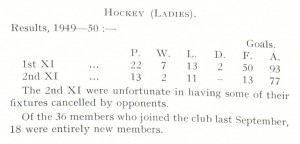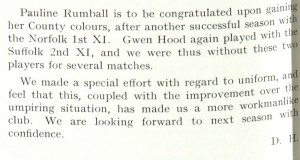 1950-51 Season
In the 1950/51 season an extract from the NU Ladies Hockey Club 'little black book' (below) lists the most regular players as:
J.Howard, S.Bradburn, M.Billham, M.Watson, B.H?, R.Jenkins, M.Richard, P.Page, M.Rackham, P.Quinton. It is interesting to see 'Outsider' played a game on 11 March. As for those match fees……outrageous!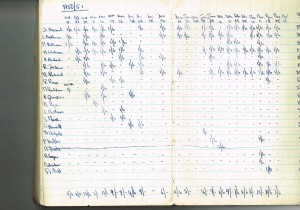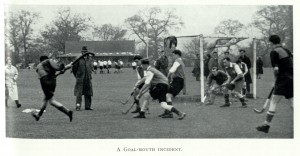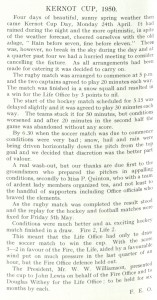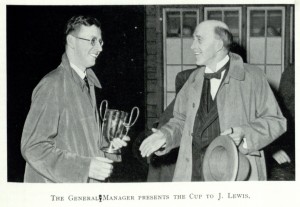 1952-53 Season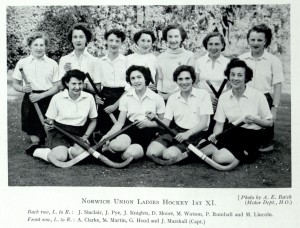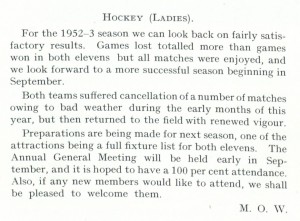 1955 Season
Lively looking Club Dinner on 16th February 1955!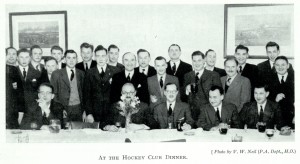 Lakenham Cricket Ground hosts England v Scotland international.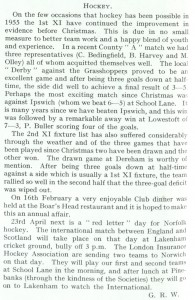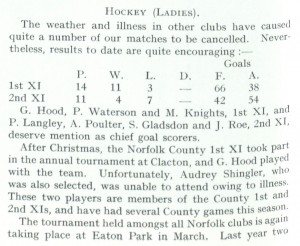 Men's 2nd XI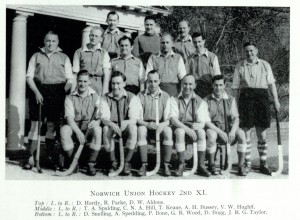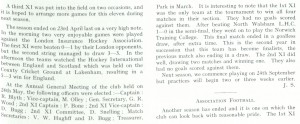 1956-57 Season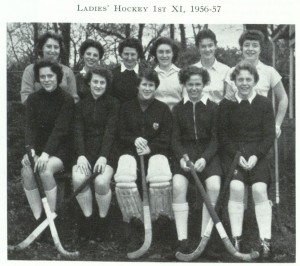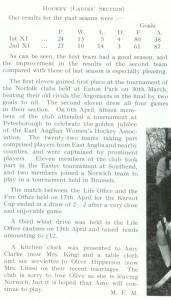 Men: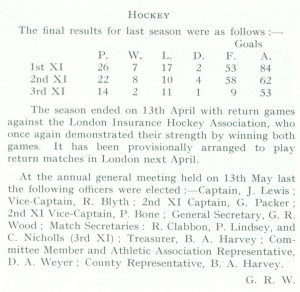 1958 Season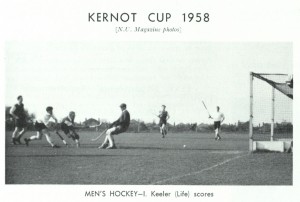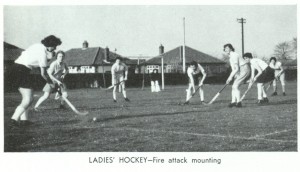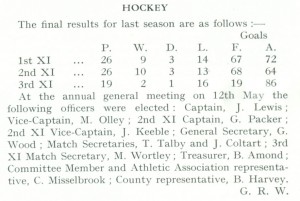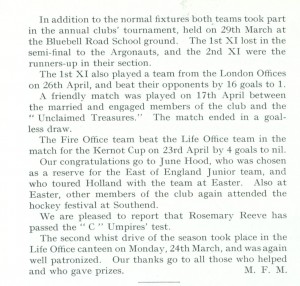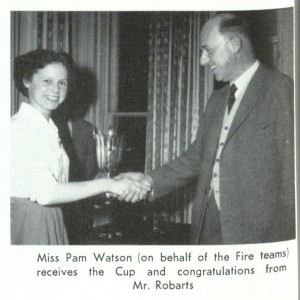 Ladies Training Session in 1958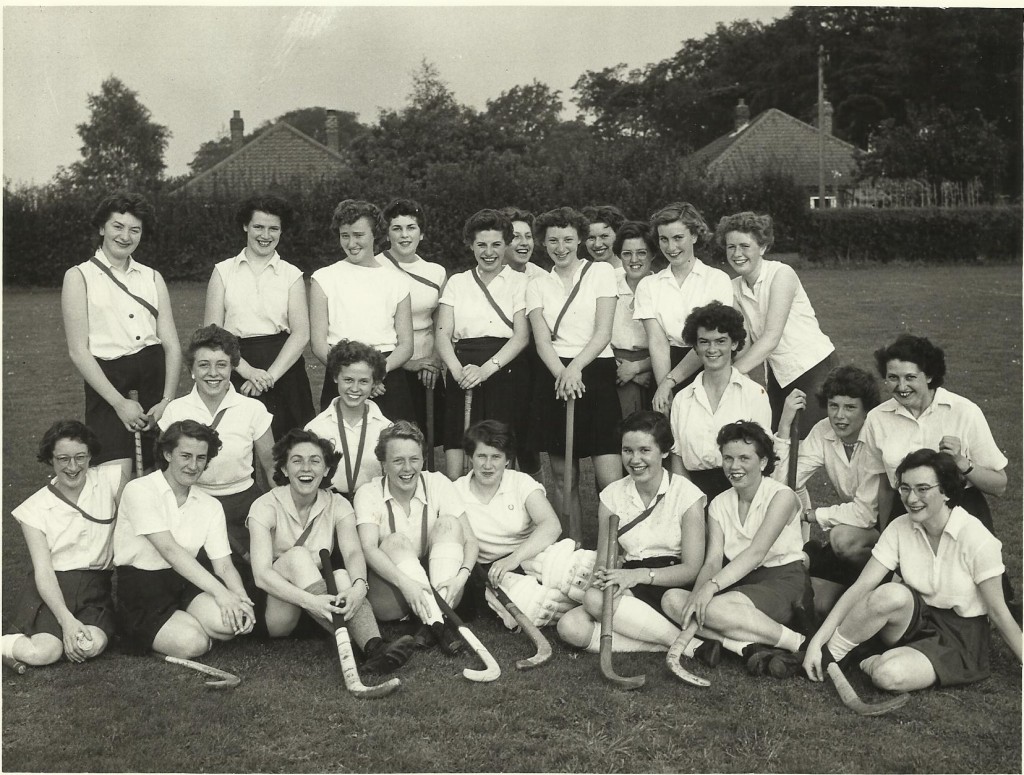 Back row – AN Other, ?? Maidstone; Pam Stratton (Vickers); Sheila Benns (Craske); Yvonne Rix (Noble); AN Other; Myra Berry (Hawtree); AN Other; Cynthia Cooke; Ann Coe (Polley); Jean Hardingham (Summers);
Middle row – AN Other; Pam Waterson (Mace); AN Other; Ann Baker; Amy ??? (became an umpire);
Front row – AN Other; Jean Roe; Mary Kett; Audrey Shingler (Thomson); Mary Leader (sister of Mike!!!); Rosemary Bird; AN Other; ??? Horrex (married to Gerry who also player hockey)
1959 Kernot Cup Fire Ladies Team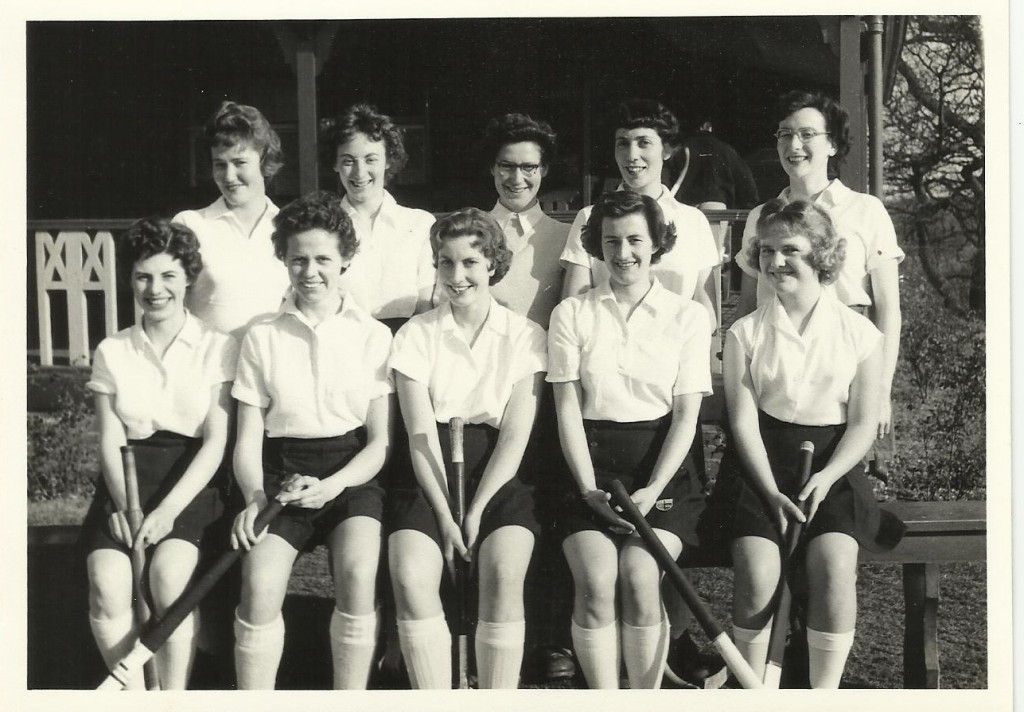 Back row – Pam Stratton; Myra Berry, Connie Ingham; Verna Buchan; ???? Horrex
Front row – Yvonne Rix; Pam Waterson; Ann Coe; Jean Roe; AN Other
1966 Kernot Cup Fire Ladies Team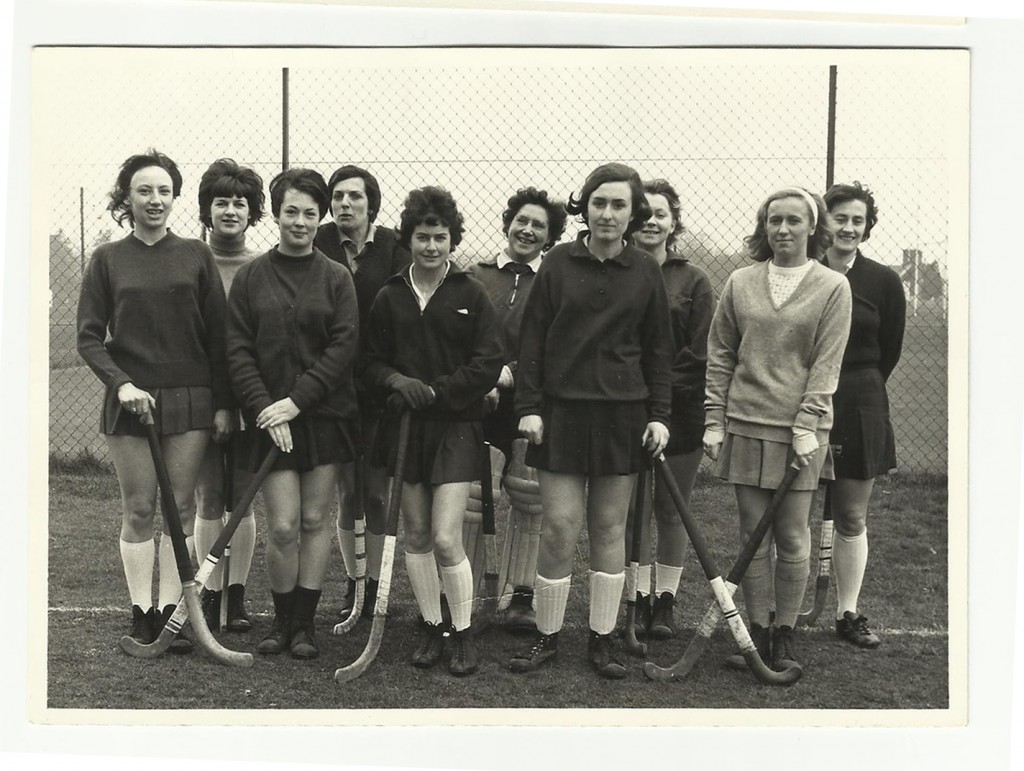 Left to right – Myra Berry; Rita Wickham; Sandra Appleton; Joanie Sparkes; Sheila Hodgson; Connie Ingham; Liz Loades; AN Other; AN Other; Jean Roe
1960 Season