Mens East League Division 2N
Norwich Dragons 1s 1-4 Cambridge Nomads 
Dragons slumped to a 4-1 defeat away at Cambridge Nomads on Saturday.  Already without skipper Ed Smith and the in-form Dave Sloman, Dragons were left to rue Wagstaff's late decision to deny Masterton his league debut when stalwart centreback Rich Smith went down injured early in the first half forcing the side into a defensive reshuffle, stand-in centreback Rutledge swapping wand for battle-axe to make even Overstall look solid in comparison.
Dragons' first half was probably their worst 35 minutes of the season.  They struggled to match Nomads' intensity, gave the ball away cheaply and were loose defensively.  They were lucky to go into the break only a goal down, Nomads finally capitalising on sustained pressure and a series of short corners to hammer one home where Wagstaff had abandoned his post, a rare blot on another good 70 minutes from the veteran.  No doubt the side was rattled by the loss of the composed Smith whose bloodcurdling cry suggested there must have been more to his injury than met the eye.
Dragons were much better after the break, Turnbull stitching things together in the midfield, Overstall prominent as they controlled the ball around the back, and Wagstaff showing unsuspected resources of pace up and down the right wing.  Dragons should have equalised but instead were caught by a sucker-punch, Nomads claiming a controversial goal after a ball lifted into the circle was deemed to have tickled Collinge's pad on its way into the back of the goal.  It was scant reward for Dragons' effort and worse was to come with Smyth shown a yellow card for what must have been a mistimed tackle in the build-up to the goal.  A third quickly followed as Dragons were caught on the break after Rutledge turned the ball over, Overstall prefering to deflect a shot high into the roof of the net rather than to take the easier option of clearing the ball off the line.  A well-worked short corner made it four, a score-line flattering to the hosts on the run of play in the second half but perhaps a fairer reflection of their dominance in the first.  Dragons, though, continued to press themselves and nicked a goal back (scant consolation) when Snelling guided a drag-flick in off the keeper's arm.
On man-of-the-match Overstall's return to form Wagstaff had this to offer:  "I suppose the one good thing about us all playing so terribly is that it at least gave Alex the chance to look like he belongs in the team."
—————————————————————————————————————–
Mens East League Division 3NE
Norwich Dragons 2s 1-6 IES 2
Dragons came up against a strong IES2xi side. With plenty to work on from previous weeks, the Dragons found themselves down at half time with Andy Kelsall managing to score a consolation. A strong team talk brought spirits up allowing dragons to pressure IES through the second half letting only one goal find the back of the net. Once again a strong defensive display from Gary Burgess leading to his second successive man of the match. Time to turn our fortunes around…
The game finished 6-1 Gary Burgess man of the match
—————————————————————————————————————–
Men's East Hockey League Division 4NE
Norwich Dragons 3s 2-6 Lowestoft Railway
—————————————————————————————————————–
Men's East Hockey League Division 5NE
Norwich Dragons 4s 5-2 Bury 3
This week saw our team bouyed from last week's battling performance, even though we were on the losing side, and one determined to start with bang. A number of change had been made with the introduction of Garnett Jones, Andy Hipper and the welcome return of Andy Ives to Saturday hockey.
Dragons started brightly and took the game to Bury from the outset. However it was not until the first round of substitutions that the dragons set out their intentions when Captain Jon Price entered the foray and with his first touch of the ball threaded an unstoppable shot into the corner much the delight or was it derision of the rest of the team.
From that point on there was no looking back as a second was quickly added via a fierce short corner shot from Ollie Browne. Bury had other ideas and pulled a goal back beating stand in keeper Andy Key with a good breakaway goal. Not to be outdone Dragons rallied and Andy Saunders added two fantastic goals from open play after tireless work from midfielders Wilkinson and Jenkins.
Going into half time at 4-1 up the team were keen to work more on good passing and moving as inevitably tiredness would set in. This was duly shown to be the case with many of the players sitting down in the second half! or was that the slippery conditions? The intensity wasnt as great in the second half but Ollie smashed in another short corner to make the score a comfortable 5-1 with time running out. Bury, to there immense credit and unfailing work rate scored the final goal of the match with the best pass of the day, splitting the dragons midfield and defence, finding the left wing who coolly dispatched the ball past a fast approaching Andy Key.
Man of the match – Andy Saunders
—————————————————————————————————————–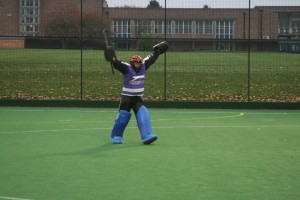 Mike Banham demonstrated what a great Club Man he is at the weekend by putting on the keeper's kit to help out the Men's 5th team.  Mike now claims the record of being the only outfield player to have represented the club, in the pads, for all 5 teams.
Men's East Hockey League Division 7NE
Norwich Dragons 5s 6-0 North Walsham
On a damp day Dragons arrived at the Den missing a few regulars. Fortunately new regulars took their place as the injury list ,Xmas shopping and early pantoes takes its toll on availability.
Mike Banham stepped in between the sticks to complete his secret ambition to have played in all Men's teams for the club across the last 7 decades.
Dragons started well and slowly learnt each others names. Fortunately for Dragons they remembered to use their claws to remain upright as the opposition proceeded to find numerous landmines on the damp surface. The first half saw close affair but it took the inspire substitution of the miss firing golden stick contender by Butler to break the dead lock. After strolling on and locating space Butler slotted home his first league goal. Webb then added this to lead with his first touch of the game completing most of his hockey ambitions with his first league goal.
Buoyed by this at half time and the continued up right nature of most dragons the energy and legs of the dragons mid field won the end to end nature of the second half.
The defence anchored around the 'Rock' Evans eliminated all comers with Franks (has some musician friends) and Davis (Juregen was playing today with his son and grandson)  impressing in their position and ability not to mess up thier hair styles. Lee added to this by seamlessly slotting in when one of the wing backs needed to have a wardrobe moment.
The mid field work of Qunitin (slightly patched up land rover type) , Packham (yes he is quick), Hobdell (thats what i call work rate) and Whitmore (how many times do i need to go round the baseline) was exceptional and set up the win.
The forward line took a while to light up but Butler (no hair to worry about) , Crossman , Bingham (i have my scoring gloves on), Webb (really up front?) and the Green Lantern (Lawrence) final clicked into gear and finished off a fine win.
Goals from Butler , Webb , Lawrence x 2 , Bingham and York-Smith. Again thanks to the umpires and Walsham for a good tussle. Also thanks to those of you who didn't get as full a game as normal and please bear with me as I cope with us remaining top of the league.
—————————————————————————————————————–
Women's East Hockey League Division 1N 
Norwich Dragons 1s 5:0 Cambridge City 2
Norwich Dragons got back to winning ways this week when they travelled to Cambridge. Determined to get three points on the board having only taken 2 from a possible 9 in the last three weeks the Dragons started the game with a high tempo hitting the City defence early and within 5 minutes were awarded a penalty stroke when a goal ward bound shot was blocked illegally. Kate TRELAWNY-GOWER earned the stroke so stepped up only to see her effort saved well by the keeper.
This did not dampen the Dragons positive attacking hockey who pinned City in their own 25 for large periods and created opportunities to score but the City keeper had an excellent match and somehow kept the Dragons at bay.
The visitors had to be patient and waited twenty minutes before finally getting off the mark; Donna VAUGHAN scoring her first goal for the Dragons from a short corner. This settled the Dragons and the second soon followed another short corner scored this time by Rachel KING.
The second half was much the same as the first with the Dragons dominating playing some excellent hockey and having several goal scoring opportunities. Nat BEAL got herself on the scoresheet as she fired home from the top of the D following a short corner routine that broke down. The pick of the goals however was definitely the fourth; Marie JAMES splitting the defence by playing a pin point pass to BEAL in the circle leaving her with the in form keeper to beat; as the keeper came out to close down BEAL showed great skill and composure by lobbing her from the top of the D what can only be described as a fantastic classy finish, a real crowd pleaser. JAMES finished the scoring to make it 5 as she latched on to a drilled pass from TRELAWNY-GOWER and fired into the corner of the goal beyond the keepers reach.
This was a superb team performance by the Dragons in particular Emma TABBRETT who worked tirelessly up front as ever creating space and opportunities for others and again keeper Freddie BRISCOE answered all the questions that City presented and together with the well organised defence always looked in control and confident that the Dragons were to keep a clean sheet.
—————————————————————————————————————–
Women's East Hockey League Division 2NE
Norwich Dragons 2s 2:0 Panthers
Following on from last weeks fine performance against Cambridge Nomads, Norwich Dragons 2's were determined to keep the run of results going against Panthers. With a squad of 14 available this week, keeping the balance of the team is always tricky, with the risk of too much change being disruptive, however Team Manager Mike Hardy did a great job in rotating the players.
The game started with Dragons on the offensive from the word go, with a number of strong attacks particularly down the right, through Player of the Match Olivia Thomas, and Helen Kelly, playing against her old team. Despite a period of intensive pressure and a number of short corners, Dragons failed to trouble the scoreboard. This lead to some frustration and at times a little impatience, with Dragons failing to get their fluid passing game working. Failure to use the full width of the pitch meant at times Dragons became a little predictable.
Despite having the great majority of the attacking play, Dragons Goalkeeper Amy Forse was forced into action before half-time, facing a 2 v 1 against her, she managed to close down the Panthers attacker and prevent a pass, which would have lead to a certain goal.
At half-time, Dragons talked about keeping their shape and remaining patient, whilst using the full width of the pitch to stretch the Panthers defence, who at times had 10 players behind the ball.  With Alice Guest and Gail Thomas in the middle trying to spread the play, Dragons continued to pile on the pressure. Further short corners followed, which Panthers defended well, however eventually Dragons made one count, through a smart one-two between Thomases, Olivia and Gail, with Gail lifting over keeper Sharon Weeks to break the deadlock.
Dragons called for concentration, and largely this was achieved, however Amy Forse was once more forced to make a smart save, coming off her line and kicking strongly, when Panthers broke once again, behind the defence. Despite only having 2 kicks in the game, Amy's contribution was crucial.
With time running down, Dragons continued to press, and with the pressure off a little, one final attack saw Helen Kelly pick up the ball on the edge of the D. A fine goalbound strike by Helen was cleverly deflected just infront of the keeper by Laura Tompson-Wright. A short discussion between the two resulted in Kelly accepting that there was the faintest of touches, by her striking colleague Tompson-Wright!
Whilst not the prettiest 3 points Dragons will have earned, sometimes you just need to win 'ugly' and move on!  This result will stand the team in good stead, as breaking down teams, who are set up very defensively, is never easy, but is an important learning curve for the team.
—————————————————————————————————————–
Empresa Norfolk Women's Premier League
Norwich Dragons 3s 0-1 Dereham 2
—————————————————————————————————————–
Empresa Norfolk Women's League Division 1
Norwich Dragons 4s 0-0 North Walsham 2
Another game where Dragons did everything right, had the majority of the possession and more shots at goal than you can shake a stick at and still that ball would not cross the line!
The game started well with Rachel Hipperson making several excellent drives down the left wing, with Lynne Price and Gemma Rump supporting through the middle. Early shots on goal came from Sophie Farrow, positioned on the post to try and nudge the ball in and Sue Cross with an excellent strike from a short, which was unfortunately too high to count as a goal! Aoife Lowe Davis and Laura Goodbun (PoM) worked well on the right, taking the ball straight down the line right to the end of the pitch before hammering it into the D, again only to be denied by North Walsham's amazing keeper.  North Walsham only had one real break in play during the first half and this was stopped when the forward ran into the ball as she entered the D.
Dragons started the second half with continued vigour, play was so much in our favour that even defenders such as Abi Cowe and Louise Davis were to be found up near the oppositions D, working the ball around and across trying to enable a forward to get the perfect shot. We thought we had it with an amazing strike from Sophie – but alas the pesky keeper dived just in time!  Again North Walsham had relatively few breaks in play and these were stopped early on through good directions from Morag Morrison in goal and by accurate and thoughtful play from Hazel Medler on the left who turned every attack to Dragon's advantage with Flora Gregorie making excellent runs into space to receive the ball.
The game ended a slightly disappointing 0:0 – we will continue to work hard next week and try to get those goals to come.
—————————————————————————————————————–
Empresa Norfolk Women's League Division 2
Norwich Dragons 5s 0-10 Dereham 4
Norwich Dragons Ladies 5s were not on their finest form of the season and Dereham 4s (current leaders of Division 2) were on fire as a slick and well drilled goal scoring machine. This was not a good combination.
The goals for Dereham 4s came thick and fast starting in the first five minutes and continuing pretty much throughout the game. There was some strident & exhausting defending by Harriet Williams, Sarah Nortcliff, Jess Tye Leach & Freya Clogan, however the defensive unit failed to gel as well as they have done in previous weeks and Dereham outnumbered them constantly as they took their chances on the break.
The midfield tried valiantly to move the ball up the pitch but did not seem to have the same energy as the previous week and excellent man marking by Dereham meant balls were not reaching Dragons players. Chiara Bond, Holly Bailey, Katie Buxton and Rosie Korn (Player of Match) tried to cover ground however a mixture of experienced and nippy Dereham players kept coming back at them. Rosie Korn's Player of the match was deserved as she never gave up and showed her growing maturity in the face of adversity.
4-0 at half time the Dragons tried to step up their game and there were moments of their normal playing standards however this was quickly closed down by Dereham who then skilfully took their chances with some beautiful shots at goal. Dragons forwards (Lisa Harwood, Lois McGregor, Izzy Woodcock and Lizzy McDonnell) tried to push forwards and made a few plays however they could not get near the D apart from one short corner from some hard work from Lizzy McDonnell.  Dereham continued to score some excellent in play goals and convert every short corner with exacting aim and pace on the ball.
Dragons tried to remain in good spirits but were deflated, however I have no doubt that this punishing 10-0 defeat will make these Dragons 5s stronger and more determined for next week and we shall return to our normal high spirits and form which makes being a Dragons 5 such a pleasurable experience.
—————————————————————————————————————–
Empresa Norfolk Women's League Division 3
Norwich Dragons 6s 0-6 Dereham 5
Dereham are flying high in the division, and duly achieved a significant win over a predominately young Dragons side, but it was by no means a 'thrashing'. Availability fell kindly for the 6s this week, and they not only had plenty of players, but they also had some of the stronger players from last year's development team who are not usually available for club hockey. Mimi Stannard was outstanding at centre mid – winning tackles, distributing the ball beautifully and keeping up a high work rate. She shared the player of the match vote with defenders Beth Elgood and Katie Franks. The defenders, including Jasmin Daniels and Flo Pond, were very determined to keep the speedy Dereham forwards at bay, and with Alice Smith gaining in confidence in goal every time she plays, Dragons were about to go in only 2-0 down at half time when Dereham took their third. The Dragons midfield, with Laura Hansell matching Mimi for determination, had an excellent spell at the start of the second half, with Georgie Randon and Sophie James linking with the forwards to give Sarah Norman and Lucy Bracey chances to show off their speed. Claire Fairhurst dropped deeper to link in turn with Ciara Willmott, Amy Hunter and Jasmine Mansfield, and whoever else was rotating, but it was Beth who inspired the best move of all with a run from deep into the attacking third.
Once again, it was in the last third  where Dragons still lack a final pass and they need a few more flames in the attacking circle, but this was a very encouraging performance with a far better team understanding between players. We hope we will see Mimi, Georgie, Flo and Sophie again before too long.  The dev players – Laura, Katie and Lottie Korn (unavailable this week) –  have already staked their claim for regular places.
Dereham, who have what they like to describe as a 'predominantly mature team' were very complimentary about our young players and we complimented them in turn for playing happy hockey and scoring two excellent penalty corners. We hope to push them closer on the return, and perhaps not suffer so many self-inflicted wounds by using our sticks to protect our feet! We hope Georgie gets her dancing toes back in time for her musical next week.
————————————————————————————————————–
Empresa Norfolk Girls Development League
Norwich Dragons P-P Pelicans
————————————————————————————————————–
Empresa Norfolk Boys Development League
Norwich Dragons: No Fixture
————————————————————————————————————–