A squad of 17 Young Ladies from Arundel School, Harare, Zimbabwe came to Norwich, as part of their tour of England, to play Norwich Dragons Under 18 Girls.  On Monday evening the girls were given a coaching session by Norwich Dragons HC Ladies Head Coach Pete Thomas and got to know some of the young Dragons prior to the match on Tuesday evening.
The home side certainly had the advantage of being used to the weather in Norfolk at this time of the year with cold, wet, wind and sleet playing a part during the game and managed to secure a 4-3 win in a close match.
The visitors have been in England for just over a week playing fixtures in Devon, Gloucestershire and Berkshire, suffering their first defeat of the tour in Norwich.
With sleet and freezing temperatures to contend with, the Arundel Girls did themselves proud and went 2-0 up in the first half before the home side were able to bring the scores level at 2-2 by halftime.  In the second half and the worst of the weather conditions the visitors took the lead again, only for the home side to rally to bring the score to 3-3.  With just a minute left of the match a penalty flick was awarded to Norwich Dragons, which was slotted away to make sure of the 4-3 win.
The visitors have one more match at Dereham HC before heading home on Saturday to temperatures of 27C!!
Norwich Dragons Squad: Alice Smith, Sophie Thomas, Niamh Lowe-Davies, Polly Watson, Olivia Thomas, Pip Howes, Marcy Windsor-Waite, Aoife Lowe-Davies, Carmel Windsor-Waite, Lara Taylor, Issy Wolfe, Sophie Farrow and Sophie Wood.
Photos from the match can be found here.
40 years ago the Zimbabwean Men's National Team came to Norwich to play against an England side and Norfolk.  The Norfolk team included a number of Norwich Union players, including the late John Morgan in goal who ensured the Zimbabweans didn't score in the Norfolk side's 1-0 win.  Just like the Girls' match last night, the Norfolk team had a penalty flick awarded to them, however 40 years ago the flick was fired high and wide.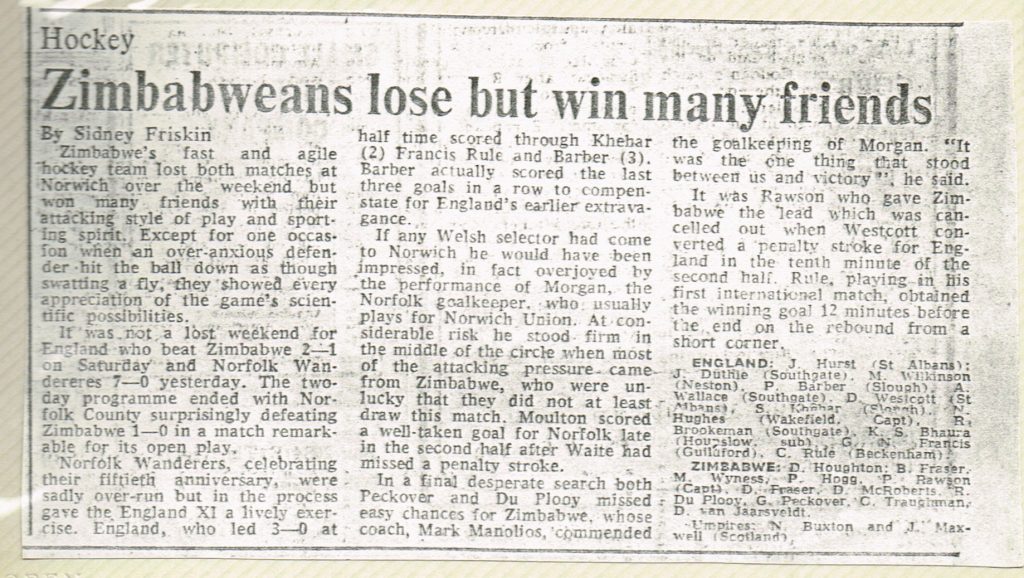 Newspaper reports courtesy of David Gill Archives