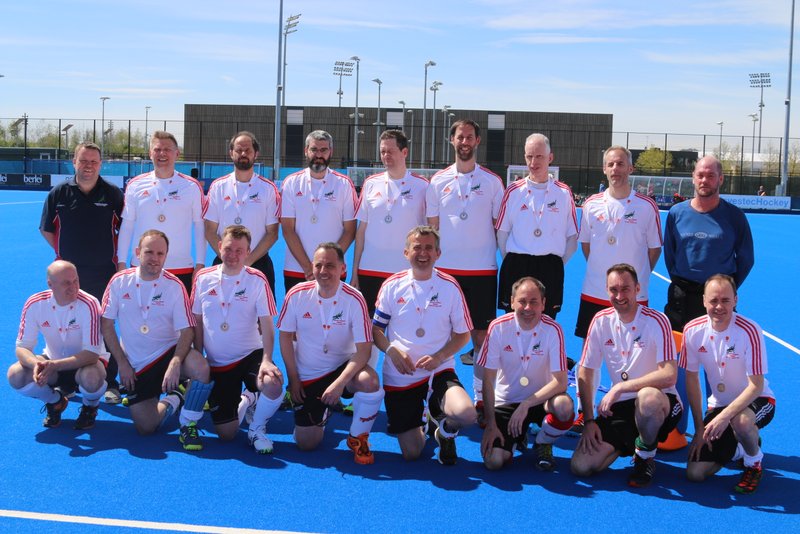 Back to back EH Men's Masters Over 40s Shield Finals is a fantastic achievement for the Norwich Dragons squad under the leadership of Jon Price. Unfortunately the gold medal still eludes the group.
This season they managed to go one better than last by finishing all square with opponents Wisbech.  Rob Wagstaff fired Dragons ahead on 19 minutes from a rebound off the keeper after his original short corner shot.  14 minutes later Wisbech were level after a reverse stick strike was deflected beyond the out-stretched Giles Brooks. 1-1 at halftime.
14 minutes into the second half and Wisbech were claiming a deflected short corner, which the nearest umpire gave as a goal, however he was unsighted to the ball hitting the Wisbech attacker in the body.  The umpires consulted and the goal was correctly disallowed.
With just under 10 minutes to go Wisbech found the net with a legitimate strike fired beyond the approaching Brooks.
Tense times ahead for Dragons and their huge travelling support, however with just 2 minutes left on the clock they were awarded a short corner, up stepped Rupert Snelling to fire a drag-flick home to level the score at 2-2.  Adding to the tension, from the pushback Wisbech won a short corner, however Brooks made another great save to keep them out.  The final whistle blew to signal penalty shuttles.
Shuttle 1 Dragons = Rupert Snelling a diving save by the keeper.
Shuttle 1 Wisbech = Resulted in a penalty flick which was converted.
Shuttle 2 Dragons = Rob Wagstaff beat the keeper only to see his shot hit the post.
Shuttle 2 Wisbech = scored
Shuttle 3 Dragons = Jason Wolfe's attempted lob over the keeper was saved.
Shuttle 3 Wisbech = Saved, however Wisbech slotted the rebound a split second after the hooter, no goal.
Shuttle 4 Dragons = Pete Thomas took the keeper one way and then scored on the reverse.
Shuttle 4 Wisbech = Saved by Giles.
Shuttle 5 Dragons = Tom Rutledge took a quick shot and fired into the back of the net.
Shuttle 5 Wisbech = Drove wide and slotted away to win 3-2 on shuttles.
Photos from the day available here and here or the Walkon video here.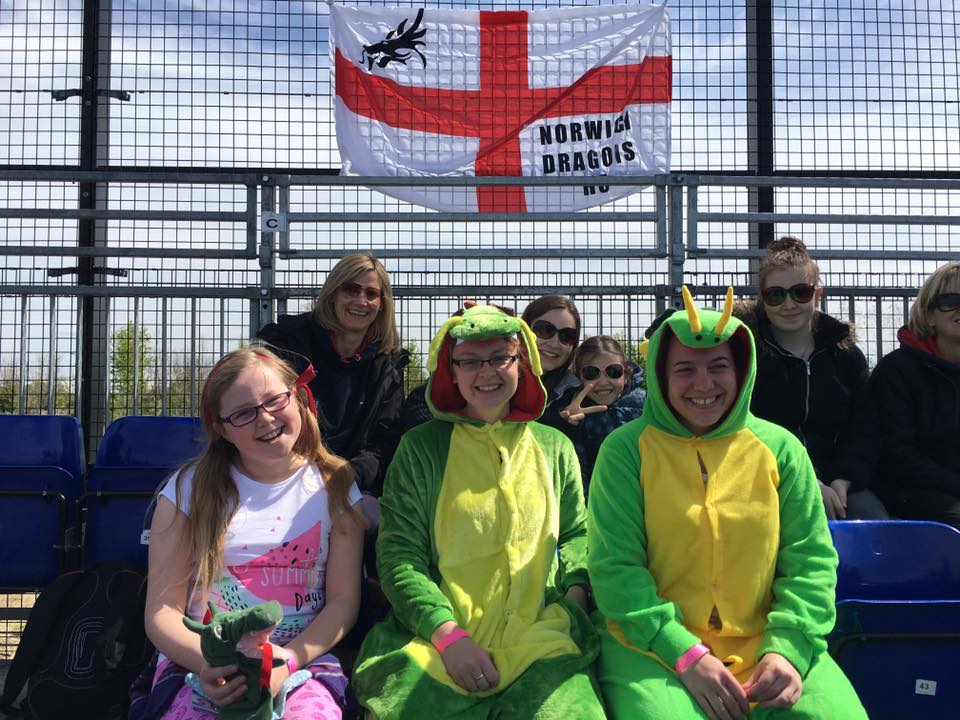 England Hockey write up:
Mens Over 40s Shield
Wisbech Town (1) 2
Brad Apted FG
Brad Apted FG
Norwich Dragons (1) 2
Rob Wagstaff PC
Robert Snelling PC
The local Norwich derby didn't disappoint as Wisbech came away crowned O40 shield winners after a dramatic shootout win.
The game was end to end with neither side having much luck in the circle. Norwich Dragons were first to break deadlock with a well worked penalty corner routine finished off by Rob Wagstaff to give them the lead. The Red shirted side drew level as Brad Apted scored a great solo effort tricking the defence as he drove into the circle on his reverse for Wisbech Town just before half time.
In the second half Wisbech thought they had taken the lead through Sam Markillie however after a brief umpire discussion the goal was disallowed due to the ball going in off his body. A great interception from Apted from a defensive error led him to drive along the baseline to knock it under the keeper to give the reds their second goal. In the last minutes of the game Dragons pulled one back as Robert Snelling's drag flick rocketed into the netting making it 2-2.
Neither side looked overly happy that it had gone to a shoot out but they stepped up with some interesting techniques on show. Nick Osborne clinched the winner on the fifth attempt with the final score 3-2 to Wisbech Town.
Nick Osborn captain of Wisbech Town HC
'That was a relief! It was a good game, we have played these guys a couple times before so it was a real local derby. They knew about us and we knew about them but the guys did really well to come back from 1-0 down, 2-1 then obviously conceding the goal so it was nervous times. We have been had two runners up before so third time luck for me. We are wearing black arm bands after our ex first team manager Ian Bradshaw who passed away a few weeks ago.'
Link to EH Reports here.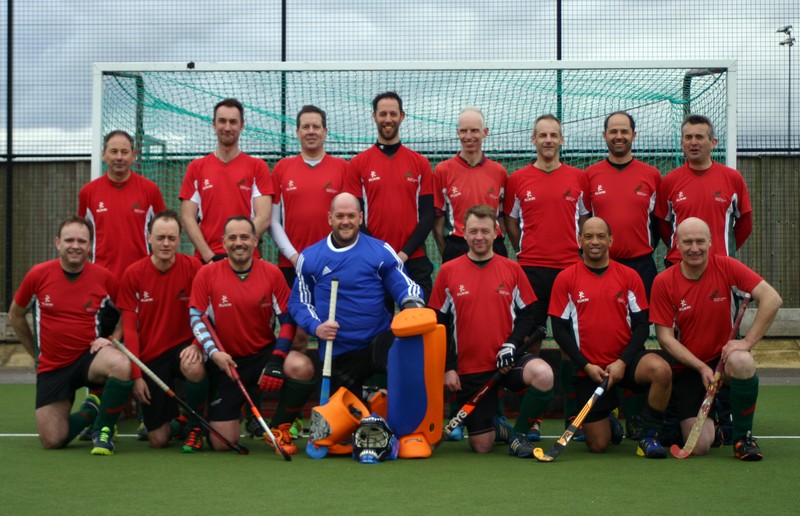 2014/15 Season
Runners up last season to Taunton Vale, for a trip down memory lane click here for last year's final details.