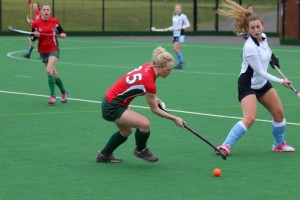 Women's East Hockey League East Prem
Norwich Dragons 1s 2-3 West Herts
Dragons faced another tough fixture this week when they played hosts to West Herts who are clicking the heels of the leaders Cambridge.
The Dragons started the stronger of the two teams taking the game to the visitors;  they were organised, disciplined and played some attractive attacking hockey creating 4-5 good chances to take the lead. Before the game the Dragons had talked about the threat that West Herts presented going forwards and the visitors proved just  how dangerous they are by taking the first chance they had which was arguably against the run of play.
The Dragons did not let this dampen their positivity. They were equal to the visitors and got a thoroughly deserved goal through, player of the match,  Kate TRELAWNY-GOWER taking her first chance of the match by drilling the ball home after a brilliant run and cross from young Dragon Olivia THOMAS.
The visitors scored a second just before the break,  an early unexpected sweeping strike by Louise SMITH from the top of the D left Dragons keeper unsighted and wrong footed.
The second half was as exciting as the first with end to end play and fast flowing hockey. Some great work in midfield by Sophie MULLAN who returned to the squad from  injury, clearances off the line by Sarah RICHARDS and some great clearances by Dragons keeper Siobhan CLEEVE kept the Dragons in this match but as they pushed forwards for an equaliser they took another set back  by West Herts securing a third.
The game was played at a fast pace, was competitive and hotly contested; at one time in the second half it was 10 against 10 as two yellow cards were shown in quick succession. The Dragons fought bravely throughout and with three minutes to go TREWLANY-GOWER got second, an outstanding individual effort saw her skilfully glide past  the visitors defence before burying the ball in the corner of the goal.
The last minutes were nervous moments for West Herts who kept tactically kept possession of the ball without making progress to run the clock down.
The match ended 2-3 to the visitors but this was an excellent performance by the Dragons who proved that on their day they are not far from the top guns in this league and in truth were unlikely not to take something from this match.
For more photos from this game click here.
—————————————————————————————————————–
Women's East Hockey League Division 2NE
Norwich Dragons 2s 2-0 Norwich City 1
First against second in Div 2NE was always going to be a tight affair, with City having conceded just the one goal so far this season and Norwich Dragons with a strong goal scoring record and having won every game so far this season.  With top scorer Laura Shreeve still missing from the squad, due to her broken hand, Dragons were keen to consolidate their lead at the top, both for themselves and for their fellow injured Dragon!  The team came out early, looking forward to the top of the table encounter…….infact with a delay to the previous game they were a little too eager, so returned to the warmth of the dressing room, to discuss in further detail their 'new moves'.
Once out on the pitch, it was clear that everything they had talked about was being put into practise, with every player fully understanding their role within the team and carrying out their plan exactly as requested. Dragons had some good early possession, which helped them adjust to the pitch. Dragons Player of the Match, Marcy Windsor-Waite who has been struggling with injury had an outstanding start to the game, both in attack, but particularly in her defensive duties, where she was exceptionally strong in the tackle. In addition, the Dragons midfield were superbly marshalled by Karen O'Neil-Simpson and Gail Thomas, who worked tirelessly to breakdown everything coming through the middle, yet also supporting the forwards when in attack. Both Hollie Limmer and Hannah Ellis also give everything in their roles in the midfield, breaking down play and providing some excellent balls for the willing forward runners.
City had a couple of quick breaks and from one, earned a short corner – their routine saw a good strike to right post, which was expertly taken off the line by Ally Windsor-Waite, who watched the ball all the way, and glanced it wide of the post – superb reactions to keep the scoreline at 0-0.
With Emma Tabrett, Aoife Lowe-Davies, Hannah Hardy and Natalie Beal covering every blade of the 'H20' pitch, Dragons were always on the front-foot, putting constant pressure on City when they were in possession. From one of their spells of possession Dragons earned a short corner of their own; with Hannah Ellis's firm injection, Natalie Beal stopped for Emma Tabrett to unleash her drag flick, which found the roof of the City net. The rest of the half continued in much the same vein – with Dragons as a team, being relentless when out of possession.
Dragons adjusted slightly at halftime, looking to control their passing a little better but retaining their high workrate off the ball. The defensive line were working excellently once again – with Freddie Briscoe dominant in the Dragons goal and Ally Windsor-Waite, Angela Murgatroyd and Sophie Thomas combining expertly as a defensive unit, to ensure any threats on goal were efficiently dealt with.
Midway through the second half came the moment that sealed the points for the league leaders. Dragons again put the City defenders under pressure high up the pitch, with Aoife Lowe-Davies robbing the defender 40 yards from goal. From here, she ran at pace towards the target, taking the ball to the left of the goal, before darting to the right to draw the keeper and calmly slotting the ball into the back of the net.  A calm and classy finish from a very mature 14 year old Dragon. The visitors were visibly buoyed, whilst the home team appeared deflated.
The remainder of the game was played out in similar fashion – not the free flowing hockey Dragons have enjoyed in some of their games this season, but a battle which needed to be won and won it certainly was! To a player, Dragons carried out everything that was asked of them and perhaps just that little bit more! A result and performance that this fine squad of players should be proud of and one which takes them a win away from what would be well deserved Champions of the Division.
The squad expresses their thanks to all who made the trip to Taverham to support them – this was very much appreciated and demonstrates the pride in Norwich Dragon Hockey Club from players and supporters alike.
—————————————————————————————————————–
Empresa Norfolk Women's Premier Division
Norwich Dragons 3s 5-3 Diss
Inspired by our 17 in a row win-lose-win streak, and the Oscar winning musical genius of Tim Rice and Elton John in The Lion King (I Just Can't Wait To Be King)
We Just Can't Wait To Win-Win
We are the Dragon's mighty 3's, so enemies beware!
Diss had a different thought this week
With forwards everywhere
Debs Smith (PoM), she was the main event
Like no midfielder was before
Rushing up and rushing down
Two goals she did score
Score at half time a rather uninspiring thing (2-2)
Oh, we just can't wait to win-win!
Falzon (Natasha) saying do this
Falzon saying be there
Falzon saying stop that
Falzon saying see here
Farrow (Sophie) to run around all day
Christina (Murgatroyd) saw Diss shots away!
Goal one it came from Watson's (Polly) slap
Slip right from Wolfe (Caroline) to Debs
Goal two from Thompson Wright (Laura)
Who took on all of the Diss defence
Wolfe with three and Cross (Sue) with four
We finally went ahead
Out of position, out of formation though
The game not put to bed
Three goals Diss did rightfully win
Five a goal for Debs from Falzon up the wing
Oh, we just can't wait to win-win!
For Harry (Green) look left
For Hazel (Sumner) look right
Everywhere you look Geo's (Beckwith) —
Standing in the spotlight
Bruce (Laura) and Wagstaff (Sarah) held strong – fine tackling
Let's hear it from the team and those supporting
Next week will break the curse of win-loose-win
Oh, we just can't wait to win-win!
Oh, we just can't wait to be win-win!
Oh, I just can't wait…
To win-win!
Final Score 5:3 win to the Dragons 3s

—————————————————————————————————————–
Empresa Norfolk Women's Division 1
Norwich Dragons 4s 0-4 Lowestoft Railway 1
After two weeks away from the pitch Dragons struggled to find their previous winning form on the pitch today. Although we started well and made some great initial attempts at getting into the D the old problem of not being able to get a clean strike at goal hampered us throughout the match.
Amelia Dawson and Charlotte Pounder made some great initial attacks and drove the ball into the D, but it was already packed with Lowestoft defenders and there simply wasn't room to manoeuvre the ball into a useable position to get a clean shot. Lowestoft were exceptionally quick on the break and in the end this is what allowed them to win the match so decisively – each of their 4 goals came from quick breaks in play resulting in almost empty Ds and clean shots on goal. Laura Tuck worked hard in goal and stopped the score from being considerably higher.
Gemma Rump (PoM) and Louise Davis worked hard through the middle and played some lovely balls out wide to Mel Widdows or Chelsea Crawford, but the Lowestoft midfield and defence were quick and well trained, slowing play allowing their team to reset and swamp the ball. Although short corners were awarded in Dragons favour nothing was to come from them. Katie and Emma Buxton worked well as a pair and created some lovely triangles down the right, with Emma battling particularly hard throughout the game to win every ball possible.
The defensive team had to work hard throughout and did particularly well in short corners, stopping all 5 that were awarded, quick running out from Freya Clogan and Abi Cowe stopped all balls from coming near the goal, though Abi suffered from a nasty ball to the foot in the process.
Taking a turn up front Sarah Moore moved with pace through the middle and again worked the ball time and again into the D, but without the breaks in play it was a scrabble on the goal line rather than a clean strike that resulted each time. Dragons were unlucky to not see a single goal from this match as the score line makes the game seem more uneven than it was.
—————————————————————————————————————–
Empresa Norfolk Women's Division 2
Norwich Dragons 5s 0-1 Beccles
Norwich Dragons lose 1-0 against Beccles in a hard fought battle. Beccles played some wonderful hockey making light work of some long hard balls through the middle of the pitch. The result was unfortunate as it did not represent the possession that we had throughtout. Anja Finegan (Man of the Match) did some excellent runs and quick passes. Working well with Rachael Matthews the pair are hard to beat. The defence (Bella Capps, Jess Tye Leach and Jade Blanchflower) closed down Beccles quickly in an extremely physical game. Jess Tye Leach commanded the defence showing her maturity on and off the ball. Carmel Winsor Waite continues to show a developing and rare confidence for someone her age at bottom of the diamond. She closed down attempt after attempt and distributed the ball well. The goal was one of those 'how did it happen moments' as it slowly moved across the line.
An extreme number of challenges just before half time for the defence and Christina Murgatroyd led to some sliding action and some excellent saves. Unfortunate events just before the half time whistle, meant Beccles were awarded a flick following a Beccles player toppling Christina to the ground and trapping her there. Christina is not one to be beaten, she recovered her blow to the stomach to stand up to the flick and save it convincingly leaving the score at 1-0 to Beccles much to the satisfaction of the whole team.
Dragons tried to up the pressure in the second half with Ellie James and Alice Whitmore showing their improved play as they slotted right in. Distribution of the ball from the middle was excellent as Alice showed what she could do at top of the diamond. Ellie James made some great balls on the right and slotted a near perfect ball to the top of the D. Chiara Bond always made her presence known tackling back and driving forward all in one swift action. Alas we held off any more Beccles goals but we could not capitalise. We needed more fire up front, Megan Farrant and Lisa Harwood both made attempts but to be cleared quickly by an experience Beccles defence.
Beccles were an experienced and well drilled team. They made light work of their efforts and capitalised when necessary. Dragons 5s showed some of their best passing all season but we just need to finish !
Empresa Norfolk Women's Division 2
Norwich Dragons 5s 3-0 City 5s
Norwich Dragons 5s were victorious over Norwich City 5s in their second game of the weekend. Player of the match (double player of the match this weekend) Anja Finnegan showed that she could put in the hardyards with great work rate. The other half of the dynamic duo Rachael Mathews created opportunity after opportunity. The delight on her face when she succeed in planting the first goal of the game home was a delight. Excellently worked by Issy Wolfe finished by Anja Finnegan with a  classy shot on the reverse stick . A little work for the defenders was dealt with well but also meant they could push up when the time was right.
A rolling 15 players meant that there  will be too many to mention individually today but ultimately the team work by all meant that we really showed what we could do. Following Satuday's game Dragons built on this to show they could have fire up front as Anja Finnegan placed another goal expertly  after a beautiful set up by Carmel Winsor Waite. Issy Wolfe was unlucky to not score as her shot was extremely good but it was cleared away by City's keeper. A final goal from Megan Farrant was excellently timed after a rebound and allowed Norwich Dragons to finish their weekend's on a satisfying 3-0 win.
—————————————————————————————————————–
Empresa Norfolk Women's Division 3
Norwich Dragons 6s 4-0 Loddon 2
Joint captains Jo and Bridget agreed this was the most satisfying win of the season so far, Having been turned over 1-4 at the Den earlier this season, Dragons had a steely determination to put things right at Hobart, and keeping a clean sheet was a pleasing and important aspect of the victory that keeps their promotion hopes alive.Dragons started brightly, even the first move of the game going exactly to plan, but Loddon – who once again had the opportunity to put out a strong side – were very tenacious in defence.Anna Brook, Sarah Norman and Jasmine Mansfield sent up waves of attacks down the right, and Izzi Ferguson, Rosie Skipp and Helen Marsh were equally strong on the left, but we lacked players in shooting positions. The best shot of the first half came from Jasmin Daniels, powering forward from the bottom of the diamond, and her reverse strike came off the inside of the near post. Jas will be scoring soon, and continues to impress with her ability to get forward – and then back to marshal the defence.Loddon threatened on the break, but Alice McNeile at right defence slotted in nicely alongside Katy Saide in the centre and Katy Franks on the left. Once again this unit, led by Jas, is the in-form defensive unit in the division, and Alice Smith was impressive  in dealing with the occasional break, her bold stance making the forwards hesitate and miss.The half-time talk focused on keeping our shape and continuing the pattern of play, with a little more attention to determination in the circle and getting players on the posts. Another move from training brought the first goal. Anna sent a strong flat cross  from right to left and Izzi Ferguson was there to sweep the ball home.Then, to a certain extent, Loddon crumbled. Dragons appeared to have the edge in fitness, and Loddon players started to concede penalty corners under pressure. Helen Marsh injected with pace, and Anna alternated with strikes on target and slips to the left. Bridget converted two of them into goals, with those tricky low shots proving hard to read.At 3-0 up it was all Dragons, and Jasmine Mansfield, Jo, Bridget, Helen, Sarah and Anna all had shots on target – but it was Rosie who put the icing on the cake with a first time sweep from a rebound to the left, when she was exactly in the right place to score. Bridget, Jo, (who was once again a midfield dynamo, despite yet another blow to THAT toe) and Jas D all collected a couple of votes for player of the match, but once again the winner was Anna Brook. Speed, tenacity, quality passes she made another great contribution to the win.This was an excellent team performance, with everyone showing great determination to get the win and play good hockey.
—————————————————————————————————————–
Empresa Norfolk Women's Division 3
Norwich Dragons 7s 2-1 Carrow 3
Dragons 7 didn't let the drizzle dampen their spirits to face Carrow 3 at home.
Dragons were on the attack from the start, keen to get ahead against Carrow. Gill Walker at Bottom of the Diamond was on top form again, intercepting balls and passing them on to Catherine Matthews on the right, Becky Gallagher on the left or Lucy Morton at Top of the Diamond. Catherine and Lucy both kept pushing through Carrow's defence, passing the ball up the pitch between them and getting it through to the forwards of either Claire Fairhurst, Jane Morton, Katrina Speirs or Persy Magdalene. Dragons persistence paid off, with a debut Dragons goal from Persy. Carrow managed to equalize, breaking through Dragons defence, with the ball sneaking past goalkeeper Amy Hunter. Dragons kept on battling and again were rewarded with another goal, this time from a strike by Katrina that deflected off a Carrow defender and hit the top right net of the goal, making Dragons 2-1 up at half time.
The second half got underway with both teams re-energized by half time team talk. Again Dragons were on the attack and made several attempts at goal. Carrow too had a few tries at scoring but Dragons defence of Emma North, Jo Baker, Frankie Paul or Kat Ogilvie managed to stop them and get the ball back up the pitch. Frankie also went up to midfield to cover subbing and earned POM for her sterling performance. The match ended with no further goals being scored, but not for the lack or trying.
Dragons were pleased with their victory, a great game of hockey and a fantastic effort put in by all.
—————————————————————————————————————–
Mens East League Division 2N
Norwich Dragons 1s 1-4 March Town 1
Dragons 1XI travelled to March Town for a promotion deciding crunch match that would have impacts on the whole of Div 2N. As expected March came out strongly and aided by some silly defensive errors from Dragons quickly went 2-0 up.
However, with some strong play around the D and some excellent linking play through Nick Deayton, playing in an unfamiliar role of inner, came back to 2-1 with an excellently worked strike from Matt Knights.
A great game for the neutrals showed quick interplaying hockey from both sides and 2-1 at half time was a fair assessment of the game. After the break Dragons looked to take the advantage but unfortunately were caught through a well improvised short corner and went 3-1 down.
More great play from Dragons showed the improvement that had been implemented all season and with 15 minutes to go full out attack was called. Inevitably Dragons were left exposed on the break and conceded another goal to go 4-1 down. As the dying minutes ticked over Dragons were awarded a penalty flick which was saved by March but would have had no impact on the game.
The 4-1 score doesn't do Dragons justice as the game was much closer than the scoreline suggests however March were much the better side for periods of the game. Whilst promotion looks like slipping out of Dragons hands it is still all to play for.
—————————————————————————————————————–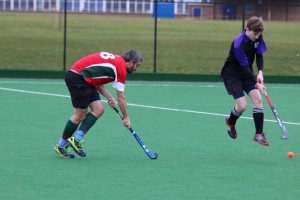 Mens East League Division 3NE
Norwich Dragons 2s 4-2 Pelicans 2
Dragons were fortunate enough to have a settled team for this fixture against a strong Pelicans side, and the availability of several key youngsters again made the difference.
The game started very brightly for Dragons, who could easily have been 2 goals ahead within the first 5 minutes. A couple of good chances were squandered, including the first of 5 shots that incredibly hit the post in the first half, and it was somewhat against the run of play that Pelicans took an early lead.
A good, calm and very composed (especially from the youngsters) response helped Dragons draw level through Browne after Wolfe was able to capitalise on a Pelicans mistake. Hamilton then snuck the ball underneath the advancing keeper just before half time to ease the nerves.
The second half was a little more even, but good calm defending and a few squandered opportunities from Pelicans kept the game in the balance until Gosling finally added to the tally, lifting the ball over the keeper from short range.
Pelicans almost immediately drew one back, and there was a period of defensive pressure that could have seen the visitors back into the game. However, Browne then truck a trademark thunderbolt penalty corner to ease those concerns and see Dragons home to a relatively comfortable win.
A very fine collective all round effort; probably the finest performance of the season.
For more photos from this game click here.
—————————————————————————————————————–
Men's East Hockey League Division 4NE
Norwich Dragons 3s 3-2 IES 3
On an overcast afternoon, Dragons travelled down the A140 to face IES who were standing one place behind Dragons.  A win for Dragons would put them in at least a guaranteed third place in their league.  With recent wins the past few weeks, Dragons knew IES would be looking to claim points off them as well.
With pre-match talk mostly focussing upon different breeds of turkey and the excitement one hockey face mask can produce, Dragons took to the garish blue and pink pitch.  During warm-up it soon became apparent that this was a very bouncy pitch and this was to be at Dragon's disadvantage throughout the game.
IES started strong and buoyed by their supporters, put Dragons under fire.  It was testament to the steadfastness of the Dragon defence of Sam MANN, James GOODSON and Peter DAVISON that kept the ball away from keeper Dim IVES.  Dragons were struggling to get the ball up to their forwards and this wasn't helped by the bounciness of the pitch, something which IES were accustomed to.  After 10 minutes, the game settled and Dragons managed to make a few attacks into the IES half.
Youthful Dragon's midfielder Rob GOODSON joined the midfield and the attacks stepped up, and now Dragons were putting pressure on the IES defensive line.  Adam SAYER found himself playing a forward role and after a David and Goliath battle to win the ball from the 6ft tall IES defender, managed to slip it through to fellow forward Matt JENKINS, who secured a short corner.  The routine worked well, with Sarge Stu KELLY unlucky not to slip the ball past the IES keeper.  Another short corner followed, and once again KELLY was unlucky not to score.  After another successive short corner, Dragons changed tack, and SAYER went for a straight strike, slotting the ball into the vacant left corner.
Dragons were in the lead, but only for 2 minutes, as IES soon equalised.
Halftime saw Dragons talk about the need to win the 50/50 balls and make simple passes, not through players.
The second half started in much the same vein as the first.  IES were working hard and cutting a lot of Dragon's balls.  Keeper IVES made some great saves and the defence were certainly earning their teas.  After 10 minutes, an IES short corner had a shot slam into the knee of the Iceman Peter DAVISON.  A flick was awarded and DAVISON was checked that his leg hadn't started to defrost.  IES duly dispatched the ball away and were 2-1 in the lead.
Then followed a 15 minute period were Dragons started to play fantastic hockey.  The defence were coming forward and cutting out the IES balls, and in turn feeding the midfield.  Sam MANN and joint man of match Will IVES, both showed their lightning-fast speed, which left IES standing.  There was great link-up play between Rich PHILLIS and John IVES down the right, leading to more balls being fed through to the forwards.  Some nice touches by forward Adie KEMP and a twisting run by Matt JENKINS were unlucky not to result in anything for Dragons.
After a few more short corners, which Dragons were unfortunate not to put away, Dragons did manage to equalise through what can only be described as a "salmon-like" leap from Will IVES.  Matt JENKINS had make the IES keeper commit, and was involved with a scuffle with the ball, which led to it rolling away towards the centre of the goal.  Along came Will "Salmon" IVES, who flopped onto the floor and reverse stick swept the ball in.
Dragons had equalised and knew there was only going to be a few minutes left.  The IES supporters became more vocal and the players were looking to get ahead again.  Dragons had other ideas.
Starting at the defence, Dragons worked the ball up the pitch, moving through the midfield, with the ball ending up with Matt JENKINS on the right wing, who hit the ball across into the D, to the waiting SAYER who swept the ball into the goal.  Euphoric celebrations followed and the final whistle followed a moment later.
A close game for Dragons who claim the 3 points, leaving an IES side who felt they had defeat snatched from the claws of victory.  Dragons travel to UEA next week, for their "home" game against the students.  The bright, fresh, young, knowledgeable minds will be looking forward to the game, UEA might as well.
—————————————————————————————————————–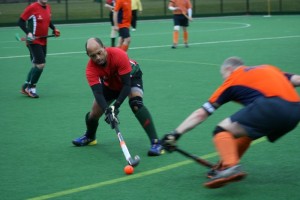 Men's East League Division 5NE
Norwich Dragons 4s 5-2 Bury 4
A strong Dragons 4 team welcomed Bury 4 to the Den looking to take another step closer to promotion.  Robbie Kay made a rare appearance, adding some good height to the defence, whilst Will Kirby did likewise up front.
A phenomenal start to the game saw Dragons 3-0 up within 9 minutes.  On 5 minutes, Robbie Whiting was well positioned to deflect the ball past the stranded Bury keeper and in the 8th minute he added his second with a trademark reverse strike into the bottom corner.  Garnett added Dragons' 3rd goal seconds later with a well placed shot from the left.
Despite the strong start for Dragons, Bury stuck at it and pulled a goal back on 15 minutes.  The game then settled down and half time saw Dragons 3-1 up.
Dragons started the second half well, Rich Moulson and Garnett showing their class in midfield whilst Oli Browne added pace and power on the wing.  Captain Keating played in various positions as needed, even having a go upfront looking for a second career goal.
On 40 minutes, Dragons added another goal courtesy of a Bury stick, which was credited to Moulson, though his touch in the D wasn't threatening the goal.
The reliable Dragons defence of Hipper, Shorten, Pentin and Kay snuffed out the majority of Bury's attacks, giving Giles Brooks a quiet game in goal.  Bury did pull back a goal to make it 4-2, but Dragons were in control and created a number of chances.  Will Kirby held the ball up well, picking out Robbie Whiting a number of times and was unlucky to put his shot narrowly wide after creating an opportunity for himself with an excellent piece of control.
On 58 minutes, Garnett added a fifth for Dragons with a composed close range finish and this was enough to seal the points for Dragons.
A fantastic win for Dragons against a spirited Bury side and a game played in a competitive yet fair manner. 
For more photos from this game click here.
————————————————————————————————————–
Men's East League Division 6NE
Norwich Dragons 5s 0-11 Thetford
Dragons arrived early in Thetford on an overcast day thanks mainly to the new dual carriage way. A huge squad of 12 assembled on the pitch for an extended warm up. People had travelled on overnight flights, rearrange domino games , postponed moisturiser shopping trips and put off complex physics home work to ensure a team was assembled. Some would later say too much of a warm up and maybe they should have bought their own moisturiser.
With positions sorted (only minor whimpering from Yorkie) and Keys firmly in control (manager Carver option for the hoodie look on the sideline) the game kicked off with Thetford eager to maintain their second position. Early indications seemed positive with Rob 'The Rock' Coyle in goal with an experienced and solid back four under his supervision.
Needless to say Dragons conceded early with a soft (through the legs) finish from speedie right wing work from Thetford . Undeterred by this Webbie continued to try to stick to his man most of the time when he wasn't running past him. The middle of defence of Knights and Carver stuck to their task as well with the ball making its way down the right side well through Spinks and Rassaq. Unfortunately there was little joy for Bangers and Crossie upfront as an experienced Thetford side tackled and channelled well. Apologies but if you are still reading this then at this point details about the goals become a little fuzzie so bear with me.
Another goal from Thetford was also considered soft but Dragons rallied despite a poor pass completion ratio from Yorkie (you can see why the 4ths dropped him) in the middle of the park. Tireless running by 'crazy legs' Hamish P alongside Keys crashing passes still tried to break through the midfield throughout the first half but in the end Dragons went into the second half only 3 down.
Half time saw an excellent analysis of what we weren't doing and a promise to try harder. Yep we conceded again. But there was hope of a goal. With Knights 'diving' around saving goals and intercepting passes it was his endeavour that earned a stroke as he burst into the D certain to top one into the top corner only to be lent on by a giant from behind. Selflessly (some would say) offering the stroke to others meant Captain Keys stepped up to power the stroke on the keepers glove and off the cross bar! This really wasn't our day.
Numerous incidents then followed with 'The Rock' deciding to try keeping without his stick prior to what seemed like a Morris dancing stick hitting competition breaking out in the Dragons D to prior – go on guess… yep they scored again.
Well this wasn't the heaviest defeat (just) and all the guys kept working extremely hard (apart from maybe the really injured Yorkie) right to the end with the Thetford guys giving good mannered banter throughout. Other points to note were Crossies disguised back stick , Knights out like a rocket on defence shorts despite his 3hr 50m half marathon time , Bangers getting no quarter despite being double teamed on more than one occasion , Jamie saying this seems better than Nomads , Caver's good distribution down the line , Webb finally seeing his winger get subbed , Keys even having a team sheet, Rassaq & Rob Lee's constant willingness to keep trying and finally a lovely pint of East Coast IPA in the bar afterwards.
Cheers to the Thetford guys and the umps for good spirit and glad we won't see them next year (nothing personal but after drawing 1-1 with them earlier in the season!) as well as the Dragons that played.
MOM – obvious 'The Rock'
—————————————————————————————————————
Men's East League Division 7NE
Norwich Dragons 6s 2-3 Norwich City 7
Dragons travelled to Taverham with a mixture of young players, some making their first senior appearance, and seasoned veterans. Extensive reshuffling cost Dragons once again as they conceded an early goal. A shot from the edge of the D being knocked past keeper Chris Millar by a Dragon who would rather remain anonymous. There was little time to settle before Dragons conceded again, a short corner not being cleared and despite a good first save, the rebound was slotted home.
As Dragons settled, they came into the game more, space began to open up on the wings. Raunaq Rai found great success running at the City defence and eventually this paid off, setting up a chance that was rifled home by Josh Bingham. The half time whistle ended a good period of Dragons pressure and some superb flowing hockey.
Another short corner saw City given a chance that was rifled into the corner. Dragons heads did not go down, however, and it was not long before Raunaq Rai got his name on the scoresheet with a well deserved goal. The Dragons pressure continued until the final whistle and only a good save from the City keeper denied Dragons an equalizer in the final minute.
The highlight of this game was undoubtedly the performance of the young players. The movement in midfield and use of the width of the pitch was something I think we have been missing this season. With the support of the older players (and all those in between), all 13 players quickly settled into a well organised team playing some of the best hockey we have seen this season. Although it ended in defeat, it was a good defeat (if there can be one).
Man of the Match was Raunaq Rai for his complete dominance of the left side of the pitch. George Wright ran him close for a defensive performance that made him look completely at home in senior hockey. The future is bright!
—————————————————————————————————————
Empresa Norfolk Boys Development League
Norwich Dragons 1-2 Dereham 
—————————————————————————————————————–
Empresa Norfolk Girls Development League
Norwich Dragons 2-6 Magpies