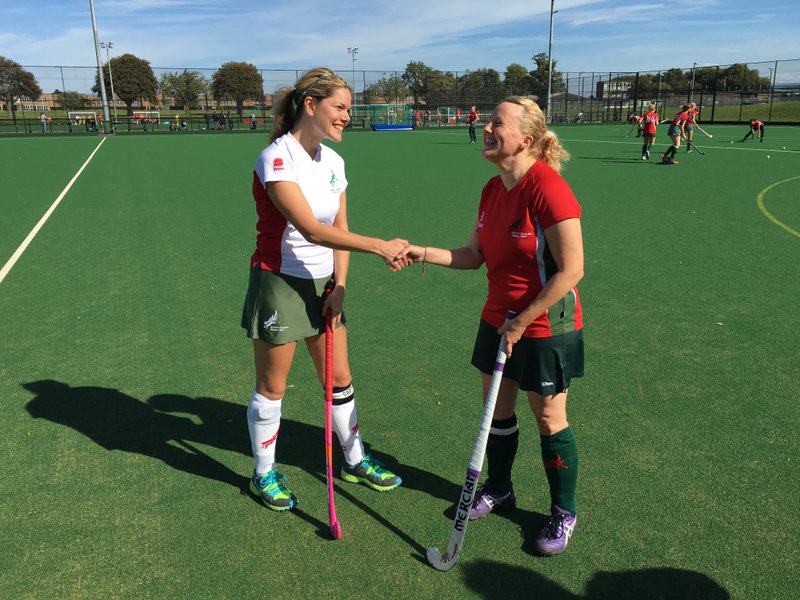 Historic moment for the Club as the first ever league game takes place for the first ever Ladies 8th Team at the Club.  More photos from the morning at the Den here.
Women's East Hockey League Premier Division
Norwich Dragons 1s 1-1 Maidstone
Dragons first team had a 300 mile round trip to Maidstone this week. Dragons started the game well, forcing Maidstone to make mistakes in which they could counter-attack on. Big gaps in the Maidstone defence allowed Rachel King, Hayley Toleman and Stacey Lee to constantly drive at the Maidstone circle and force the keeper to keep making good saves. However, Maidstone kept the score at 0-0 with some great saves from their keeper. The ball continually moved up the left side of the pitch with some great play from Sarah Jenkins and Holly Reding. The middle of the pitch was crowded, which allowed Dragons to continue to use the width to attack.
The break came in the first half when Rachel King received the ball just over the half way line from a great pass from the defence. She dribbled down the left until the circle, and when the Maidstone keeper flew out low and fast, King calmly flicked it over her in to the top corner.
At half time Dragons wondered why they weren't more than 1 goal ahead with numerous chances at goal and were unlucky not to be awarded a penalty stroke.
In the second half Maidstone started to gain confidence and were awarded a  few penalty corners which were all saved by Siobhan Cleeve and well defended by the defensive team. Dragons started to show gaps and with the heat of the sun and travelling legs, allowed Maidstone to continue with pressure. After a controversial penalty corner was awarded, Maidstone got a goal back.
Dragons kept their head up with 10 minutes to go and continued to drive at the Maidstone defence, with great runs from Louise Murray from defence and passes from Marie James, allowed consistent penalty corners to be won, however, Dragons could not advance on these opportunities. With 2 minutes to go King, found herself on the back line and beat three players and with acres of space passed it across the goal line to Hayley Toleman, who was just about to smash the ball to a Dragons victory when the Maidstone keeper pulled off which must have been the best save of her career!
Dragons knew they could have got three points but must not be disappointed with a draw after such a long journey.
—————————————————————————————————————–
Women's East Hockey League Division 1N
Norwich Dragons 2s 1-6 Dereham
Second league game of the season saw bright sunshine at the Den, with Dragons 2's welcoming Dereham 1's , who were new to the league having played Premier League Hockey last season. Dragons gave East Div 1 debuts to both Sam Franklin and Carmel Windsor-Waite, whose strong performances for the 3's have earned them their well deserved call ups. In addition, Natalie Beal joined the ranks, helping to provide cover for the girls on JRPC duty.
Dereham started the game strongly, putting pressure on the Dragons defence from the start. Dragons held firm with Emma Cleland making some sharp saves and the central duo of Sarah Borrett and Shelly Seaman dealing with the waves of attack. Dragons were still in the game and put the Dereham defence under their own pressure for a while, with Laura Shreeve combining well with Sam Franklin and Nat Beal, well supported by Helen Busfield and Gail Thomas.
Dereham however, were first to make their pressure count with a smartly taken goal, which was quickly followed up by a second. Dragons didn't allow this to deter them though and kept pushing forward, an attack down the right saw Gail Thomas find Sam Franklin in good space at the top of the D, she confidently fired the ball into the crowded D, finding Nat Beal in amongst a number of Dereham players, to deflect the ball home. The score was 2-1 to the visitors at halftime with not much between the teams.
Captain O'Neill Simpson called for better ball speed and for the team to defend better as a unit. Dereham however, upped their game and were by far the stronger team in the second half, putting immense pressure on the Dragons defence, who continued to battle hard, but ultimately lose out. Dereham were clinical in front of goal, scoring goals from deflected drag flicked short corners and taking their half chances well.
Whilst 6-1 was possibly a slightly harsh scoreline, Dragons didn't deserve any points on their 2nd half performance. Dragons always knew they were in for a tough start to this season, playing two teams that played East Premier last season (Dereham 1s & Magpies 2s) and one team (Cambridge City 2s) that was widely considered the best team in Division 1 last season, in their first three fixtures, so will continue to work hard in training and work for each other, and know they will turn results round.
Sam Franklin was voted Player of the Match in her debut for the 2s, Sam is clearly in great form, having been voted Player of the Match for the 3s last week.
———————————————————————————————————
Empresa Norfolk Women's Premier Division
Norwich Dragons 3s 4-2 Magpies 4
Ladies Dragons 3s took the winning momentum from last weeks game and were hoping to gain another 3 points against magpies 4s this week.
Despite Dragons starting strongly, Magpies opened the scoring with a quick break in open play catching the team off guard.
Dragons remained calm and re-set with the midfield of Hazel sumner, Debs Smith, Natasha Falzon, Lauren Lawrie and Trish Hagen distributing the ball across the pitch. This enabled Laura Goodbun to make a storming run at the Magpies defence and capitalised on a superb strike from the top of the D, making the score 1-1.
Magpies continued to put the defence of Angela Murgatroyd, Christine Musowe, Emma Woodhouse and Harriet Green under pressure, but with several superb saves from keeper Amy Forse the Dragons put pay to any Mapgies advances.
In quick succession Dragons scored two more goals. The first coming from a Caroline Wolfe short corner strike. The dragons third goal came from a fast paced run by Hazel Sumner who passed a strong ball to Laura Goodbun which was crossed into the Magpies D to a waiting Caroline Wolfe to put  another goal on the score board.
The forwards of Laura Goodbun, Katie McKenna, Sian Lawrie and Caroline Wolfe pushed on and continued to threaten the Magpies keeper throughout the game. However, it was a powerful shot by Goodbun and a follow up strike to finish the game with Dragons scoring 4.
Despite Dragons high possession Magpies still kept strong and scored another goal to end the game at 4-2. Carrying three more points into next weeks game against City 2s gives the Dragons side a good boost of confidence.
—————————————————————————————————————–
Empresa Norfolk Women's Premier Division
Norwich Dragons 4s 0-4 Norwich City 3
This week saw an optimistic Ladies 4XI welcome City 3's to the Den on a bright and sunny day.
City started off the game strongly forcing Dragons to showcase their new press they had been working on in training which forced City back. The team had several crosses across the D unfortunately these were on breaks by Sophie Wood and Megan Williams and Dragons struggled to get anyone on the end of it. City played a quick counter attack and opened up the scoring to 1-0. The game then became a defence one with Bella Capps, Kath Mares and Ella Kassulke struggling to get the ball up the field with Kristina Smyth making some excellent saves. City then scored 2 in succession leaving the Dragons 3-0 at half time.
Half time saw a change up in positions with Dragons now playing 4 in defence which saw Gemma Rump and Megan Williams added to the back line to channel out City's midfield. This saw Dragons pressing and utilising their wings giving Ellie James, Rachel Bruce, Jasmin Miller and Lucy Morton the chance to play the ball down the field. Sue Cross and Mia Boorman held the middle well whilst Dragons tried desperately to attack, switch the play and attack some more earning us penalty corners but without the goals. Unfortunately City caught us on another break and scored again leaving the final score 4-0.
A big thanks to all the girls who played this week especially those who had their 4's debut. Onwards and Upwards!
—————————————————————————————————————–
Empresa Norfolk Women's Division 1
Norwich Dragons 5s 4-0 Magpies 5
Ladies 5's turned up to the den with excitement and enthusiasm after winning the previous week. Ready for anything the 5's didn't know what to expect from what appeared to be a very youthful Magpies 5's team. Despite that, the Dragons 5's went on and from start to finish gave it everything they had and came out with a 4-0 win.
Dragons had the first push back and it was mostly attacking from the 5's with break aways from Magpies towards our goal but quickly Kate Atkins broke them out of their stride and got the ball out of our end of the pitch. After the strong start it soon became an even match with Dragons just having the upper hand. With some of Magpies youth running down to our goal in chances which they seemed to take well, Alice Smith calmly came out of the goal and kicked the ball well up the pitch. The 5's soon changed the game back with passing as a team around midfield. Lynne Price (MOM) was always in free space in the middle and doing a perfect pass to either Catherine Matthews, Mel Widdows or Rachael Matthews to run onto and try and get it into the attacking D. The 5's used their passing and teamwork to take it round the opposition and Amelia Smith and Lisa Harwood (C) had many shots on goal. After several near misses Megan Farrant was the first one to get a well-deserved goal. Celebratory jumps and shouts and then concentration went straight onto getting that second goal. Determination following the first goal, 5's were in nearly full position with the occasional turn over. With only one natural defender, 5's put Helen Marsh and Rachael Matthews into new roles in defence, alongside Kate Atkins who assisted them creating a solid defence. Meanwhile the midfielders and forwards were fighting for that second goal which was scored by Jen Inglis, who had made some brilliant runs into the D and battled around Magpies strong defence. A brilliant first half with a finishing score of 2-0!
Subsequent to a focused and needed half time talk from Jason Wolfe about positional issues, 5's were able to go onto the pitch and finish what they had started. They took into account what they needed to improve and applied it to the game to come out even stronger and unfortunately so did Magpies. Nonetheless Dragons still persisted anytime the ball came into our defending D the whole team helped and constructed their play to get it out and up the field. This skill was mainly followed through by Vicky Earley and Sophia Haehnelt using their lightning speed to get it back up the pitch. With new addition Lucy Buxton making excellent judgements and being as cool as a cucumber when on the ball, there really wasn't much to fault with our game. However the heat was turned up high and there was barely a cloud in the sky. Slowly the weather took its toll and affected some of the players, despite this the 5's made regular substitutions and kept up moral. The Dragons persevered and with help from the whole team, Jen Inglis scored her second goal of the game. Realising that we were in for another win Dragons did everything they could to not concede a goal from the opposition. Whilst doing this Lisa Harwood scored the 4th goal of the game and we were victorious! Another win for Ladies 5's!!
—————————————————————————————————————
Empresa Norfolk Women's Division 2
Norwich Dragons 6s 3-1 Magpies 6
—————————————————————————————————————–
Empresa Norfolk Women's Division 3
Norwich Dragons 7s 3-0 Norwich Dragons 8
A warm sunny day gave Dragons 7s a bright start to the season, facing the newly created Dragons 8s.
Dragons 7s have welcomed new players to the squad, some of the team having graduated from the girls development and a couple who have joined the club as a 'Get Back Into'. From development are Hattie Gale, Aditi Naik, Jodi Rump, Lilly Sore and Elsa Scott. The 'Get Back Into' ladies are Claire Stuart and Helen Walker. All of these players have been welcomed by captain Claire Fairhurst and stalwarts from last season Katrina Speirs, Frankie Paul, Anja Wimmer (POM), Brooke Simmons, Bridget Le Good and keeper Alice Smith.
Dragons 7s went on the attack from the start, putting pressure on Dragons 8s defence. Wave after wave of shots were hit towards goal, but Dragons 8s keeper Alessandra Pellegrini kept knocking them away to Dragons 7s disappointment and frustration. Dragons 7s won a couple of short corners but were unable to convert. This didn't put off the 7s, and their persistence was rewarded with a goal by Katrina. Buoyed up, the 7s kept up the attack, although Dragons 8s made a couple of breakthroughs, these were soon stopped by the 7s defence, getting the ball back up on the attack again. Before the half-time break, 7s were rewarded with another goal, this time by Elsa.
Dragons 7s got back on the pitch after the break, keen to carry on as they had been, putting pressure on the 8s defence. 7s made shot after shot at goal, eventually being rewarded with their third goal and a second by Katrina. 7s kept up the fight till the end.
Dragons 7s enjoyed their first game of the season, buoyed up with the 3:0 win and keen to keep up the fight for the rest of the season!
—————————————————————————————————————–
Empresa Norfolk Women's Division 3
Norwich Dragons 8s 0-3 Norwich Dragons 7
A squad of 13 history makers took to the pitch on Saturday for the first ever Norwich Dragons Ladies 8th Team league match.  Eight of the squad had never played a league game for Dragons, most of those had come through the Club's excellent Get Back Into hockey programme.  A tough first match was scheduled against Norwich Dragons Ladies 7s, themselves with some Get Back Into hockey ladies, a number of experienced players but most worrying for the 8s were the quick youngsters in the 7s.  HOWEVER, Player of the Match Alessandra had a fantastic performance in goal, helping the defence to keep the scoreline respectable and every player gave their all to the shape and tactics to counteract the pace of the opposition.
Captain Katy, led from the front alongside Alice, Shaniece and Amelia in attack.  The defence stayed strong with Ruth, Jo, Johanne (up against her daughter in the 7s) and Jess in front of Alessandra and the workrate and commitment of the new midfield was fantastic, Anita, Gemma, Bondy and Brooksy worked tirelessly all match.
It was particularly pleasing to see a late counter-attack by the forwards was supported in full by all of the midfield despite it being a hot and tiring game.
Well done to all involved, it is great to see so many players given the opportunity to play this fantastic sport. #awesomeeights
—————————————————————————————————————–
Mens East League Division 2N
Norwich Dragons 1s 3-1 Cambridge Nomads
Dragons hosted one of the four Cambridge based teams at the Den this week, keen to keep the momentum going from the positive preseason games and the superb season opener last week.
The game started well with a lot of fast paced flowing hockey from Dragons.  Cambridge Nomads have been a team that Dragons have struggled to create chances against in the past as they have a strong back line.  After a motivating pep talk from skipper Walker, Dragons took the advice to make short passes and not run into the flat sticks of the Cambridge defense.  This worked well and after a few chances came close, Mitch Smith converted with a cool push/flick into the near post corner.
The game became a tougher for Dragons beyond that point, Nomads playing some great 1 touch counter-attack hockey.  Despite this, the back line held firm with some solid saves from the veteran keeper Giles Brooks, who took up the challenge of playing for the men's 1XI with relative ease, earning himself three MOM votes in the process.
As the first half wore on, Henry Lamming's skill and pace proved too much for nomads and he rifled home his second reverse hit screamer in as many weeks, this time from an impossible angle into the bottom right corner.
Confidence was high, and despite Nomads pulling one back, Dragons looked on top.  Rupert Snelling then helped to further seal the game with a cleverly played 1-2 with the keeper from a short corner, to slap home Dragons third.
The final ten minutes of the game then became a bit of a free for all, Dragons slipping into some old habits of giving possession away cheaply, inviting huge pressure from a Nomads side desperate to pick up anything from their travels.  Dragons managed to hold strong and 3 points were deservedly won.
Man of the match went to Henry Lamming for another solid performance in the middle of the park and a another quality finish.
—————————————————————————————————————
Mens East League Division 3NE
Norwich Dragons 2s 2-1 Lowestoft Railway
A warm and dry day at the Lowestoft ground meant playing on a slow pitch, which hampered the visiting Dragons side's ambitions of playing their usual passing game.
Dragons had a strong team on paper, welcoming some youngsters to the team for the first time this season (Ben Nkrumah, Charlie Nunn and Ed Murphy). A cagey start to the game resulted in plenty of pressure for the visitors, who couldn't then find a way through the disciplined Lowestoft defence.
It was perhaps against the run of play when Lowestoft intercepted an underhit Dragons pass at the top of the circle and then counter-attacked the length of the pitch and slotted home to go one ahead.
Dragons responded with further pressure and finally levelled through Ben Miles just before half time, but not before squandering a number of good chances.
The second half was better for the visiting Dragons, but still Lowestoft threatened on the break. Young Ben Nkrumah in goal had to work hard to keep the scores level, before Ben Miles finished after some scrappy play in the circle and clinched the team's first 3 points of the season.
—————————————————————————————————————–
Men's East Hockey League Division 4NE
Norwich Dragons 3s 8-0 Lowestoft Railway 2
After a disappointing draw last week to Newmarket, this week the Mens 3s kick –started their league campaign in style.  They hosted Lowestoft Railway 2s at the Den and after a brief warm up, started the game.
Dragons put a lot of pressure onto Lowestoft early on.  Short corners were won, with one of them resulting in a penalty flick.  Captain Adam SAYER stepped up and put Dragons ahead.  Dragons passed well, moved off the ball and worked together to dominate this half.  The goals came crashing in, with Rob CHANEY-BAXTER, Ali SMYTH, Piers GORDON-BROWN, Jon GOODSON and Lloyd SAYER all getting a goal each.  Dragons went into half time 6-0!
The second half started slower and it took Dragons a little while to get complete control of the game again.  It wasn't just the attack that worked well for Dragons, but also the defence.  All members worked hard to get back behind the ball.  Keeper Simon LONG wasn't called on much, and Lowestoft didn't get a single short corner.
Two more goals came for Dragons from Lloyd SAYER and George BOWMAN, to extend Dragon's lead.  Dragons saw out the game and celebrated their biggest victory in recent times.  This was a true team performance, where all worked hard on and off the ball.  Dragons need to continue this form going into the game next week away to Harleston.
—————————————————————————————————————–
Men's East League Division 4NE
Norwich Dragons 4s 4-2 Pelicans 3
This Saturday the Dragons 4's ventured to Kings Lynn's new pitches. During the warm up the team felt the pitch would only work in our favour and it eventually proved to do so. The pacey pitch allowed the young bright-sparks to give Pellys' defenders a run for their money – literally. The slightly altered team from the previous match got off to a positive start; with great attacking and defending play coming from Shorty (Neil Shorten) and Peter Davison holding form at the back and Pedro Goss' speed and skill moving it from midfielders Rob Jenkins, Connor Adams, Will Ives and Tim Allen, towards the scrambling defenders. Even when going down a couple of goals, the team was passing it around with quality and had the Pelly's breaking a sweat.
The second half came and so did another great half from the boys. The action came straight after the whistle as Jono Chaney-Baxter (Mash), had a brutal injury from a tired defender. While he was off being nurtured by dentist, first aider and all round handy man Garnett Jones, the boys carried on performing and the match was now all in favour of the Dragons. With great link up play coming from the back, going wide with Andy Carver and Ray Hansell to Adie Kemp and Jon Price. Garnett finally got us on the board and we dominated from there. We had the Pelicans scrambling. Two from Garnett soon became 3 with Pedro adding to the tally. It almost seemed as Jono returned to the pitch, Pelly's became completely lost, as we turned up the pace against their tiring team. With great play from Garnett with a through ball to an unselfish Pedro, the ball was simply played to Jono and he passed it into the goal. Many more patches of outstanding play came from the boys as we were enjoying our hockey more than anything. The team seemed more solid, the chemistry was there and we were bouncing and pinging it around with ease.
Shortly after Jono almost took Garnett's head off with a wild shot, Garnett got himself into a great shooting position, only to hit the post with a cracking effort. The last ten minutes were brilliant for the boys. Each attack was quickly dealt with by Peter, Ray, Shorty and Andy each time; then going through midfield with John, Tim, Connor, Rob and Garnett. The team were continuously getting it forward as fast as possible to catch the Pelicans out. Relentless attacks coming thick and fast. The opposition clearly couldn't wait for the final whistle to go. While all the action was going on towards their keeper's end, Chris Millar held the fort at the back and Pelly's weren't getting it past him when we turned up.
The final whistle went and the boys knew we had put in a quality performance. Every player out-played themselves; couldn't have asked for a better performance to grab our first win of the season. The squad is looking in great shape to hopefully keep the work rate up and keep the excellent play throughout the season.
Tim was a worthy winner of MOTM as he shone out from an already extremely bright team.
————————————————————————————————————–
Men's East League Division 6NE
Norwich Dragons 5s 5-0 Dereham 4
The team went up the road to Dereham for a fairly one sided game. Dereham only had 10 men and went down to 9 for some of the match due to an injury but credit to them for getting a team out and giving us a game.
We had 7 school boys on our team who ran their socks off all day and showed great commitment on and off the ball. Huck Hempsall had his first game of adult hockey scoring a great goal from the top of the D and MOTM Tom Williams got on the score sheet as well.
Big man Joel Lawrence (the lion king) donned the pads for the first time in a long while and made a couple of useful saves in what was a very quiet game for him.
Other scorers were the captain and also Crossy got 2, one from a well placed flick. The celebration Crossy performed after scoring was more impressive than the flick. He unleashed a mighty roar followed by a huge fist pump. Get in there!
The result was 5-0 but could have been more.
—————————————————————————————————————
Men's East League Division 7NE
Norwich Dragons 6s: No Fixture
————————————————————————————————————
Empresa Norfolk Boys Development League
Norwich Dragons A 6-2 Dereham
Dev Boys won 6 – 2 against Dereham in a hard fought battle. Some good interceptions from the back with strong passing down the line created the first goal which Issac Driver-Hall slotted in. Bobby Sheppard slotted in the second goal and remained composed to dribble round the keeper and finish off confidently to score the 3rd.  Josh Wiggins hit the the 4th into the goal.
Josh smacked another shot at the goalkeeper and Bobbys quick reactions caught a high ball to volley it into the back of the net for the 5th goal.  James Cross pushed an fantastic drag flick in to score our 6th.
Dereham scored one from a short corner , had a goal disallowed from a short and scored their second goal playing the ball across the goal with a tap in from the back post.
All round our boys did a good job, regaining possession midfield, using the width of the pitch and defending relentlessly. A strong team effort and deserved win. Our second match in this league allowed the squad to come together, signs of a good season ahead.
—————————————————————————————————————–
Empresa Norfolk Boys Development League
Norwich Dragons B 1-7 Norwich City
A very bizarre game indeed. Three boys did not turn up for varying reasons which meant that our two adults (Adam and Lloyd Sayer) had to play the entire match to enable us to field 11. We then went down to 9 following two injuries and actually it was 9.5 as Jake Reynolds hobbled around up front. City lent us a player to make it ten a side and Adam Sayer ended up playing kicking back as one of the injuries was to Alex Wolfe in goal!
So the game… it was a very hard game for the boys. City are going to be a good team this year at Dev Boys level, but the injuries made it very hard indeed! Also it was some of the boys' first 11 a side game and for some, their first game of hockey!
I am very proud of how the boys played. They kept on going, listened to the instructions, did not give up and did the club and themselves very proud. At times, the hockey the boys played was very good indeed and we can build on that. The boys should not feel deflated following that game and I can assure those new to dev and new to hockey that now all games are like that!!!!
A little bit about each player.
Alex Wolfe in goal was brilliant! He made some great saves including a double save – saved the ball on the floor and as getting up made another save. Got injured half way through but mum says he is ok.
Blue Hempsall – could not play A team today so helped the B team out. Held position well and made some important interceptions. Worked hard.
Xander Wimmer – when asked to play right defence, responded saying 'er, ok' and said he had not played there before. Player of the match performance! A revelation in this position. Some great tackles and even the opposition coach remarked on his composure on the ball!
Jacob Hallett – worked hard in central defence which is not his usual performance. Made some great interceptions and broke down play. Great running out at short corners which is where he got injured and had to go off at half time.
Lloyd Sayer and Adam Sayer – adults for the match, turned up expecting to play half a game each but played entire game with Adam going as kicking back. Great attitude and played the adult role ever so well!
Arjuna P – so composed on the ball and worked hard. Very good game as defending midfield.
Jake Reynolds – half fit, played entire game, spent some as goal hanging. Brought up from u12 boys to help out. Had a part in the goal.
Will Mares – held position well and keen to play in defence as we went down to 10 players. Worked hard and very positive attitude.
Harry Fuller – worked hard in an attacking role. Times when he and Paul were two on two up front, but the final pass did not happen. His support play led to him being in the right place at the right time to slot the ball home from close range for the goal.
Paul Delaiche – first game! Followed instructions well and made some important contributions. Tried hard in the game.
—————————————————————————————————————–
Empresa Norfolk Girls Development League
Norwich Dragons 5-1 Pelicans
The match was very interesting , goals by Charlotte,Lily and Maddy.
The game started off with dragons having push back. Dragons came out of that quarter 1-0 down with disappointing faces. Emma gave us positive feed back and changed the formation a little, and we went back on the pitch wanting to win. We equalised 1-1, goal by charlotte. We then came off hungry for more goals. So when we went back on the match it soon became 2-1. We were winning, another goal by charlotte. Then we went on for the last quarter winning 5-1. Goals by lily who got 2 and maddy who got 1.
Overall the match was really good with great defending by everyone. And great passes also by everyone.our long passes from the back to mids was the greatest part because when we got it the mids shot it forward to our forwards and that is how we got are goals.  Player of the match was maddy. But the whole team played extremely well and worked together to get the goals.