Photos from a few matches here.
Women's East Hockey League Prem
Norwich Dragons 1s 1-2 St Albans 2
In Dragons penultimate game of the season, St Albans 2s visited the Den to contest for 5th place in the league.
The home side started brightly, some good passing, especially down both wings didn't result in many clear cut chances but did give the Dragons hope for the rest of the match. Olivia Thomas was working tirelessly in midfield and linking play well with the forwards.  However it was the travelling side who scored first, hitting Dragons on the break and clinically finishing to go 1-0 up. As always Dragons weren't deterred and pushed forward. They were rewarded when some good forward play was finished by Rachel King, scoring her 11th league goal of the season.
The second half saw Dragons enjoy some good spells of pressure resulting in numerous short corners, but found the St Albans' keeper in inspiring form, saving anything that was sent goal wards. Maddie Denman, player of the match for Dragons, was having her best game of the season. Her tackling and tenacity helped limit St Albans to very few chances.
With 10 minutes to go, a rare mistake from Dragons allowed the visitors a two on one opportunity which they were able to squeeze in at the far post. Dragons were deflated but carried on pushing forward but unfortunately could not beat the St Albans' defence and GK.
You could not fault the effort from the Dragons squad today. They gave their all in what has been the most successful seasons in the East Premier League. The fact that the squad were so disappointed in the result shows how far they have come and high their expectations are. With the final match of the season on Tuesday Night at the Den against Dereham, Dragons look to finish the season on a high.
—————————————————————————————————————–
Women's East Hockey League Division 1N
Norwich Dragons 2s 3-0 Spalding 1

Dragons headed West for their final league game of the season, with the 'job done' last week, having secured their Div 1N status with a fine win against Saffron Walden. The squad were however, keen to banish their away blues, having struggled a little on the road. The squad welcomed back Lauren Lawrie and were also delighted to retain the services of Hollie Limmer and Aoife Lowe-Davies.
Dragons started brightly, however were quickly given a warning that Spalding had some pace on the break, so defensively Rowie York-Smith, Angela Murgatroyd, Shelly Seaman and Keeper Amy Forse had to be alert to the danger. The spine of the team was looking strong, Jess Bennett and Gail Thomas again combining in the middle to break up play and move the ball on quickly to the ever willing forward line.
For their early spell of pressure, the visitors were rewarded with a goal. Marcy Windsor-Waite picking up the ball on the left, beat a couple of players, drove into the centre and fired the ball into the D, finding Laura Shreeve in space who opened the scoring with a smart finish – her 18th goal of the campaign.
Dragons then sat back a little and allowed Spalding back into the game, with some sharp attacks. Off the ball Dragons were working extremely hard to break down play, with Lauren Lawrie battling hard upfront, Hollie Limmer pressing forward down the right and Aoife Lowe-Davies being a willing runner both in attack and when required defensively.
One nil up at the break, Dragons talked about the need to play their triangles and cut out the opposition doing the same to them! They listened and were rewarded for their efforts. Earning a short corner quite early in the half, Dragons Player of the Match Gail Thomas and Jess Bennett were both lined up for the strike, but it was Bennett who took the strike and fired past the Spalding defence, taking a slight deflection as it flew into the goal. Not long after this, the deadly trio of Windsor-Waite, Lowe Davies and Shreeve combined once again, with Shreeve picking up the ball on the right and firing goalwards…..did the ball cross the line for the 19th of the season from Shreeve, or did it need that assured touch from young Lowe-Davies. The jury is out, humbly Alfie agreed 'Shreeve can have it', the youngster knowing how grumpy her 'elder' would be ;-D. Regardless the visitors were 3-0 to the good!
Spalding never gave up. Captain Karen O'Neill Simpson was having a real tussle at left midfield. Spalding earned a number for short corners, which Amy Forse dealt with strongly, from one Spalding short, Dragons had a good break – the ball falling to Hannah Hardy on the defensive 25, who turned and found new centre forward Angela Murgatroyd in space beyond the halfway line (how did that happen the team and sideline cried?!), her pass finding Shreeve who was eventually fouled just before reaching the D.
Final score 3-0 to Dragons, who finished a commendable 7th in this new league. The team were grateful to Captain Karen for all her hard work, leadership, support and encouragement over what was always going to be a tough season. In turn, Karen was grateful to the whole squad, who had shown great commitment at training and throughout the whole season, with a number of 'ever presents' both on a Saturday and on a Tuesday night. Also to another ever present in 'Mike sideline Man', who has travelled with the team each week, to manage, support and occasionally get angry!! Time to rest and recuperate and rebuild for next season.
———————————————————————————————————
Empresa Norfolk Women's Premier Division
Norwich Dragons 3s 4-1 UEA 2
—————————————————————————————————————–
Empresa Norfolk Women's Division 1
Norwich Dragons 4s 3-0 UEA 3 (UEA Conceded)
—————————————————————————————————————–
Empresa Norfolk Women's Division 2
Norwich Dragons 5s: No Fixture
—————————————————————————————————————
Empresa Norfolk Women's Division 2
Norwich Dragons 6s 0-1 Norwich City 6
After two good games, 6s were hoping to maintain their form in their last match of the season, but this was a very disappointing finale. Both teams agreed the match was 'a bit rubbish' with far too many feet, back of sticks and misplaced passes, and from the Dragons a boring return to the despairing reverse stick poke tackle with no chance of success. In fairness, City were good value for their win, having more clearcut chances and only brilliant goalkeeping by POM Alice Smith keeping the score down. The only goal came midway through the first half when some slack marking left a player free on the near post to pick her spot. After the goal, the defence tightened up considerably.
Jo Eke, captaining the side for the last time, gave the team a good talking to at half time and players responded by being far more positive. Sarah Norman, playing her last game before heading for University was particularly noteworthy for her tackling and Rosie Skipp continued her improving play with some good runs and determination to win the ball. But overall this was a game best forgotten and instead the 6s can look back on a satisfactory season. consolidating their position after last season's promotion. Their strengths included new confidence in playing different positions and at times a very smart passing game. Roll on September, with plenty of summer hockey to keep us happy in the meantime.

—————————————————————————————————————–
Empresa Norfolk Women's Division 3
Norwich Dragons 7s 0-11 Breckland
Dragons 7s knew they had a tough match ahead of them facing Breckland, who are unbeaten in all matches that they have played this season. Undaunted, Dragons went out with their usual determination, planning on not letting Breckland have a completely easy ride.
Breckland had first push back and dominated from the start, making the midfield of Beth Coates, Brooke Simmons, Tracy Stuart Sheppard, Emma North and Amy Hunter work hard to intercept the big, strong hits. The defence of Frankie Paul, Jo Baker, Becky Gallagher and Johanne Steward had a lot to do to help goalkeeper Alessandra Pellegrini get the ball out of the D. Breckland managed to score twice within the first 10 minutes. Dragons defence had a lot of short corner practice, although they were mostly successful in defending them and Breckland didn't manage to capitalise on all of these opportunities. Dragons did succeed in breaking through Breckland and got the ball up to forwards Claire Fairhurst, Mia Amiss and Katie Moulson, however Breckland's defence were always ready to pounce and smack the ball up the pitch. The first half ended with Breckland up 0:5.
Dragons were lucky enough to have Rich Moulson on the sidelines for this match, and he gave an encouraging half time team talk. He suggested the formation change slightly to have just two forwards so Katie Moulson moved into midfield to give it more strength. Unfortunately Dragons were still unable to put a stop to Breckland's attack although they tried hard. Dragons had some breaks and got into the D, but still Breckland fought them off. The match ended with Breckland achieving 6 more goals, giving them a win of 0:11. Dragons Player of the Match with shared by Brooke and Emma.
Dragons 7 end the season with a placement of 6th in the league, one place up on last year. They may not have had many wins but their team spirit is one of the best. Now for some summer hockey in readiness for next season!
—————————————————————————————————————–
Mens East League Division 2N
Norwich Dragons 1s v Ipswich 2
—————————————————————————————————————–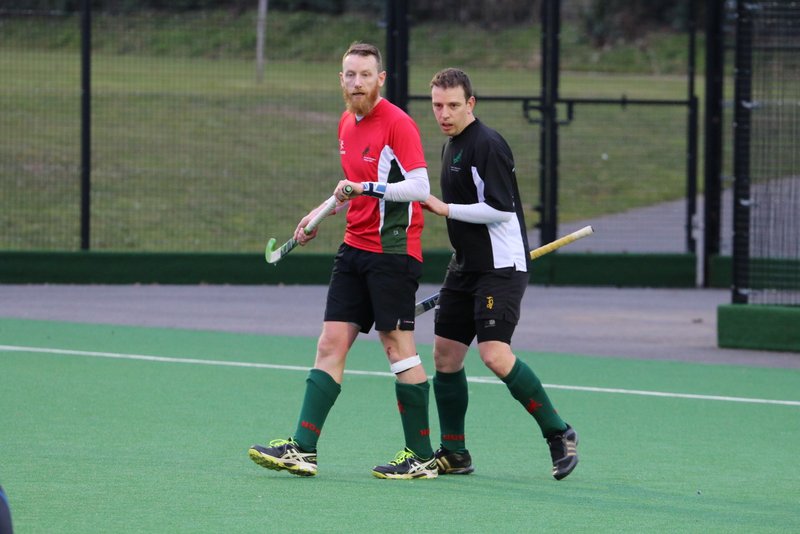 Mens East League Division 3NE
Norwich Dragons 2s 2-1 Dragons 3
—————————————————————————————————————–
Men's East Hockey League Division 3NE
Norwich Dragons 3s 1-2 Dragons 2
The last game of the season for the Men's 3s was against fellow club team, the Men's 2s. After losing 1-0 last time, the men's 3s were determined to get a better result.
The 2s started strong and soon scored their first goal within the first 5 minutes, this was swiftly followed by a penalty flick after defender Peter DAVISON stopped a rocket of a shot with his chest.
It took the 3s around 10 minutes to get into the game, and from that point they started to play some good, passing hockey.  Solid work from keeper Dim IVES, DAVISON, James GOODSON and Adam SAYER meant the 2s didn't score another, whilst the 3s managed to get their own goal via Laurie HUMPHREY.
The second half was a good game where play became more spread out.  The 3s worked well off the ball and this created a few chances which they were unlucky not to put in.  John IVES, Rich PHILLIS and Will MAIN provided the legs on the wings, backed up by Stu KELLY, Jon GOODSON and Rob GOODSON in midfield.
The 3s came close to levelling the scores when Will MAIN smacked the ball in the goal, however this goal was disallowed, which left the 3s trailing by one goal still.
The game ended and despite losing, the 3s were pleased with their overall performance.  A tough season for the 3s, who next season will look forward to another club derby, when they face the 4s in Div 4NE.  Captains John IVES and Adam SAYER would like to thank all their players for their hard work this season.
—————————————————————————————————————–
Men's East League Division 4NE
Norwich Dragons 4s 0-9 Ipswich 3
Dragons 4s did well to get 11 players out after a tough week for selection.  George Bowman and Chris Millar came from the 6s game in Bury, whilst Andy Cross travelled across East Anglia just to get into this season's team photo.
Ipswich 3 needed a win to secure their own safety in the league (as Dragons had last week) and consequently put out a strong side, though they too had a bare 11.
Dragons made a slow start and found themselves 2 goals down within minutes after some incisive attacks and skilful finishing by Ipswich.
By half time the score had reached 5-0, with the run of the ball favouring Ipswich.  Dragons played some good hockey in parts, Jon Price and George Bowman combining well down the left whilst Oli Browne and Ben Harvey worked hard in the centre.
At half time, a nostalgic Price reminded Dragons of the final game of last season, when a 6-0 half time deficit was turned into an 8-6 win against North Norfolk.
Could lighting strike twice?  No.
In fact Ipswich struck a further 4 times, so a bit better in the second half but still a 9-0 defeat.
Man of the Match was the goalkeeper Chris Millar who noted it's not often you get MoM after conceding 9…well, you'd hope not.
After the match, Dragons reflected on thrashings in the first and last games of the season, but also a fair number of great performances in between.  Still proud to be Dragons, roll on September!
————————————————————————————————————–
Men's East League Division 6NE
Norwich Dragons 5s 1-3 Ipswich 4
—————————————————————————————————————
Men's East League Division 7NE
Norwich Dragons 6s 3-1 Bury 6
No one spotted Dragons 6's coming up on the rails this week as first Dereham got removed from the league for offering Felixstowe a 6pm start last week, UEA conceding to Watton to take them out of the frame & the final icing on the cake for M6 youngsters was victory at Bury to take them above Watton into 3rd place. Over the last 3 weeks this group of youngsters have been rewarded for their attacking style & today the back line of Chris Miller & Mike Banham were grateful Bury did not offer too many breakaway as most of the game was played in the Bury half.
After a delayed start waiting for 3 Dragons to arrive, Bury settled early with a short corner conversion. After that it was almost all Dragons. Sol Blazer showed how to turn a quick free hit into the first goal for George Bowman. Connor Adams started the move to put Pedro Goss in for the second & a short variation saw Joel Lawrence make it 3 by half time. In defense James Hansell had his hands full from a cack-handed winger, Shiv Kapur switched to centre back & was a rock while McCartney Aldous again was able to join the midfield attacks. Rob Lee was tireless in drawing the Bury defense wide & with the rest of the 2nd half attacks was unlucky not to see Dragons double their score.
—————————————————————————————————————
Empresa Norfolk Boys Development League
Norwich Dragons 4-3 Pelicans
Dragons development side finished their  season with a win at Pelicans  early on Saturday morning.  Dragons started well and created a number of chances before finally Jose broke the deadlock with a deft reverse flick over the Pelicans keeper. The remainder of the first half saw the Dragons pressing hard and it was no surprise when James C scored the 2nd goal finishing a well worked short corner routine. Pelicans replied after a bit of a defensive mix up, however Jose restored the 2 goal advantage just before half time. The 2nd half saw Dragons create and squander several good chances with the goal frame being hit twice. Josh then scored the Dragons fourth goal and the game seemed settled. Pelicans had other ideas and bravely fought back scoring two quick goals.
The dragons were delighted to hear the umpires final whistle bringing to an end a fantastic season with the Boys team winning the Development league for the first time in the Dragons history.
—————————————————————————————————————–
Empresa Norfolk Girls Development League
Norwich Dragons 4-1 Magpies