Women's East Hockey League East Prem
Norwich Dragons 1s 2:7 Old Loughts
Norwich Dragons suffered their worst defeat for some years when they visited Old Loughts, a team who last year played in the National League.
The Dragons were on the back foot within the first 10 minutes when they found themselves 2-0 down. The pace of their opponents caught them off guard and they struggled to get any sort of foothold in the game. They chased the game in search of goals but in doing so lost their shape and failed to find the flowing style of hockey they have demonstrated in previous weeks.
At half time the home side led 4-1, a goal just before the end of the first half was dispatched with style for the Dragons by player of the match Donna Vaughan.
The Dragons had their spell in the second half putting the home side under pressure at times but in fairness they were out played for large parts of the game. A few contensious decisions  together with some mistakes made by the Dragons saw the home side put 7 past them. This team were stronger than any of their  previous opponents and also had the advantage of playing regularly on their water based pitch which they got the best out of.
The visitors got a second just before the game ended. Nat Beal getting a touch on the ball in a goal mouth scramble.
Playing against such an experienced skilful team was good experience for the Dragons side and they will take much from this game.

—————————————————————————————————————–
Women's East Hockey League Division 2NE
Norwich Dragons 2s 3:1 Lowestoft Ladies

Dragons Ladies 2's knew they were likely to face their toughest test so far against Lowestoft Ladies 1's, who came down from Div 1 last season. Dragons were disappointed to lose Hollie Limmer to illness, meaning she was unable to face her former Club, however they were still able to field a strong team.
The early encounters saw good Dragons pressure with Emily Rolls and Gail Thomas linking up well in the middle, spraying the ball wide and forward finding willing runners in Laura Shreeve and Aoife Lowe-Davies. Defensively Dragons remained solid, with Angela Murgatroyd putting in some strong tackles, supported well by Sophie Thomas and Ally Windsor Waite. Both teams forced short corners; Dragons were particularly aware of the threat Lowestoft posed from their set-pieces, however the work they put in to training proved to be worthwhile, with Freddie Briscoe dominant in the Dragons goal, clearing the firm strikes against her extremely well.
Dragons continued to apply the pressure, and a strong run down the right by Laura Shreeve, beating two or three players, before squaring an inch perfect pass to Hannah Hardy, whose scuffed effort somewhat fortuitously saw the ball find it's way to Shelly Seaman in perfect position on the back post, to slot the ball, for a Dragons 1-0 lead at half time.
Dragons talked at halftime about holding their shape and upping their work rate a little, to ensure they were first to the ball and applying the pressure. The next goal was always going to be important in this tight encounter, and this came reasonably early in the half. Hannah Ellis on the right, found Hardy at the top of the D, who was aware of Dragon's Player of the Match Karen O'Neill Simpson making a great run from deep on the left. O'Neill Simpson picked up the ball at the top of the D and swept the ball above the outcoming keeper for an excellent goal, to take a 2-0 lead.
This settled Dragons, who continued to force the play and earn a number of short corners, one strike from Emily Rolls bringing a fine save from Bond in the Lowestoft goal. Further pressure resulted in Dragons 3rd goal, which came from another short corner, which was saved initially by the keeper, however it wasn't cleared fully and a bobbling ball was eventually slotted away at the near post by Hannah Hardy.
Lowestoft weren't about to surrender however and to their credit, they continued to press, coming more into the game in the last 10 minutes. A lapse in concentration, led to Lowestoft forcing the ball across the D, eventually scoring at the far post. With just minutes remaining Lowestoft continued to apply pressure and a great strike from the right saw a fantastic left footed save from Freddie Briscoe, to ensure Dragons didn't endure a jittery last 2 minutes.
All in all a great team effort again, against a strong Lowestoft team, who will be up there at the end of the season. This Dragons team continues to work extremely hard for one another both on a Saturday and just as importantly in training, ensuring fitness levels are good and work ethic is high – lets keep up the good work!!
—————————————————————————————————————–
Empresa Norfolk Women's Premier League
Norwich Dragons 3s 1:5 Dereham 2
Dereham 2's were always going to be a tough match for Dragons' 3's. Having lost to them twice last season, Dragons were determined to show how the team has developed its game in recent matches.
Dereham were well drilled and on average faster when carrying the ball, but Dragons were keen to make it as difficult as possible for the visitors.
Dereham's first goal came after 15 mins, when a strike at goal deflected off a Dragons stick. The slow loop of the ball temporarily disappeared from goalkeeper Amy Forse's eye line as it wen above head height, and despite raising her stick to defend the goal, the ball, in slow motion, fell down and bounced over the goal line.
Dragons had their ten minutes of play, with triangular passing and positivity, which resulted in a short corner. Wolfe's strike at goal was saved by the Dereham keeper, but the rebound fell at Harriet Green's feet. She deftly swept it in the goal to a stunned Dereham defence.
Dereham were fired up from this and their play became very direct, hitting long balls, looking for the deflection. They scored twice like this, one of their players left free on their left post bringing the score line to 1:3 at half time.
Dragons changed their formation for the second half, playing four at the back. Dereham had to work a lot harder but still played the ball around well. They scored twice more, one from a short corner.
Dragons had a final chance with their second penalty corner. The slip to the right was picked up by Amelia Dawson, but unfortunately due to height her strike, which found the back of the net, was disallowed.
Goal scorer Harriet Green and Hazel Sumner were joint PoM's for their tireless work, but the spread of votes showed that it was a real team effort.

A few photos from the game here.
—————————————————————————————————————–
Empresa Norfolk Women's League Division 1
Norwich Dragons 4s 4:0 North Norfolk 2
Playing the newly named North Norfolk, Dragons produced some really classy hockey, it was a game where everyone played their hardest and came together as a team.
Play started with North Norfolk going straight on the attack, they tried to force their way through on the left, but strong defending from Freya Clogan and excellent passing down the line by Mel Widdows and Sue Cross quickly turned play in Dragons favour. Gemma Rump and Katie Buxton (PoM) made a lovely team at top and bottom of the diamond and kept moving the ball wide to the waiting sticks of Emma Buxton and Kate McKenna. They drove the ball time and again to the D and a goal seemed imminent. It took a little longer to come than we might have hoped, but when it came it was a cracker. A short corner was given and Sue Cross struck the ball perfectly from the top of the D to Mel Widdows who was sitting on the left post, slaming the ball in behind the keeper.
North Norfolk came close to equalising when a penalty flick was given, but Laura Tuck (GK) faced down the ball, kicking it confidently out of the D. Play resumed and Dragons came close to scoring again thanks to the efforts of Lisa Harwood, who played a lovely ball across the goal.
In the second half Dragons kicked it up a gear, Laura Bruce was in the ideal spot at the top of the D to hit the ball to a waiting Sue cross who scored the first of her 3 goals with a lovely push into the right corner. Dragons continued to pile on the pressure with well-timed runs from Louise Davis down the right and great passing through the midfield, every ball was chased and every opportunity taken. Sue scored her second goal with a great strike. North Norfolk fought back and were awarded a couple of short corners, but solid defending and good clearances by the keeper stopped every attempt.
The final goal was a beautiful ball from Sue Cross that deflected off a stick and went up and over the keeper. Dragons looked close to scoring a fifth with both Lisa Harwood and Katie Buxton having some good shots, but a strong opposition keeper denied them on each attempt.  Kate McKenna made some lovely plays down the right finding her way to the D, but couldn't get past the defenders. Play continuously switched from right to left giving Mel Widdows and Emma Buxton a couple of great passes into the D, but another goal wasn't to be.
We ended the game a very happy and very tired team – great work ladies.
—————————————————————————————————————–
Empresa Norfolk Women's League Division 2
Norwich Dragons 5s 1:0 Norwich City 6
Norwich Dragons's Ladies 5s scrape the win against Norwich City Ladies 6s.
This game was one of some fantastic play and fantastic moments but without the finesse of the finish that Ladies 5s can achieve. From the beginning Dragons had the majority of possession with some excellent stick work by Anja Finnegan. With Issy Wolfe out of action with an ankle injury Megan Farrant stepped up from the sixes to give some excellent strikes into the goal.
Chiara Bond worked hard to create opportunities and Dragons had chance after chance but City's excellent defence clinically closed it down every single time. This week the defence were challenged a little more with Jade Blanchflower, Laura Hansell, Carmel Winsor Waite (Man of the Match) and Jess Tye Leach keeping a lovely clean sheet under considerable challenge with City's quick breaks.  Some good saves from Goal Keeper Laura Tuck dealt with a few heart stopping moments.
A crucial short corner just before half time looked like it was going Dragon's way but City cleared it again leaving us 0-0 at half time and this captain a little bit worried.
The match continued all the way through like a pinball with some excellent tenacity from Rachael Matthews who played like a demon to ensure she drove that Ball up the line. Rachel Bruce (in her debut for the 5s) played some beautiful hockey and cleanly worked up the pitch. 12 short corners later I have to confess I was losing the plot and a captain with a hot head is not what you want in these situations, however the goal finally came. It wasn't a pretty routine but sometimes a good old smack into the d by a competitive captain and someone getting on the end of it (Nippy young Lisa Harwood) is the only way to break an effective defence and shows the importance of doing something quickly in the D.
A win is a win and another 3 points retains the 4th position in the table, however Beccles are nipping at our heels. We need to work on using our speed and strengthening our shots to capitalise on the amount of effort we put in because there was not one person who did not give it their all in that game.
—————————————————————————————————————–
Empresa Norfolk Women's League Division 3
Norwich Dragons 6 1:0 Carrow 3
Dragons had to be satisfied with a single goal against Carrow, and had cause to be grateful that goalkeeper Amy Forse was in such fine form because she made excellent clearances from every angle when Carrow counter-attacked, usually through the speedy Amy Lewis-Butler. That said, Dragons always seemed to have control of this game, and could have made life a little easier for themselves if they had taken more of their scoring chances.
It is pleasing that the team adapts easily to playing whoever is available, with everyone willing to be flexible and work in different positions. This week it was the turn of Jo Eke to move out of her comfort zone and play at the top of the diamond, where she was able to use both her distribution and tackling skills to good effect. Four players were making their debuts for the 6s, and gave a good account of themselves. Alice McNeill and Katy Saide were very composed in defence, ably supported and protected by Jasmin Daniels and Bella Capps. Arabella Sabberton (midfield) and Lucy Morton (forward) took starring roles in the attacking moves.
The goal came just before half time, when Bridget Le Good threaded a pass down the line to Lucy who set off at speed. Lucy's ability to take on and beat her opponents, tackle back and make telling passes earned her the player of the match vote. She laid a pass off to Arabella, who continued her surge through into the circle and slammed the ball home. Arabella  continued to worry the Carrow defence every time she went forward, and Helen Marsh was equally strong on the left. Arabella, Helen and Sarah Norman set up plenty of chances, but Dragons just lacked a player on the post to force the ball home.
Perhaps the most telling indicator that Dragons still need to work at their sharp shooting was the fact that despite all their possession, they only managed to win one penalty corner. But, on the plus side, Dragons were happy to extend their unbeaten run and are steadily building a competitive team at this level.
—————————————————————————————————————–
Empresa Norfolk Women's League Division 3
Norwich Dragons 7 0:9 Lowestoft Railway 2
Dragons Ladies 7s lost away to a quicker and more skilled Lowestoft Railway 2, who currently second in the league.
Railway dominated play from the start, although Dragons didn't make it easy for them. Amy Hunter made some good saves in her debut as keeper, with the defenders of Emma North, Bridget Le Good and Jo Baker helping to get the ball away. However Railway managed to find the back of the net to make it 3-0 at half time.
Dragons came back in the second half undaunted with their heads held high and carried on the match as they started, trying not to let Railway have an easy game. Cath Power at the bottom of the diamond made some good tackles, as did Tracy Stuart-Sheppard at the top of the diamond. Izzi Ferguson on the left did some good interceptions, managing to pass the ball up to Amy Ward who did her best to out run the Railway defence to try to get the ball into the D. Out on the right wing, Gill Walker made some good tackles and pushing the ball up to Katrina Speirs, who had some attempts at the goal, the closest of which came from a short corner, but were stopped by the Railway defence.
Railways skill and speed enabled them to score a further 6 goals in the second half, finishing with a final score of 9-0. Dragons were slightly disappointed but in good spirits, happy that they tried their best and aware that they will improve the more they play and train.
—————————————————————————————————————–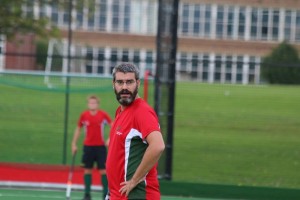 Tom in-action during the game….
Mens East League Division 2N
Norwich Dragons 1s 1:2 City of Peterborough 1
Dragons' unbeaten start to the season came to an end when they were pipped 2-1 by visitors Peterborough at the Den on Saturday. Dragons probably deserved more from a match they controlled in large parts but were left to reflect on their inability to break down a stubborn defence and the lapses in concentration that twice saw them caught on the break. The one real positive for the home side was the fine performance of man-of-the-match Henry Laming in midfield.
In what is turning out to be a weekly dance, Dragons swapped Smiths and welcomed back Laming and Sloman. They started well, taking advantage of an extra man in midfield to dominate possession, both fullbacks asking questions down the flanks, Samwise and Jackson almost getting on the end of opportunities at the far post, and Laming and Knights prominent, surging forward from midfield. They even managed to bundle the ball into the net via the back of KP Snelling's stick and Jackson's chest, but the breakthrough proper came when 'Walker' won the ball high up the pitch and slipped Laming in at the top of the D and all stood and watched as the youngster ghosted past three defenders before cracking a terrific reverse-stick strike into the far corner.
Dragons started the second half where they'd left off, though were lucky Peterborough couldn't capitalise on a short corner after Samways had done his bit to redefine the extremes of agricultural defending. The bar has been set; the challenge only awaits Overstall's return now. And Dragons should have extended their lead. They enjoyed 73% of the possession and had 46 penetrations into the D and 27 shots off target. Instead, they let the visitors catch them on the break twice in five minutes, Farrow left to throw his mattock in despair before Bell was first left 2-on-1 and then rounded as he rushed out to challenge Peterborough's skilful striker. There were still chances for an equaliser – or more – Samwise deftly nudging Snelling's through-ball stylishly wide from three yards and Hamilton deflecting another chance into his own ankle from two yards.
Peterborough were gracious in victory, acknowledging that they had been a bit lucky to escape with the three points, but credit must go to the visitors too. They defended resolutely and with organisation; Dragons were never able to stop them moving the ball quickly from back to front; and they had enough quality to punish Dragons when the chances came on the break. They left the home side with plenty to think about and work on in the weeks ahead.
A few photos from the game here.
—————————————————————————————————————–
Mens East League Division 3NE
Norwich Dragons 2s 2:4 IES 2
The Men's 2nd XI were gifted a lie in this weekend but travelled to Ipswich to take on Ipswich-East Suffolk 2nd XI having been given the 15:00 pushback. IES finished in 5th place last season with W8 D3 L7 GF47 GA37 Pts27. A strong position to finish for a team that were promoted from 4NE as champions 2 seasons ago which also saw this Dragons 2nd XI side promoted as runners up. So far this season IES 2nd XI had beaten Magpies 3rd XI 2-1, beaten Sudbury 2nd XI 3-0 and lost to Newmarket 1st XI 3-2. An interesting set of results that meant that IES 2nd XI were sitting in 5th place.
Another week and another large change to personnel in the team. This week we welcomed Ben Watson and Alex Stone who have also made great progress having come up from the development ranks only a couple of years before. Defensive stalwart Andy Hipper returned to us for his first game with us this season and Nick Turner made his 2nd XI debut. The smurf turf (new, bouncy and sandy) awaited us.
Learning from last week Dragons looked to push harder, earlier, and the opening few minutes were confined to the IES half as Dragons passed the ball around, battling the bounce of the fresh turf. Piers Gordon-Brown got caught on the ball in midfield and IES showed Dragons what their forwards were made of as they rushed forward at pace towards the Dragons goal, handling the ball well on this pitch. IES used all or their forwards well, on and off the ball, and made headway into the Dragons D and along the baseline. Sam Mann was back in goal this week and was called into action at this early stage of the game. Tackles were made on the baseline and a defensive foot was found but as IES caught Sam Mann on the ground they played on and snuck the ball in at the near post. The whistle was blown before the ball had made its way across the line but the umpire called for a goal instead of the short corner that was anticipated. This caused confusion because some Dragons had played the whistle and even though there was all but a second in the space between the whistle and the ball going over the line the umpire's decision stood. 0-1.
Dragons restarted and again pushed forwards but struggled to get a grip in midfield despite Lewis Wilkins passing the ball well around the team. IES continued to break at pace through the middle and down their left, utilising their centre midfielder as the playmaker who time and time again got the ball through to wingers and strikers. Graeme Smith snuffed out several moves into the D but a short corner was called for what we saw as a great tackle on the reverse. The short corner option for IES was a straight strike, straight down the middle which somehow eluded Sam Mann. 0-2. Dragons dusted themselves off and started up again with good tempo and pace and made some great attacking plays via Simon Nisbet and Alex Stone on the wings. Several plays found their way into the IES D but Dragons struggled to convert and perhaps took a little too long on the ball allowing the majority of the IES team to fortify their D. Jason Wolfe and Will Kirby managed to force a few short corners but no conversion came. The final 15 minutes of the first half was played nearly entirely in the IES half as Dragons pressed on despite an IES injury which saw them lose a player. IES managed to squeeze in a few more short corners with one's first shot firing into the netting and so disallowed. Half time. 0-2.
Dragons returned to the pitch adamant to make more of an impact in the 2nd half and again did well to push hard and into the IES half. The speed of the IES forward continued as their centre midfield continued to feed them with passes and good periods of attacking Dragons play ended with near-goal IES experiences. This seemed to ware Dragons down and energy seemed to dwindle and movement off the ball diminished. Wing backs Rich Phillis and Andy Hipper received 16 yard hits and fed through to the midfield well but possession was lost too frequently allowing IES midfield to push on. Dragons defended heavily but a great save from Sam Mann and then the returned half volley mid-air pick from Rich Phillis looped the ball over the Dragons keeper and into the goal. 0-3. Dragons pressed on with encouraging calls from the whole team. Nick Turner made a great impact on the right wing and showed a great work rate and calm passing which worked well down this wing with Ben Watson and Jason Wolfe. Some fluid pieces of hockey found the IES goalkeeper and with a little persistence Dragons caught a rebound and Jason Wolfe drew the IES goalkeeper wider and wider still forcing another save, half a clearance, before Jason Wolfe finally found the goal. 1-3. Dragons picked up again and a similar pattern as before continued; pressing plays from Dragons resulting in the speedy IES forwards dragging the Dragons defenders back to make last ditch tackles. A Dragons short corner was won, played, trapped, a dummied shot and a left slip to Will Kirby who flicked the ball in at what looked like slow motion into the back of the IES net. 2-3. IES lost another man to a yellow card but Dragons were unable to make the most of this opportunity as it seemed that IES had as much of the ball as ever. A frightening strike from IES inside the Dragons D was caught by Sam Mann on the lower-front of his helmet. The ball was cleared and Dragons attacked. The whistle was blown to check on the Dragons keeper who was clearly dazed and had split his chin. Dragon first aid was at hand and administered and Sam Mann played on. The game was running down and in one of the final IES attacks the ball was for once not cleared so cleanly and IES seemed to have numbers over the Dragons defence. The ball was agonisingly worked around along the right-hand side baseline and into the Dragons goal between the goalkeeper and the near post. 2-4. Dragons pressed once more looking for a consolation goal with Alex Stone creating several great opportunities down the left wing, unfortunately to no avail this time. Full time. 2-4.
A disappointing result meaning 3 losses in a row but again, at times, some really good hockey and an encouraging spirit from the whole team throughout. There have been times in the past when this game would have meant that handfuls of goals would have been conceded after heads dropped; pleasing to see that this has not been the case at all this year. 3 losses perhaps, but only a goal difference of -4 because from these games. Not to mention that this IES team looked much stronger than in pre-season and would most likely be tipped for a top 5 finish again.
Next week the 2nd XI are at home to Ipswich Cranes 1st XI at 11:30. Cranes are currently in 8th position, one place and one point above the 2nd XI but with a goal difference of -13 to our zero. Cranes have managed at 6-1 loss to Pelicans 2nd XI, a 2-1 win to Magpies 4th XI, a 9-0 loss to Lowestoft Railway 1st XI and a 2-2 draw to Norwich City 3rd XI. Dragons should be eyeing this up as a return to winning ways making Quiz and Chips all the tastier that evening.
—————————————————————————————————————–
Men's East Hockey League Division 4NE
Norwich Dragons 3s 5:0 Watton 1
Watton conceded so therefore a 5:0 victory awarded to Dragons
—————————————————————————————————————–
Men's East League Division 5NE
Norwich Dragons 4s 2:0 IES 4

Dragons remain top of the league with 100% record

Dragons travelled to the new 'Olympic' pitches at IES looking to extend their winning start to the season.
Rob Jenkins was relieved to get back in the team having missed the last two games and justified his selection by opening the scoring within minutes of the start.  The goal came from a well worked short corner with an assist by Rich Moulson.
IES pushed hard to get back in the game but were thwarted at every turn by a resilient Dragons defence (consisting of Dave Pentin, Paul Keating, Dan Ryan and Chris Wilkinson) and a series of great saves by MoM Giles Brooks.  Dan's great distribution from the back was instrumental in allowing Dragons to turn defence into attack.
The defence were well supported by the hard working midfield of the experienced Rich Moulson, slippery Garnet Jones and Rampaging Rob Jenkins in combination with the enthusiasm of youth in the shape of Max Laming and Rohan Kaushal.
As frustration built within the IES team, Dragons continued to press.  Upfront Andrew (not that) Cross worked well in combination with Bradley Howlett and Rob Chaney-Baxter.  Rob C-B showed great tenacity and bravery at the prospect of being squashed by the large IES defenders, outmanoeuvring them with his deft touch and quick feet.  Bradley got in some good positions and was able to tap in at the far post for Dragons' second goal following a good run and (un)intentional cross/shot from Garnet.
The second goal settled any lingering nerves and made for a comfortable win, despite IES attacking hard for the last quarter of the game and earning a number of short corners (thanks 'back stick Wilko').
A great team performance was reflected in the Man of the Match voting, with 8 different players receiving nominations whilst we enjoyed plates of sausage, chips and beans (only 2 bangers for a disappointed R C-B this week).
—————————————————————————————————————–
Men's East League Division 6NE
Norwich Dragons 5s 2:1 UEA 3
The dragons fifth team grasp another important 3 points in a heavily contested face-off against the local university side.
The game started with both teams evenly matched and battling hard for every fifty fifty ball. It took 15 minutes for the deadlock to be broken by a clinical finish from Oli Browne. The dragons knew that a one-nil lead wouldn't be enough to keep UEA from turning the game around and therefore came straight out from the restart looking for the second goal. It wasn't going to be easy, UEA's defence was solid and any attack coming from Dragons was quickly cut-out.
With only a few minutes left of the first half Dragons had one of their attacks converted into a short corner after a rash challenge from the UEA defence outside of the D. The UEA keeper made a good save from the first shot only for the rebound to fall for debutant Charlie Nunn. With great composure when under pressure, Charlie swept the ball wide of the goal but had it generously deflected into the goal by the UEA defender.
Half time came and the Dragons had a 2-0 lead reflective of their great play. The strategy after halftime was to defend the lead as the Dragons were only too aware of how UEA can come out a lot stronger in the second half.
Dragons went out with a defensive mentality in the second half as UEA were beginning to find their final pass. The Dragons defence comfortably spent 30 minutes absorbing the UEA attack due to some excellent keeping from Elliot Wang.
The pressure was mounting and UEA had every right to end up on the score sheet, a fantastic cross goal finish from the UEA captain cut the lead to 1 with 3 minutes to play. Dragons retaliated by putting 11 men behind the ball leaving UEA with not enough space to maintain possession in the Dragons half.
Dragons managed one final attack which led to the debutant Nunn being denied a second goal by the UEA keeper.
Overall the two teams played a well contested game with Dragons taking the 3 points due to some fine strategic play. Man of the match goes to the young debutant Charlie Nunn. Many thanks to the umpires and UEA threes for a great game of hockey.

—————————————————————————————————————–
Men's East League Division 7NE
Norwich Dragons 6s 1:2 IES 5
—————————————————————————————————————–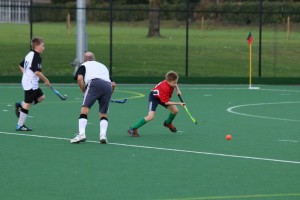 Empresa Norfolk Boys Development League
Norwich Dragons 2:4 Magpies 
A few photos from the game here.
Captain- Raunaq
Goalie- Ben
Score- Magpies 4, Dragons, 2
Scorers- Raunaq (short corner), Jono (goal hanging!)
Man of the Match- Raunaq, for playing well, 'and also for sympathy', says team.
Memorable moments-
Raunaq doing a front flip because of a stick in the ribs and a mum running onto the pitch.
Jono's amazing goal hanging
Luke's defending and his clearances
Coach- John
Adult- Rob who only played for about 5 minutes.
—————————————————————————————————————–
Empresa Norfolk Girls Development League
Norwich Dragons 5:0 Yarmouth

Who scored for Dragons? Heather Tasker (x2), Anna Brook, Arabella Sabberton and Mia McGhee
Captain: Mia McGhee
Player of the match and why: Heather Tasker because she had great control of the ball, all of her passes were accurate, she found empty spaces and she scored 2 of the 5 goals for dragons. Well Done Heather 🙂
Coaches: Bridget LeGood
Playing adults: Gail and Hannah
Memorable moment: When we had finished the game knowing we had won the first game of this season
Overall review:
Well, what can I say we won for the first time this season so far. I would like to start off by saying a massive well done to the team we played brilliantly, and I'd like to say a big thank you to Hannah and Gail for playing with us today. Alessandra you played well even though you didn't really need to do much. Isobel you played brilliantly in defence today you have a good technique and good power. Alice you had some really good runs towards goal and your passing is improving greatly. Lara you're like a rocket running up the pitch even though you were set in defence you played everywhere also you had some good passing and you really stick with the ball and mark really well. Lucy good contact with the ball and you had some great tackles with the oppositions adult players as well as the others. Lily you are developing really well in defence you done some great stops and passes keep up the good work. Arabella again good tackles, passes and shots at goal and scored one. Aditi you played really well today you had good movement with the ball and your passing is really good and also you use of space is great. Anna you're a really good hockey player your runs are tactical and you force and aim is good, well done for scoring goal 3 of 5. And finally Heather I want to say a big well done to you for scoring 2 goals for Dragons, you played extremely well.
Well played everyone
Mia McGhee
Photos from the game here.