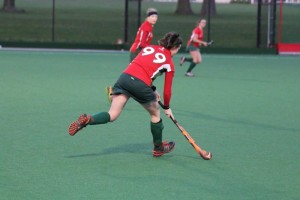 Norwich Dragons Ladies Over 35s beat Norwich City 6-0 in Round 2 of the England Hockey Knockout Trophy on Sunday.  With two goals from Natalie Beal early in the first half, the home side were quickly in their stride.  The first came from a great ball into the D from influencial player Laura Shreeve, to fellow forward Lisa Harwood, who laid off the ball to Natalie Beal to slot home.  Before her second goal, Beal also came close when she lobbed the ball over the City keeper, only to see the ball strike the crossbar.  However, no such bad luck a few minutes later when Shreeve played an inch perfect cross for Beal to slot into an open goal.
On the stroke of halftime Dragons won a penalty corner which found its way to Hannah Hardy who drove the ball past the keeper for a 3-0 halftime lead.
Just 8 minutes into the second half, Beal was on the scoresheet again with her third and Dragons' fourth.  Another great ball from Shreeve found Beal, who scrambled the ball home.  Beal scored her fourth from a pin-point angled cross by Hardy.
Dragons had several further opportunities to increase the victory, however just one further goal was scored, a second for Hardy.
The home sides' defence of Ally Windsor-Waite, Angela Murgatroyd, Louise Davis and Lucy King in goal had a few penalty corners to deal with and one or two breaks, which they coped with well, allowing the usual defenders Donna Vaughan and Lizzie Moulton to move further up the pitch to join captain Gail Thomas and Karen O'Neill-Simpson in midfield.  Injury to forward Sue Cross brought a premature end to her match in the first half.