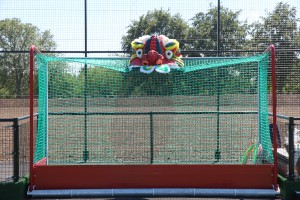 Mens East League Division 2 North
Norwich Dragons 1s 6:1 Bourne 1s
Dragons returned to winning ways this week with a moral boosting 6-1 win at home over Bourne-Deeping.
Dragons struggled to gain possession of the ball in the early minutes and found themselves quickly a goal behind to a Bourne-Deeping break away. Gradually Dragons were able to play themselves back into the game and they started to put pressure on the Bourne-Deeping defence and create some attacking pressure. Rupert Snelling opened the scoring for Dragons, tying the game at 1-1. Bourne-Deeping continued to look to hit Dragons on the break and won a number of penalty corners, but were unable to convert any of them, Robbie Whiting standing strong in goal. Dragons continued to create chances and Steve Woodward scored from a well worked penalty corner to make it 2-1 to Dragons. The score at half-time was 2-1 to Dragons.
Dragons came out strongly in the second half, putting in their best performance of the season so far. Bourne-Deeping were limited to a few corners and chances in the second half, while Dragons piled on the pressure. Alex Browne made it 3-1 to Dragons before Matt Knights scored the goal of the game, latching onto Lewis Wilkins' fantastic through ball, before rounding the keeper and calmly slotting the ball reverse stick into the open goal. Matt Knights scored his second being first to latch onto a free ball in the circle and smashing it home. Alex Browne completed his brace to round off the scoring for Dragons. Final score 6-1 to Dragons.
Dragons man of the match was Lewis Wilkins.
—————————————————————————————————————–

Mens East League Division 4 North East
IES 2s 5:1 Norwich Dragons 2s

Dragons 2XI came up against a strong IES team that were particularly organised and not shy in front of goal. A couple of defensive errors led to the first couple of goals for IES as Dragons fought hard not to concede more Dim Ives pulling off save after save. The Dragons fought hard to level but only to concede one more before the break to a counter attack after a surge of dragon pressure in IES circle. Dragons down by 3 at the interval.
From the start of the second half the Dragons went on the offensive. Pushing up from the back and a good display of passing from Adam Sayer providing opportunities on goal. Finally a strong dribble from Dan Cheesman struck lucky with a shot lashed into the bottom corner. Momentum was swinging the Dragons way until IES got in behind the defence with a large arial catching the dragons out for an easy tap in which was shortly followed by another. IES 5-1 Dragons man of the match Adam Sayer.
—————————————————————————————————————–

East Men's Hockey League Division 5NE
Norwich Dragons 3s 7:0 Felistowe 3s

Dragons with the words of the Pre-match team talk fresh in their minds steamed into their opponents and took control of the match.  This early domination was converted into a goal when John Ives collected the ball in the right wing position dribbled to the back line and cut the ball back for Rich Phillis to coolly score. Dragons continued to dominate and even when Felixstowe had the ball the pressure applied and good marking by Dragons allowed them to win the ball back quickly. Further goals came with a Adrian Kemp shot from a short corner arrowed at speed into the corner of the goal. Two goals from Jon Goodson one from a short corner variation and the other from open play gave the team a 4-0 lead at half-time. Dragons were winning the ball in defence when Felixstowe attacked and quickly breaking forward.
The second half began with Dragons determined not to let Felixstowe get any opportunity to get back into the match. The Dragons attacks continued and Jon Goodson completed his hat-trick and a sixth goal was added by Matt Jenkins. Dragons captain George Walker was having a strong match in the centre of midfield starting many of the teams attacks with powerful dribbling runs forward. A final seventh goal was scored by Matt Jenkins who pressurised a Felixstowe player into a mistake and took the ball into the D and found the gap past the keeper into the goal to give a final score of 7-0.
This was a great display by the Dragons putting into practise the passing skills they had been coached in recent training sessions.
Many thanks to Phil York-Smith for selflessly organising the rotation of the substitutes.
Dragons Scorers: Jon Goodson x 3, Matt Jenkins x 2, Rich Phillis, Adrian Kemp.
—————————————————————————————————————–

East Men's Hockey League Division 6 North East
IES 5s 3:1 Norwich Dragons 4s

Ipswich&East Suffolk turned out a side far stronger than their league position suggested, they started well with Dragons struggling to find the right shape to defend against them. Ipswich scored two in the first half. Goals could be described as " fairly easy" as we lost control of the ball in our circle on both occasions. We had a number of good attacks but could not convert even from the resulting penalty corners.
The 2 – 0 score line at half time was challenged when Henry Laming walked through the Ipswich defence and his reverse stick shot was unexpected and rocketed in to the back of the net. Dragons settled a bit gaining more control in the mid field. Alec Bidet-Steele making some super long passes. Andy Key played his part in defence covering a lot of ground to help with the attack too. Ipswich' centre back took control of the game. His positional play and superb distribution left Dragons chasing shadows for the latter part of the game. A cross from the right was collected by the Ipswich forward in our circle and converted to leave Ipswich with a 3 – 1 victory.
Man of the match was Henry Laming in spite of his five minutes in the sin-bin.
—————————————————————————————————————–

East Women's Hockey League Division 2 North East
Old Buckenham 1s 0: 18 Norwich Dragons 1s

After their hard fought victory last week the Dragons Ladies were full of confidence and determined to put in another strong performance hoping to maintain their unbeaten record and topple the East North Division 2 league table.
The Dragons prepared well for the match being focused in their warm up and this undoubtedly resulted with them starting the game at a high tempo and steaming into their opponent's half taking control of the match with Marie JAMES scoring just 45 seconds into the game. With the early lead it seemed that the Dragons tough training regime was finally paying dividends as their hockey flowed freely resulting in goals being scored at regular intervals throughout the game.
At half time Old Buckenham, who had limited numbers in their squad, suffered a number of injuries and were helped out by some of their young second team players. These players, as with the seniors, gave a good account of themselves; they maintained their discipline and worked hard throughout the match. Despite the scoreline this group of players kept their togetherness as a team and the manner in which they conducted themselves they are a credit to their club.
There were some excellent performances from the Dragons team in particular Emma TABRETT and player of the match Gail THOMAS.  The goal scorers for the Dragons were Laura SHREEVE (5), Gail THOMAS (4), Marie JAMES (3), Claire BAKER (3), Nat BEAL (2) and Hannah RONEY (1).
—————————————————————————————————————–
East Women's Hockey League Division 2 North East
Norwich Dragons 2s 1:2 Framlingham 1s

Perfect weather for hockey, saw Dragons II's take to the pitch high in confidence having had two good wins in recent weeks. Dragons were up against some tough opposition in an experienced Framlingham side, who were first to the ball in the early encounters and stronger in the tackle. Despite some good play in the middle of the pitch, particularly from Debs Smith, and tenacious tackling from Maddie Denman, Dragons went behind to a goal at the far post.
Dragons grew into the game, with Laura Bailey and Saskia Delacave making some good runs upfront, supported by Sarah Radley. The end of the first half and the start of the second saw Dragons keeping possession of the ball much better and they started to dominate the game.  Framlingham were always dangerous in the break however, and Player of the Match Freddie Briscoe, kept Dragons in the game with a series of great one on one saves.
Eventually, following a number of short corners, Debs Smith got a good shot on goal, which was then forced goalwards, hitting a Framlingham foot on the line. Dragons were awarded a penalty flick, which was slotted away by Hannah Hardy.
With a few minutes remaining, a slight lapse in concentration allowed Framlingham to get a player on the back line who then crossed along the face of goal, for an attacker to slot in at the back post.
Whilst a disappointing end to the game for the Dragons, this was always going to be a tough encounter.  There is a lot to build on, however the Dragons need to learn to become a little more tenacious and be first to every ball…..this will come as the team continue to grow together.
—————————————————————————————————————–
Marshall Motor Group Norfolk Women's League Division 1
Yarmouth 2s 0:3 Norwich Dragons 3s
Dragons dominated throughout the match, skilfully passing the ball around the pitch playing a game of possession hockey.  They kept the ball away from the Yarmouth defence, by moving play from side to side and up and down.  Then a quickly taken free pass by Louise Davis, opened up a gap for Olivia Thomas to dribble the ball around a defender ending in a cross for Amy Brown to put the ball into the Yarmouth goal.
With Dragons pushing high into the Yarmouth half, a quick break from Yarmouth forced Dragons' goalie, Amy Force, to leave her line and make a challenging tackle to keep a clean sheet.
Dragons continued to play a patience game and Yarmouth appeared to tire in the second half.  A second goal came from Sophie Cullens, who converted a fast cross from Lucy Hopgood on the right.  The game finished 3 nil to Dragons when Pollyanna Watson scored, assisted by Caroline Wolfe.
With five wins out of five matches, Dragons maintain the top slot in their division above Sprowston on goal difference.
The Dragons' Player of the Match was shared between Olivia Thomas and Lucy Hopgood.
—————————————————————————————————————–
Marshall Motor Group Norfolk Women's League Division 2
Norwich Dragons 4s 6:1 Magpies 6s

Dragon's stormed to victory in this exciting and fast paced match. The dragon's took a little time to come together during the first half, with team members settling into play and position, but soon the determination of the team was revealed, a selection of strength and experience combined with youth and energy proved to be a tough team to beat. The first goal was scored by Magpies – a lucky break into space, but this was their only opportunity in the first half and the majority of play stayed in the Magpies' 25. Dragons had many opportunities to level the score and eventually managed to convert a short corner just before half time, thanks to Scarlett Brown.
The second half saw the Dragons start to push their advantage with Annika Richardson (player of the match) scoring an amazing goal from the very edge of the D that went in the bottom right corner. This was soon followed by goals from Debbie Santa Clara, Catherine Bourassa, Lucy Campbell and another from Annika. All made possible due to careful positioning, clever passing and maintaining position across the pitch.  Marcy Windsor-Waite, Megan Harvey and Lynne Price kept a strong midfield – that was difficult for the Magpies to breakthrough and on the rare occasion this happened Laura Bruce and Freya Clogan channeled players beautifully enabling a clean second half.
This was an excellent team effort, with the Dragons' fours playing as a consolidated and positive team.
—————————————————————————————————————–
Marshall Motor Group Norfolk Women's League Division 2
Lowestoft Railway 2s  2:3 Norwich Dragons 5s
Dragons turned in their most determined performance of the season so far and were rewarded with a narrow win over Rails, who as always battled for every minute of the game. Dragons had been looking forward to Sue Cullum 'breaking her break' and donning the keeper's kit. Sadly, Sue was taken ill on the day, but had considerately left her kit at the Den. So the first hero was Lois McGregor, who considered playing kicking back – until she discovered how far she could kick the ball with the kickers on. She was gradually persuaded to put on more and more kit until she was wearing, well, most of it. Her nerves were still jangling when Niamh McLaughlin drove straight into the circle to open the scoring for Rails, but after that she was calm and composed and made some excellent blocks.
Dragons equalised when Bridget Le Good inside the 23 spotted Laura Goodbun available for an early free hit, and Laura's perfect pass found Rosie Korn who made an equally perfect sweep past the keeper. End to end play saw the Dragons midfield gradually establish mastery. Chiara Bond showed she is far more skilled and composed  as a midfielder with a turn of speed. As forecast by Coach Pete Thomas, Rosie Korn could make her reputation at the top of the diamond with some telling passes, runs and tackling back. Holly Francis as ever, was a reliable asset left and right and Katie Buxton proved that she can play a defensive or attacking role in midfield.
The defenders were a stronger unit this week. Abi Cowe commanded the centre, and when Dragons were pushing for the winner, she led the press.  Beth Elgood continues to improve week by week and put in some strong tackles.. Emma Buxton was very hard to beat, and Nicky King AT LAST made her Dragons' debut and proved what we suspected all along – that she is just what the Dragons need. With four, or sometimes five, true defenders available to the team, the 5s have some genuine options. It gives defenders a chance to take a breather or take on instructions.
Upfront, Laura Goodbun (Dragons' player of the match) was on fire and Rails tended to back off when Laura went a-running. She gave Dragons the lead with a well-rehearsed and well-struck penalty which a defender could only touch into the net. Her winner was even better, demonstrating her ability to take on defenders and finish with composure. The other forwards, Lizzy McDonnell and Sophie Farrow, went on some great runs, left and right, and if the 5s can pick up their crosses and passes into the circle, the goals will flow.
Rails were putting some good moves together, and had taken the score to 2-2 when Hannah Atkin fired home an excellent chip 'second hit' from a penalty corner. Lois kept her head up and marshalled her Dragons, who played bravely and put their bodies in the way of the ball – though probably Bridget should not have used her head for a clearance. Thanks, Rails, for the plasters.
Rails could well think that with a bit more luck, they could have earned a draw. But Dragons will say that after recent disappointments, this was the day when only victory was good enough.
—————————————————————————————————————–
Marshall Motor Group Norfolk Boys Development League
Norwich Dragons 4:6 Pelicans

Dragons had a very interesting game which we were unlucky to lose 6-4 to Pelicans.
In the first half they had the better possession and took advantage of that going 1-0 up after putting our defence of Jonty Gosling, Andy Carver, Mark Savill and Edward Murphy under pressure. Unfortunately there was a ten minute delay as a Pelicans player was hit in the face by a ball. We wish him well.  We then hit back with a nice goal from Josh Bingham only for them to finish the first half 3-1 up.
In the second half we scored two brilliant goals from Josh Bingham again and Robert Chaney Baxter. After more intense pressure on the defence and keeper Sam Harvey they scored two more to which we replied with another goal from Robert Chaney Baxter. Pedro Goss and Rohan Kaushal were getting into good positions out wide and coming back to defend. Unfortunately Mark Savill was yellow carded but when he returned he displayed some great defending. Throughout the match Connor Adams made some good runs and got into some nice positions up the front. They then scored the sixth goal.
Thanks to all who came. Special thanks to the men Danny Knights and Rob Wagstaff. Also thanks to our umpires Doug and Sue.
Josh Bingham got a well deserved man of the match.
Match report by Sam Harvey.
—————————————————————————————————————–
Girls Development
Pelicans 8:0 Norwich Dragons

Captain: Laura Hansell
Player of the match Mimi Stannard because she made great runs, brilliants interceptions and just altogether played a very good all round game.
Coaches: Louise Bracey
Playing adults: Louise Bracey
3 Memorable moments:
Louise getting hit in the head (hope shes ok)
Rachel Matthews brilliant save
Dragons amazing enthusiasm and refusal to give up.
—————————————————————————————————————–
The Hoof Table
| | | |
| --- | --- | --- |
| Position | Team | Hoof Average |
| 1 | Ladies 4s | 5.00 |
| 2 | Ladies 1s | 4.50 |
| 3 | Ladies 3s | 4.29 |
| 4 | Mens 3s | 3.67 |
| 5 | Mens 2s | 3.43 |
| 6 | Mens 4s | 2.43 |
| 6 | Mens 1s | 2.43 |
| 8 | Ladies 2s | 2.00 |
| 9 | Ladies 5s | 1.86 |
| 10 | Boys Development | 1.25 |
| 11 | Girls Development | 1.00 |