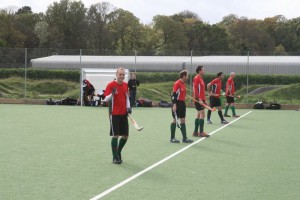 Now Pensions : Men's Over 40s Cup 
Norwich City 7 – 0 Norwich Dragons
This game marked the start of a new era for the club entering the over 40's cup for the first time and with this ground breaking optimism Dragons took to the field looking for a positive display. The team consisted of players from all the men's sides plus a few 'retired' campainers and we had all decades covered from the 1940's to the 1970's!  We had two current lead coaches in Rob Wagstaff and Pete Thomas and two current men's captains – Phil York-Smith and Jon Price, with numerous past Captains. Our 'guest' player was John Skittrall from Norfolk Nomads who stood between the sticks and to whom we are hugely grateful.
The match started and we soon realised we were up against a very experienced Masters side in City and the goals started to go in, however this did not dampen our spirits and we continued to try and take the game to City. Outstanding runs from defence from Bonky Bingham saw him approach a goal scoring opportunity only to be felled in the 'D', or was it a dive! and to his amazement didnt even get a short. Pete Thomas had one or two chances, one of which the bench would have bet their collective 'house' on going in, suffice to say there are four 'mature' gentlemen looking to rent rooms in the Norwich area…
Half time came and we were 5-0 down but a rousing team talk from the manager who believed we could win the second half but didnt necessarily want to win the match as it might mean playing a National League team in the next round, settled the nerves and we played much better.  We only conceded two more and ran out comfortable 7-0 losers.
Huge thanks to those who came to support us. We really appreciated the 'come on Dad/old man/Grandpa etc' encouragement from the sidelines! We might even get a 'come on Great Grandpa' if Butts plays next time..
All in all it was a great first for the club and I hope everyone enjoyed the day and can now look forward to entering the Trophy where teams should be closer to our level. A big thank you to Ali Wardale and Norwich City for hosting us so well and we wish them all the luck in future rounds.
My one last abiding memory of the match is witnessing the charge of the light brigade from our defence when we won short corners.  If only Bingham and Bangham had  put as much effort in the rest of the match as they did racing to be the first to hit short corners – who knows what the final result may have been!
PoM – Rob Wagstaff
Report – Jon Price (Dragon Master)