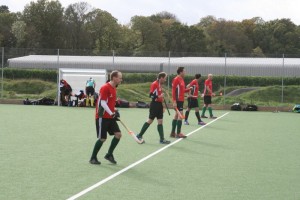 Following their impressive 5-3 victory over Sudbury in the last round of the Men's Masters Over 40s Trophy, the Norwich Dragons took on Luton Hockey Club in the 3rd round at the Den on Sunday 23rd February at 12pm.  Luton having beaten Rickmansworth (2:0) and West Herts (5:4) in previous rounds and playing their third away fixture were expected to be tough opposition.
On a blustery but thankfully dry Sunday the Old Dragons welcomed Luton to the Den.
With a full squad available it meant the management team of Price and York-Smith could concentrate on organising a fitting day for Luton who had travelled some distance to play the tie.
The match started with both sides working out each others strengths and was quite a close affair until Luton opened the scoring with a well hit short corner. One goal soon became two and the Dragons bench feared the worst. We managed to stop the rot and began to get back into the game, especially with the introduction of Richard Moulson who, after turning up rather late (which could be put down to his senior age) started to boss the midfield releasing the ever youthful Jason Wolfe and svelte like Bruce McQuade to attack after attack. On the stroke of half time and after a couple of robust tackles from the visitors Ricky Powley pulled up short thinking he had been fouled. He had infact torn a hamstring and had to be helped from field and took no further part in the game.
Dragons were determined not to go out of the trophy on a whimper and started the second half full of determination. John Skittrall, our big money loanee from Norfolk Nomads was called into action a number of times and pulled off a couple of great saves to deny Luton chances to extend their lead. With confidence growing Chris Simmonds pulled a goal back by cooly slotting in at the far post. Crossy commenting after the game " the boy done well, he must have been watching me at training or something as I've made a career out that – infact it should have been me but Pricey took me off!" Dragons sensed an upset could be on the cards and strived for one more which would take the game into a penalty shoot out. The unthinkable happened with five minutes remaining. Brucie picked up the ball on the top of the 'D' dummied past a defender then almost panicked as he had so much time before he riffled into the top of the net..
Either through exhaustion, surprise or was he expecting applause from the crowd he asked to be brought off with huge smile on his face- his game was done.
The final frantic five minutes could have gone either way with the Dragons having a couple of fluffed short corners but it was Luton who prevailed with a goal in the dying embers of the game. Final score 3-2 to Luton and a good competitive game had by all.
And so our first adventure into Masters cup competitions comes to an end but rest assured we will be back next year with our new secret weapon.. Yes Rupert turned 40 this year and is raring to go!
Many thanks to all the players, umpires, coaches and especially Phil York-Smith for all his hard work and providing us with excellent teas today.
Jon Price
Dragon Master
We wish Luton well in the next round, another away match for them at Northampton on Sunday 9th March.
The next round of fixtures have already been drawn, the full draw is shown below, so the winner of this fixture will travel to Northampton on 9th March.