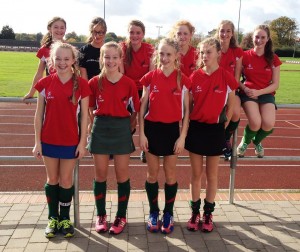 On Sunday the youngsters were all in action, with the Under 14 Girls 7-a-side Team setting off early to Colchester for matches against Cambridge City and Colchester, their long trip was rewarded with a 5-2 win over Cambridge and then a 17-0 over Colchester (games were 20 minutes each way)!! Links to Team Photos and League Table are here.
The boys were also in action, although home fixtures for the u14 and u16 Boys.  The u14 Boys hosted Bury St Edmunds and lost 2-1, goal from George Bowman, POM Ben Nkrumah (links to photos and league table here). Then the u16 Boys hosted Magpies in an evenly matched game finishing in a 2-2 draw with goals from Rohan Kaushal and Ben Watson, photos and league table links here (including photos of Rohan's masterclass in the reverse stick lob).
Under 14 Girls Match Report:
Ten members of the Girls Development Squad  went to Colchester on Sunday to play their first triangular tournament in the England Hockey Under 14 7-a-side Development League, and came away with two excellent wins, beating Cambridge 5-2 and Colchester 17 – 0. We set off with some apprehension, having never entered a tournament at this level before. We were excited at the prospect of playing different teams. Coaches Jason Wolfe and Bridget Le Good decided on a very attacking 2 – 3 – 1 formation, giving the midfield plenty of responsibility for running and tackling back.
Dragons began brightly, with plenty of possession, but initially the attacks were breaking  down in the circle, where we were not taking shots or following up. Cambridge had four strong attacking moves, and although Alessandra Pellegrini made two good saves our failure to get  back meant they had two shots on target and scored twice.  Dragons believed they could still come back, and in the second half everything that had been going wrong went right. Arabella Sabberton and Carmel Windsor-Waite were solid in defence, and the Dragons' midfield of Lara Taylor on the right, Issy Wolfe in the middle and Anna Brook on the right were controlling the game, with Heather Tasker and Catherine Matthews  doing equally well when they rotated in. It was the midfielders (Anna Brook 3 and Issy Wolfe  2) who achieved the clinical finishing to complete a remarkable second half turn round, with the forwards Lucy Morton and Anja Wimmer working hard up front and doing plenty of unselfish running.
We understood that Colchester, who had lost to Cambridge, were strengthening their team so Dragons were sent out with the instruction to continue to press hard and take their chances. Dragons scored inside three minutes, and after that it was an avalanche. Anna Brook was on fire and scored 6; Heather Tasker got 4, Issy Wolfe 3, Lara Taylor 3 (and she made many more with her midfield crosses from right to left) and Lucy Morton 1. Alessandra impressed by coming out to the edge of the circle and making some excellent clearances.
To their credit, Colchester kept their heads up, tried to keep their shape and their goalkeeper bravely continued to stop shots from every angle.
On 19 November, Dragons play Chelmsford, St Neots  and City of Peterborough in the second triangular tournament. There is little danger that the Dragons will let this first amazing day go to their heads, because most of this squad can remember it was not long ago that they too were on the end of some pounding defeats.  But the girls are now playing well, and at last bringing into their matches the skills they are developing in training. Today's success was built on the  confidence they have earned from two successive wins in the league.
Our thanks to the supportive families who provided the transport to make this day a memorable one.
Under 16 Boys Match Report:
Norwich Dragons U16 boys hosted Norfolk rivals Harleston Magpies in their latest group stage match in the England Hockey cup.
With a win and a draw from their first 2 games, Dragons were a point ahead of Harleston in the table, but expected a tough test based on Harleston's results to date.
The game proved to be a tight affair, with the majority of playing in the middle third, and both teams struggling to create real clear cut chances.
Harleston took a first half lead after winning a short corner, which was coolly converted after their forward beat the Dragons runner and shot into the far corner beyond the reach of Declan Cobb in the Dragons goal.
Dragons levelled things up before the break when Ben Watson's snapshot was only half cleared and Rohan Kaushal followed up with a reverse stick effort over the keeper and high into the net.
The second half saw Dragons start stronger and have the majority of possession, however, with the side pushing on they played themselves into trouble by over-committing and allowing the Harleston forward to intercept a pass and run clear before drawing Cobb in goal to finish on the reverse stick.
This seemed to click Dragons back into gear, and for the next ten minutes they looked the more dangerous side, however, the breakthrough didn't look like it was coming, until, somewhat fortuitously a Harleston defender deflected Ben Watson's cross past his own goalkeeper.
Dragons had a couple of good chances to take the lead, Watson unable to get a clean shot off following a good break, and Rob Chaney-Baxter unable to get a stronger touch on a good cross to divert it goalward.
The last ten minutes saw the pendulum swing back to Harleston, who camped in the Dragons' half. Despite this intense pressure, Dragons managed to limit them to half chances from difficult angles, and were able to keep them at bay.
Full Time: Norwich Dragons 2-2 Harleston Magpies
Under 14 Boys Match Report:
Norwich Dragons u14 boys – 1
Bury St Edmunds u14 boys – 2
Dragons started the game very slowly and seemed to spend most the first half chasing the ball. Tricks that usually work did not and players that usually dominate their position were struggling. This saw Bury St Edmunds go two nil up with not the most amazing of goals you will see. But dragons had their chances to score in the first half, with Jono Chaney Baxter going close on a couple of occasions. Bury St Edmunds passed the ball around Dragons very well, showing great composure on the ball. Bury seemed more determined that Dragons and were winning the 50:50 balls easily.
Dragons were a different team in the second half! Ben N in goal was making some great saves and was never going to let a goal in, the defence were marking much better, Raunaq Rai dominated central defence, Edward Murphy showed off his snazzy stick skills on the right, Freddie Dixon at right defence was winning every tackle or interception he made, George Bowman was sprinting back from up front to help the defence, making tackles at the top of Dragons' D and Charlie Nunn started to control central midfield. The change was amazing and resulted in many chances for Dragons to score. George Bowman took such a chance after a smooth passing move saw George in front of the keeper, calmly slotting the ball home between the keeper's legs. But despite the better play and pressure, that second goal would just not come. There were chances for 1v1 with the keeper, goal mouth scrambles and shots flying just wide of the post. But unfortunately, it was not to be on this occasion.
The boys should be proud of their second half performance, but need to learn that they need to work hard and play good hockey for the whole of the match. The boys have played two, won one and lost one in this league. Ipswich East Suffolk are next on 9 November!
Player of the match was Ben Nkrumah.
Performances of note: George Bowman's tacking back showed great determination and willingness to be a team player, Raunaq worked tirelessly in central defence, McCartney's leadership as captain was impressive and Ben N's saves in the second half kept the boys in the game.
Thanks to Ray for his help, even though James was not playing. Thanks to Laura Tompson Wright for umpiring.