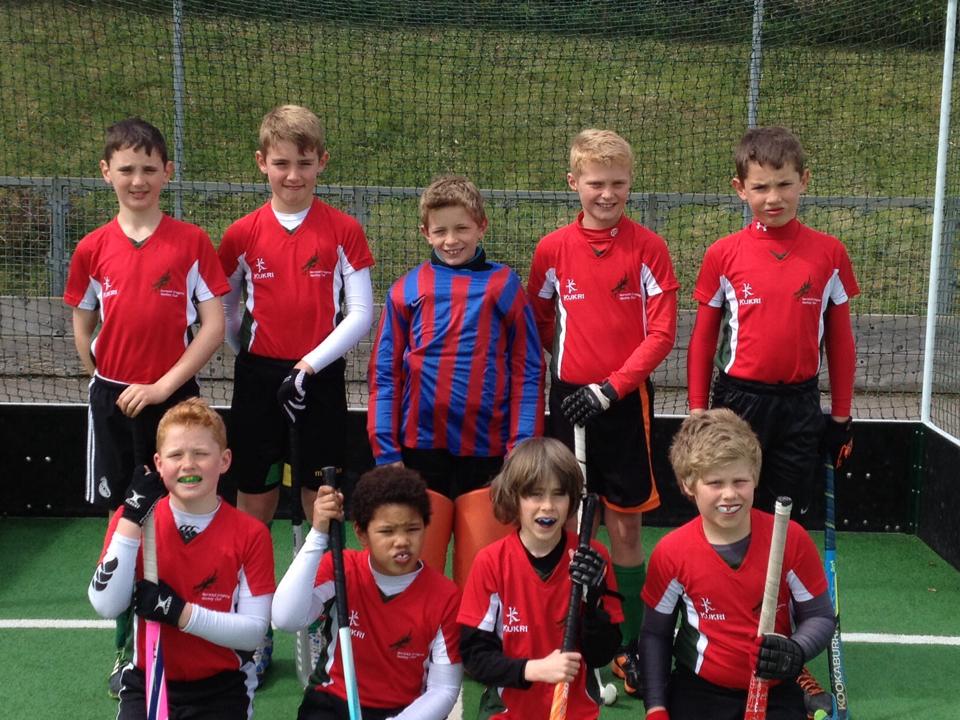 Dragons Under 10's went to the East Regional Finals on Sunday 19th April on the back of 5 Tournament victories in a row….the boys in Dragon Red Shirts had yet to be beaten….
The squad of
Theo Korn – Gk
James Cross – Captain
Tom Jackson
Edward Cross
Ben Panter
Harvey Nkrumah
Jake Reynolds
Freddie Royall
Sam Reynolds.
We were in a Pool of 5 teams – one each from Essex, Herts, Suffolk, Cambridge plus Us…top two go through to the Semi Finals…
Game 1 v Blueharts(Winners from Herts)
The team didn't know what to expect…how good were we…  The supporters nerves were soon eased as the team thanks to a quick double from the every reliable poacher, Freddie Royal, raced into a 2-0 lead.  A slight lapse at the back gifted Blueharts a sniff of a comeback, thanks to Tom and Edward the defence held firm & victory number 1 was achieved.  This regional lark isn't too bad after all….
Game 2 v St Ives (r/up from Cambs)
Once again the team raced out of the blocks….the team tactic of getting James to dribble through the opposition straight from the start worked well. It was back to normal service…attack , attack , attack….and 7 minutes later half time arrived with the team 5-0 up, two goals each for Freddie and James plus one for Ben.  Ben and Jake were both enjoying plenty of success down each flank whilst James controlled the middle of the pitch..  At Half time, James & Freddie took a rest and Harvey and Sam entered the action.  Sam & Tom kept things tight at the back and no alarms were experienced…5-0 being the final result.
Game 3 v Old Loughts (Winners from Essex)
Sadly the team had watched Old Loughts and knew how strong they were , this seemed to put us off….we sat off them and allowed them to play, in particular giving their No.11 far too much space. Old Loughts went 1-0 very early and made it 2-0 on the stoke of half time when a injury to Tom forced a re shuffle. No.11 struck home from a short corner.  A few stirring words were exchanged at half –time – the team being reminded of how good they were and not to keep fighting.   The 2nd half was a different story – we won the half 2-1 with goals from Freddie & Jake. Yet again though No.11 was given too much space from a short corner allowing him to pick his spot for what proved to be the winner…
Game 4 v Sudbury (r/up from Suffolk)
A win and we were in the semi finals.  James was back to his controlling best, dictating most of what happened on the pitch & king poacher Royall picked up another brace. Harvey made another appearance from the bench and scored a very good goal to seal the win & a spot in the last 4 as runners up.
Its not time to go home yet…..
Semi Final – v Blue Hornets – winners of the other section and R/up from Essex.
Not the start Dragons wanted  – 0-0 and a crunching tackle is made in the D…the umpire signals for a penalty flick!  What the flick taker didn't know is that Theo has secret Jedi powers, the flick was well taken however Theo ensured it swerved and hit flush on to his post….danger averted, still 0-0 all to play for.  From that point onwards there was only one winner – James once again controlled the middle of the pitch, Tom and Edward had the defence covered – Tom using his size and strength whilst Edward relied on calm and assured tackling…or maybe it was the other way round!   Ben and Jake did as asked of them, stayed wide creating chances down either flank.  James scored two goals, one more from Freddie and one from Jake. The team were buzzing, back to their best and now in the final…surely we cant win…..
FINAL v Old Loughts.  14 minutes plus 2 minutes half time to go….
The team were reminded of their 2nd half performance from the previous game v Old Loughts and James was allocated a new best friend…stick with their No.11!!  The team were on a high after the semi final performance & produced their best display of the season, they all fought, chased, harried as much as their legs would allow them.  James produced a dominating display – there was no way anyone was getting passed. James continued to drive the team forward and following great work down the left from Jake – King Poacher Royall bagged one more…..the crown went wild …surely we weren't going to win. There were 3 minutes left….James ensured there No. 11 had no time or space to play (collecting a green card for his troubles)  Edward,Tom & Theo snuffed out any half chance that made it through. Old Loughts were leaving it more and more to No.11 who was unable to produce any answers.  The whole Dragons team worked their socks off to see out those long final minutes. The final whistle resulted in scenes of joy – the boys did the club and themselves very very proud. It was a genuine team effort that saw us through.   Only one final act required before leaving the pitch …..James removed No.11 from the pocket he'd had him in all game  and led his team to collect their trophy.
This age group doesn't have a National Final, however the boys have shown they are the best in the East this season.