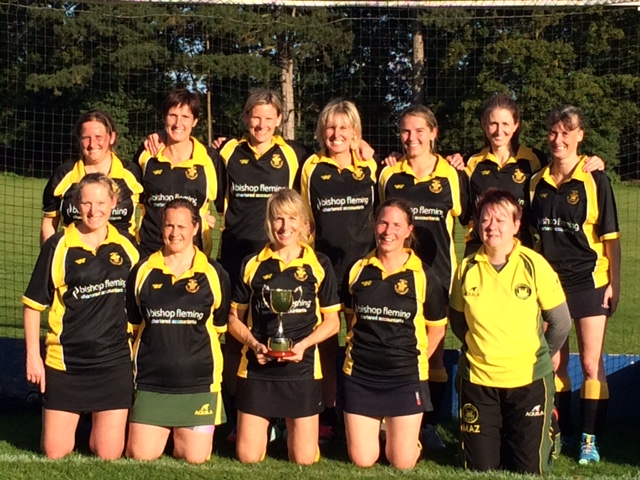 Congratulations to Norfolk Ladies Masters for winning their tournament today.  Dragons Marie James, Gail Thomas, Angela Murgatroyd, Ally Windsor-Waite and Hannah Hardy helped Norfolk to bring home the silverware.
Norfolk Ladies Over 40's arrived at a sunny Culford School to compete in the Ladies East Over 40's Regional Masters Tournament against squads from Essex, Suffolk and Cambridgeshire.
Norfolk fielded a squad made up of players from both Norwich City HC and Norwich Dragons HC, Captained by Debbie Painter. The first game saw Norfolk have all the pressure against Essex, however they failed to convert a number of chances. Eventually the breakthrough came with Hannah Hardy pulling the ball back to Marie James to fire home to seal a 1-0 win.
Next up was the game against Cambridgeshire, who fielded a number of strong National Masters players. Cambridgeshire moved the ball around well and had the lions-share of possession and chances, but the Norfolk defence held firm and on the break, Marie James burst into the D, beating two or three defenders before slotting home (with Sally Rose on hand at the far post).
The final game was the decider against a Suffolk team who had scored freely against Essex. Norfolk knew a draw would seal the silverware, however went out looking to secure the win. The Norfolk defence of Karen Dagless, Jenny Brine, Ally Windsor-Waite, Angela Murgatoyd and Maz Doble needed to be at their best, with Suffolk making the running, however some great teamwork saw Norfolk soak up the pressure and earn themselves a hard fought draw, meaning the silverware was heading back up the A11 to Norfolk.
Considering this team had never played together on the same pitch, this was an excellent team effort and played in great spirit.
The Norfolk Squad consisted of Debbie Painter (Capt), Maz Doble (GK), Caroline Illing, Karen Dagless, Jenny Brine, Alex Woods, Sally Rose, Marie James, Gail Thomas, Ally Windsor-Waite, Angela Murgatroyd and Hannah Hardy