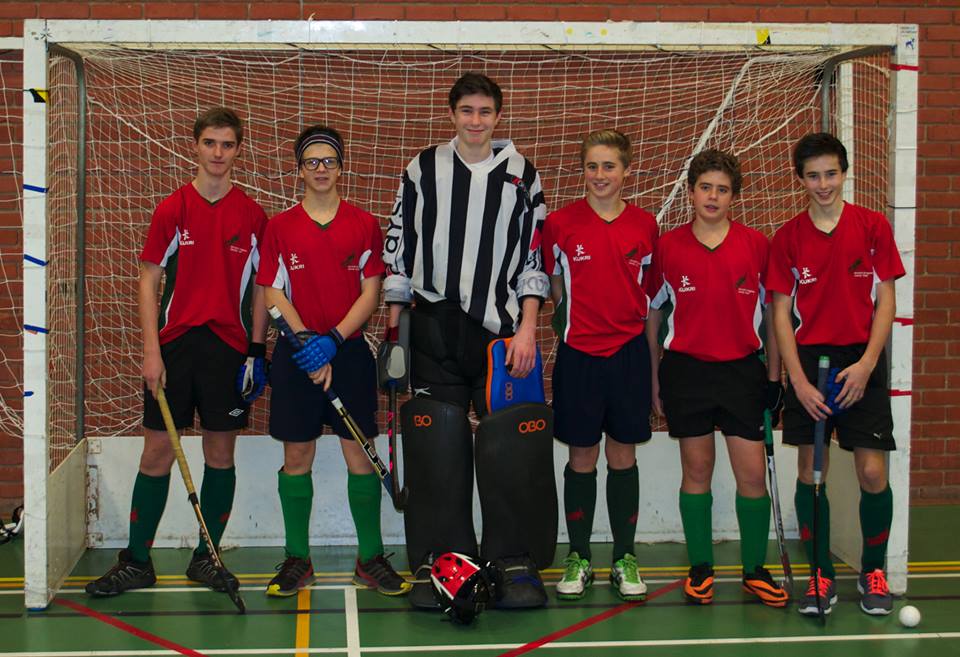 Having beaten City and Magpies to be crowned Norfolk Under 16 Boys Champions, the Norwich Dragons squad set off to Colchester today knowing that the East Championship would prove a massive test of their indoor skills.
Facing eventual East Champions, City of Peterborough, in their first fixture, the boys battled hard but came away with a 7-1 loss (Henry Laming).
Despite this initial result, the boys went into their second game in high spirits and this positive approach paid off with Dragons beating Hertfordshire Champions Rickmansworth 7-3 (Jonty Gosling x 2, Alec Steele x 2, Henry Laming x 3). This boosted the confidence and the next fixture against Essex Champions Old Loughts brought a 6-3 (Alec Steele x 3, Henry Laming x 3) win for the boys.
A deciding final fixture for Dragons saw a very strong Bury St Edmunds side take the game and the final qualifying slot with a 4-0 win.
The boys, coaches (Rob & Ali), parents and other supporters were a credit to the Club with our first appearance in this competition.
#proudtobeaDragon
Full Tournament Report:
Following their victory in the Norfolk U16 Indoor Championships in November, Norwich Dragons Under 16 Boys indoor squad travelled to Colchester to take on their compatriots from Cambridgeshire, Suffolk, Essex and Hertfordshire.
The Dragons squad consisted of:
Elliot Wang (GK)
Jonty Gosling (Captain)
Henry Laming (Vice-Captain)
Alec Bidet-Steele
Alex Stone
Ben Watson
with Rohan Kaushal unfortunately unavailable to join the team for this round.
Dragons opened against the eventual winners, City of Peterborough who signalled their intent with a strong performance of attacking hockey, creating a number of chances and racing in to a 4-0 lead despite Elliot Wang being in good form in the Dragons goal. Dragons pulled a goal back before half-time when Henry Laming converted a penalty corner.
The second half was more even as Dragons grew in confidence, however, Peterborough continued to pose a threat with their speed and skill, scoring 3 more times, with Dragons feeling a bit aggrieved at having a goal disallowed and a penalty stroke not given which would have reflected the second half improvement in the scoreline.
Final Score:
Norwich Dragons 1-7 City of Peterborough
The pre-second match team talk for Dragons focussed on applying the learning from the Peterborough match and the side were positive that they could get a result against Rickmansworth from Hertfordshire.
With both sides having lost their first match, there was an understandably cautious nature to the opening exchanges, with both sides struggling to take clear cut chances.
Dragons' captain Jonty Gosling broke the deadlock, driving into the D and firing home after quickly taking a free hit. Rickmansworth hit back to level things up, but Dragons were beginning to find their stride, and re-took the lead when Gosling picked out the unmarked Alec Bidet-Steele who coolly converted. Henry Laming extended the lead when he converted another penalty corner before the break.
Dragons continued in the same vein in the second half, with Gosling, Bidet-Steele and Laming (twice) all finding the net as Dragons ended up 7-3 winners.
Final Score:
Norwich Dragons 7-3 Rickmansworth
Following this, Dragons went into their third match against the Essex Champions Old Loughtonians in a positive frame of mind, but concious that having had the opportunity to watch them play and they would be another tough test.
This game was much tighter, with Old Loughtonians taking the lead, only for Dragons to peg them back courtesy of a Laming corner. Old Loughtonians took the lead again, but Bidet-Steele levelled things back up, and it remained 2-2 at half-time.
The second half continued to be very even, with Dragons taking the lead for the first time when Laming got his second.
The turning point for Dragons was the next corner they won, when the Old Loughtonians player received a yellow card for his tackle and Laming converted the corner.
Once restored to their full numbers, Old Loughtonians pressed Dragons hard, and pulled it back to 4-3, however, the chasing the game during the period they were a man down began to tell, and Bidet-Steele added 2 more goals, one courtesy of a well-taken penalty stroke, to ease the pressure on the Dragons side and seal the win.
Final Score:
Norwich Dragons 6-3 Old Loughtonians
These results set up a deciding match against Bury St Edmunds, fittingly the last game of the tournament, who had an identical set of results, for second place in the competition and a spot at the national finals.
The first half was an understandably cagey affair, with defences largely on top, and both keepers producing some good saves. It was Bury who edged infront, a well taken penalty corner giving them the edge at half-time.
Dragons knew they were still in the game, and delivered a strong second half performance, but without creating the number of goalscoring chances they had in earlier matches. Bury, meanwhile, used their larger squad effectively, dictating the pace of the game, and this began to wear the Dragons boys down, with Bury adding 3 goals during the final quarter of the game to claim the runners-up spot.
Final Score:
Norwich Dragons 0-4 Bury St Edmunds