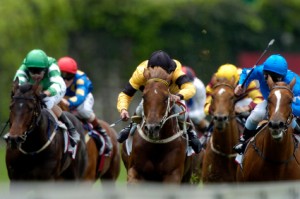 This year's Race Night proved to be a massive success for the Club, out-striping the funds raised at last season's event by several hundred pounds.
Thanks therefore must go to all of the Club Members that contributed in some way towards the event.
We had over 70 punters trying to out-wit the on course bookmakers Hannah and Gail.  At one point seasoned backers Bingham, McQuade and Thomas were seen to be comparing notes about the next race, however with no form to review they were left to rely on lady luck, like the rest of us!!
Prior to the night, 120 tri-cast squares and over 50 horses were snapped up and some fantastic prizes for each race were donated by Club Members.
The third race of the night (Ed's Special) saw winning horse owner, Club Captain (Men's) Ali Smyth, take home a sack of spuds courtesy of Han Roney, a voucher from the Diss Auction Rooms of TW Gaze, but more importantly Ed's mystery prize, which this year was a Victorian Deer's Foot Page Turner…wow!!
At the halfway stage in the evening, refreshments in the form of over 70 portions of sausage/spring roll and chips were delivered, piping hot, by our new friends at Grosvenor Fish Bar – clearly the best chips in town and what fantastic service!
The highlight of the night, apart from the President receiving a £28 win from Tabba, was Race Number 7 sponsored by Sue Cullum.  Having been through a truly traumatic 12 months, Sue very generously sponsored the 'Humdinger Race', which after some highly emotional words from her sister Jo, was auctioned by Ed and raised a staggering £150.  Rather fittingly, a syndicate of Sue's friends that had been by her side throughout, bid for the horse that eventually won the race.
Many thanks to Taff for her organisation and chasing for prizes and pre-race sales, Ed for being as professional as ever running the evening and sponsoring his race and Sue for her race and bringing such a colourful crowd.  Gail and Hannah for being great Bookies and Tabba for encouraging bets on the night!
Last but not least, our fabulous hosts for the evening, Goals Soccer Centre.
Full list of winning horse owners:
Race 1 – Phil York-Smith
Race 2 – Emma Buxton
Race 3 – Ali Smyth
Race 4 – Amelia Dawson
Race 5 – Katie Buxton
Race 6 – Lizzie Cheesman
Race 7 – Natalie Beal & Syndicate
Race 8 – Chris Harrison