Mens East League Division 2N
Norwich Dragons 1s 2:2 Newmarket
Norwich Dragons couldn't maintain their perfect home record but showed tremendous character to come from two goals down to secure a 2-2 draw against Newmarket on Saturday.  Dragons were still without Overstall, who continues to work on his game in the lower leagues of Yaoundé, but welcomed back Wagstaff, Woodward, and Rutledge.  Such is the depth of the side this season that veteran Wolfe was sent to the 2nds to rediscover his goal-scoring touch and star Snelling had to settle for a place on the bench.
Dragons again started the game strongly, dominating possession and creating a succession of openings only to find the Newmarket keeper in fine form.  Charlish, in a more advanced role, was especially prominent, his movement and link-play too much for the static Newmarket defence and Dragons spurned three golden opportunities one-on-one with the keeper.  Still, it was a surprise when a limited Newmarket side took the lead, capitalising on a fortuitously awarded short-corner with a slick routine and worse was to come when, at the beginning of the second half, another short corner broke down, and fell kindly for Newmarket to capitalise.  A terrible ten minutes for the home side was capped when influential player-coach Wagstaff's awful luck with injuries continued and he was forced to withdraw.
A lesser side might have folded, but Dragons rallied and completely dominated the final 30 minutes of the match.  The Smiths at the heart of the defence were rock-solid, fullbacks Smyth and Sloman played rather as rampaging wingers than as defenders, Woodward, Flatman, and Turnbull bossed the midfield and Browne, Snelling, Knights, and Charlish proved almost uncontainable up front.  First Flatman pulled a goal back following an incisive run from Woodward and a subtle touch from Snelling.  Then Flatman was on hand again, following sustained Dragons pressure, to nudge the ball inside the far post.  Dragons should have had more – Browne twice missing gilt-edged chances that left the coaching-staff lamenting Wolfe's omission, Sloman capping a surging run with a sudden bout of altitude sickness, and Flatman and Snelling declining each other's invitation to hammer home the winner.  It is a sign of Dragons' ambitions this season that following such a rousing recovery the team were left lamenting the two points lost.
Goal-scoring hero Flatman continued his superb form, man of the match for the third time this season.  Still a second-team player only months ago, Flatman accredited his remarkable progress this season to the arrival of Rutledge:  "I've learnt so much from him since he arrived at the club.  We're very similar kinds of midfielder, really, box-to-box, mobile, we make the same sorts of runs and he's so clinical when he gets into the box he really sets the standard.  Most of all it's his attitude on and off the pitch and the intensity and concentration when he trains."  Famously enigmatic skipper Smith added "today's result is a bit like a half-pint of Guinness, really – it's hard to know whether to celebrate that a half-pint of Guinness is so much better than a half-pint of anything else or to lament that anyone'd order only a half-pint in the first place."
Next week Dragons are away at a resurgent Sudbury in what will surely be another test of the side's character, particularly following the club's midweek commitments.
—————————————————————————————————————–
Mens East League Division 3NE
Norwich Dragons 2s 1:3 Ipswich Crane 1

Dragons came up against cranes to restart their season after a two week break due to void games.
Lack of Match practice was evident as Dragons started slower than usual. As the half progressed Cranes managed to score on the break against the run of play. Dragons tried to make amends by picking up the tempo, however found themselves sprung on again from a Cranes counter making it 0-2 at the break.
The second half saw dragons improve on their sluggish first half. Jonty Gosling played excellently in the middle on his 2nds league debut. Producing strong dribbles and creative passing. His determination led to dragons only goal of the day after a mazy run through the Cranes defence he managed to slot the ball home to make the score 1-2.
Dragons continued to press for further goals with strong pressure in Cranes half. As the match was drawing to a close, Cranes once again caught Dragons on the break to finish the game 1-3.
Jonty Gosling man of the match.
—————————————————————————————————————–
Men's East Hockey League Division 4NE
Norwich Dragons 3s 6:3 Thetford 1
A hat-trick apiece from Adrian Kemp and Matt Jenkins was enough to send Dragons onto their second win of the season; a perfect response following the disappointment of a narrow defeat to Bury St Edmunds last weekend.
After an early near-miss from Thetford, Dragons started the game with intent and quickly raced into a two-goal lead with Jenkins finishing both goals from close range and Kemp adding a third after some neat build-up play.
The tie became increasingly scrappy as Thetford looked to find a way back into the match; John Ives, George Walker and Adam Sayer and Stu Kelly all finding themselves embroiled in a combative midfield battle as Thetford began to press and create chances. After a controversially disallowed goal, Thetford clawed their way to within a goal of Dragons following a couple of well-worked short corner routines leaving keeper Robbie Bell with no chance.
Dragons continued to press and got their reward before half-time with Kemp receiving a fantastic through ball from skipper Walker to finish past the keeper also benefiting from some unselfish play from strike partner Will Kirby to complete his hat-trick before the half-time whistle.
After eight first half goals, it seemed inevitable that the game would slow to a more sedate pace following the break. While the second half brought fewer goals, there was no less intensity and goal mouth action to the game as it began to stretch, with both teams committed to throwing players forward leaving open spaces in the wide and midfield areas. The width was exploited particularly well by the forwards with Ollie King and Will Kirby continuing to look a threat all game and were both unlucky not to find themselves on the score sheet.
The clean sheet kept in the second half was testament to the solid defensive team expertly marshaled by the experience of David Pentin and man of the match Peter Davison who both stood firm to stop the majority of Thetford attacks. Bell also contributed well, providing some vital saves to preserve Dragons' two-goal lead. Pentin and Davison's solid defending allowed for Dragons to expand with Jon Goodson, Will Ives and Henry Eades all given opportunities to show off their attacking as well as defensive qualities with some inventive play out wide.
Dragons continued to push and finally wrapped up their emphatic victory when Jenkins collected a precise ball into the D, drew the goal keeper and finished into an empty net with a reverse sweep leaving Dragons to celebrate a well-deserved victory.
—————————————————————————————————————–
Men's East Hockey League Division 5NE
Norwich Dragons 4s 1:4 Norwich Exiles
After a strong start from Exiles, the home team scored after a strong run down the right hand side led to a well taken goal. They continued to control the midfield and a bouncing ball evaded the defence and was thumped into the net to make it 2-0.
After the half time team talk Dragons started to put more pressure on the opposition and began to force mistakes. However after several promising breaks initiated by the tireless Sam Mann the Exiles scored on the break  to make it 3-0. This seemed to galvanise Dragons who then exerted some real pressure and Andy Saunders drove home a goal from the top of the D to bring the score to 3-1. Dragons started to push forward to try to force a result but consequently left little cover at the back. Exiles took full advantage of this and scored once more on the break to make the final score 4-1.
—————————————————————————————————————–

Men's East Hockey League Division 7NE
Norwich Dragons 5s 5:3 Norfolk Nomads 1s
Dragons found them selves one down on a full collection but remain undaunted in the brief Saturday sunshine. Early pressure resulted in a nice finish from Joel but Dragons spurned numerous chances in a game where end to end action was beckoning. A timely sprint interception left Butler tearing his newly found right groin muscle but he wiped away the tears and resolutely held the back line until that to seemed to tear open. Nomads hit three on the bounce with no return from Dragons – one of which Dragons captain York-(stop the ball for the centre forward for a one on one)Smith was reminded of at numerous points in the bar afterwards. Half time saw Dragons looking at a 1-3 deficit but the heroic sight of Butler applying his 'tiger' spray must have inspired everyone as pretty much one way traffic ensued for the second half. Waif like debutant McQuade moved around the pitch with such stealth and speed he was rarely marked and slotted a fine hat trick using some form of quantum mechanics to appear when ever a chance presented it self. Cross (not as in angry man) also finished from inches tidying up a scramble on the line but unfortunately he failed to add to that tally………..(this is the bit where we would have described the Ronny Rosenthal moment).
Other players to note were MOM Andy Hipper who with his land rover like reliability huffed , spluttered and kept going despite not noticing wounds and other small niggles. Elliot in goal looked more than capable of handling any Nomad shots but his defence did leave him with a fair few challenges this week. Sam Hobdell and his mistaken dad Rich Davis (harsh on Sam really) motored up and down in their wing back positions with both also achieving circle penetrations. One run from Sam in particular took out at least 14 Nomads only to selflessly pass rather than try to beat the remaining defenders. Great hospitality and fine spirited umpiring from Sue and hugger Hazel made for a grand day out. Nomads themselves acknowledged the prowess of jones's performance but he refused the transfer offer of chicken wings and wedges as a full chinese was what he was really after.

—————————————————————————————————————–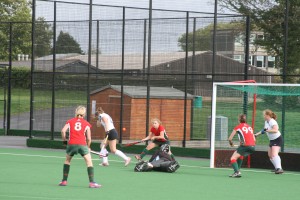 Women's East Hockey League Division 1N 
Norwich Dragons 1s 2:2 Lowestoft Ladies 1
Norwich Dragons were delighted to welcome another youngster to their squad who has consistently performed well for the second team; 15 year old Niamh LOWE-DAVIES earnt her right to experience hockey at this level and had a solid debut relishing the opportunity to play for the first team.
Norwich Dragons started sprightly as they have all season and took an early lead when Kate TRELAWNY GOWER added to her goal tally by dispatching a superb drag flick that left the Lowestoft keeper, Kate BOND, no chance. However for the remainder of the first half the home side looked uncharacteristically pedestrianised and rather lethargic in their play perhaps thinking the game would now be easily won!! This limited their options and attacking opportunities and allowed Lowestoft to play the long direct ball through them earning themselves a number of short corners which they were very well drilled at. So much so that at half time the Dragons found themselves 2-1 down, both goals as a result of short corners.
The second half Dragons looked a different team. They began to work hard and played some attractive attacking hockey. Most of the half Lowestoft were pinned in their own half but chance after chance went begging and somehow the Lowestoft defence, and in particular their keeper, kept the ball out. Finally the Dragons deservedly got their second goal from a short corner routine struck at the top of the D by Marie JAMES which the keeper saved well but could do nothing when the rebound fell to Sarah BORRETT who made no mistake in knocking it across the line. The Dragons could smell victory and bombarded the Lowestoft keeper but it was not to be, lady luck was definitely not with the leaders today, and although went so close so many times the ball would not go in.
The Dragons were disappointed to take only a point from this game. Even though they did not play their best hockey they were by far the better of the two teams. They know their first half performance was not good enough which they will need to put right next week when they meet Wisbech.
Player of the match, Lizzie MOULTON, had a solid performance in midfield and went close herself to taking the victory by beating the keeper only to see her shot cleared off the line by a defender.
Photos from this match available here
—————————————————————————————————————–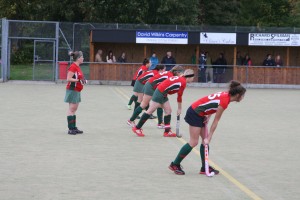 Women's East Hockey League Division 2NE
Norwich Dragons 2s 1:1 Watton 1
After a warm-up that seemed to be as long as the game itself, Dragon's could not complain about not being prepared for this clash with top of the table team Watton. Clearly however, this extended warm-up did not suit the team, as a strong start by Watton, saw them take the lead through Charlie Paine in the first five minutes.
Dragons quickly regrouped and got themselves back into the game, with some strong play on both wings through Olivia Thomas, George Stannett and Laura Bailey, who impressed following her return from injury. Play was end to end, and Dragons keeper Amy Forse was forced into action a number of times, making some fine stops.
In another Dragons foray into the Watton half, the ball found its way to Debs Smith, who had found good space at the top of the D. Her goal bound effort was picked up by Hannah Hardy just infront of the Keeper and her shot, from close range, almost smashed the back board, for a well deserved equaliser.
The second half continued like the first, with both sides having their opportunities. Watton particularly forced a number of short corners, which were expertly dealt with by the Dragon's keeper and defence, with Ruth Willmott bravely running down a number of shots at the top of the D and Player of the Match, Angela Murgatroyd getting in some great last ditch tackles and taking one shot off the left post.
The last 5 minutes saw George Stannett driving through the Watton defence on the right hand side, unlucky to see her shots fly narrowly wide of the post.
In the end, a draw was probably a fair result for these two evenly matched teams. Dragons will be pleased to have bounced back from last week's disappointing result, playing some good hockey for periods of the game. There is more to come from this team, but this remains a solid start to the season.
Photos from this match available here
—————————————————————————————————————–
Empresa Norfolk Women's Premier League
Norwich Dragons 3s: Slip Date
—————————————————————————————————————–
Empresa Norfolk Women's League Division 1
Norwich Dragons 4s: Slip Date
—————————————————————————————————————–
Empresa Norfolk Women's League Division 2
Norwich Dragons 5s: Slip Date
—————————————————————————————————————–
Empresa Norfolk Women's League Division 3
Norwich Dragons 6s: Slip Date
————————————————————————————————————–
Empresa Norfolk Girls Development League
Norwich Dragons: Slip Date
————————————————————————————————————–
Empresa Norfolk Boys Development League
Norwich Dragons: Slip Date
————————————————————————————————————–
The hoof table as at 26/10/2013
| | | |
| --- | --- | --- |
| Position | Team | Hoof Average |
| 1 | Mens 5s | 3.50 |
| 2 | Ladies 1s | 3.43 |
| 3 | Ladies 2s | 2.43 |
| 3 | Mens 1s | 2.43 |
| 5 | Mens 2s | 2.29 |
| 6 | Ladies 3s | 2.17 |
| 6 | Boys' Development | 2.17 |
| 8 | Mens 3s | 2.14 |
| 9 | Ladies 4s | 1.83 |
| 10 | Girls' Development | 1.60 |
| 11 | Ladies 5s | 1.50 |
| 9 | Mens 4s | 1.29 |
| 13 | Ladies 6s | 1.17 |