| | | | | | | | |
| --- | --- | --- | --- | --- | --- | --- | --- |
| Team | Date | Opposition | H/A | Time | Score | Scorers | Player of Match |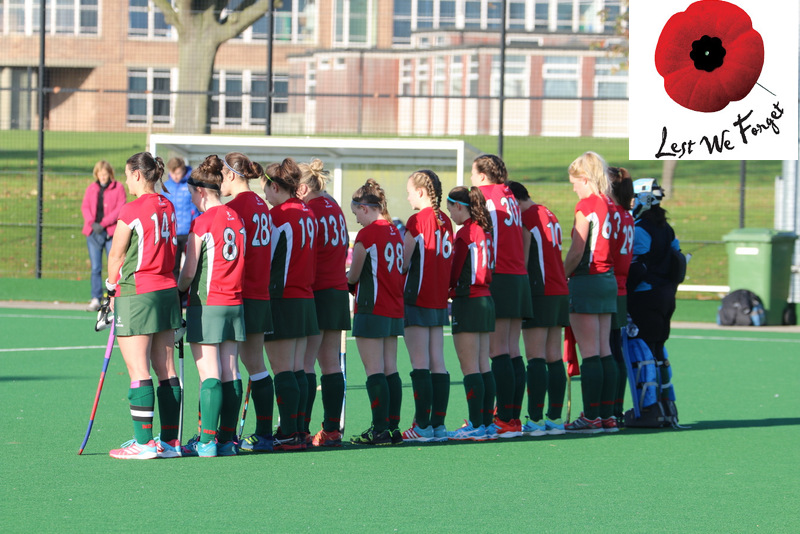 Women's East Hockey League, Premier Division
Norwich Dragons Ladies 1s v Old Loughts 1: 2-1
On a high from an important win last weekend, Norwich Dragons Ladies 1s knew that three points from bottom-of-the-table team Old Loughts was crucial in order to continue their climb up the league table.
The game started well, with plenty of possession and attacking plays for the home side. The first 15 minutes saw plenty of goal-scoring opportunities, with a number of balls glancing across the face of goal, but the Dragons were unable to convert. Dealing confidently with the few attacks from the young Old Loughts Side, the Dragons finally took their chance in the middle of the first half. A strike on goal from Liv Thomas deflected high and over the head of the keeper to put the ladies 1-0 up.
The next 10 minutes saw a change in fortune for the Dragons, and the team needed to absorb a wave of attacks and short corners from the visitors. A questionable umpiring decision saw Holly Reding shown the dreaded green triangle, and the Dragons were down to 10 players. During this period of play, some miscommunication at the back gave Old Loughts a clear shot on goal. While goalkeeper Siobhan Cleeve got a foot to it and slowed the pace of the ball, and Lara Taylor was full stretch on the goal line, the ball nevertheless somehow managed to bobble over the line levelling the score.
The half-time whistle soon followed, with the score remaining at 1-1. Some much-needed firm words from coach Pete Thomas saw the Dragons begin to refocus on basic, simple hockey at the start of the second half. Once again, there were plenty of chances for the home side in the second half, with Issy Wolfe, Katy Hands, and Hayley Toleman each having their chances. But it was not until well-past the mid-way point that a lovely piece of play down the right hand side of the pitch culminated into a perfectly-placed ball across the face of goal. Marie James (purposefully?!) dummied the keeper, leaving Hayley Toleman with an open goal as a target. She calmly slotted the ball home.
The final few minutes of the match saw the Dragons play some of the smartest hockey they have played all season, cooly playing the ball around the defensive unit of Lucy Ripman, Holly Reding, and joint players of the match Lara Taylor and Sarah Jenkins.
While not the best 70 minutes of hockey the girls have played, the game demonstrated the Dragons' ability to close out a game and make certain of three much-needed points.
The next big test will be next week's clash against Sevenoaks.
EDP Coverage here.
========================================================================
Women's East Hockey League, Division 2NE
Norwich Dragons Ladies 2s v IES 1s: 0-2
Dragons arrived at a bright sunny Rushmere and took to the shiny blue pitch full of energy and anticipation. Unfortunately a late illness to Jess Bennett meant Dragons were down to a bare 12, with one or two carrying knocks/illness themselves, but they were determined to give it their all.
Captain Karen O'Neill Simpson asked the team to go out hard and strong, which they did, however it was clear IES were a strong and skillful team and Dragons were going to need to keep up the high work-rate for 70 mins to get anything from the game. An early lapse in concentration, saw the ball passed across the D, and the IES Left Mid ghosted in on the back post unmarked, to slot home.
Dragons weren't about to roll-over however, and kept pressure on IES and had a couple of breaks of their own, with strong play from Lucy Morton, Harriet Green and Mary Alexander, with Alexander having a good effort saved by the keeper. IES were always dangerous however with some skillful forwards and Sarah Borrett and Karen O'Neill Simpson needed to be at their best in the centre of defence, as were Carmel Windsor-Waite and Tash Falzon in the wide defensive positions. Kristina Smyth returning from injury in goal made some excellent reaction saves to keep the score at 1-0 at halftime.
Although IES carried more threat, Dragons were still in the game, through sheer grit and determination, shown particularly by Kiera Goymour on the left of midfield who despite some tough tackling by 2 or 3 IES players, let very little past her. In the middle Gail Thomas was focused and working hard to breakdown the IES attacks, ably supported by Debs Painter. Mid way through the half, Dragons conceded a short, and saw a really slick routine come off for IES, a smart deflection high into the corner doubling their lead.
Dragons huffed and puffed, but in all honesty didn't offer enough threat going forward. IES took the points and deservedly so, however Dragons battled hard with every player giving all they had, notably Kiera Goymour who earned almost a unanimous PoM award for her battling display. Onwards and upwards for next weeks visitors Framlingham.
========================================================================
Empresa Norfolk Women's League, Premier Division
Norwich Dragons Ladies 3s v Lowestoft Railway 1s: 5-0
The early push back for Dragons Ladies 3rd team started with the warm up beginning on the wrong pitch, leaving no time for a warm up! However, Dragons began positively and were communicating really well all across the pitch and following a great training session on setting up the press, dragons capitalised early on when under pressure Lowestoft passed their hit out square to be intercepted by Katie Mckenna, who calmly slotted home the first goal.
Any chances created by Lowestoft were efficiently dealt with by the defensive combinations of Luisa Valentini, Sophie Barrow, Kath Mares, Esme Potter and Ismay Whitaker, combined with brilliant tracking back from the wide midfielders of Katie Hale and Hazel Kinights. The second goal was scored midway through the first half by Ally Windsor Waite from patient build up play down the right hand side of the pitch.
The second half again saw Dragons creating scoring opportunities for all forwards including Jess Haw who forced a great save from the Lowestoft Keeper. A well worked move from the left defence up through the pitch via Debs (much more pleasure from setting up goals than scoring them!) Smith for Kate Mckenna to sweep home reverse stick into the corner. The fourth and fifth goals came from short corner routines scored by Hannah Ellis and Ally Windsor Waite.
Another strong team performance that saw Sophie Barrow awarded player of the match by her team mates following a strong and confident performance.
EDP coverage here.
========================================================================
Empresa Norfolk Women's League, Premier Division
Norwich Dragons Ladies 4s v Norwich City 3s: 2-1
Jemima Williams had looked into her crystal ball and the vibes were positive for the game, with this in mind the Ladies 4s were pumped for battle. With City having first push back the 4s went on the attack, Vicki Earley slicing through the opposition to pick off the ball. And passing out wide to Trish Hagan, who used some nifty skills to weave through the opposition. Gina Hunt and Fiona Fletcher were moving around up front to create some chances in the D. For the first 10 minutes of the game the Dragons put the opposition under a lot of pressure with continued advances on the goal. Lynne Price and Catherine Matthews feeding the ball into the D. City found their legs and were quick to move in and pick up the ball. With Sarah Wagstaff commanding from the back, Jemima and Bella Capps were quick to channel and cut off any advances. City had a couple of speedy forwards and Kat (Keeper) Speirs was on hand to hoof the ball clear. The first goal came from City a quick turn over in the middle and passes in the D they pushed the ball in on the corner post. The 4s were still on for the challenge and had the majority of play, with lovely play through midfield up to Caroline Wolfe who passed up the line to Gina and Lisa Harwood. The first dragons goal came from a cross in from Catherine, picked up by Trish and fired into the goal, the City keeper went to kick the ball but it rolled under her foot. The 4s were still hunting another goal and chased every ball. Pressing for a short in the D, it was given and Fiona injected to Caroline, slipped it left to Lisa, rebounded off the keeper and calmly picked up by Catherine who slotted it in on the right post. Much jubilation followed and we knew we had to maintain the win until the end, although a short awarded to City in the final seconds of the game brought on the sweats. But with determination from the defensive posse the ball was cleared and final score 2-1, 3 valuable points. Player of the match was Catherine Matthews for her skilful possession and continued grit.
========================================================================
Empresa Norfolk Women's League, Premier Division
Norwich Dragons Ladies 5s v Norwich City 4s: 0-2
It was a clear but chilly day in Taverham. We had our usual team talk in the changing rooms and then headed out where Lou Davis put us through our paces warming up beside the pitch. We did some drills once we got onto the pitch and we were all looking very prepared for the game ahead.
Once the game started we all headed out hard and strong so that we wouldn't be caught out in the first few minutes of the game. We held our position against the tough Norwich City 4's and we all played very well as a team. We held a strong defence and got so close to getting some goals ourselves but unfortunately couldn't get one in. We had falls and we had bumps, with Hannah Edwards surprising the City attack with an unexpected accidental slide tackle early on in the game.
There was no doubt we wouldn't have it easy, but that didn't stop us all trying our hardest. We had several short corners awarded against us, one after the other. Our defence worked so hard to keep City out, but they managed to get two goals at the end of the first half. We kept our heads high and never gave up, keeping up the fight, and we definitely piled on a lot of pressure. The POM was Hannah Edwards, who never gave up and gave 100% the whole time she was on the pitch. The squad played well together and despite the score line really enjoyed the game against a friendly City 4s.
========================================================================
Empresa Norfolk Women's League, Division 2
Norwich Dragons Ladies 6s v Lowestoft Railway 2s: 0-4
Ladies 6s had a tough game against Lowestoft Railway in Saturdays lunch time fixture. Yet again they had another changing side and with Railway being another team pushing for promotion and in high confidence off the back of a big win.
Dragons knew the key would be to hold the centre of the pitch and force Lowestoft outside.
In open play dragons moved the ball well Anita Mancini working well with Hannah Woods in central midfield creating some good chances. However they were caught early on the break by Railway – who won a short corner that was taken with precision. Another quick short corner goal followed.
Working the ball forward – the wide midfield player Emma Gillard, Jess Vernon and PoM Floss Andrews worked tirelessly to support the defence and forwards.
With injuries setting in – a formation change at half time saw a more consolidated effort. Gemma Ballard, Mia McGhee and Anja Wimmer worked well upfront with Harriet Rant chasing everything down, trying to make some attacking moves.
Defensively, Katherine Hardwick, Jen Buskell and a battered and bruised Kate Atkins remained strong – but with the constant Railway pressure something had to give. Keeper Tilly Connors-Beckett made some crucial saves.
A lot can be taken away from the game and worked on ahead of next weekends fixture.
========================================================================
Empresa Norfolk Women's League, Division 3
Norwich Dragons Ladies 7s v Loddon 2s: 1-1
As predicted, Loddon on their home pitch provided the stiffest opposition the 7s have met so far this season and the two teams battled it out for a gutsy draw. Perhaps there could have been a different outcome if Dragons had taken some of the numerous opportunities that came their way in the first half. They started sharply for once, with Bridget Le Good's hit outs gaining the territory and then Stevie Spencer, Alice Bishop and Clara Carrott making strong runs down both flanks, with Adelice Kraemer, Claire Stuart and Claire Fairhurst all bothering the goalkeeper. It was Claire S who opened the scoring for Dragons with a cheeky little move out wide to the left to pick up a slipped pass and send the ball past the advancing keeper. Dragons looked as though they could build on this lead, but again lacked patience in the circle. Both Claires got into some excellent positions but were not found. Addi also got in good positions in front of the keeper and tried her A-moves with the reverse ball, but this week she had no luck. Jane Wells made her first appearance for the 7s and was a big presence, especially when hammering some shots away from right to left. She will create and score goals if she has the chance to build her understanding with the other forwards. Dragons can be encouraged by the number of penalty corners they won, but they need some more practice at getting their shots away.
The 7s failure to take their chances in the first half increased Loddon's determination not to give up the fight. Loddon redoubled their efforts and began to increasingly get first to the ball. For the 7s, Alice moved to defensive left mid and did a great marking job a speedy right forward. Stevie Spencer moved to top of the diamond and did plenty of brave tackles. Louise Brooksy Brooks (player of the match) had an outstanding game at bottom of the diamond, covering every inch of the pitch and cutting out threatening crosses. Emma Dyer had one of her best games at left back, with Katy Saide and Lily Crew also getting their tackles in. But with Loddon forwards not afraid of a physical tussle, somehow the Dragons defence did not look as composed as it has in other games. Bridget had to take responsibility for being robbed a couple of times when pfaffing about with the ball, and the other defenders also sometimes had their forwards go past them, leaving Emily Roper to cope bravely with the shots. The Loddon goal came just before the end, when their forwards combined well to ping the ball around in the circle and force the ball home – an object lesson on how to do it which the Dragons need to emulate. But Captain Claire F said heads need to be kept up. Dragons avoided losing to very strong opponents – 7s are still unbeaten and have only conceded two goals this season. This week, Claire wants more practice and determination at deflections in front of goal, and in picking the ball up from defenders' sticks and keeper's pads. She is also demanding greater accuracy and ball speed in passing, and at penalty corners. Claire makes no apologies for putting pressure on her squad because she feels they can take it and have plenty of scope for improvement whilst still being able to enjoy every game with a great team spirit.
========================================================================
Empress Norfolk Women's League, Division 3
Norwich Dragons Ladies 8s v Pelicans 4s: 0-2
Ladies 8's player of the match – Anna Chapman
This match can be summed up in one easy sentence, must do better!
Before the match the #Awesomeeights were very optimistic (maybe a touch complacent)! We thought we could finally be getting that elusive 2nd win, we could have done but despite some gold medal winning performances it just wasn't enough. As the opposition walked onto the pitch it was noted that the average age was probably 14, which as we quickly scooted over, is under half of the age of many the #awesomeeights players! From the outset we knew that this was going to be a running game, luckily with three subs we could keep the team as fresh as possible.
After last week's beating by our #SuperSevens it was clear that Pelis wanted revenge and fought for the ball from the first whistle. It was obvious that they had utilised their training session to polish up their passing and kept their play wide into the wings. Dragons just couldn't find their groove and struggled with some of the basics like consistently marking players especially those that were a bigger threat.
GK Emma once again provided some blinding saves, continues to clear the ball wide and stays determined to the end. Centre defender Jo once again converted numerous 16's to strong hits to either waiting players or into spaces for players to run on to (See the training does work)! Fellow defenders Johanne, Jess and Anna all supported brilliantly, all are gaining confidence and took a number of the free hits in the hope it might foil the opposition. Defenders must remember to work within their means, only push up when they know that they can comfortably get back and to communicate to make sure that any threatening players are adequately marked. Special mention must go to POM Anna Chapman whose confidence increases week on week and provided fantastic support when back-up was required by fellow defenders or goal keeper! Her increase in attack was a real threat to the opposition and she has the speed to track back when required.
Bottom of the diamond Tracy continues to shine as is quick to re-set, balances the attacking/defending parts of her role brilliantly and shows how to communicate well. Becky G continues to thrive in her flexi-role and her great will and determination is a great example for the younger members of the team. Becky tackles well and distributes the ball well to waiting players. Wingers Nic and Sophie added some much-needed speed to the team and both courageously drove the ball up the line to the waiting forwards. Captain Katy clocked up another gazelle like performance but (after a little advice from Coach Mike) stopped trying to keep up with "Fastest 14-year-old in history" and assisted in strengthening the central core and place some pressure on one of the Pelis key players who just seemed to always get in the way! The rotating forward team of Lois, Shanice, Sadie and Kim worked hard and some attempts were painstakingingly close! A couple of short corners were awarded in our favour but unfortunately weren't converted.
So onto next week, we need to go for the ball more, get stuck in and really fight (not literally) for it! We REALLY need to want it and go at it for 70 minutes from the first to the last whistle. We need to ALL use our voices and communicate and put names on the ball and shout when we are able to receive. Lastly if the ball is in the D give it a go! SHOOT! You never know it may just cross over that white line. Eights we are an awesome team and we can do this we just need to believe!
========================================================================
Men's East Hockey League, Division 2N
Norwich Dragons Men's 1s v UEA 1s: 0-4
========================================================================
Men's East Hockey League, Division 3NE
Norwich Dragons Men's 2s v Ipswich 2s: 4-1
The men's 2nds juggernaut rolls on with a 4-1 (HT 1-0) home win against Ipswich 2nds courtesy of goals from Richard Gill, Alex Browne, Josh Wiggins and post nuptial returnee Matt Knights. Ipswich made a brief comeback making it 2-1 via a well worked short corner routine but this was promptly snubbed out. MOM was Josh Wiggins and DOD Chris Simmonds for yellow card and his erroneous passing.
========================================================================
Men's East Hockey League, Division 3NE
Norwich Dragons Men's 3s v Pelicans 2s: 1-0
Dragons 3s set off in good time for their long trip to Pelicans, a cultural highlight for the team as it provides our annual opportunity for a post match sauna and for Matt Jenkins (Mr January) to compare his abs with the three time winner of the Mr Kings Lynn title who habitually prowls the Lynnsport sauna. The wider club were also anxiously waiting for their annual opportunity to see pale, podgy and sweaty middle aged men in a sauna, their dignity hanging by a string and some strategically placed towels.
The road trip ground to a halt almost immediately due to a traffic jam on the A47. This delay meant that the pre match plan for a balanced isotonic lunch at Swaffham McDonald's had to be binned.
Due to the delay, Dragons started the game with only 9 men, Pelicans very kindly allowing us a whole 5 mins delay to the start. Working hard and with excellent organisation, Dragons kept Pelicans at bay until the arrival of Mr February (Ali Smyth), Mr March (Jonno C-B) and Mr April (Rhubarb aka Pedro Goss).
Up to their full complement, Dragons took full control and created numerous chances, taking the lead when Mr May (Matt Hull) drove powerfully into the D and pulled the ball across for Mr March (Jonno C-B – keep up) to slot home.
Dragons created chance after chance with the defence (Messrs June, July, August and September – Kelly, Good, Jim Goodson and McLean) keeping all comers at bay.
The second half continued in the same vein with Dragons creating a dozen good chances to score. Mr October (Jon Goodson) also took a ball in the mouth to ensure that the October page will be a blood stained Halloween special.
Final score was only 1 nil but the margin of victory could have been considerably more. Vice Captain Rob Goodson (Mr November) and Captain Ives (Mr December – Father Christmas special, no false beard or cushion up the jumper required) were really pleased with the performance, which has put a healthy gap between us and the relegation places.
3 of the team passed out during the post match team sauna photo due to a lack of oxygen from sucking in their bellies for the duration of the photo shoot.
Hunk of the match was Stuart Kelly for marshalling the defence in the face of little or no pressure – errr well done Mr June!
There were two winners of Dragon of the day. First up is Jonno Chaney-Baxter, who otherwise had an excellent match, for teeing off 18 times from the top of the D and slicing numerous booming drives into the deep rough on the right hand side of the Lynnsport car park.
The second winner was James Goodson who left his kit bag in the Pelicans club house, only remembering in Swaffham, resulting in half the team being deposited in McDonalds for an additional hour. McFlurries all round!
The Dragons Men's 3s 2018 calendar will be available in all club shops shortly and will make a fantastic stocking filler for absolutely no one.
========================================================================
Men's East Hockey League Division 4NE
Norwich Dragons Men's 4s v Lowestoft Railway 1s: 0-4
Men's 4s lost 4-0 to Lowestoft & Railway 1s. MOM split between Connor Adams and Sol Blazer. Dragon of the day goes to Rob Jenkins for a yellow card.
========================================================================
Men's East Hockey League, Division 5NE
Norwich Dragons Men's 5s v Newmarket 2s: 0-5
M5 lose 0-5 to Newmarket – mom Chris Orme.
========================================================================
Men's East Hockey League, Division 6NE(N)
Norwich Dragons Men's 6s v Dereham 4s: 1-1
Men's 6s played a keenly contested game against Dereham 4, which finished in a 1-1 draw. First points of the season!
For a great work rate and commitment in the midfield Man of the Match goes to Daryl Robinson.
========================================================================
Norwich Dragons Hockey Club
Dragons Dev Boys A v
========================================================================
Norwich Dragons Hockey Club
Dragons Dev Boys B v Norwich City: 1-7
The game started off with a goal from the opposition – Norwich City – in the first 10 minutes and another soon after. We managed to regain our composure after this and started to work hard to keep their forwards from getting chances on goal. In the second quarter, the opposition slipped past our defence 3 times to make it 5-0 at half time. In the third quarter, we manged to keep their forwards at bay and only let one goal in. Then, after we had conceded once again, we made one final push in the last quarter, and George Bowman ran down the wing and passed the ball to Josh Cormack. He received the ball near the penalty spot and flicked the ball over the Goalkeeper's foot and into the goal! The game finished soon after at 7-1 and Josh was voted Man of the Match with 7 votes, followed closely by Alex, our goalkeeper, who had 4 votes.
=======================================================================
Dragons Dev Girls v Dereham: 1-2
A late game at Dereham along with illness and late call offs meant that Norwich Dragons Girls Development were short of a few players and their coach Spike. A Lucky 13 girls arrived ready to represent their club, however with a delayed start to the already late pushback and time restrictions for two girls, the team were down to 11 players in the second half.
Dragons started brightly and had plenty of possession in the Dereham half, although limited penetration of the D. Dereham managed a quick break against the run of play and an excellent quick strike from just inside the D found the far corner of Rhianna's goal.
Dragons continued to push forward with strong play in midfield and attack which limited Dereham to counter-attacking, which the visitor's defence mopped up and Rhianna kicked clear.
Orla was having an excellent game on the left and gave Dragons the goal they deserved. The forward line of Orla, Issy and Connie continued to put pressure on the Dereham defence who made some strong clearances. Nellie (joint player of the match) had a superb game in midfield, hassling the opposition to win the ball and create chances for the Dragons forwards.
Before the end of the first half, Dereham managed to find another quality strike with a reverse-stick shot that deceived the Dragons defence and keeper to give the home side a 2-0 lead.
Showing true Dragons spirit, the girls did not let this setback dampen their spirits or determination. Filled up with Haribo sweets at halftime, the remaining 11 players took to the pitch to battle hard to recover something from the game. Whilst the goal didn't come, every single player should be extremely proud of their commitment and performance for the team. Rhianna in goal kicked with confidence and strength, defensively Captain Emily (joint player of the match) directed things from the back, supported by Bethan and Lottie who made some excellent interceptions and tackles ensuring that the ball was cleared out wide away from danger. Lilli and Evie gave the essential midfield width and drove the ball down the wings. In the middle of the pitch Neha and Piper were in superb form protecting the defence and setting up attack after attack, Neha was particularly assured in picking off the opposition hitouts when they penetrated through the frontline press. Orla, Nellie and Hannah played superbly upfront and together with Piper created the first line of defence to press the opposition hitouts, winning possession back time after time.
Despite penetrating the D on many occasions in the second half, the elusive goal to take something from the game did not come. So Dragons Dev Girls need to take pride from their workrate and ability to take on board different playing positions and instructions from the coach. With this effort, the highly talented group of girls will undoubtedly start to see results go their way.
=======================================================================