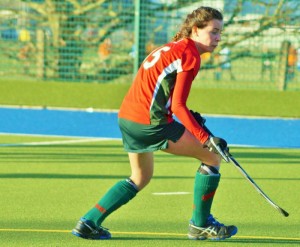 Women's East Hockey League East Prem
Norwich Dragons 1s 1-0 Old Loughts 1
Norwich Dragons welcomed Old Loughts to the Den determined to make it two wins in a row and start to build a run of good results before the Christmas break. Having been beaten by the visitors on both encounters last season the Dragons knew this was going to be no mean feat and would need to be at their best.
Dragons started strong playing some great hockey dominating the first half and created a number of goal scoring opportunities to take the lead but a combination of good saves by the Old Loughts keeper and the Dragons not being clinical in The attacking D resulted in a goalless first half which left the home side dejected as all their hard work, possession and creative play had not been capitalised on.
Dragons went into the second half confident that a goal would come and within 5 minutes of the restart Rachel KING had a great effort from a short corner saved on the line only for Niamh Lowe-Davies to be on hand to convert the rebound.
The visitors started to find their rythum and began to enjoy more possession. They put the home team and the defence under some intense pressure winning a number of short corners and creating a number of chances to equalise from open play and had it not been for the Dragons keeper, and player of the match, Siobhan Cleeve making a number of superb saves the Dragons would have been ruing the chances that went begging in the first half.
This was a really good performance by the Dragons who demonstrated some great passing from the back through midfield getting the ball in areas where they threatened and penetrated Old  Loughts achieving a great victory which has put them ahead of the visitors in the league. There are areas in the final third for the team to improve on which hopefully they will work on and punish their opponents next week.
—————————————————————————————————————–
Women's East Hockey League Division 1N
Norwich Dragons 2s 4-0 Letchworth 1
A wet, windy miserable journey down the A11 was faced head on by the steamy 'fun bus' and the Dragons girls arrived at Letchworth in high spirits! With a full 'cabinet' of medical supplies provided, any thoughts of niggling injuries were soon put aside, as the visitors looked forward to this important league clash. With Aoife Lowe-Davies coming back into the team and Geo Beckwith returning from injury, the squad were ready and raring to go.As forecast, the sun came out early into the game and shone on Dragons, as they started the game at a good pace, dominating possession and having some excellent early chances, however they quickly realised they were up against a Letchworth Keeper who was in inspired form. Dragons needed to bide their time, keep patient and take their opportunities as the came. Laura Shreeve who amazingly once again played for the team following working a night shift, was causing all sorts of problems to the Letchworth defence, coming close on a couple of occasions. Even a blow to the face would not put Shreeve down, who continued on regardless.
Eventually the deadlock was broken, a great team goal with the ball being moved swiftly from right ot left, Gail Thomas finding Pip Howes on the left, who controlled and passed in one sweeping move, finding Hannah Hardy wide left, who made her way into the circle, firing the ball across the D to Aoife Lowe-Davies, who expertly deflected the ball home. Other chances came and went with the post being hit on at least a couple of occasions.
A 1-0 scoreline at half-time didn't reflect the domination, however the team were buoyed by their performance and knew further chances would come, by keeping patient and continuing to build play from the back through Amy Forse, Ally Windsor-Waite, Rowan York-Smith, Sophie Thomas and Karen O'Neill Simpson, who as a unit always looked strong and in control.

Further opportunities were created, through great build up play from the midfield of Pip Howes, Pollyanna Watson, Gail Thomas and Marcy Windsor Waite. Eventually the goals came – Shreeve working really hard on the right to square for Hannah Hardy to make it 2 -0. An opportunity to make it 3 was squandered by Hardy who missed a penalty flick.
Gail Thomas and Shreeve then linked up well, with the ball falling to Pollyanna Watson, who had held her position well, to sweep the ball home confidently for the 3rd. The 4th was probably the goal of the game (and was too quick for some to see), a move down the left saw Geo Beckwith play a great ball across to Laura Shreeve, who nipped infront of the Keeper to glance home for the 4th.
A game played in great spirits, extremely well umpired and some strong play from both teams. Players of the match for Dragons were Laura Shreeve and Pip Howes and mention once more should go to the Letchworth Keeper! Dragons were pleased to head home with 3 points and a much improved performance by the whole team. Thanks also go to our sideline supporters who had made the journey to cheer the team on.
—————————————————————————————————————–
Empresa Norfolk Women's Premier Division
Norwich Dragons 3s 3-1 Evergreens 1
Dragons welcomed Evergreens to the Den hoping to maintain their top of the table position. The first half was a stalemate with Dragons dominating the Evergreens twenty-five creating plenty of chances but Evergreens were very resilient and effectively kept Dragons at bay. It took a Caroline Wolfe short corner strike of power and precision in the last play of the half to break the deadlock.
Half-time Norwich Dragons III  1 v Evergreens 0
The second half looked to be a continuation of the first half, with Evergreens withstanding a barrage of Dragons attempts with little opportunity to break out and form their own opportinities. When Dragons did stretch the play the quality of their hockey was really good and their set-up and cover defending was of such a high standard that any half attempt to break out by Evergreens was quickly smothered and converted to another Dragons attack. Issy Wolfe scored Dragons second, with neat passing up the field and capitalising on a keepers rebound. Dragons saved the best until last with their third goal, where the ball was fed into the top of the circle by Carmel Windsor-Waite and several passes were exchanged in and out of the circle moving the Evergreens defence and Debs Smith slotted the ball home. In the final play of the game Evergreens caught the Dragons napping and scored a consolation goal.
Full-time score Norwich Dragons 3 v Evergreens 1
—————————————————————————————————————–
Empresa Norfolk Women's Division 1
Norwich Dragons 4s 0-1 Reepham
Dragons Ladies 4 suffered their second defeat of an otherwise successful campaign. This week we visited Reepham at Taverham  and were fortunate that the heavy downpour had stopped before our 4.45 start time.
Dragons at times played some exciting hockey .Gemma Rump made some very decisive runs from her position as bottom of the diamond. Kate McKenna also managed to trouble Reepham on a number of occasions.
Kate Atkins, Bella Capp and Louise Davis had to be on their game. Reepham's main tactic was to leave a couple of men high as targets for some big hits out of defence.
The majority of the time the midfield trio of Debbie Santa Clara, Megan Williams and Claire Canning did their very best to intercept the majority of these hard hits.
Hollie Francis, Anja Finnegan and Sophie Woods tried to get the ball in the back of the Reepham goal, but some solid defending meant that there were few opportunities to challenge the keeper.
Claire Canning played an exceptional final ten minutes and Sophie Farrow also had another impressive game.
After Reepham scored Dragons began to lose their shape a little in a desperate attempt to equalise.
Dragons will need to review their game plan against the big hitting teams. Hopefully we will return victorious from our trip to Diss this Saturday.
—————————————————————————————————————–
Empresa Norfolk Women's Division 2
Norwich Dragons 5s p-p Watton 3
———————————————————————————————————
Empresa Norfolk Women's Division 2
Norwich Dragons 6s 2-4 Norwich City 5
This was a closer match than the score suggests, with the 6s taking the opportunity to try players in different positions and in the second half ending up with a combination that could really take the game to a strong and well-drilled City side. Dragons ended up with 12 players, but this actually helped them to bed in some of their new ideas. Dani Winteringham played very well at right back, particularly when it came to channelling the left sided players out of the game. Ginny Simkin was enthusiastic in both defence and in midfield.  Katie Franks returned at left back and put in a great shift in her role as the 'little big player' charged with keeping some talented City forwards quiet. Jo Eke did stints at the bottom and top of the diamond, and is a great asset to the team when her distribution skills can be used to get the ball out wide to Lucy Morton, Catherine Matthews or Rosie Skipp. However, she was much in demand at the top of the defensive D!
The score in each half was 2-1, and City were able to score when the 6s were caught ball watching and leaving players unmarked. But this is a basic error that can be soon corrected as the players get used to playing with each other. In each half, if was the way in which the 6s fought back that was the most impressive, with Beth Elgood (POM) scoring twice, her first goals of the season. She set a fine example from left mid, bursting into the D and getting onto the nearside post. Her first goal was a super deflection from a ball hit hard and true into the D. Her second was a well-worked effort in which she took responsibility for sweeping the ball home through a thicket of players.
Catherine Matthews switched to high forward in the second half and looked very comfortable there, definitely giving the 6s quicker penetration into the attacking circle. Gill Walker was again outstanding for her work rate throughout the game. Katy Saide had a good second half, particularly at the top of the D, and Alice Smith had another good game in goal, particularly with her powerful clearances.
The 6s would like to give a massive shout to Christina and Nikki who gave excellent advice and guidance to us whilst running the sideline. They can come again! Also, a word of praise to the two experienced umpires who kept this tough but good-spirited game flowing with never a hint of a need to reach for a card. They demonstrated an understanding of the game at this level where sometimes things happen through a lack of skill, not through an intent to infringe. So well done Dragons, well played City, we look forward to maintaining our progress and meeting you again.

—————————————————————————————————————–
Empresa Norfolk Women's Division 3
Norwich Dragons 7s 2-4 Hornets
Dragons Ladies 7s were keen to play again after 2 slip weeks and hoping that the rain would hold off for the match. Dragons knew that they would have a challenge against Hornets.Both teams came out fighting, with Hornets having the first attempt at goal. After much fumbling the ball came very close to crossing the line, but no goal awarded and Hornets were left wishing for goal line technology. Dragons took the ball up the other end of the pitch and similar fumbles at Hornets goal ended up with a debut goal by forward Mia McGhee for Dragons. This got Hornets fired up but Dragons were not going to give them an easy time.Dragon's goalkeeper Alessandra Pelligrini is getting more confident with every game and did some excellent saves, earning her joint POM with Mia McGhee and midfielder Sophie Thurtell.
Hornets have plenty of players with good hits, but Dragons managed to keep intercepting them. The defence of Emily Roper, Frankie Paul, Emma Cadley and Jo Baker aided Alessandra in getting the ball away. Bottom of the diamond Emma North also did a good job of getting the ball up the pitch to midfielders Sophie, Sophia Gilbert, Persy de Magdalene and Becky Gallagher, along with Jess Vernon at top of the diamond who was making her Dragons debut. The forwards of Mia, Katrina Speirs and Claire Fairhurst attempted to get in the D and get the much wanted goals.Both Dragons and Hornets were keen to score but Hornets managed to equalise before half time.The half time break got both teams fired up, both keen to score again.Dragons were reminded to keep their shape as they had lost it before the break. Katrina started off the second half with the push back, but limped off the pitch with a sore calf muscle a couple of minutes later.
Dragons continued to battle and so did Hornets. Unfortunately for Dragons, Hornets managed to break through to get a further 2 goals, bringing the score to 1:4 to Hornets.Determined not to put their heads down and give up, Dragons continued to battle, making several attempts at goal. They were rewarded with a penalty flick, which was taken by a nervous Sophie, who needn't have been nervous as the ball easily went over the shoulder of the Hornets keeper. Buoyed by this result, Dragons continued to push but could not manage to get another goal.Although the final score was 2:4 for Hornets, Dragons performance was very encouraging. Thanks must go to the sideline support who made excellent cheerleaders!—————————————————————————————————————–
Mens East League Division 2N
Norwich Dragons 1s 4-4 Sudbury 1
Dragons 1XI were keen to get a result from top of the league side, Sudbury. Dragons came out fighting from the first whistle, playing some of the best hockey they have played all season. As a result they were able to get two early goals to unnerve the opposition; firstly from Mark Flatman and then quickly followed up by a Sam Avery deflection at a short corner. Dragons continued to press well with Sudbury unable to penetrate. Some fantastic work from Ollie Buck in defence meant that any breaks Sudbury got were to no avail.After the half, dragons continued to pressure Sudbury resulting in an early goal thanks to Alex Stone; Dragons now looking confident for the win. However Sudbury came fighting back, seeing them get their first goal and then shortly after second, third and fourth! It could have been much higher if it wasn't for some fantastic one-on-one saves from Robbie Bell and a goal line clearance by Mitch Smith.
Dragons, now behind for the first time in the match dug deep, they were not going to give this game away that easily, showing great character and resilience they kept fighting. The ball was played across the back four, and then up the wing to Sam Avery, thanks to a perfectly timed Lewis James Wilkins run. Sam Avery quickly turned his marker allowing him to get into the D and getting the equaliser. Both teams fought to the final whistle but nobody could get that elusive winning goal.
—————————————————————————————————————–
Mens East League Division 3NE
Norwich Dragons 2s 1-3 North Norfolk 1
It's an ill wind that blows no good. After a bright start the veil of defeat once more settled over the Mens 2s.
20mph winds and driving rain are not what you want when you head out to the coast at Cromer. After Gordon-Brown lead an energetic warm up the game began in watery sunshine. Dragons were fastest out of the blocks and as the clouds parted so did the North Norfolk defence allowing Simmonds to fire a thunderbolt of a pass into the D where Browne deflected it into the roof of the net. The locals were not pleased and North Norfolk came back with determined effort.
The game ebbed and flowed with shots flashing past the posts at both ends until North Norfolk eventually found a way passed the ever impressive Brooks in goal.
The second half continued in the same vein with both teams showing attacking verve, but with both keepers in good form the next goal became increasingly important. With the 11 ½ man Dragon team tiring the inevitable happened. A half blocked short corner spun to an unmarked North Norfolker two yards out with the goal at his mercy. Even then Brooks almost kept it out but the ball spun agonisingly off the end of his stick and over the line. Dragons gallantly fought on but couldn't get their goal. Unrelenting pressure eventually told and the third home goal was scored. Final score 3-1, another loss.
Impressive showings from Kaushal and O'Meara in the middle, and Sayer at the back were positives, as was the debut of new boy Snelling. The message for the team going forward is simple.
Score more, concede less.
—————————————————————————————————————–
Men's East Hockey League Division 3NE
Norwich Dragons 3s 1-2 Sudbury 2
Dragons started the game on the attack, putting pressure on the Sudbury defence.  This was a promising start to the game as Dragons have struggled to get going in previous games.  They came close to taking the lead a few times, but it wasn't to be.  Sudbury got into the game and Dragon's tempo slackened.
In a counterattack, Sudbury caught Dragons off-guard and took the lead.  Dragons had to dig deep to keep going after this turn of events as they had had most of the possession.  A short corner, lead to a penalty flick which Adam SAYER calmly despatched, taking the scores level.
Sudbury fought back and the Dragon defence of James GOODSON, Rich PHILLIS, Jon GOODSON and Peter DAVISON worked their socks off to keep Sudbury from taking the lead again.  Keeper Dim IVES was called upon to clear the ball away which he did without a problem.
The second half was frustrating for Dragons.  There were chances aplenty for Dragons, with Will KIRBY, Geoff ROBERTS, Ali SMYTH and Adam SAYER being unlucky not to score.  Stu KELLY worked hard in the centre of the pitch in a man of the match performance.  Also there was pace down the flanks from Ben HARVEY, Tim ALLEN and John IVES.  Despite the hard work, it just didn't all come together, and Dragons were feeling the pressure when Sudbury took the lead through a short corner strike.
The game finished 2-1 to Sudbury and Dragons were left feeling disappointed.  They will have to pick themselves up, ready for next week as they face Felixstowe who were promoted alongside Dragons last year.
—————————————————————————————————————–
Men's East League Division 4NE
Norwich Dragons 4s 1-5 Bury 2
The 4th team started the game ready to take on a strong Bury 4th team side. We knew that it was going to be a difficult game as the weather wasn't on our side.  Bury were at the top of the league and our usual goalkeeper wasn't present, although this didn't stop us from going into the game with good team spirit. We were on the back foot in the first few minutes as Bury managed to break through our defence and score a tap in.  Bury proceeded to play with a full press causing us to be put under pressure with the ball which led to us conceding two more goals in the first half, leaving us with a disappointing score of 3-0 to Bury at half time.
After a motivational team talk at half time we answered back with a strong attack which ended with Cameron smashing the ball into the backboard in the first few minutes of the second half. We continued to apply pressure in the opposition's half,  winning us a short corner and many dangerous free hits although due to a strong Bury defence we didn't manage to make them count. This resulted in Bury scoring two more goals with the game ending in a loss for Dragons,  with the final score being 5-1 to Bury.
————————————————————————————————————–
Men's East League Division 6NE
Norwich Dragons 5s 1-1 Magpies 6
Different weather conditions this week compared to last week saw Dragons 5s host Magpies 6s at a drizzly, damp, wet and windy Den. The home side were a little headless in the first 10 minutes allowing an early goal from the visiting side to slip by their defence. This was what the home side needed to galvanise them together and really focus on the job in hand. Within a few minutes of continued pressure, Charlie Nunn produced some individual brilliance appearing on the base line on the left hand side of the D running the ball in glued to the end of his stick, beating 2 players before finding a small gap between the Goalie and the post to level the game.
The second half was very end to end play but Dragons felt that they had more possession and chances against a tiring Magpies side but just could not find the goal. Throughout the game Hamish Packham put in a towering MOM performance in midfield with his endless energy on and off the ball appearing all over the pitch at crucial times.
Final score 1-1
—————————————————————————————————————
Men's East League Division 7NE
Norwich Dragons 6s 2-1 UEA 4
With the added experience of Rob Wagstaff, Jon Price & Alan Quinton forming the spine of the team, to replace the mercurial John Butler, the 6th XI played some of their best hockey of the season & should have converted several chances & short corners to win by a large margin. The youngsters in the team showed great awareness with their interchanging & for once passing backwards to refocus the angle of attack. Alan Quinton scored the opening goal in the first half and got the 2nd after half time from a fine pass from MOM Pedro Goss. Goalkeeper Giles Brooks had to made a couple of saves to cut out crosses but was otherwise untroubled. Unfortunately the only Dragon lapse allowed UEA to score with 2 minutes to go. With 3 wins in a row, the 6th XI now need to beat Bury next week to come out of come out of the first 1/3 of the season in credit.
—————————————————————————————————————
Empresa Norfolk Boys Development League
Norwich Dragons 2-1 Norwich City
In a keenly-contested encounter between two evenly-matched sides, Norwich Dragons emerged as winners over Norwich City by 2 goals to 1.
As the 1st half began, City had the bulk of the possession and Dragons were finding it difficult to get out of their own half. The pressure told when City won the first short corner of the game and George Harrad scored. However, Dragons fought their way back into the contest with Jose San Millan making a number of superb runs, from one of which Will Bowman scored the equaliser. Dragons finished the half on top with a couple of short corners before the whistle blew.
Dragons began the 2nd half strongly, forcing two short corners in succession and having a one-on-one with the goalkeeper, before the decisive moment of the game – a brilliant individual goal from Jose San Millan.
—————————————————————————————————————
Empresa Norfolk Girls Development League
Norwich Dragons 0-5 Magpies
Dragons were missing some of our most experienced defenders, which was noticeable; however, it enabled four more players from our growing squad the opportunity to play. Unfortunately Bridget had a difficult task with positioning – several players preferring just three positions!
Magpies had a playing adult who made a real difference, shouting instructions, directing the ball, and ensuring that the young Magpies kept their shape on the pitch and made the ball do the hard work. This is something that seemed to be lacking in the Dragons today, with players tending to play as individuals rather than using their passing game. The experienced Magpie defenders were able easily to pick the Dragons off when they 'ran into contact'.
Lucy BUXTON, as tenacious as ever, earned her POM by working tirelessly in midfield. She was continually on the move, tracking back to assist defenders when other midfielders seemed to concentrate on attack, and moving forward to assist the forwards as the play moved up the field.
A disappointing game for Dragons, but hopefully back to winning ways next week.
Photos from the game can be seen here.