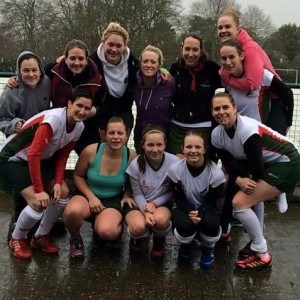 Women's East Hockey League East Prem
Norwich Dragons 1s A-A Cambridge City 2
Started game at Perse school only to be interrupted by a freak snowstorm making the game unplayable and dangerous after 25mins!
—————————————————————————————————————–
Women's East Hockey League Division 2NE
Norwich Dragons 2s 5-1 Ipswich 3
With the early matches succumbing to the icy pitch at the Den, Dragons were delighted that the forecast was spot on, with the temperature rising to a balmy 3 degrees and even a hint of sun at midday, meaning a perfect playing surface at the Den.
Following an 'average' warm-up, the game got underway, with the visitors making by far the brightest start, forcing early short corners, the second of which was forced home by the Ipswich forwards. This served as the wake-up call Dragons needed, knowing they needed to be first to every ball and move the ball on quicker as the visitors were, as ever, keen to be the first team to take points off the league leaders.
Dragons settled and got their game going, moving the ball at pace up to Laura Shreeve, Aoife Lowe-Davies and Marcy Windsor-Waite – who began to get in behind the experienced Ipswich defence. A number of short corners we forced by Dragons, the third of which was slipped to Hollie Limmer whose strike was saved high by the GK only for Laura Shreeve to score with the rebound, however after long deliberation by the umpires, the goal was disallowed. Ipswich took the resulting hit out, however the ball was intercepted by Shreeve, whose fierce strike from the top of the D, deceived the keeper with the sheer pace, to thump the backboard.
From here Dragons pushed on, with the normal midfield quartet of Han Ellis, Gail Thomas, Karen O'Neill-Simpson and Hollie Limmer, putting in their usual disciplined and tireless shift and starting to win the 50:50 battles and spread play well to the flanks or in behind the defence. Similarly Natalie Beal, who had been unwell all week, put in an ultimate cameo performance playing just 5 minutes in each half. Her first half 'cameo' resulted in the second goal for Dragons, a fantastic run up the right by Beal, followed up with a smart one-two with Marcy Windsor-Waite and a pinpoint pass into the D, for Laura Shreeve to calmly finish, making it 2-1 at half-time.
The second half saw Dragons firmly in their stride, with some lovely flowing hockey. The defensive line was assured with Freddie Briscoe, Ally Windsor-Waite, Sophie Thomas and Angela Murgatroyd comfortably dealing with Ipswich attack. The Windsor-Waites were rampant down the right, with both combining well to cause the Ipswich defence problems.
Dragons' fast flowing play was rewarded with more goals, with Laura Shreeve completing her third hat-trick of the season. Hannah Hardy then swept home an effort from a pin-point pass by Dragons Player of the Match, Aoife Lowe-Davies, who then got her rewards for her tireless and unselfish play, with a smartly taken sweep into the corner to take the score to 5-1.
More chances came……..and went, with Ipswich GK Lorna Hassel making some strong blocks to keep the score to 5. Following a slow start, Dragons reacted well as a team and ran-out worthy winners. As always, there are a few things to work on in training, but overall a 'good day at the office', from this squad of players who continue to show great commitment and togetherness.

Photos from this game here.
—————————————————————————————————————–
Empresa Norfolk Women's Premier Division
Norwich Dragons 3s 6-0 Magpies 4
On an extremely wet and cold late afternoon Ladies Dragons 3s donned their baselayers to face an equally wet and cold Magpies 4s team. With two player debuts from Sian Lawrie and Christina Murgatroyd, together with the return of Debs Smith from down-under, and despite several player injuries/illnesses, Dragons were able to field a strong 13.
With a slightly slow start, Dragons defence were immediately put under pressure by a fast Magpies attack. This was quickly controlled though by the defence of Natasha Falzon (skipper) and Laura Bruce. Laura Goodbun also played a key role in defence and made some superb runs all the way up the right wing and into the D. This new found talent is definitely going to be an ongoing asset to the team!
The first goal came 13 minutes in with Smith (PoM) dominating in the centre of the pitch. A swift ball across the D found a Magpies foot for Dragons first short corner. A fast ball from Sophie Farrow to Debbie Santa Clara at the top of the D, was expertly laid off to Caroline Wolfe to take a strong strike to the bottom right corner. Short corner training in practice seems to be paying off!
Magpies continued to push forwards with the defence taking quite a beating from a physical Magpies team – with Falzon having the bruises to prove her strong defensive efforts! Strong man marking from the defence left Magpies little space to get near goal and a resulting shot was disallowed. After this slight scare Dragons really found their feet. A quick run up the pitch from Hazel Sumner, and a swift pass to Laura Tompson Wright was completed by a beautiful touch to Smith and a slap to the bottom left corner of the goal.
2:0 Dragons.
The goals continued to come with Wolfe demonstrating some fancy foot and stick work to get out of a tight corner and get the ball to Smith, who 'creamed it' into the top left corner of the goal, not leaving the Magpies Keeper any chance. The score now 3:0 Dragons but Magpies were not deterred and just before the half time managed to break through the attack to create a 1 on 1 with keeper Murgatroyd, who calmly applied the pressure and cleared the ball strongly wide.
Again the 2nd half started with strong play from both sides, with some particularly skilful midfield play being demonstrated by Harriet Green and Geo Beckwith. A scramble in the Magpies D finally found Wolfe, who provided a perfectly weighted ball to trickle across the Magpies goal line.
4:0 Dragons.
The 5th goal came soon after and was worked up the pitch with swift, accurate passes from all involved. Green to Falzon, to Beckwith, to LTW, who expertly lifted the ball over the keepers head to dink off of the inside of the left hand post at the top cornere and into the goal.
Magpies continued to apply the pressure, only to be intercepted by the speedy Goodbun, who promptly ran the length of the pitch to take on the Magpies goalkeeper. The committed goalkeeper intercepted the ball, for it to be picked up and calmly played around her by LTW and passed to Lawrie to be swept into the goal.
Final score, Norwich Dragons win 6:0.
A fantastic game and well deserved result from all involved in very difficult conditions. Hopefully by the time of reading all players and spectators will have managed to thaw out their frozen fingers and toes. Lots of positive team play and plenty of skills to continue to work on going into next week's game against a strong Magpies 3s team.

—————————————————————————————————————–
Empresa Norfolk Women's Division 1
Norwich Dragons 4s 5-2 Magpies 6
Another game that was able to escape the worst of the weather, while we saw some rain, a touch of sleet and right at the end, a bit of snow, the game went ahead without any delays.Dragons took a little while to settle into the swing of things this week and as a result the first 10 minutes saw play solidly stuck in midfield. Once Dragons had gained their feet, play quickly turned in their favour with brilliant passing and team work from all involved. Chelsea Crawford, Sue Cross and Louise Davis did amazing work down the right moving play swiftly and accurately towards Magpies' D.
We didn't have to wait long for the first goal to come, a lovely cross in front of the goal from Gemma Rump (PoM) to the waiting stick of Holly Bailey, who slotted the ball in behind the keeper. In return Magpies came close to scoring a few minutes later with a well-paced switch of play through the midfield but Laura Tuck came off her line and took control of the ball taking it out of harm's way.The second goal came from a well-executed short corner and saw Kate McKenna positioned perfectly on the post to receive a deflected ball and edge it past the line. There were numerous other chances in the first half and Sue Cross was unlucky to be denied two goals where the ball was involved in a scramble of sticks on the line. Louise Davis also had a great strike on goal, but a quick footed keeper cleared it well. Carmel Windsor Waite made some beautiful switches in play in the last few minutes of the half, meeting the ball well and passing it off to Mel Widdows, who was waiting on the left to drive the length of the pitch.
At the end of the first half Dragons were comfortably 2:0 up and looked very much in command.The second half saw Dragons attacking straight away, scoring their third goal in the first 5 minutes. A classic one on one situation where Amelia Dawson dummied the ball right before sweeping it left past the now wrong footed keeper. Magpies however weren't giving up and after winning the ball in midfield made it to the Dragons' D and were awarded a short corner which they slipped twice, before slotting it home. Dragons answered with a cracking goal, a long drive down the wing by Issy Wolfe was passed to Sue Cross who slammed it over the line. Moments later Freya Clogan made a wonderful run all the way from the defensive line to the opposition's D and stuck the ball straight and true, but some experienced defending saw it cleared off the pitch.
The last 5 minutes saw a goal from each team. Another short corner for Magpies saw them score in a packed D, where the number of players involved made it difficult to see the ball and even harder to clear it successfully and Magpies dogged determination saw the ball eventually cross the goal line. In the last two minutes the final Dragon's goal came, a lovely run straight at goal from the top of the D found Gemma Rump on her own with the keeper, the ball was expertly pushed into the left hand side of the goal with the keeper barely able to move off the spot before it had hit the back board.As the snow started to fall the final whistle blew and Dragons won a crucial game. An excellent team effort.
—————————————————————————————————————–
Empresa Norfolk Women's Division 2
Norwich Dragons 5s P-P Norwich City 6
—————————————————————————————————————–
Empresa Norfolk Women's Division 3
Norwich Dragons 6s 4-0 Carrow 2
Proof of Dragons sweeping all before them is to be seen on Facebook, where our young players warmed up nicely with a big broom (and Alice Smith and Jasmin Daniels got rid of some excess energy with a snowball fight). Carrow and Dragons both have to travel to Langley and agreed to try the pitch – the groundsman's opinion being that we would not cause any damage – and actually the surface was fine, perhaps a little faster than usual. All credit to Carrow who are determined to complete their season with a small squad. On this occasion, their ten players kept us down to a single goal in the first half but we wore them down in the end.
Dragons started brightly, and from their first penalty corner, Bridget Le Good saw her shot beat the keeper only to be stopped by the far post defender. She tried the same shot at the next penalty corner and this time kept it a little lower for it to sneak in on the bounce. Both shots were set up by excellent slips from Megan Farrant. Megan had a quiet first half because she was suffering from a cold, but the cold air and unselfish running got her into shape, and she scored Dragons' third goal from a well-struck penalty corner and the fourth from her own forcing run. Our second goal was a beautiful reverse sweep from Anna Brook, who once again showed she is totally comfortable at this level and able to make a valuable contribution to the team.
Our defence had plenty of work to do in the first half. We were fortunate to have Lottie Korn available when we needed her to mark the very dangerous Carrow left wing out of the game, which she duly did. She channelled, jab tackled and generally made a right little nuisance of herself. Alongside her Katy Saide (centre) and Katie Franks were equally composed to deal with the breakaway runs. Alice Smith in goal did not have too many shots to deal with, but she kept an immaculate clean sheet.  Jasmin Daniels had an excellent game at the bottom of the diamond, and in the second half when Jo Eke rested herself because of a chest infection and a hand injury, Jasmin moved up at every opportunity to support the attacks.
Possibly the unluckiest player not to get onto the scoresheet was Rachel Bruce. Her super speed and excellent positional sense meant she was available to pick up the passes time after time, but Carrow saved their best defending for her work in the circle. Izzi Ferguson, Sarah Norman and Helen Marsh gave Dragons plenty of attacking moves from wide mid, and Helen also did some excellent work in defence.  These players gave Dragons opportunities to rotate without losing fluency.
When Jo was on the pitch, she was her usual influential and tenacious self and Dragons will need her to be back at full strength for the sterner tests to come. Bridget got the player of the match vote, with her threaded passes from the attacking third setting up plenty of attacking moves for the fast young players. This was just the all-round performance the 6s needed to build their confidence.
—————————————————————————————————————–
Empresa Norfolk Women's Division 3
Norwich Dragons 7s P-P Lowestoft Railway 2
—————————————————————————————————————–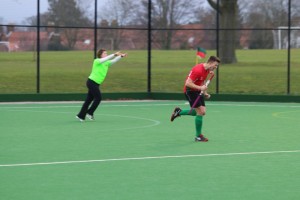 Mens East League Division 2N
Norwich Dragons 1s 4-3 Dereham 2
Dragons earn a gritty 4-3 win over Dereham 2s. A massive win for the team whose promotion ambitions are continuing to gain momentum. Switching Captain Overstall to the back and recalling the elusive J. Gosling gave dragons the spark they needed after conceding an early goal. With some excellent play from the irreplaceable Samways and the fiery Deayton Dragons fought back with goals from Alex Browne and R. Snelling to lead into the break. More well worked play lead to a 4-2 lead after another goal from A. Browne and some shocking defending at short corners by Dragons. With 3 minutes to go Dragons conceded a short and true to form all game long conceded a goal from this. With the final whistle gone and down to 10 men a heroic effort was needed to repel the 4 after-time short corners in order to gain a tough but well deserved win at home.
10 other things to take away from the game:
1. Mike Farrow lived up to pre-match predictions and earned himself a DoD award. With a 47% pass completion percentage and 100% awkward clichéd motivational defence prep talks, it was no surprise that a DoD award was well earned.
2. If anyone knows any good car mechanics please contact Mike Farrow
3. Matt Knights new stick made a solid appearance. In an exclusive interview, the new equipment stated "I am a class act; light, strong and extremely agile. If only the same could be said of my handler"
4. Nick Charlish takes over as the teams resident glass man
5. A. Browne continues to maintain a 87% fear percentage when laughing shots at peoples heads.
6. R. Snelling still can't grasp the concept of buying Jelly Babies
7. Coach Wagstaff losing his head on the sideline is a sight to behold. Like the migration of wilder-beast across the African planes this episode deserves justice in HD with David Attenborough commentary overlaid
8. Eating cold jacket potatoes like apples as a snack is still weird and always will be. Always.
9. GOOD NEWS – Robbie Bell doesn't have to go to Harry Potter land!
10. Harry Potter land have been unable to deny reports of arson instigated by a man in goalie pads
In true transfer day form the rumour mill has been working overdrive with reports of a major player moving abroad on loan. A source close to Coach Wagstaff has said "The club is worried. To lose a star defender to Morzine HC could be a real blow. We can only hope that a big pay rise will enough to keep in here"
On reports that Nick "Torres" Charlish would be making a permanent move abroad have been confirmed by Captain Overstall "sometimes, you just have to cut the dead wood out of the team. He promised goals at the weekend and didn't deliver. There will be ramifications"
Photos from this game
here
.
—————————————————————————————————————–
Mens East League Division 3NE
Norwich Dragons 2s 3-4 Ipswich Cranes
Now, this is a story all about how
Dragon 2's this Saturday went 
4-3 down

Playing cranes on a smurf turf

So just sit right there

I'll tell you how the match played out in a town called… Ipswich
We left goals as the weather became hazed
With Piers not knowing all of the ways
Chillin' out maxin' relaxin' all cool
Ready to shoot some h-ball outside of the school
When a couple of guys who were up to no good
Started making trouble in our D-hood
They got two lucky goals and we all got scared
We said 'Let's get movin' were having a mare'
We fought and pushed forward with play after play
But Wolfe pushed the ball past Ben; sent him on his way
Half time came and we were down, eager now to win it.
We put our heads back on and said, 'make sure you don't kick it'.Second half, yo this is ball
Snow coming down in a winter mass.
Is this what the people of Ipswich deal with?
Hmmmmm this might be a fight.But wait I hear Wolfe and Jenkins and all that
Great goals, is this where the comebacks at?
I don't think so
Cranes scored soon after there
I hope theyre prepared for the prince of bel air
The final whistle came, the weather came clearer
If anything I could say that this loss wasnt rare
4-3 loss  'Nah, forget it' – 'Yo, homes to Norwich'
We pulled up goals about 7 or 8
All shattered we yelled 'Yo homes smell ya later'
We looked at the table
It was getting tight there
To sit on our thrones as Mid-Table champions…
—————————————————————————————————————–
Men's East Hockey League Division 4NE
Norwich Dragons 3s P-P Bury 2
—————————————————————————————————————–
Men's East League Division 5NE
Norwich Dragons 4s A-A Magpies 5
————————————————————————————————————–
Men's East League Division 6NE
Norwich Dragons 5s 3-0 Sudbury 4
On a wild weather day Sudbury braved the snow and sleet to visit a perfectly playable Dragons Den. With both teams having the bare cold and wet 11 it was all set for a perfect contest. Dragons started strongly as Sudbury tried to find their formation. Open spaces were exploited by Rob ("Bangers" CB) and Razzaq in the midfield resulting in numerous chances early on. Dragons first goal came from a nice run from Sayer across the Sudbury defence who failed to commit to stopping the run as Sayer slotted in past the keeper. This stirred Sudbury's midfield and the two central players started to connect and string together useful session of play. Dragons defence of Keeler , Spinks , Carver and Ryan combined well to limit the chances as the opposition always looked in with a chance.Having weathered this Dragons nicked another before halftime with the injured York-Smith turning calmly in the D to find the energetic Spinks in the perfect position to slot home past the useful Sudbury keeper.The second half started with larger flakes and a more open style. Sudbury still threatened and Ryan was "sold" again by the same trick only to be saved by a great strong stick save from keeper Declan Cobb. This backed up a fine faultless keeping display in less than ideal conditions. Meanwhile Key and Lee kept up tireless work to help ensure another goal was on the cards. The right hand side run by Rob ("Bangers" CB) proved a constant threat and eventually the ball came across to find Razzaq free to slot home his second in two games.
After that the game whilst competitive called for the final whistle to be blown and a hot shower. Thanks again to Sudbury for making the trip in thankless weather and to the umpires who braved the conditions. In the joint  Men of the Match Keeler and Rob CB fully deserved their praise.
—————————————————————————————————————
Men's East League Division 7NE
Norwich Dragons 6s 0-1 Dereham 5
After a morning of waiting anxiously to see if yet another game would be called off, Dragons arrived at Dereham to find the pitch perfectly playable. After the customary loss of the toss by captain Robert Coyle (still hasn't won one this season), Dereham started the game and it was clear they were intent on attack from the start. The Dragons defence of John Butler, Rich Davis, Steven Trivett and Mike Banham was more than a match and anything that did get through was well dealt with by goalkeeper Chris Millar. Dragons had chances on the break, with some excellent through balls from Josh Bingham but couldn't quite create shooting opportunities. Man of the match Sam Hobdell was covering immense ground, creating a good link between attack and defence. Owain Hall and Connor Adams tried to bring the play wide but were met by some very strong defence from Dereham.The second half was dominated by heavy snow showers that made it difficult to create any fluid hockey. Dereham continued to push forward and when Dragons failed to clear after a good save by Millar, the rebound was slotted home. Dragons continued to push for an equalizer but as the game became scrappier and the weather deteriorated, they struggled to get into the opposing D. This was a solid Dragons performance against a team that had beaten us 6-0 earlier in the season. They were further strengthened by extra players on the day and it is a measure of the progress the 6th team have made that they were disappointed to come away without a a point.
—————————————————————————————————————
Empresa Norfolk Boys Development League
Norwich Dragons 3-4 Norwich City
In the worst condition seen for years the Dev boys from both teams braved the sleet and snow to put on a performance that our first teams would be proud of. Dragons held control of the middle of the pitch for most of the game. Finishing in the circle however was not so clinical. Ball running from Charlie Nunn , Raunaq Rai and Edward Murphy was outstanding. Passes finding the wing where Louis Cann played a strong role in building attacks. Dragons first goal was a bit of a scramble but it was City who got the goals with one scramble a superb strike to go in with a half time lead.The second half saw Dragons take more and more control but City still managed another with a great reverse stick strike. Dragons then dominated the game with some superb attacks. Dragons came back to 4 -3 and looked like getting even but were eventually beaten by the whistle. Dragons inability to finish in the D cost them this game.Goals from Charlie Nunn, Lois Cann and ?. MOM a three-way split between Charlie, Louis and Raunaq.
—————————————————————————————————————–
Empresa Norfolk Girls Development League
Norwich Dragons 0-2 Yarmouth