Women's East Hockey League Prem
Norwich Dragons 1s 0-2 Old Loughts 1
Dragons travelled to Old Loughts after a week's break in order to add to their points tally for the season.
The game started evenly with both sides enjoying some good spells of possession. Mid way through the half the home side stepped up the pressure and with some good work down their right, they opened the scoring.  Dragons were slow to react to a few decisions and this led to a quick second goal. Dragons did create some good chances and a smart short corner strike from Rachel King was well saved by the home GK.
Dragons were not happy about their first half performance and set out to make amends in the second half. Great defensive work from joint player of the match Louise Murray, along with Sophie Thomas and Maddie Denman meant the home side had very few clear attacking opportunities in the whole of the second half. Dragons work rate could not be faulted and they pushed hard to score. Joint player of the match Holly Reding worked tirelessly, whether in defence or in midfield and was instrumental in a team move which somehow did not result in a goal. The ball was moved well inside the attacking circle but shot  after shot was cleared and it proved not to be Dragons' day.
The team know that the first half performance was simply not good enough and although the second half was much improved, they will be working hard in training and will expect to play to the high standards they have set this season when they welcome Dereham for a local derby game next Saturday.
—————————————————————————————————————–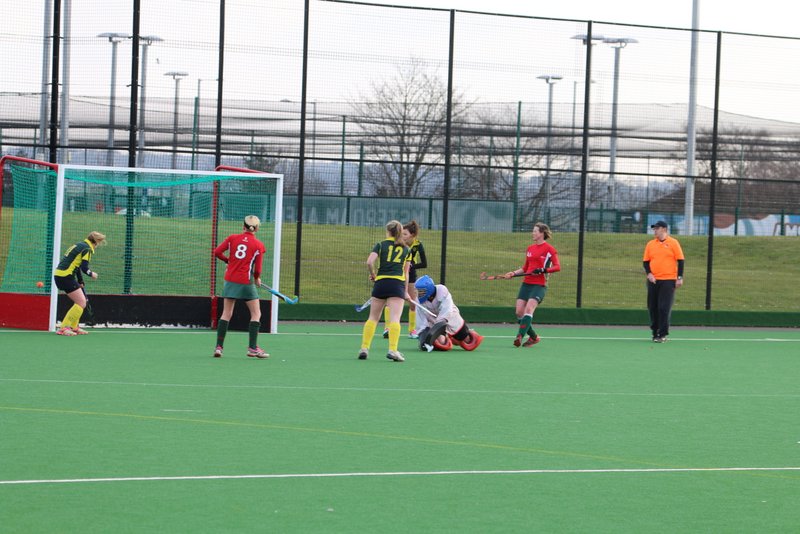 Women's East Hockey League Division 1N
Norwich Dragons 2s 6-3 Letchworth 1

The League got back underway at the Den for Dragons Ladies 2's following the half term break. Dragons welcomed back Gail Thomas from injury and 'deadline day transfer' Jessica Bennett for her Dragons League debut. Dragons were keen to secure the points against a team who they had beaten away from home, but who had some different faces in their squad this time round.
Keen to learn from their mistakes at Lindum, having got off to a slow start, the talk was to keep things tight, however it was Letchworth who drew first blood, with a well worked goal from their stand-out South African player. A wake up for Dragons however there was no panic, it was early days and the equaliser came quickly, following a smart pass from Gail Thomas, which saw Lauren Lawrie and Laura Shreeve combine well, with Shreeve slotting home. The second followed soon after, a break on the left saw Shreeve turn provider, move the ball early to Hannah Hardy, who rounded the keeper and fired in from a tight angle.
Dragons consolidated and had the lions-share of possession; Jessica Bennett was settling in well with strong tackles and good firm early passes in the middle. Pip Howes was working hard on the right, again getting in some good low tackles and feeding the ever willing runs of Marcy Windsor-Waite. Lara Taylor too was playing well in her 2nd game for the 2's and with growing confidence was driving at pace down the right, putting the Letchworth defence under pressure.
Defensively though Dragons needed to be on their toes, as Letchworth carried a threat with some strong forward players. Before halftime their play-maker picked up the ball outside the D, drove in with strength and pace and unleashed a shot which flew into the top corner, drawing the visitors level, just before the break.
Dragons regrouped at halftime and knew they needed to work harder to seal the points in this end to end game. No sooner had the game restarted the home team moved into the lead once more, Gail Thomas picking up the ball at the top of the D and unleashing a firm strike to beat the keeper. The hope was this would settle Dragons, however Letchworth were still up for the fight and great work down their left saw the ball fired high into the goal once again to bring the scores all square. Letchworth continued to press and Amy Forse was called into action with an outstanding double save. The defence was well marshalled by Shelly Seaman and Karen O'Neill Simpson in the centre, supported well by Ally Winsdor-Waite and Angela Murgatroyd, allowing Dragons to get on the front foot and push forward.
The fourth came from a good period of pressure, with Dragons earning a number of short corners; from one corner Dragons debutant Jessica Bennett decided to take the early strike, which flew smartly into the corner, for a deserved lead. From here the home team pushed on, with Laura Shreeve showing her usual flair and pace combining well with Marcy Windsor Waite and Lauren Lawrie to pressure the Letchworth defence. Player of the Match Laura Shreeve, added her second rounding the keeper to slot into the goal following a strong pass from Jess Bennett. The sixth and hat-trick goal for Shreeve again saw good work again from Bennett, find Shreeve in the D, who, with the Keeper to beat, miraculously lifted the ball into the left hand corner.
In the end, a reasonably comfortable victory for Dragons, who wore down their strong opponents, who to their credit are not going down without a fight. Three games remain and points still required, but the desire, spirit and work-rate is there and Dragons move on to their next match, full of belief that they will achieve their goals.
More photos from the game here.
———————————————————————————————————
Empresa Norfolk Women's Premier Division
Norwich Dragons 3s 0-0 Evergreens 1
On a crisp but sunny morning, Dragons traveled to Holt for an early morning match against Evergreens.
Dragons were a little slow off the starting blocks before getting into the swing of match. Well connected passes from Sian Laurie and Sam Franklin helped moved the ball up the pitch into the attacking D, however Evergreens were not going to give in easily. Dragons dominated the play and continued to attack, with defenders Laura Bruce and Carmel Windsor-Waite quick to return any balls which entered their paths. Laura Goodbun made timed runs weaving between the Evergreens defense, however their strong goalkeeper did not allow any balls to pass into the net.
At half time, the score remained 0-0. Dragons began the second half well, with Natasha Falzon taking on a winger position and storming up the pitch at pace. Caroline and Izzy Wolfe helped to create key chances at goal, unfortunately however they were not rewarded with any goals. Sarah Wagstaff stayed strong and solid at the back of the team, not allowing any breaks from Evergreens, with only one clearance needed from keeper Kristina Smyth who was prepared for any attacks. Hazel Sumner and Geo Beckwith helped create width on the pitch to provide space for Debs Smith to charge through, however as tensions rose and time ticked away, Dragons were not able to convert any chances into goals. Dragons finished with a 0-0 draw.
—————————————————————————————————————–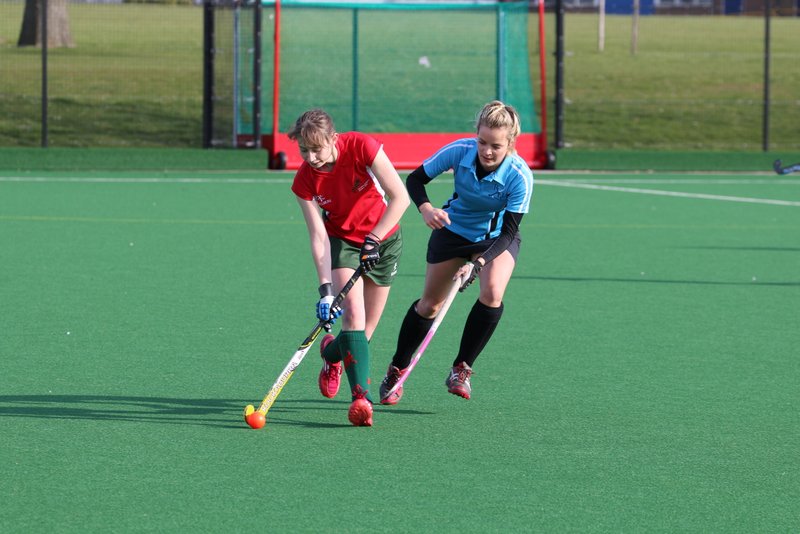 Empresa Norfolk Women's Division 1
Norwich Dragons 4s 1-1 Reepham
More photos from the game here.
—————————————————————————————————————–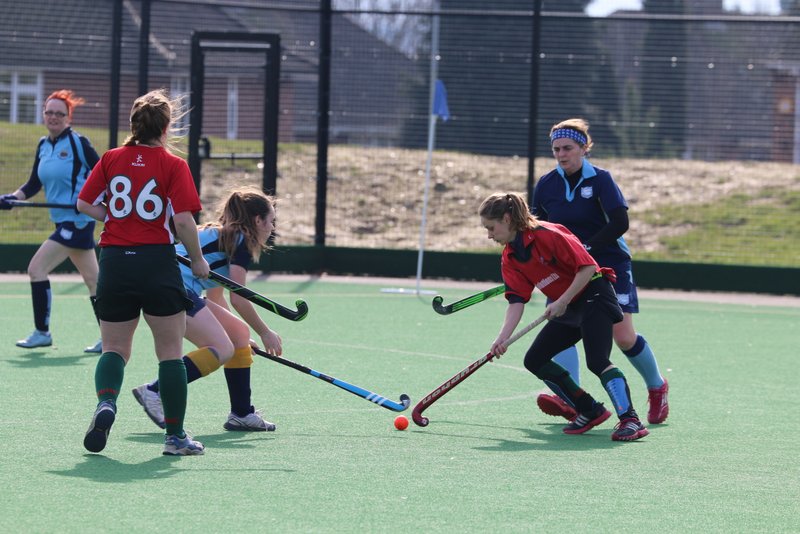 Empresa Norfolk Women's Division 2
Norwich Dragons 5s 13-1 Watton 3
All season Captain Harwood has been dreaming of a double figure game and at last it happened!! It is impossible to write a match report detailing all, the main goal remembered was Lucy Morton's, first goal of the game and the slow motion one that trickled over the line but started the back board thumping. Goals tally
Georgie Manly 6
Megan Farrant 2
Chiara Bond 2
Vicky Earley 1
Lucy Morton 1
Clare Moylan 1
Watton had a robust and loud player [family joke] in the middle who tried to hold us up but the fitness and team work was continued til the end. Great effort from all at passing the ball round, supporting each other and taking chances in the D. Final score 13-1
More photos from the game here.
—————————————————————————————————————
Empresa Norfolk Women's Division 2
Norwich Dragons 6s 0-3 Norwich City 5
Once again the 6s lack of a sharp shooter probably cost them a match, but for once this does not detract from a thoroughly enjoyable game in which every one of the 14 players did themselves credit. Dragons' plan was to go out to contain a strong City 5s side and absorb the pressure before making their passing game tell. In fact, it was the Dragons who had the best of the opening exchanges with Izzy Ferguson and Catherine Matthews winning the ball from City and raiding down the left. Dragons knew they had speed to burn on the right hand side, but working the ball across to Zara Howes and Sarah Norman was not easy – but once they got going, Dragons were strong down both channels.
All the goals came in the first half. Two were 'in offs' the posts and hard to read, and at half time Dragons did not really feel that they were potentially in for a thrashing. POM Ilona Moyter was playing outstandingly well in defence, making some excellent tackles and with her hard accurate clearances gaining valuable territory for the Dragons. Rotating the defenders – Ilona, Alice McNeile, Katy Saide  and Ginny Simkin – was working well. The midfield – Zara, Sarah, Izzie and Jess Vernon all looked comfortable on the ball whether attacking or defending. The 6s central core of Jo Eke and Gill Walker were the glue that held the side together, though they were far from glue-like as they worked every inch of the pitch at pace. Up front, Kat Speirs and Bridget Le Good (who both did some good work fetching and carrying) were in the mix and the chances were coming, but not going, with Izzie, Catherine, Sarah and Jess also having shots.
Two things that the 6s could improve would be to convert more chances into penalty corners where they have been practising some useful looking routines. They also need to work out how to get a player at the top of the circle AND one on the post to take advantage of the crosses that are starting to flow.
Dragons can take lots of encouragement from the second half which was goalless. The defence refused to let City dominate, and Alice Smith dealt brilliantly with some hard shots from distance. And some close little nippers from her own team! Every Dragon gave it everything she had, with the result that there was a higher than usual number of throbbing knuckles and the odd bruised jaw, but not so many banged feet and shins – again an indication that the 6s are starting to improve their footwork.
Finally, a big thank you to Amy Forse who ran the subs, an essential task in a 14-player squad. Her ability to adapt the Plan and deal with situations as they occurred added immeasurably to the pleasure of the game. As did the excellent umpiring from both ends – ours was Jess Tye-Leech.
—————————————————————————————————————–
Empresa Norfolk Women's Division 3
Norwich Dragons 7s 0-8 Hornets
Dragons 7 were raring to get out on the hockey pitch again after the two week break. They were aware that Hornets wouldn't be easy to swat.
Dragons went out fighting from the start, making Hornets work hard. The midfield of Emma North, Anja Wimmer, Sophie Thurtell, Brooke Simmons and Beth Coates worked hard, tackling Hornets and intercepting their strong hits. The forwards of Mia Amiss, Lottie Kearsey and Claire Fairhurst were ready to receive the ball from the midfield, and had a few shots in the D. Unfortunately Hornets were too strong and gave Dragons defence a lot of work to do. Frankie Paul earnt herself Player of the Match for her strong tackles, aided by Jo Baker, Johanne Steward, Emily Roper and Ruth Barton. Alessandra Pelligrini in goal made numerous saves, kicking the ball wide, however Hornets got 4 goals by half time.
Dragons regrouped during the interval, keen to make a mark on the score sheet. Dragons couldn't get past Hornets and they went on to score a further 4 goals, with the result at full time 0:8 to Hornets. The score didn't reflect the effort put in by all.
—————————————————————————————————————–
Mens East League Division 2N
Norwich Dragons 1s 1-2 Sudbury 1
—————————————————————————————————————–
Mens East League Division 3NE
Norwich Dragons 2s 3-1 North Norfolk 1
More photos from the game here.
—————————————————————————————————————–
Men's East Hockey League Division 3NE
Norwich Dragons 3s 0-5 Sudbury 2
—————————————————————————————————————–
Men's East League Division 4NE
Norwich Dragons 4s 0-5 Bury 2
On a bright but chilly Norfolk morning the Dragons welcomed a side in good form and who were already promoted to the Den for a game which, if it went our way, would ease our relegation fears.
With only one sub, who turned up just in time and a lucky mascot the Dragons started brightly and held out for a good 15 minutes or so but the relentless pressing and constant turnover ball resulted in BSE scoring three golas in the first half making the result safe..Undeterred the Dragons set a target to win the second half but unfortunately as well as shipping two goals we lost the influential Paul Kassulke to a nasty finger injury.
Man of the Match was our Spanish international Alberto 'Jimenez' Embardo who worked tirelessly and special mention must go to Ben in Goal who seems to be growing in confidence and size with every game!
————————————————————————————————————–
Men's East League Division 6NE
Norwich Dragons 5s 1-2 Magpies 6
T'was a crisp sunny mid afternoon. Dragons got off to a cracking start with a striking goal from Josh "Rifleman" Bingham within the first 5 minutes. We clung onto our slender lead until half time. But alas it was not meant to be as we conceded twice in the second half. Through no fault and of Pete's incredible keeping, which earned him man of the match. Final score 1:2

—————————————————————————————————————
Men's East League Division 7NE
Norwich Dragons 6s 1-2 Dereham 5
—————————————————————————————————————
Empresa Norfolk Boys Development League
Norwich Dragons: No Fixture
—————————————————————————————————————–
Empresa Norfolk Girls Development League
Norwich Dragons 2-1 Dereham
We had a good first quarter with great work from the attacking team. Maddy Reynolds scored a goal by forcing the ball through the goalies kickers giving us a 1-0 lead. In the second quarter it was very exciting as the ball was traveling rapidly from D to D. Dereham soon equalised with an unfortunate break through. This fired us up and within minutes we scored again with a cross by Maddy Reynolds passing it to Sophia Haehnelt who scored! Even though we kept bashing on at the Dereham defence unfortunately no goals were scored leaving the end score a 2-1 win. The player of the match was Maddy Reynolds.