Women's East Hockey League East Prem
Norwich Dragons 1s 0:2 Tunbridge Wells 1
Norwich Dragons travelled to Tunbridge Wells hoping to end their run of three consecutive defeats but the home side had other ideas. They welcomed three new comers to the squad due to unavailability because of half term and injuries and their work rate and commitment was second to none and nobody looked out of place in this league.
The Dragons started the more spritely of the two teams and dominated for the first 20 minutes however could not convert their chances. The home side eased there way into the match and at half time it was goalless.
The second half saw the Dragons press forwards and were awarded a number of short corners throughout the match but we're unable to convert. This proved to be criminal as the home side capitalised on a mistake by the Dragons who gave possession away cheaply. The home side took full advantage and took the lead.
This proved to be fatal for the Dragons who lost their shape as the clock was ticking down and Wells growing in confidence resulting in a second from a short corner routine with 10 minutes left.
This was frustrating for the Dragons as they had the better of the chances but in this league if you don't take them you get punished. Good experience again and a match that proved to the visitors that they are comfortable in this league and are able to compete but need to take their chances.

—————————————————————————————————————–
Women's East Hockey League Division 2NE
Norwich Dragons 2s 3:0 Framlingham
In perfect conditions at the Den, Dragon's Ladies 2's entertained Framlingham 1's in a game which the home side were looking to extend their 100% record, however were fully aware that Framlingham always provided strong opposition, and hadn't conceded many goals so far this campaign. Due to an unfortunate run of injuries and unavailability particularly in the 1's, the 2nd team saw a few changes, notably Pollyanna Watson making her first appearance for the 2's this season.
Having talked about the need for patience in the early stages, Dragons could not have got off to a better start, with initial pressure resulting in a smartly taken first goal for Pollyanna Watson, who made the run from right mid, collecting a pass from Gail Thomas, and firing the ball in to the GK's left post.
Dragons continued to play their strong passing game, with Lizzie Moulton and Gail Thomas showing good strength in the middle, and Hannah Ellis, Shelly Seaman and Pollyanna Watson, working tirelessly up and down the flanks.
The second goal followed midway through the first half, with an excellent effort by Dragons Player of the Match Aoife Lowe-Davies. Aoife picked up a square pass from Hannah Hardy about 10 yards inside the attacking half. She used her pace and skill to take the ball beyond the back tracking defenders. On reaching the D with the choice as to whether to slip the ball to her supporting forwards (with Marcy Windsor Waite having made up good ground in support) or take the keeper on, Aoife chose to coolly strike the ball past the outcoming keeper, to make the score 2-0.
Framlingham had their spells in the game, however the excellent Dragon's backline of Freddie Briscoe, Ally Windsor-Waite, Angela Murgatroyd and Sophie Thomas showed what a great combination they are becoming, ensuring that chances were few and far between.
The second half saw a similar pattern, probably with fewer clear cut chances for Dragons. They did however force a number of short corners, and from one the routine worked to perfection, with the ball coming out smartly, well stopped at the top and perfectly dispatched in at the right post by Gail Thomas, to make the score 3-0.
Framlingham kept pushing and had a couple of short corners themselves, Ally Windsor-Waite took one goal bound effort off the line with an excellent stop to keep the clean sheet intact.

The final whistle was blown by umpires Hazel Medler and Mason Wright, (who kept a strong competitive game flowing really well), securing another 3 points for Dragons and maintaining their great start to the season. This team continue to work really hard for each other, both in training and on a Saturday. They are growing in spirit and in their all round understanding of how to play together as a team, which is a huge credit to all involved.

To  see a few snaps from this game click here.
—————————————————————————————————————–
Empresa Norfolk Women's Premier League
Norwich Dragons 3s 2:4 Magpies 3
This visit to Weybred was always going to be tough and the low autumn sun made it difficult for both sides when heading into it.
Magpies were strong from the off, playing a fast paced game. Dragons struggled to keep good ball speed on the water based pitch. The dragons defence soaked up a lot of pressure with goal keeper Amy Forse diving left and right and harrying Magpies forwards one on one.
Magpies kept a good press on the Dragons free hits, often managing to intercept the pass. Following an interception in their defending 25, a nimble and talented Magpies player drove the length of the pitch, single handedly beating any Dragons player in her path. Once at the top of the D she struck the ball past the sun blinded Forse.
Following the reset of play Harriet Green played a strong sideline ball to Debs Smith in midfield, who in turn manoeuvred through a sea of Magpies players, delivering the ball to PoM Laura Goodbun. Carrying the ball to the base line, despite the pressure of the persuing Magpies defenders, Goodbun played an excellent cross flush against the base line to a ready to receive Geo Beckwith. With minutes to half time Beckwith slipped the ball past the Magpies kepper bringing the score line to 1:1.
Following the mid game break Dragons conceded a short corner. Neatly slipped right and passed to the left hand post Magpies slipped in their second goal. Unrelenting Magpies continued to press on the Dragons players, pushing hard into the D from many angles and increasing their lead to 3:1.
Undeterred, Dragons were faster at utilising their turns of play. Goodbun, notably, picking up a ball from one such break catching Magpies on the back foot. Sprinting the length of the pitch, the PoM seemed uncatchable, sealing the deal by scoring as she entered the Magpies D, pulling back a goal for the Dragons and bring the score line to 3:2.
Magpies kept on the attack, forcing play deep into the half of the Dragons. Several short corners were awarded to Magpies and despite the best efforts of the defence a clinical strike from the Magpies top D receiver smashed its way into the bottom corner finalising the score for the game at 4:2.
A hard fought, but throughouly enjoyable match. Magpies were a tough opposition, but one that played a fair and clean game, which was superbly umpired.

—————————————————————————————————————–
Empresa Norfolk Women's League Division 1
Norwich Dragons 4s 1:0 Magpies 5
What a glorious morning for hockey, bright and fresh with just the right amount of warmth.

This was always going to be a challenging game, with Magpies 5s only having lost to top of the league Evergreens. Magpies are a young, well drilled and determined side but we were equally as determined to hold our own and play to our strengths this week.
The game was well matched throughout the first half, with play moving consistently back and forth down the pitch. The game started well with Dragon's having the pushback, Sue Cross, Kate McKenna and Gemma Rump all worked hard moving the ball out wide and towards the D and there were several moments when an initial early goal seemed possible, including a lovely ball played across the goal, which just went past the left-hand post. Magpies used their speed to try and take advantage, but solid defending from Freya Clogan, Louise Davis and Laura Bruce kept Magpies in check and stopped the majority of play before it reached the danger zone. When shots were had, Laura Tuck (PoM) took each attack calmly and cleared ball after ball, a stunning performance that kept the score 0:0 throughout the first half.
The second half saw Magpies come out hard and strong, determined to find the win. Dragon's would not surrender easily with Chiara Bond, Carmel Windsor Waite and Sarah Moore all working consistently well in the mid-field, pulling the play out wide and producing some lovely little passes down the wing, again a goal seemed possible but wasn't quite ready come due to a strong defensive line of Magpies. In the last 10 minutes of the game, although everyone was beginning to feel the effects of a hard and physical game, the pace seemed to pick up even more and at last a goal came. Freya Clogan made a stupendous run from defence to inject the ball into the D, Laura Parry received the ball with her back to the goal, did a neat little turn and flicked the ball through the narrowest of gaps and across the line. With only 5 minutes remaining Dragons where put under constant pressure by Magpies who were desperate to draw level. But outstanding team work kept the ball up and in their half, if anything Dragons looked likely to score a second goal. When the final whistle blew a very tired, but happy Dragons team took the 3 points.
A great game of hockey that had everyone on the side-line engrossed – well done ladies. 
To see some photos from this game click here.
—————————————————————————————————————–
Empresa Norfolk Women's League Division 2
Norwich Dragons 5s 1:4 Norwich City 4
Norwich Dragons 5s had a disappointing first defeat of the season to a cohesive Norwich City 4s.

Dragons 5s had the early shift this week and were heavily challenged from the start by Norwich City 4s who put up some excellent attacks right from the start to wake them up.
Hats off this week to our defence and Laura Tuck as  our excellent keeper who made some wonderful saves.  Jess Tye Leach was put under extreme pressure as the only regular 5s defender but she put in some excellent tackles and prevented a number more goals that City drove forward for.  Lotte Korn did a good job at finding her feet in this team which was new to her this season.
At half time Norwich Dragons were dismayed at the fact they were 3-0 down. This has always been a Dragon's 5s weakness in terms of being able to turn a game around when they are down.
We did come back stronger in the second half and even managed to score a somewhat weird and flukey goal off the opposition from a brilliant run from Issy Wolfe (Player of the match). There were some breaks from Dragons through Rachael Matthews, Helen Marsh, Rosie Korn and Laura Hansell. Lisa Harwood and Anja Finnegan put in some good work and some good hockey but we couldn't quite seem to get it in the D upfront and took our time a bit too much.
The defence continued to be under constant pressure with a number of saves by Jade and Lotte on the line. Unfortunately  Jess was not feeling too well and needed a break, with no other defenders as an option this Captain stepped in a left back unfortunately she got caught on the break to conceded a 4th goal. Luckily Jess felt good enough to get back on the pitch  or else the devastation in the score could have been much worse.
You win some you lose some and Norwich City 4s were always going to be an extreme challenge for Dragons. They have now retrieved their position of 4th in the league table.  I remain positive about Norwich Dragons 5s and know we have the gumption to shine again.
All 5s should read the Mens 6s match report (when available) about 9 men that went all the way to Felixstowe and won 1-0 this tells you anything is possible.
Onwards and upwards girls. Keep fit over half term and we'll come back fighting.
To see a few photos click here.

—————————————————————————————————————–
Empresa Norfolk Women's League Division 3
Norwich Dragons 6: No Fixture
—————————————————————————————————————–
Empresa Norfolk Women's League Division 3
Norwich Dragons 7: No Fixture
—————————————————————————————————————–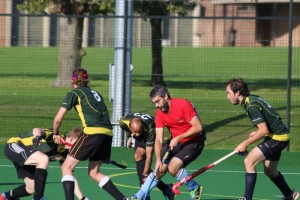 To find out if Tom came out on top, click here to see photos from this game.
Mens East League Division 2N
Norwich Dragons 1s 3:3 Ely 1
Dragons again dropped points at home on Saturday, held 3-3 by a battling Ely City side. It was a fine advert for Division 2 hockey – an end-to-end match played in excellent spirit, testimony to the long-standing relationship between Dragons and one of their feeder clubs (where gifted, young players often spend time on loan).
Dragons started positively if sloppily, pushing the visitors back but giving the ball away with some careless passing. Ely looked to play on the break, protecting old legs at the back with a deep defensive line, and releasing the ball quickly to their pacey forwards. And, despite Dragons' pressure, Ely had early reward for their efforts, hatrick hero Reay taking the ball past Farrow with his first touch and then dispatching past Bell with his second. It was a sign of things to come – the visitors three times taking the lead and three times being pegged back. First it was Samwise who at last got his name on the score-sheet, steaming in at the back post to tuck home Charlish's driven cross. Ely bounced straight back, scoring with almost the next move of the game, Hunt's pace down the right creating confusion in Dragons' defence before Reay deflected a driven ball past the onrushing Bell. It was all-square before half-time, though, Knights' rich run of goal-scoring form continuing with a crunching strike from a short corner.
Dragons started the second half as they'd finished the first – controlling territory and possession and looking likely to go ahead. Instead, though, it was the visitors who took the lead for a third time, another surging run from Hunt down the right leaving Reay to glance the ball into the far corner. As Dragons pushed for the equaliser they left themselves exposed on the break, leaving Farrow to collect a veritable harvest of warnings and cards for serial Overstalling. Samwise twice almost got on the end of dangerous crosses, and Knights and Charlish were constant threats breaking from midfield. In the end, it was another fine short-corner strike from Knights that got the team level and spurred a hectic final push for the win. Ely were certainly the happier side with the point, but having thrice gone behind, Dragons left themselves too much to do.
Samwise was understandably delighted with his first goal for the club: "It's a great feeling; you don't really feel you've contributed as a forward if you haven't scored." Wagstaff was more laconic: "I sort of thought he couldn't really miss and then it occurred to me that he usually finds a way to." On man-of-the-match Smith he added "he's a terrific player. You have to be, I suppose, to win man-of-the-match as a centre-back when the guy you're supposed to be marking's scored a hatrick." And he finished with a comment on the rough reception Rutledge received from his old side: "It was hardly a surprise; you wait and see what he gets if he ever plays against us."
—————————————————————————————————————–
Mens East League Division 3NE
Norwich Dragons 2s 1: 6 UEA 1
10th place Norwich Dragons made the trip across the city to take on 2nd place UEA at the Sports Park. Another tough test for this Dragons side with the hope of providing a stronger performance than in the previous weeks.
Dragons started the game with a good tempo and made efforts forwards to ensure that they did not get stuck in their own half by the strength of the UEA forward line. The passing play was good and using the width of the team looked like a promising start for the Dragons side. Dragons had a few early chances on goal but nothing came from these. UEA were also quick out of the blocks and after mopping up defensively came back with speed and strength.
UEA worked themselves into Dragons' D on a number of occasions and the ball started to find its way across the Dragons goal-line. Piers Gordon-Brown was unlucky to pick up a green card for possibly catching a tackle on the back stick. Rich Moulson worked very well as DMF, distributing and moving the ball from defence through the middle and around the sides. Mitch Smith played more than 15 minutes for the first time this season and put on a strong defensive display. Alex Browne and Jason Wolfe hassled the UEA D early on and continued to threaten when given the chance. The first UEA goal came in from a close range deflection into the goal, the second goal was worked around the goalkeeper and third goal from a well worked a short corner. Lewis Wilkins was also unlucky to get a yellow card towards the end of the first half for tripping a UEA player on approach to the D, despite this good sportsmanship was shown by both sides as a helping hand up was offered to the fallen player and a hand shake exchanged. Dragons kept their heads up and continued to attempt to press forwards and at points the game didn't look too and uneven. UEA managed to squeeze in a fourth goal before half time. 0-4.
The second half started with the sun in Dragons' eyes but again dragons started well and managed to force a penalty stroke not long after the start of the second half. Jason Wolfe converted this with ease, placing the ball to the right of the goalkeeper and around the side netting. UEA continued pushing towards Dragons' goal and may have had more of the ball in the second half as dragons grew tired. UEA soon found their fifth goal having won a number of short corners in a row. Chris Simmonds was bundled to the ground and reacted in a way which saw a green card turn into a yellow card. UEA found the goal for their sixth and final time not long afterwards from a penalty stroke. Dragons soldiered on but looked tired and disheartened, but strong performances from Chris Simmonds, Rory Jackson, Alex Stone and others was pleasing to see in light of the score line. Sam Mann again put himself in contention for another MOM award with some exceptional reactions and saves, albeit missing out on some of the less fierce attempts on goal. Full time. 1-6.
MOM Rory Jackson. Next week Dragons take on 1st place Bury St Edmunds 1st XI at home at 11:30 and also have a Sunday cup game against East London Men's 2nd XI at home at 14:00.
Photos from this game courtesy of UEA HC Photography click here.
—————————————————————————————————————–
Men's East Hockey League Division 4NE
Norwich Dragons 3s 2:2 Norwich City 4
This week Dragons played Norwich Citys 4ths who were sitting just above them near the top of the table only by goal difference.  Dragons knew this would be a challenging game and as the sun shone down, Dragons took to the pitch.
The pre-match talk must have paid off as Dragons scored within the first 2 minutes.  Some build up play down the right ended with forward Adie KEMP hitting the backboard.  Dragons continued to press City though things did settle down as City came more into the game.
As the half went on, City did manage some attacks and broke through the Dragon defence to equalise.  Dragons kept their heads and through some determined play managed to keep putting the pressure on City.  A quick turn from Adam SAYER at the top of the D and a shot on goal forced the City keeper to make a save where the ball fell to Will IVES.  After a saved shot, the ball fortuitously fell to Will again, who flicked the ball into the net.
A few short corners from both teams resulted in no more goals scored this half.  Halftime: 2-1 to Dragons.
The second half saw City really put the pressure on Dragons.  The stalwart defence of James GOODSON, Neil SHORTEN and MOM Peter DAVISON kept the City forwards out of the D.  Good interception work by DAVISON made sure the City aerials got nowhere near their forwards.  Dragon midfielders Stu KELLY, John IVES, Dan RYAN, Will MAIN, and Rob GOODSON were linking up nicely to pass the ball onto the forwards.  Dragon forward Oli BROWNE was unlucky not to score after some promising runs.
The game became a drawn-out affair, with the ball going from end-to-end.  Despite the valiant efforts of the Dragons defence, including a goal line save from Dan RYAN, City kept the pressure on by taking short corner after short corner.  As in previous weeks, Dragon keeper Elliot WANG made some magisterial saves, swatting away many City drag flicks.  However, eventually City were rewarded for their efforts and managed an equaliser.  The game ended and it was a draw, 2-2.
Overall a hard fought game, where both teams had opportunities to win.  A draw it seems, was a fitting result.  Next week, Dragons head to North Norfolk 2s where they look to return to their winning ways.
—————————————————————————————————————–
Men's East League Division 5NE
Norwich Dragons 4s 2:1 Magpies 6
Dragons men's 4th team beat Magpies 2-1. Dragons started well and took control of the game, creating most of the early chances. One of these led to a foot on the line and the award of a penalty flick. Up stepped Ali Smyth, current 100% record from the spot!  This form was continued as the keeper saved well. Dragons continued to press are were unlucky not to convert a short with Rob Chaney Baxter just tipping the ball wide. Phil York-smith finally converted a short corner just before halftime. Magpies equalised midway through the 2nd half before Andrew Cross deflected in the winner from a firm pass from Phil York-smith.

—————————————————————————————————————–
Men's East League Division 6NE
Norwich Dragons 5s 1:2 Nomads 1
—————————————————————————————————————–
Men's East League Division 7NE
Norwich Dragons 6s 1:0 Felixstowe 4 
The Man of the Match at Felixstowe were the 9 men who travelled to grind out a magnificent 1-0 victory thanks to a first short corner strike by Josh Bingham midway through the first half. Everyone showed they not only had superior skill but the energy & discipline to snuff out the opposition. Rob Lee took the sweeper role & grew threw the match. Rich Davies was so good at centre back to be anonymous, so good was his marking the ball was nowhere his centre forward. James Hansell on his league debut was superb while the evergreen John Butler kept 2 forwards at bay on the left. Ray Hansell & Andy Webb were tireless in mid-field from box to box.
This was no defensive entrenchment with Josh Bingham & Rick Sheppard sharing the attacking role. In goal, Mike Banham set a new record playing for all 6 XI's in goal, keeping a rare clean sheet(Hoof point) & when beaten he had Butts on the line to turn the ball away. All 9 players are now looking forward to a long awaited home match & hope those with travel sickness
recover soon.
This was one of the best Dragons/NU team performance I have had the privilege of being part of. Beats making the East Prem league back in 1970's where we belong.
—————————————————————————————————————–
Empresa Norfolk Boys Development League
Norwich Dragons: No Fixture
—————————————————————————————————————–
Empresa Norfolk Girls Development League
Norwich Dragons: No Fixture