| | | | | | | | |
| --- | --- | --- | --- | --- | --- | --- | --- |
| Team | Date | Opposition | H/A | Time | Score | Scorers | Player of Match |
Women's East Hockey League, Premier Division
Norwich Dragons Ladies 1s v St Albans 2s:  2-4
Norwich Dragons Ladies 1s vs St Albans Ladies 2s
The Ladies 1s travelled down to St Albans this weekend, keen to secure 3 points after a frustrating couple of matches where the Norwich ladies deserved more than they came away with.
Saturday saw the return of Issy Wolfe and Jess Bennett, both looking to make their mark up front! In the face of Storm Brian, Dragons started strongly and maintained the majority of possession in the first 10 minutes of the game.
Unfortunately, this would turn out to be a game won and lost on the quality of short corners and Dragons conceded a short corner to St Albans. The shot was blasted into the back of the goal, with very little the defence or Cleeve in goal could have done to stop it.
Dragons fought back and after some great connecting play between the midfield and forwards, Katy Hands managed to find the back of the net to take Dragons equal. Hands continued her attacking play with runs along the back line and some excellent passes across the face of the goal.
The midfield of Liv Thomas, Lucy Ripman, Lara Taylor and Hannah Philips continued to show their strength and determination. Thomas, who went on to win Player of the Match, was skilful in attack and resilient in defence and the award was very well deserved.
Another short corner was awarded to the home team and an almost identical goal was scored, to take St Albans to 2-1 at half time.
Dragons restarted after the break and came out strongly. Holly Reding and Sarah Jenkins were efficient and calm at the back, dealing with some tricky forwards in their usual controlled way. Cleeve pulled out some excellent saves too, to keep Dragons in the running.
After a break down the middle of the pitch that came initially from Hannah Philips, the ball found Katy Hands who drove into the D and drew the keeper who swiftly took her out. Luckily, Hayley Toleman was on hand to make sure that the Dragons got the goal and we moved to 2-2.
What followed was the deciding 10 minutes of the match. We enjoyed a period of excellent play, with Issy Wolfe and Jess Bennet looking strong and dangerous in attack. Despite several opportunities and control of the play, the goal just didn't come and unfortunately, on a break by St Albans, the ball was raised towards Cleeve and became stuck in her pads. Cleeve quickly rectified the situation and what should have been called as a dead ball was awarded as a short corner. St Albans yet again scored from the top of the D and we went 3-2 behind.
With nothing to lose, Dragons pushed another player up to midfield, but despite some outstanding individual efforts and team determination, no goal came. In the dying minutes of the game, the opposition were awarded another short and again, scored from it.
Final score: St Albans 4: Dragons 2.
========================================================================
Women's East Hockey League, Division 2NE
Norwich Dragons Ladies 2s v Ipswich 2s:  1-3
With half term unavailability and injuries taking their toll, Dragons 2's were forced into a number of changes, but were delighted to be giving well deserved East League debuts to Harriet Green and Kath Mares and were grateful to Rowan York Smith and Natalie Beal for helping the team out.
On a bright blustery day Dragons started well, putting early pressure on the Ipswich defence and dominating possession. Karen O'Neill Simpson and Gail Thomas were holding strong in the middle, well supported on the flanks by Debs Painter and Kiera Goymour who started brightly on the right. Natalie Beal took no time to get into her stride, feeding the ever willing runs of Harriet Green and Maddy Reynolds. Dragons were testing the Ipswich defence and an attack down the right saw the ball squared to Natalie Beal who seemed to be impeded as she forced the ball on to the post.
Ipswich grew into the game and had some skillful players – so the defensive team of Kristina Smyth, Kath Mares, Esme Potter and Rowan York Smith had to keep their shape and be alert to every move – which they did really well as a newly formed unit. As play evened out, Dragons took the lead, Natalie Beal putting a strong ball into the D for Hannah Hardy to control, turn and force the ball home. Unfortunately the lead didn't last too long, with Ipswich scoring a smart short corner with a shot into the right hand post.
With the teams level at halftime, Coach Richard Gill talked about a few areas where the team could improve. Kiera Goymour was having a strong game on the right earning her Player of the Match, with some great defensive play,  as well as strong drives and passing into the D. Unfortunately however,  Ipswich scored a 2nd, possibly slightly against the run of play. Dragons kept pushing forward, with some good possession in the attacking D saw the ball squared to Natalie Beal who was once again in a great position on the P spot. Her initial effort was saved, but she showed composure to pull the ball back and flick it over the keeper, which hit an Ipswich defender infront of the goal. Unfortunately for Dragons, the flick was not given and they couldn't capitalise on the short corner.
With Dragons pushing forward, Ipswich scored a 3rd, to make the scoreline 3-1, which was slightly flattering, however the visitors did push on in the second half and Dragons didn't sustain their levels for the full 70 mins, which was a disappointment. Two late injuries to Dragons meant another trip to A&E for both players (a regular occurrence at the moment) – thankfully no breaks this time, but we wish both Gail and Esme speedy recoveries. Onwards and upwards, with the squad looking forward to a trip to Colchester next week.
 ========================================================================
Empresa Norfolk Women's League,  Premier Division
Norwich Dragons Ladies 3s v Dereham 3s:  2-2
Norwich Dragons Ladies 3rd Team welcomed Dereham Ladies 3rd Team to the Den for only their 2nd home league game of the season. The game started with free-flowing hockey being played by both teams all around the pitch, with both teams being awarded short corners early in the game but unable to convert chances.
Dereham managed to open the scoring with a shot that bobbled its way into the goal at the far post. But dragons soon equalised from a good short corner routine, calmly struck across goal by Sam Franklin for Hannah Ellis to volley in on the line.
Again, Dereham managed to score first in the second half, this time from a short corner after the defence were reduced for breaking early. However, like the first half Dragons soon pulled a goal back from another short corner, confidently finished by Jess Haw with a rebound from the top of the circle.
Despite Dragons receiving both a green and yellow card with the score at 2-2, the defence and midfield held strong. Dragons finished the game the stronger team, with the attack creating plenty of open play and short corner chances which were narrowly missed. Ismay Whitaker and Hannah Ellis shared player of the match, but another great team performance to remain undefeated so far.
========================================================================
Empresa Norfolk Women's League,  Premier Division
Norwich Dragons Ladies 4s v Magpies 4s:  3-1
The Ladies 4s were glad of Lou Davis's hokey cokey warm up, making sure we were all feeling ready for action.  The game started briskly with Magpies taking first push back and not given much room for movement by the charging dragons.  Fiona Fletcher was quick to pick up the ball and send it out wide to Lucy Buxton running up the wing using her speed and skill to bypass the opposition.  The forward line up of Caroline Wolfe, Harriet Marlee and Gina Hunt were moving the opposition defence around to give opportunity to a goal.  For the first 15 minutes the Dragons had a few chances on goal, the Magpies keeper pretty quick to fend off straight strikes.  Trish (Terminator) Hagan picked off many Magpies forward moves and linked up well with Ellie James and Aditi Naik on the wing.  The first goal came from a pass in from the right, deflected by Caroline into Harriet who tapped into the goal behind the keeper.  Magpies still on for the challenge tried to pick up and connect with their forward but Katie Franks closed off this option, so they tried breaking through the middle, where Bella Capps was waiting.  Dragons had the majority of play and were still dangerous in the opposition D.  Magpies took their chances and managed to break through into the D forcing a short corner, which they slotted home on the right post.  Trish linking up with Ellie on the wing and up to Lucy outplayed Magpies and with several challenges on goal, picking up the rebound Lucy pushed it onto the backboard.  It was half time, and time for (Sarah) Waggys words of wisdom, playing to the oppositions weaker side, pre scanning and thinking ahead.
Kat Speirs our keeper had been called into action a few times in the first half and the battle call of MINE was heard before she hoofed the ball up the pitch.  In the second half she had a little less to do but at least the sun was shining!  The Dragons were still keen to up the score and Lou Davis was pushing the ball up the wing to Aditi, the play was linking well through to Fiona who injected several balls into the D.  The final goal came from a ball played across the goal, keeper going right and slotted in by Caroline.  Final score 3-1.  Excellent team effort for whole game, thanks to shouty Sarah on the sidelines for guidance.  Trish was man of the match for constant badgering of the opposition and silky skills up the midfield.
 ========================================================================
Empresa Norfolk Women's League,  Premier Division
Norwich Dragons Ladies 5s v Evergreens 1s:  0-3
This was a game of two halves. In the first half Evergreens pressed quickly with strong attacking play and gaining a number of short corners. These were defended well but unfortunately Evergreens were able to convert 2 of these. They scored another goal from open play using their skills and speed to navigate into the D. Our defence of Sophia Haenhelt, Beth Elgood and Grace Brown (MOM) were determined that this would not be the tone of the game and worked incredibly hard to stop their advances. This was supported by some great saves from Esther Jacobs and lots of direction and encouragement from her. The first half ended 3:0.
In the second half dragons were ready to go and from the start began advancing towards the Evergreens goal. There was good linking play with many passes from Lizzy McDonnell meeting Sue Brumby and Lilly Sore to provide opportunities to get into their D. Passes from Ginny Simkin and Mel Widdows provided Niamh Somers with some great opportunities to run the ball into their D making some great tackles when challenged for the ball. Flora Gregorie used her skills to help us have more opportunities in the D and resulted in us winning a number of short corners in a row. Hannah Edwards worked tirelessly to ensure the clearances made by Evergreens were picked up so we could continue the attack and intercepted many of their balls in midfield to slow their play.
The second half provided Evergreens with few chances to play in our half of the pitch and saw the goal hungry dragons team begin to dominate the game. Sadly we were unable to convert our chances but take away a lot of positives from the attacking play in the second half. The work rate and positive attitude of the team was a pleasure.
  ========================================================================
Empresa Norfolk Women's League,  Division 2
Norwich Dragons Ladies 6s v North Norfolk 2:  3-0
North Norfolk Conceded this fixture
========================================================================
Empresa Norfolk Women's League,  Division 3
Norwich Dragons Ladies 7s & 8s no league fixture so played a friendly instead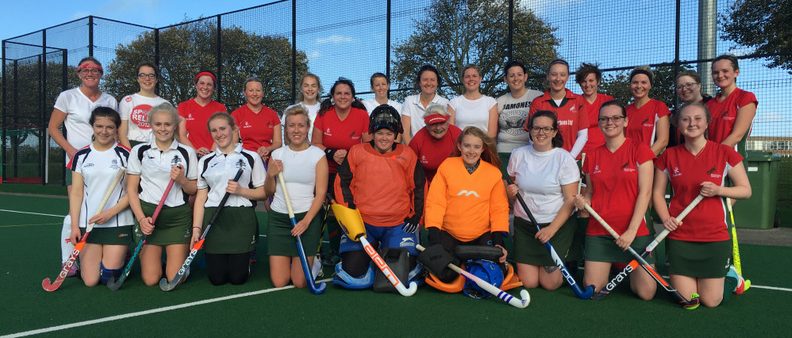 ========================================================================
Men's East Hockey League, Division 2N
Norwich Dragons Men's 1s v Magpies 3s:  2-4 
Overall it was a bad day at the office for Dragons. Even though they arrived early to warm up and get used to Magpies' water-based pitch, they struggled to adapt their game onto it. Pass after pass was miss-hit, sent bouncing or miss-controlled. As a result they seemed to abandon the passing game that had brought them such success in recent weeks and began to try and dribble through the opposition. As a result, the opposition were able to repeatedly over-turn Dragons in the own half and put them under severe pressure. That being said, Dragons were unlucky not to take the lead when their first short corner was smashed into the right post by Henry Laming. The Magpies keeper also made some outstanding saves to keep the scores level before a counter attack allowed Magpies to score with a magnificent reverse-stick volley from the top left of the D. If you ignore the fact that Dragons gave the ball away too easily, it really was a superb piece of skill and
an unstoppable shot; it was hit into the opposite side netting of the goal.
This left Dragons a bit shell-shocked and they soon found themselves 2-0 down after another break away lead to a second reverse-stick finish. Dragons managed to half the deficit just before half time with a much deserved goal. Another well worked short-corner routine lead to a fine deflection from Patrick Gordon.
With a stern talking too from Captain Buck at half time about how they needed to trust in their passing game and not dribble so much Dragons went out and immediately started dribbling straight into the flat sticks of the Magpies players. As a result, Magpies earned a short corner and scored with a big hit into the bottom left-hand corner. This was very surprising as George Bowman had just informed the defence that he would run number two because they weren't going to do a straight strike….
Dragons managed to regroup and play some nice hockey again to earn their own short-corner. This time Charlie Nunn was on hand to volley the ball in after the initial strike had been blocked by one of the defenders. With the scores now at 3-2 everyone thought the come-back was on. But only minutes later Dragons once again decided to turn straight into the opposition's striker and lose the ball allowing them to score a simple tap-in. A disappointing day was completed when Tom Vaughan had a goal disallowed because neither umpire could see if the ball had crossed the line or not (although Mr. Vaughan seems adamant that it did).
Final score 4-2 to Magpies 3s. Dragons will be disappointed with the result but feel they should be able to get revenge in the reverse fixture when they are on their own pitch. In all seriousness, they played some nice hockey at times and could have easily scored a couple more goals on a different day. Time for another good training session on Thursday and hopefully back to winning ways next Saturday against Pelicans.
Mom – Patrick Gordon
Dod – Olly Buck for being sociable and chatting with the opposition captain. Thoroughly undeserved and he is considering not playing next week after being so badly bullied by his so-called 'teammates'.
========================================================================
Men's East Hockey League, Division 3NE
Norwich Dragons Men's 2s v Pelicans 2s:  2-0
A valiant undefeated band of Dragons marched due west from the 'Mighty Den' across the scenic Norfolk corridor to the Pelicans' stronghold known as Lynnsport. The mood was shaped by the promised Atlantic weather bomb; blustery with dancing leaves twirling into small devilish spirals.
Sir Rich Moulson rallied his regiment with conviction and guile, inspiring the troop to capitalize on its courageous start of the new season currently sitting pretty at height of 3NE. Knowing of the oppositions tendency to play a strong long ball game with plentiful aerials; vigilance and positional discipline were highlighted as keys to unlock the victory.
As expected, a hotly contested battle for possession ensued with an aerial bombardment from the opposition. Sir Moulson, Esquire George Walker and Varlet Max Laming showing their teeth in the tackle and eye on distribution. Veteran Archers Ali Smyth, Andy Hipper and Glen Masterson, using the nature of the battleground to provide the Dragons their own style of cannon fodder bouncing balls deep into dangerous territory; allowing the three horseman Jason Wolfe, Garnett Jones and Cley Hamilton to take siege on the Pelicans goal. The tactic eventually resulting in a series of short corners for Hipper and Laming to try their metal against an alert stopper. Dragons Headsman Ben Nkrumah had some stopping off his own to fulfil showcasing his mesmeric reaction saves on several occasions.
The deadlock was broken late on in the first half after further pressure was applied in the wide channels by skirmishers Jack O'Meera and Josh Wiggins, allowing Laming space above the circle to direct a reverse hit into Wolfe to add a deft touch, wrong footing the resilient Pelicans stopper. Drawing close to a fiery half with Sir Moulson's men with the advantage. During the interval, Sir Moulson ushered further words of encouragement to continue the display, but paying greater attention to discipline with the umpires.
As the second half unfolded, the battle intensified. An accomplished show of sparring by young archer George Wright providing relentless rear guard action stopping any opposition attacking on the Dragons right flank. In the midst of battle Wiggins took punishment from both sides with raised passes battling with his knees and received a green for his troubles. Play was halted for captains to bring the intensity to a manageable level as tempers were gradually boiling over. To settle tensions further, a fine dribble and passing move from Laming and Wolfe allowed Hamilton to break free in the circle before unleashing a powerful strike across goal to extend Dragons advantage. This would be final straw as the game wound down to a close with Dragons victorious once again.
Ben Nkrumah Man of the Match for keeping Dragons firmly in the game with impressive reaction saves.
========================================================================
Men's East Hockey League, Division 3NE
Norwich Dragons Men's 3s v Norwich City 3s:  2-5
It was Derby day at the den Saturday with Dragons Men's 3's playing Norwich city Men's 3's. It was a tough game, with City pushing high and countering on the break. It was from one of these breaks that City scored and a well taken drag flick from a short corner made the score 2-0 to City. Some great work from Dragons resulted on a goal from Pedro Goss to make the score 2-1 to City at half time. 2nd half the Dragons felt they were getting back into the game, but again were caught on the counter attack. Pedro Goss scored another goal and the team all worked very hard to the finish but the end result was a 5-2 loss. MOM was Pedro Goss.
 ========================================================================
Men's East Hockey League Division 4NE
Norwich Dragons Men's 4s v Norwich City 5s:  1-2
Norwich Dragons 4 welcomed Norwich City 5 to the Den for the local derby.  With City top of the table it promised to be a tough game.  Dragons' mix of youth and experience proved effective though and they took the lead midway through the first half, with McCartney Aldous slotting home after a well worked attack.  The game was very competitive with end to end hockey, though clear cut chances were rare.  Dragons maintained their lead until the final quarter when City equalised with a scrappy goal, a shot from the edge of the D missed by both attack and defence and creeping past the keeper.  Shortly after, Dragons were very disappointed to find themselves behind after City went 2-1 up with a well taken flick after an unfortunate deflection onto a foot on the line.  Dragons worked hard to try and find an equaliser, but it wasn't to be and City ended up relieved to take the points.  Man of the Match was Will Ives who did fantastic work in defence and also inspired a number of attacking moves.
========================================================================
Men's East Hockey League, Division 5NE
Norwich Dragons Men's 5s v Norwich Exiles 1s: 0-7
========================================================================
Men's East Hockey League, Division 6NE(N)
Norwich Dragons Men's 6s v Norwich City 6s:  0-4
With selection being tight this week, Dragons 6s went into the match with 12 players and one returning from injury who needed to get some match time on the road to recovery. The Norwich City 6 team had made an unbeaten start to the season so another tough game was in order. Right from the start City played with two strikers high into the Dragons half which meant that we had to man mark to keep things in some sort of control. Within a few minutes of the start Ed Crosier was hit hard with a ball on the inside of the knee which relegated him to the side line for the rest of the match. Although it looked, and was reported by Ed as being very painful, hopefully he will be fit soon.
Unfortunately, City struck first shortly after with a goal at the far post, quickly followed by a second, contested, goal that was a deflection from something. It might have been a stick last or first but it all happened at such pace that it was difficult to say. The Dragons kept their spirits up and the midfield of Owain Hall, Issac Diver-Hall, Josh Bingham and Bobby Sheppard continued to press when they could, against seasoned, experienced opposition. Dragons came closest to scoring half way through the first half when Darryl Robinson hit the left post and the ball trickled along the goal line for the width of the goal until being cleared away by the City defence.City quickly scored a goal on the break with a well struck shot at an acute angle, just inside the Dragons D. Unfortunately James King, who was having a good game and made some excellent saves under pressure from City, was unable to reach it and Dragons went into the half time break 0-3 down.
The second half produced much of the same but Dragons kept working hard with the defence of Mike Banham, Harry Brown, Rich Davis and the returning John Butler kept busy man marking the City strikers. After another period of pressure City managed to get clear on the far post again and slotted in a 4th goal. The Dragons 6s didn't cave in and kept fighting to the final whistle to keep the score at 0-4 to City 6s.
So, another tough game but more experience for our players coming up from Dev boys and another example of the 6s working together to reduce the loosing margin to the minimum possible in the circumstances.
Final score Norwich City 6 (4-0) Norwich Dragons 6
For some excellent saves and good all round work Man of the Match went to James King in goal.
========================================================================
Norwich Dragons Hockey Club
Dragons Dev Boys A 
no fixture
========================================================================
Norwich Dragons Hockey Club
Dragons Dev Boys B 
no fixture
=======================================================================
Dragons Dev Girls 
no fixture
=======================================================================