Women's East Hockey League East Prem – Final Table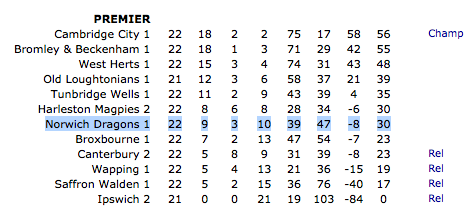 Norwich Dragons 1s 2-2 Broxbourne
The Dragons travelled to Broxbourne for their last match of the season and with their hosts fighting for survival in the league this was always going to be a tough fixture.
The Dragons unfortunately we're forced to travel with a bare eleven but were pleased to welcome young defender Sophie Thomas for her first team debut.
The Dragons struggled to find their rhythm at the start of the game with the physical tactics of their opponents clearly unsettlling the visitors resulting in what can only be described as a very feisty match which the umpires had to work hard to control.
The host's determination to survive forced an early goal which was against the run of play.  The Dragons responded quickly; a short corner with Kate TRELAWNY-GOWER finishing in style with a drag flick.
Broxbourne replied again taking the lead but the Dragons continued with their style of hockey and were rewarded by another fine finish by Trelwany -GOWER to draw the game level.
The match was not enjoyable for the Dragons who were trying to play attractive hockey which Broxbourne broke down one way or another.  The umpires demanded a clean game and a yellow card soon followed for Broxbourne. It was a tense end to the match but neither side could find the winner.
This was a real test for the Dragons and in particular Sophie Thomas who certainly would not have experienced a more physical game before but she and the players can be proud of how the conducted themselves on the pitch and towards the umpires.  This was a good away point which has left the Dragons a respectable joint 6th in the league with Harleston with only goal difference separating them.
This has been a fantastic season for the Dragons who survived their first year in this very tough league.
—————————————————————————————————————–
Women's East Hockey League Division 2NE
Whatever the outcome of this game, Norwich Dragon's Ladies 2's stepped out at the Den, knowing that both promotion and the League Championship had been secured a few weeks previously. Such is the desire and determination of this squad of players however, every player knew that achieving the 100% record of 22 games played and 22 victories, was something that would set this season apart as a very special achievement for the team and for the Club in Div 2NE.
The week's build up to the game hadn't been easy, with poor availability across the Club seeing the 1st Team requiring defensive cover so young defender Sophie Thomas stepped into the fray to join her twin sister Olivia and make her debut for the 1's. In addition, Dragons top-scorer Laura Shreeve was still missing following the broken hand sustained a month ago, however her presence on the bench to support the team once again, gave the squad a boost. Things were about to get worse however, when Angela Murgatroyd another key member of the defensive line, pulled up in the warm up with an achilles injury, meaning some last minute changes at the back were necessary.  Alice Guest former Vice Captain stepped into centre defence, with Hollie Limmer moving into Left Defence, despite herself suffering with a heavy cold. A day of mixed emotions for the Club, saw potential farewells to Alice Guest and Goalkeeper Freddie Briscoe, as exciting University opportunities beckon and to Laura Tompson-Wright, who leaves the area for job opportunities further afield – all leave with our thanks and well wishes #foreveradragon!
Despite the late disruptions, the team started in the style they have enjoyed all season, with fast paced attacking hockey, particularly through Marcy Windsor-Waite, Aoife Lowe-Davies and Natalie Beal. The 15 strong squad of UEA were clearly not prepared to make it easy for the Dragons to achieve the 100% record they sought, and the students worked their way into the game with some slick one-touch hockey. With less than 15 minutes on the clock, UEA broke quickly down the left, running at the defence at pace, before squaring the ball in the D to an awaiting attacker, who swept the ball home. Whilst slightly against the run of play, this rocked Dragons a little and meant for a short period, their play became a little frantic. Further chances came the way of UEA, however the newly formed defensive line of Ally Windsor-Waite, Alice Guest, Hollie Limmer and GK Freddie Briscoe were more than equal to it and ensured no further concessions.
Dragons began to pick themselves up and dust themselves down and showed why they were Champions. The central midfield duo of Karen O'Neill Simpson and Gail Thomas were starting to dominate the middle, breaking down play and initiating attacks through the wide midfielders of Hannah Ellis and Marcy Windsor-Waite. With forwards Aoife Lowe-Davies, Natalie Beal, Laura Tompson-Wright and Hannah Hardy starting to apply the pressure and make it difficult for UEA to clear the ball out of their 25, the students were on the back foot more and more, and eventually Natalie Beal, who was bravely available following injury 2 weeks ago, pounced on a miscontrolled ball, and made for the D. With UEA defenders chasing back and their GK coming out at pace, Beal needed to react coolly, which is precisely what she did, calmly slotting the ball to the keepers right to equalise. Dragons forced a number of short corners before the break, with Laura Tompson-Wright going close, having shown some deft stick work, however the sides went in at half-time level.
Dragons knew they faced probably their biggest 35 minutes of the season – UEA were playing some good hockey and always looked a threat, whilst Dragons were perhaps carrying the 'pressure' of that 100% record on their shoulder. However, they couldn't have wished for a better opening to the 2nd half, an attack down the right, saw Player of the Match Ally Windsor-Waite fire the ball across the top of the D, the pass eluded a few players, but Hannah Ellis ghosted in from left midfield, picked up the ball strongly and fired it into the D, finding Natalie Beal in perfect position to glance the ball past the keeper for her, and the Dragons, 2nd of the match.
Whilst this should have settled the nerves, Dragons continued to make life slightly difficult for themselves, perhaps guilty of dropping a little too deep at times and giving away possession too easily, however credit to UEA, who were quick and skilful and asked more questions of the Champions than any other team this season. To a player, Dragons gave it everything they had, and whilst it wasn't always 'pretty' and they struggled to create many goal scoring opportunities of their own in the 2nd half, they showed that when they have to dig deep for each other, that is exactly what this team will do. When the final whistle blew, there was an audible sigh of relief, both from the players and the sideline.
To achieve a 100% win record in this League is a significant achievement, and one not replicated in Div 2NE by any team in recent history. The squad of players have been exceptional week in week out for one another, both in training and on a Saturday, and have shown the commitment, determination and togetherness that is essential to achieve such a feat.
Proud Captain Hannah Hardy, expresses her most sincere thanks to the many people who have given up their valuable time to make this possible – to the core squad of 14 players, plus the very important club members who have stepped up when required; to our amazing coaches, notably Ladies Head Coach Pete Thomas, with excellent support from Richard Gill and Mark Flatman; to our incredible sideline supporters, many of whom have followed us week in week out, whatever the weather; to all umpires; to Ladies Club-Captain Rowan York-Smith and fellow Ladies Team Captains; to Dragons Club Members for their many well wishes before and after our games; to family and friends, who have suffered the pressures of each game with each of us (especially in recent weeks); and finally to our ever present 'sideline-man' Mike Hardy, for the many miles he has travelled, not only to every league game, but also up and down the sideline!
The team have achieved their goals because of the support they have received from so many and because of the support they have given to each other……a true team…..in fact a 'circle of friends' !!
—————————————————————————————————————–
Empresa Norfolk Women's Premier Division
Norwich Dragons 3s 7-2 Broadland 1
Dragons were looking to continue the run of good form but knew they had to be on top of their game to beat 2nd place Broadland.  They started the game brightly and quickly took the lead with Sue Cross firing them ahead. Whilst Broadland tried to get a foot in the game they had no answer to player of the match, Lucy Hopgood's penetrating runs and precision crossfield passes. Dragons made good their pressure and their second goal resulted from a hit into the circle being expertly guided into the net by Caroline Wolfe. Again Broadland rallied but could find no way through the fluid defending of Natasha Falzon and Laura Goodbun who punished them by turnover possession and exploring the space behind them, often finding Cross who was playing in others with deft passes and lovely movement. The third Dragon goal was a fiercely struck shot from Laura Tompson-Wright into the roof of the net. The Dragon's midfield were playing exceptionally well, Pollyanna Watson, Geo Beckwith and Tompson-Wright rotating and controlling the midfield, breaking out but quick to snuff out any Broadland counter. Debbie Santa Clara and Hopgood made good use of the width, resulting in Holly Bailey finishing adeptly from a very tight angle. Dragon's final goal of the half was a precise pull back from Wolfe and an immaculate conversion from Hopgood to beat the keeper.
Half time: Dragons 5 Broadland 0
Broadland started with more vigour and won a short corner, the resulting second corner was put past keeper Amy Forse who was unsighted by another player. This heartened Broadland who had their best spell of the game but the resolute Dragons were intense in their defending, none more so than Holly Bailey who was adamant that they would not beat her. Broadland became more robust in their play but Dragons raised their game again and keeper Forse made an excellent clearance into midfield, the ball was quickly transferred to Wolfe who reacted quickly to her first shot being saved and scoring into the empty net. After injury meant Dragons lost inspirational captain Falzon, Broadland were able to capitalise and swept the ball into the net, after good work down their left. Dragons didn't let this set them back and still kept pressing for more, with all players contributing and working hard for each other, they were rewarded when Hopgood after a lively run down the right crossed for Wolfe to sweep the ball into the net and complete her hatrick.
This was obviously a very good result for Dragons but more than scoring good goals the play was stylish and guided by Coach Flatman they retained a good balance between moving the ball on and running with it. Broadland are a very good team but Dragons made them work extremely hard for everything, the 'esprit de corps' shown by Dragons lead by Falzon is phenomenal.
—————————————————————————————————————–
Empresa Norfolk Women's Division 1
Norwich Dragons 4s 0-3 Broadland 2
It was a slow start again for Dragons, with everyone finding the first 10 minutes rather challenging. Mel Widdows worked the left wing with dogged determination, making the most of the space to get the ball to the Issy Wolfe for the final drive into the D, but incredibly strong defenders on the Broadland team meant all initial attempts on goal were denied. Some lovely movement from Kate McKenna and Gemma Rump in the midfield kept hopes of an early lead for Dragons alive as they pushed forwards, again, a strong keeper and quick thinking defence thwarted our efforts.
Broadland were soon on the attack themselves, by keeping two forwards high they stretched play and some quick legs in the midfield gave them the advantage when it came to breaks in play and this was how they were able to get the ball ahead of most of the Dragons players and into a relatively uncluttered goal, where they were able to get a clean strike in.
Dragons, continued to fight back and kept their positions strong, Freya Clogan and Abi Cowe did some good work switching the ball around the back and moving the play back in Broadland's direction. There were a couple of occasions when short corners were awarded and we looked in with a chance, a lovely clean strike form Amelia Dawson came close but again an experienced defensive line cleared the danger. Just before the end of the first half Broadland scored again with a ball that rolled along the line before being nudged in on the far corner.
The second half saw a more determined Dragons team return to the pitch, with a quickly taken pushback Sarah Moore drove forwards taking Broadland by surprise, she managed to travel some distance before passing the ball back off to the forwards for yet another attempt on goal. As the half progressed Anna Brook made some beautiful runs with the ball down the left, she showed some lovely stick skills and a great deal of grit to take on several strong Broadland players. Rachael Matthews also showed some lovely play through the centre, driving down the pitch and trying to switch the ball back in. Again Dragons were close to scoring, with real pressure being piled on the Broadland team, but it was always in a packed D without the option of a clean strike.
Carmel Windsor Waite (PoM) was all over the pitch, playing beautifully both in defence and in midfield, her calm attitude on the pitch meant that many early runs from Broadland were halted and turned in Dragons favour. Disappointing Broadland were able to score a third and final goal through another break in play, leaving Dragons with 3 attackers and just two defenders to try and stop them, a well passed ball from the top of the D found it's player and eventually the goal, despite Laura Tuck's best efforts to dive to stop it.
Dragons never gave up though and battled through till the final whistle blew.
—————————————————————————————————————–
Empresa Norfolk Women's Division 2
Norwich Dragons 5s 3-2 Breckland
A delicious if frustrating 3-2 victory for Norwich Dragons Ladies 5s against Breckland.
Guest writer- Jade Blanchflower
Dragons set out today knowing that this was going to be a tough game with Breckland having an experienced strong team behind them and the 5s having lost several key players this week.
Dragons had a pretty sedate first half with no heavy pressure on the defence made up Lottie Korn, Jo Eke and Jade Blanchflower. The first goal came from the dragons, won from a short corner; a fabulous hit out from Chiara Bond (POM) to the awaiting Jade who took a strong hit that was deflected into the top of the net by Chiara.
After a half time grilling from captain Lois McGregor, Dragons came onto the pitch with a new strategy having realised there was no way we could go 'through' the opposition; the alternative was wide passes along the pitch before dragging play back into the confides of the D at the attacking end. Midfield did a great job of holding up any attempts to switch play, Sarah Norman, Helen Marsh and Laura Hansell making some lovely passes and runs up the wing. Victoria Earley settled well into bottom of the diamond controlling the middle and distributing the ball to the wingers with precision.
Jo Eke made some great sweeps whenever a rogue ball came down the pitch sending the ball to awaiting dragons. Anja Finegan ran tirelessly across the pitch making herself available for the midfield to pass her easy balls.
Both of Breckland's goals came from odd short corners where the strike was taken from the right by and incredibly strong player. One of their goals was questionable as it was not seen to hit the back board and umpires had a discussion before it was awarded, much to dragon's disappointment. Leaving us 2-1 down after starting the second half 1-0 up. Yet Dragons didn't give up some beautiful play up the pitch resulted in Megan Farrant being passed the ball in the D which she finished with style; levelling out the playing field. Breckland then applied a lot more pressure with a few close shaves, Amy Forse(GK) stayed alert and communicated well with defence to hold off Breckland.
Our final goal came about as a result of multiple short corners, each one not quite working. So we decided to switch it up with Anja at the top with Jade on her right. Chiara injected a perfect ball to Anja who crossed to Jade who first controlled the ball and then swept it into the back of the goal. Everyone cheered as it was well earned by the entire team! We suffered a few injuries in our battle for victory, Chiara had a ball to the face, Jo got hit by the oppositions stick and now has a beautiful bruise to show for it and Sarah got taken out leading to being winded and needing to come off to recover.
The last few minutes were by far the most tense due to Breckland really wanting the win the pressure was applied in force leading to a mess up in the D and a short corner being awarded and then time was blown. So Breckland brought down all of their players. Dragons worked hard to clear the ball and finally the game ended 3-2. Well played by all.
—————————————————————————————————————–
Empresa Norfolk Women's Division 3
Norwich Dragons 6s: No Fixture
Second place secured last week.  A great season for the 6s, who finished bottom of this table last season.

—————————————————————————————————————–
Empresa Norfolk Women's Division 3
Norwich Dragons 7s 0-1 Hornets
What a season for a brand new team, with the vast majority of this squad being new or returners to hockey, or new to adult hockey, fantastic achievement to finish comfortably in the middle section of this Division that would have had 10 teams had City not withdrawn their 7s.

Dragons Ladies 7s were keen to play their last match of the season after a having a week off and to put into practice what had been learnt at training.
Dragons dominated from the start, pushing Hornets up, continually on the attack. Dragons made full use of the pitch, with top of the diamond Lucy Morton and bottom of the diamond Gill Walker working well together, picking up the ball and putting it wide to either Catherine Matthews (POM) on the right or to Frankie Paul on the left, getting the ball up to forwards Katrina Speirs, Claire Fairhurst, Amy Hunter or Persy Magdalene. The strong Hornets side continually stopping balls from getting through, but this did not stop Dragons from trying again and again. When Hornets did manage to get the ball down the pitch, Dragons defence of Emma North, Cath Power, Jo Baker or Persy and keeper Alice Smith kept stopping them in their tracks. The score was 0-0 at half time and Dragons were keen to find the goal in the second half, aware that if they continued to play as they had been then they should surely be rewarded.
The second half got underway with Dragons again dominating play, not letting their skills slip, continually using the whole width of the pitch. Unfortunately Dragons just could not get the ball past Hornets defence. With just 10 minutes left of play, Hornets broke through and managed to score. Keen that this wasn't going to stop them, Dragons kept on battling but the match ended with a 1-0 win for Hornets.
Despite the loss, the team were pleased with their play and Captain Claire was proud of all of them! With Hornets being 4th in the league to Dragons 7th, and with the score last time they met in December being a 5-0 win for Hornets, it shows how well the team has progressed. Now the 7s look forward to next season.
—————————————————————————————————————–
Mens East League Division 2N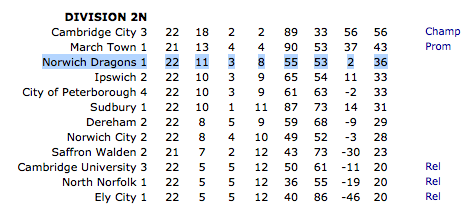 Norwich Dragons 1s 3-2 Sudbury 1
Dragons 1XI last game came along all too quickly and after a roller-coaster ride over the last few weeks Dragons were looking to implement some of the free flowing hockey that has come to be the hallmark of this team but actually get the win this time.
Things started well with dragons playing cute interlinking play between the defence and midfield and went 1-0 up after a solid run and strike from the behemoth that is Matt Knights.
However, as the game continued to unfold it soon became clear that it could become a caricature of the season. And that certainly looked the case when some sloppy defending from a break and then a short corner left dragons at the break 2-1 down.
Dragons however, spurred on for a 3rd place finish managed to overcome this and put the pressure on in the second half with some excellent efficiency in the D and the 23 giving Alex Browne a chance to capitalise on several short corners to level the score. with 10 minutes to go a driven ball into the D allowed a superb deflection to bring the score to 3-2.
Dragons held on for the win and confirmed 3rd place for the season.
In reflection the season is defined by what-if moments. A string of losses into the back end of the season cost dragons promotion but the style and attitude of play have been marks of drastic improvement this season and lays the foundations for a solid push into Div1 next year.
A big thank you must be extended to Shaggy who has coached and generally put up with us along the way. Also a big thank you to everyone who has put in the time and effort this season to play for the 1xi – especially when the Captain tends to go wondering off for months on end.
—————————————————————————————————————–
Mens East League Division 3NE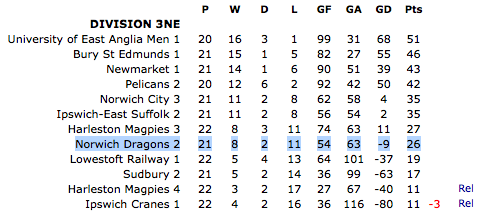 Norwich Dragons 2s 2-3 Sudbury 2
For the final game of the 14/15 season in 3NE the 8th placed 2nd XI travelled away to 10th placed Sudbury. The reverse fixture back in November saw Dragons beat Sudbury 4-2 and with recent magnificent form Dragons were looking to broker another win to beat Magpies 3rd XI into 7th place and end the season with a goal difference nearing evens. Availability this week was disastrous though and Dragons could only muster 11 men to travel to Sudbury. The 2nd XI welcomed Giles Brooks for the first time this season into the goalkeeper position.
Dragons won the toss and pushed back on an overcast day in Sudbury. Dragons took a minute or two to find their feet with passes going astray and finding space to pass and move into proving difficult. The combination of Simon Nisbet, Tim Allen and Jason Wolfe down the right proved to be a good fit with attacking playing working particularly well down this side and D penetrations resulting in many chances on goal but efforts were put wide, saved or cleared out. This work provided a flurry of short corners which could not be converted as Dragons struggled to get the ball out and dispatched quickly enough before the Sudbury defence got involved. With this attacking play from Dragons saw several Sudbury counter-attacks which caught the defence out on several occasions and whom were lucky to have Brooks there to mop up and clear out efficiently.
Chris Simmonds and Lewis Wilkins worked well together on the left and the enigmatic Tom Rutledge linking play as he does so well. Some fine attacking pieces saw Dragons working into the Sudbury D from the right and a firm shot from Wolfe was guided into the Goal by Matt Jenkins to make it 1-0. At this point Dragons had the bulk of the the attacking play and the scoreline should have really read more by this point. This spurred Dragons on but passing accuracy and decision making really affected our chances in front of the goal and in key areas on the pitch.
Dragons continued to hassle the Sudbury defence and goal keeper as the shots on goal entered into double digits. Cley Hamilton put Dragons at ease with a fine strike from the centre of the D to make it 2-0. Towards the end of the first half Sudbury's possession increased and their efforts into our D began to really trouble the defence as a pass out to the right of our D was neatly passed on to their forward who picked the pass and looped the ball over captain Piers Gordon-Brown, Andy Hipper and Brooks in goal to make it 2-1. Rutledge picked up a head injury that required attention on the sidelines after an attackers stick collided with his which followed through and over the top hitting the head. A&E Nurse Jenkins stepped in to show us his bandaging skills which nearly won him MOM. Despite the umpire's efforts to restart the game with 3 of our players off the pitch both sides waited for the final touches of bandaging. Half time.
Sudbury started the second half and looked much more lively and instantly went onto the attack. This forced a handful of short corners and some fine saves from Brooks keeping the scoreline as it was. Dragons attacked back but opportunities in the Sudbury D went begging and begging again. Dragons began to look a little frustrated with themselves which did not help with some of the decision making as poor passes in the middle of the pitch handed Sudbury with some fine opportunities. Sudbury won several short corners which were defended well but balls were cleared out straight back to Sudbury who worked the ball back in and kept Dragons under pressure. Some umpiring decisions further frustrated Dragons and after a straight strike short corner Sudbury managed to pick up a rebound and picked the ball over a logged Brooks. 2-2. Dragons soldiered on and on occasion found the great passing play that they had shown from time to time and which Sudbury struggled to get near to. Wilkins worked well with Jenkins and forced the ball into the D on many occasions and secured a number of short corners. Again, finishing in the D let dragons down including more short corners where our lack of practice in these showed. An attacking play straight down the middle from Sudbury found their man evade 2 or 3 tackles before he got to the top of the D evading one more and then shooting just under the right of our keeper to make it 2-3. Dragons had to defend more Sudbury short corners but eventually possession fell back in Dragons' favour. Scoring did not though and after some well worked final chances the final whistle went. Full time, 2-3.
A disappointing final result of the season but under the circumstances an unfortunate one as well. Some great team work was displayed and as always a real pleasure to play with these gentlemen. A fine match teas and a record of 10 sausages consumed by Jenkins were followed up by a wonderful trip to the Trinity Church in Long Melford and a brief tour of the high street.
This final result leaves Dragons in 8th place in 3NE which means more of the same next year. Our season target of a mid-table finish, improving on last year, and with a modest goal difference was achieved allowing for further improvement and new goals to meet next season.
—————————————————————————————————————–
Men's East Hockey League Division 4NE
Norwich Dragons 3s 0-0 Norwich City 5
An early start at the Den saw Dragons face their penultimate opponents of the season.  Having beaten Norwich City 5ths earlier in the season, and enjoyed a comfortable win in a post-Xmas friendly, Dragons were looking forward to the encounter.
The game started well for Dragons, with a surprising attack from the forwards Adam SAYER and Will KIRBY, which saw the ball arriving in the City D within the first minute.  This unfortunately didn't result in a goal, but did show City that Dragons were going to pushing hard in this encounter.  A midfield battle raged for most of the first half, where it soon became apparent that this was a stronger City side than previously encountered.  Dragons had to step up and start winning the 50/50 balls if they were going to stand their own.
Early on in the half, a struck ball from a City player slammed in the foot of Jon GOODSON, who in his "Achillesque" style, had to withdraw from the field, and limped home.  Solid defending saw Dragons keep out a City short corner, where keeper Dim IVES punched a drag flick over the bar.
Dragons kept up their attacks, which as always, started with the defensive line.  Peter DAVISON, Rich PHILLIS and James GOODSON kept the ball flowing up the pitch, and fed the midfield.  Generalissimo Stu KELLY was the linchpin, wheeling and turning the ball out to the wingers.  Impressive performances by Rohan KAUSHAL and Ed MURPHY kept up the attack for Dragons.
An attack in the final moments from Dragons, saw KELLY launch the ball down the line, to SAYER, who in turn crossed to the evergreen Adie KEMP, who narrowly missed scoring.  Halftime and Dragons regrouped and talked tactics.
The second half started as the first ended.  The ball was being moved from one end to another, and Dragons had to defend against another two short corners.  This they did with style and grace, showing why they have one of the best defensive records in the league.
Chances throughout the second half came and went, with Will MAIN being very unlucky not to score, after the City keeper was prostrate before him.  Rob GOODSON was as omnipresent as ever, popping up and generally being very aggravating for the City midfield.  Excellent displays of linking up play from the younger Dragons showed the future is bright for the club, especially for defender Tom HARRIS, who made his 3rd XI debut.
The game continued and both sides had some chances to seal victory, but it wasn't to be.  In the dying moments of the game, Mom James GOODSON performed a majestic sliding tackle to stop a City forward from a shot.  This summed up Dragon's performance, hard work and dedication.  Next week, Dragons have their last game of the season in a rearranged at home to Bury 2s.
—————————————————————————————————————–
Men's East League Division 5NE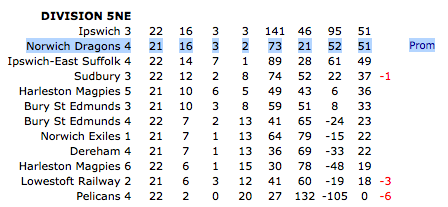 Norwich Dragons 4s 2-2 Lowestoft Railway 2
With two points required from their final two games to finish top of the league, Dragons were held to a 2-2 draw away to Lowestoft Railway 2, whilst nearest rivals Ipswich 3 thrashed Pelicans 20-1.
Dragons were forced to make a number of changes due to availability and injury, but would still have expected to beat a Railway team battling to stay in the division.
The game was played in a combative fashion and the number of interruptions affected the flow of the hockey.  Dragons struggled to find their best form, but were slightly unlucky to fall behind to a speculative reverse shot which looped over Chris Millar in goal.  In defence, regulars Dave Pentin and Jon Price were joined by Sam Mann and MoM Glenn Masterson.  A bit of pace in the Railway attack caused a few problems, but they were limited to just a handful of chances.
Rich Moulson, Rob Jenkins, Barney Price, Will Ives and Phil York-Smith played in the midfield, joined for a few minutes by the returning Ricky Powley.  Up front, Rob Chaney-Baxter, Oli Browne and Garnet Jones held the ball up well and created a number of chances as well as earning several short corners.
Dragons equalised before half time with a rare mis-hit short corner strike from Oli Browne which crept past the keeper.
The second half saw Dragons struggling with injuries to Rich Moulson and Phil York-Smith whilst Oli Browne was feeling under the weather.  Various incidents caused some consternation amongst the players of both teams, but it was Railway who dealt with this better as they took the lead with an attack down the left and finish from a tight angle.
Dragons drew level with their second goal from a short corner, again struck by Oli Browne and squeezing under the keeper.  Railway adopted a more defensive style as Dragons strived for the winner.  Another short corner saw the ball slipped left to Jon Price who found the back of the net from a narrow angle.  Dragons celebrated and both teams set up to restart the game from the centre, only for a long discussion between the umpires to result in the goal being disallowed.
The game finished 2-2, Dragons feeling somewhat hard done by, whilst Railway earned a valuable point.  Next week's game against Magpies takes on a new complexion as Dragons are still looking for one more point.
————————————————————————————————————–
Men's East League Division 6NE
Norwich Dragons 5s 1-1 Norfolk Nomads 2
—————————————————————————————————————
Men's East League Division 7NE
Norwich Dragons 6s No Fixture – Season complete


—————————————————————————————————————
Empresa Norfolk Boys Development League
Norwich Dragons 4-1 Norwich City

—————————————————————————————————————–
Empresa Norfolk Girls Development League
Norwich Dragons 0-1 Magpies (f)

—————————————————————————————————————–
England Hockey Girls Development u14 League 4
Norwich Dragons Top of the League and off to National Festival at Beeston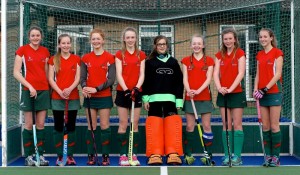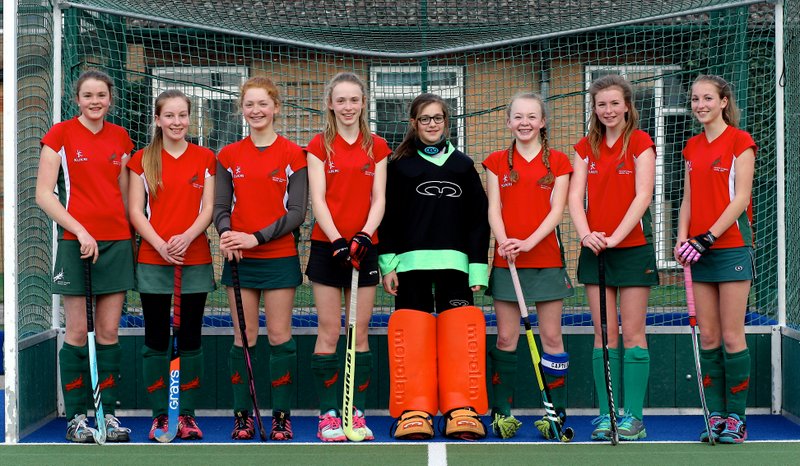 League table here.
Dragons,  playing in the National Under 14 Development League, returned from Peterborough on Sunday thrilled with the two victories that saw them complete an unbeaten run to top their league. The first match was against Chelmsford, who Dragons have beaten by big margins on two previous occasions. Dragons, as they tend to do, started far too carefully and with poor ball speed, but at half time gave themselves the talking to they deserved and then completed a 7-0 win with the match stopped early so that Chelmsford should not become dispirited. In fact. Chelmsford played well and have improved considerably since the league began in September. Goalscorers were Issy Wolfe 2, Lucy Morton 2, Anna Brook 3.
Dragons then prepared themselves for the match of the league.  Peterborough were also unbeaten, and had held Dragons to a draw at the Den. Dragons were psyched up and ready to go. Peterborough play very robust hockey, whereas Dragons play a passing game and like to flow past their opponents – but this time every player was up for man marking and serious tackling. Dragons took the lead though Anna Brook, who dribbled the length of the pitch and slotted the ball past the keeper. Back came Peterborough in the second half, and scored a good equaliser from open play.
Dragons pressed hard and had plenty of penalty corners, but Peterborough were resolute. Issy Wolfe lurked with intent at the top of the D to try to set up a shot for Anna, Lucy, or Lara and Dragons went close on numerous occasions. But in the end the winner was a typical Dragons move, bursting fast out of defence and letting Anna run with the ball to slam a second – with Lara Taylor honestly admitting that she did not actually put a stick on the ball because it was going in.
Dragons then focused on their marking and defensive duties, and at the final whistle both teams were congratulated by enthusiastic and impressed supporters.
Our heroes on the day were Mollie Finegan, excellent in goal in the absence of unavailable Alessandra Pellegrini. Mollie doesn't like playing in goal, but you would never know it with her agility and powerful clearances. Outstanding defender, Carmel Winsor-Waite, so calm, so assured and so clever at turning defence into attacks, built the confidence of Catherine Matthews, normally an attacking midfielder but who volunteered to defend in the absence (injured) Esme Potter. Catherine, who has alleged she cannot tackle, was doing a fantastic job after learning her trade in 10 minutes of the first game.
Dragons have an outstanding midfield engine room, but before the National Festival at Beeston later this year we must find a player who enjoys life on the left. Lara Taylor stuck it out for a game and a half and impressed with her running and tackling, but did not quite enjoy the amount of attacking play that she normally gets. Anna Brook was phenomenal, and when she is on the ball, at this level the opposition tends to melt away. Issy Wolfe played in the centre and displayed both excellent stick skills and calmness under pressure. Up front Lucy Morton was always available and in space, and possibly could have been used more in the second game. Heather Tasker took her share at left mid , and made several fine driving runs.
We used Brooke Simmons as an impact player. She rotated up front with Lucy but was also expected to run back and make a third defender if we were under pressure, and she did this to great effect. What versatility!
Passing between all the girls was commented on by the opposition as being exceptionally skilful. We know how much we have improved since we started this great adventure at the beginning of the season, when we were not quite sure how we would get on against other teams with famous names and good reputations. Now we wonder how we might get on against the very best of the other leagues. Yes, we have heard of Reading, Warwick, Beeston, Canterbury, East Grinstead and many others, and we will be pleased and proud to be playing alongside whoever else rocks up and whatever the results. We have learned loads.
At this stage it is fitting to thank those who have helped us on our way – we don't forget the contribution .of Rachel Bruce (unwell) and Anja Wimmer in addition to the other girls mentioned above. We also missed Jason Wolfe, our co-coach, who was playing in the (also victorious) men's Masters Quarter Final. We missed Simon Tasker, our photographer, who got us into the photographer's dream white shirts and then went sick. We thank Jane Morton our administrator, for keeping us on the straight and narrow with the rules and results and all the lovely parents for providing transport and refreshments, particularly Andrea Matthews for the go-faster scrummy flapjacks and the Simmons family for putting up with Bridget's incessant chatter all the way there and back, and not making her run behind the car.
Gogo Dragons yes indeedy.
Bridget Le Good, Lead Coach.
—————————————————————————————————————–
England Hockey Men's Masters Over 40 Shield Quarter Final
Norwich Dragons 4:3 Epsom