Photos here from yesterday's M4s, M2s, L1s & M5s
Women's East Hockey League Premier Division


Norwich Dragons 1s 3-1 Maidstone 1
After a frustrating match against Cambridge University last Saturday, the pressure was on for the Norwich ladies to take 3 points from visitors Maidstone.
The Dragons started strongly, taking their time on the ball and effectively switching play through the on-form defence. Olivia Thomas and Lou Murray combined well down the right, feeding Tabba Tabrett and Stacey Lee up front. A period of sustained pressure led to a Dragons' penalty corner. The initial strike was saved, but Reding was once again lurking on the goal post, ready to convert. She calmly slotted the ball past Maidstone's keeper to give the Dragons the lead.
Maidstone turned up the pressure though and Dragons' defence were put to work. Jenkins, Limmer, Murray and Reding maintained composure and control though and deftly dealt with any marauding runs from the opposition. Sophie Mullan's athleticism helped on many occasions, as she came back to support the defensive efforts. With 5 minutes until half time, Mullan robbed an attacker of the ball in our defensive D and passed out wide to Liv Leary. Leary found Stacey Lee near the half way line. Lee charged at the Maidstone defence, skilfully beating several players. Toleman meanwhile had made a wonderful run and Lee picked her out at the top of our attacking D. A first time hit beat the keeper easily and Toleman and a great team effort took the Dragons to 2-0 at half-time.
Dragons came out fighting in the second half, with Hannah Philips and Marie James dominating the mid-field. Toleman and Lee were placing pressure on the Maidstone defence and it was their efforts that led to a mistake by the opposition. Dragons played the ball forward and the Maidstone keeper left it to go safely over the line. Unfortunately for her, it hit the post and Lee was there to follow up. The keeper threw herself on the ball and on to Lee, who was unable to move. No penalty flick was awarded though and the match continued.
Some excellent link up play from the Dragons found Olivia Thomas in space towards our 23m line. Thomas drove assertively towards the goal and slipped it left to Hayley Toleman. Toleman found Lee in space and Lee then passed it beyond the reach of the charging goal keeper to take the Dragons to 3-0.
Despite the goal advantage, Dragons then went through a period of sustained pressure from Maidstone. A combination of questionable decisions and some fiery competitive spirit from the Dragons meant that the team spent some time in the second half with 10 players. Yet, once again the defence repelled waves of Maidstone attacks. Some great goal keeping from Cleeve largely kept the opposition at bay, but they eventually managed to claw back one goal.
An excellent team performance but with some areas still to work on, the Dragons will look to capitalise on this performance going in to next week's game.
———————————————————————————————————
Women's East Hockey League Division 1N
Norwich Dragons 2s 1-2 Magpies 2
Dragon's welcomed Magpies to a relatively warm Den, compared to the previous week. The teams were raring to go, although their start was delayed a little, awaiting the arrival of the Umpire from the other pitch! The home team welcomed Aoife Lowe-Davies back into the team.
Once proceedings got underway, it was clear it was going to be a tight game, with Magpies pressing and forcing Dragons defence to be alert from the off, however Dragons themselves looked dangerous on the break, with the visitors relying heavily on Kath Johnson to protect the D. Unfortunately two quick breaks in the first 15 minutes from Magpies, saw the home teams' defence breached, both goals were well finished by Anna Tighe, leaving Keeper Emma Cleland little chance.
Dragons did not get despondent and continued to play their hockey, with some strong attacks down the flanks through Aoife Lowe-Davies, Karen O'Neill Simpson, Sophie Thomas and Gail Thomas. Issy Wolfe was once again working extremely hard in the middle to break down play and to create opportunities for the willing forwards runners, Laura Ward and Hannah Hardy and whilst they had chances, the Magpies keeper was being well protected.
The second half saw Dragons continue their high workrate and being encouraged by their sideline supporters, started to put real pressure on the Magpies backline. With Shelly Seaman, Sarah Borrett, Rowie York- Smith and Donna Vaughan holding the Dragon's defensive spine together, they needed to be at their best against an ever threatening Magpies attack. Eventually, Dragons earned only their second short corner of the game through Ally Windsor-Waite attacking down the right. From the short, Gail Thomas slipped to Donna Vaughan whose initial strike was blocked, the rebound coming to Ally Windsor-Waite who reversed the ball into Laura Ward. Ward still had a lot of work to do, but wasn't about to be defeated and her persistence was rewarded, forcing the ball under the keeper.
Despite further pressure, the equaliser wouldn't come and Magpies sealed the win. Issy Wolfe earned Player of the Match award for the second consecutive week, but there were other strong performances across the pitch. Whilst sounding like a broken record, it's heads up, dig deep and keep working for each other, and for the Dragon on our shirts!!
———————————————————————————————————
Empresa Norfolk Women's Premier Division
Norwich Dragons 3s 5-0 Carrow 1
Ladies 3's win 5-0 away against Carrow 1's. Dragons had a slow start to the game, playing at the oppositions pace and making many hit-or-miss passes. Not manipulating the space efficiently we often ran into the opposition, closing down the space ourselves and running into contact.
However, once settled into the match Dragons stepped up their game and began to play to their own standard. Increasing the use of 1st and 2nd touch passes enabled them to increase the pace of their game and play effective triangles around the opposition. A strong back line, often pressing forward, created an overload at our attacking goal, leaving the opposition under constant pressure. Now using the space to their advantage and sending 100% passes, Dragons kept possession and worked around the opposition up the pitch. Finishing the 1st half at 3-0 with goals from player of the match Sian Lawrie and Chuckle Brothers 1 and 2 (Katie McKenna and Debs Smith).
The second half saw in more of the same team effort with superb linking play and short, sharp passes working the ball up the pitch. Dragons scored a 4th goal from a lifted ball from Hazel Sumner across the goal to Caroline Wolfe who then volleyed it into the back of the net. Finally, finishing off the game Dragons scored a 5th goal, scored by Helen Busfield with a raised ball into the goal from a broken-down short corner.
Overall, great team effort ladies and a special mention for Kristina Smyth for sticking out 70 minutes despite getting 1 touch on the ball, to Mumma Falzon with her expert timing on the side-line and to Esme Potter who played her first match with the 3's! Well played everyone!
—————————————————————————————————————–
Empresa Norfolk Women's Premier Division
Norwich Dragons 4s: No Fixture
—————————————————————————————————————–
Empresa Norfolk Women's Division 1
Norwich Dragons 5s: No Fixture
—————————————————————————————————————
Empresa Norfolk Women's Division 2
Norwich Dragons 6s 6-0 Watton 3
—————————————————————————————————————
Empresa Norfolk Women's Division 3
Norwich Dragons 7s: No Fixture
—————————————————————————————————————–
Empresa Norfolk Women's Division 3
Norwich Dragons 8s: No Fixture
—————————————————————————————————————–
Mens East League Division 2N
Norwich Dragons 1s 4-2 Cambridge Nomads 1
Dragons took to the road for a crucial match against third-placed Cambridge Nomads, knowing that their promotion and championship hopes faced a stern test. With Sudbury not playing this weekend the top spot was ripe for the picking. Dragons put out their youngest ever first team with call-ups for George Bowman, Charlie Nunn and the more veteran Rob Wagstaff.
The game started poorly for Dragons as they struggled to adapt to a slow pitch. After several turnovers in dangerous places Nomads were able to break and take the lead with a well-worked goal. Dragons kept working hard and gradually play improved. A quick break put Ollie King through to beat the keeper and efficiently set the game level. The remainder of the first half was finely balanced with a flicked corner goal deceiving the Dragons keeper and a worked tap-in for Snelling levelling things before the whistle.
In the second half the Dragons work-rate began to pay dividends against a tiring Nomads defence. A penalty corner was smashed home by Ben Watson and Snelling was able to put the game beyond doubt scoring his second and Dragons' fourth. Dragons now top East Division 2N with 5 matches remaining. Man of the match was awarded to Jonty Gosling for a strong midfield performance where he was often the instigator of his team's best attacks.
—————————————————————————————————————
Mens East League Division 3NE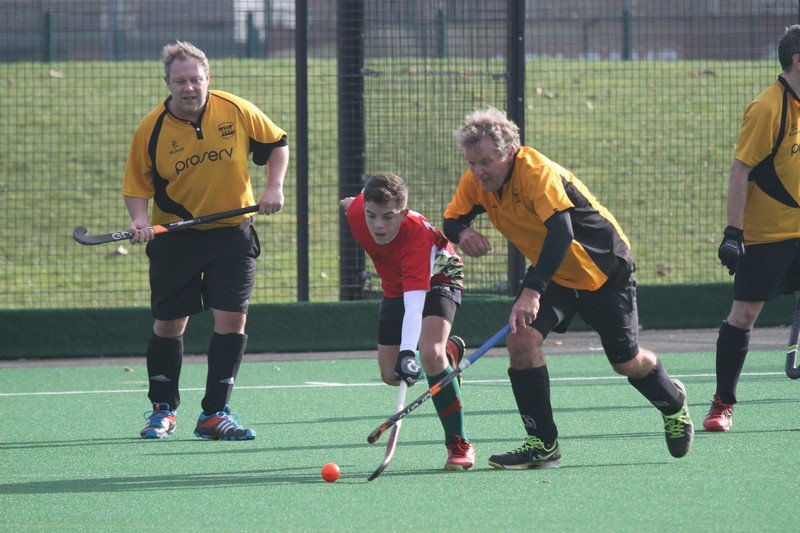 Norwich Dragons 2s 7-1 Lowestoft Railway 1
Jase's red army put in their best performance of the season, beating Lowestoft Railway 7-1.
In a match which the home side dominated from start to finish, the score could have easily been double figures. In the opening ten minutes, Alex Browne latched onto a loose ball in the D to score and this was followed up by a cool finish by captain marvel, Jason Wolfe, to put the home side into a two goal lead. Dragons made it three to the good after Richard Gill's laser guided aerial across half the pitch picked out Ed Murphy, who ghosted into the D and cleverly used a defender's stick to put the ball over the line. On the stroke of half time, a short corner was converted by Alex Browne, his second, to put Dragons four goals up and with half the game left, the half time talk was about pressing home to advantage to improve the team's goal difference.
The second half followed the same blueprint as the first. Two more short corners were converted by Alex Browne, and it was Alex Browne, this time from open play, who finished off a cross from Wilkins after he had combined with Pebble. Hit on counter from one misplaced short, Dragons were unable to keep the clean sheet they deserved – a small blip on an otherwise fine performance.
Dragons will be hoping to continue this rich vein of form going into the match against Ipswich next week.
Man of match, unsurprisingly, was Alex Browne who slotted a hat trick of short corners and two neatly taken goals!
—————————————————————————————————————–
Men's East Hockey League Division 4NE
Norwich Dragons 3s 4-2 Lowestoft Railway 2
The Men's 3s travelled to the UK's most easterly pitch to play Lowestoft Railway 2s. Having beaten Lowestoft 8-0 in the first half of the season, Dragons were confident they should do well.
It was Lowestoft who started brighter, perhaps being used to an incredibly sandy pitch, and slipped a ball through to a very spritely forward, who managed a bobbling cross which was hit into goal. Dragons didn't let this get them down and they worked hard to claw back an equaliser through Tom VAUGHAN.
Due to the sandiness of the pitch it took Dragons this first half to get used to the conditions, and the unpredictive nature of receiving the ball, which often spun.
The second half saw Lowestoft take the lead again through a short corner. Dragons kept their heads up and started to pass the ball around beatifically, and this led to Lowestoft getting frustrated. One incident led to a Dragons player spending some time on the bench, but was closely followed by a Lowestoft player.
Dragons equalised and then soon after took the lead, with goals from Ali SMYTH and Tom VAUGHAN. Lowestoft tried again and again to smack the long ball to their speedy forwards, but Dragons worked hard, particularly Man of Match Rob GOODSON, who with the midfield, kept the ball getting through. Good build up play by Dragons led to Dragons getting another via Matt JENKINS, and there was the sense the game.
Once again, a Lowestoft player was shown yellow for aggressively confronting a Dragons player, and a moment later, Lowestoft were awarded a short corner. The umpire informed the Dragon defence that time was up, and they knew they had won, and finished the game strong by clearing the ball.
A very physical encounter, but Dragons proved that cool heads and composure led to better hockey being played, and a victory.
—————————————————————————————————————–
Men's East League Division 4NE


Norwich Dragons 4s 0-1 Pelicans 3
After some difficult recent fixtures, Dragons were looking for a win to restore some momentum after the Christmas break.
Pelican's travelled with a squad of just 11, but this included some wily defenders and skilful and pacey attackers. In the first half of the match, they created a number of chances and only the excellent Chris Millar (PoM) in the Dragons' goal kept the scores level at half time.
Dragons' enjoyed some good possession but struggled to create many clear chances. Both teams pressed hard for the breakthrough but it was Pelicans who scored what proved to be the decisive goal of the match with about 10 minutes left.
Dragons kept working until the end, but were unable to get back into the game. The attitude of the side remains positive however and the younger players continue to improve.
————————————————————————————————————–
Men's East League Division 6NE


Norwich Dragons 5s 2:1 Dereham 4
Mens 5s had a good run out against bottom of the league Dereham 4 winning 2-1. Although the scoreline was close the dragons side were fairly dominant and missed countless opportunities up front to increase their advantage. There was some great linking play in the middle of the park from Sol Blazer and MOM George Bowman skipping around the Dereham old boys like they were statues but we struggled to finish the moves off. Great team attitude and morale and it's great to see the younger players taking responsibility and control the game.

————————————————————————————————————
Men's East League Division 7NE
Norwich Dragons 6s: No Fixture
————————————————————————————————————
Empresa Norfolk Boys Development League
Norwich Dragons A: No Fixture
————————————————————————————————————
Empresa Norfolk Boys Development League
Norwich Dragons B 1:13 Norwich City
Going into the early morning game, Dragons Dev 'B' team were hopeful of a good performance. We faced sustained pressure from the outset from a strong passing City team. Unfortunately, despite making some good plays, we didn't have enough players in the D who could capitalise on the passes. Going into half-time it was 9-0 to City. After an inspiring team talk by Jason (who wanted us all to try our hardest and get one goal) we played much, much better in the second half, even getting some shots on goal. After Owain's exquisite pass to Johnny, he took it 20 yards down the line and passed to Isaac who neatly finished it: we had our goal and spirits were high. After this, Dragons were up for the game a bit more. Despite a few more goals from City, they didn't dent our team spirit and we kept the strong opponents to 3-1 in this second half. Alex Wolfe got a deserved MOM. Well done to all players and thank you to our coaches and supporters, Jason, Kath, Owain and Butts. Onwards and upwards, Dragons!

————————————————————————————————————
Empresa Norfolk Girls Development League
Norwich Dragons: No Fixture