Photos from a few of the day's matches here.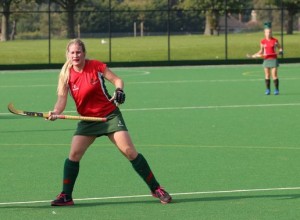 Women's East Hockey League East Prem
Norwich Dragons 1s 3-1 Cambridge University 1
A year ago to the day, Dragons player Rachel King broke her ankle in 5 places and missed a season of hockey. A year on, she scored 2 goals and deservedly received her 3rd player of the match in consecutive games.
Dragons travelled to Cambridge knowing they would be in for a tough battle, facing a large squad containing two former teammates. It was Dragons who started strongly, passing the ball well, keeping possession and playing some of their best hockey so far this season. King's first goal of the game was a powerful strike from a short corner which gave former Dragon GK Freddie Briscoe no chance. Briscoe then made a flurry of good saves after some great work from the Dragon front line but was unable to keep the lifted shot of King out which put Dragons 2 up going into the half time break.
Dragons knew that Cambridge would come out fighting in the second half but it was the away side who added to their tally after another flowing move. Fantastic one touch passing between Niamh Lowe Davis and Hayley Toleman turned defence into attack, Stacey Lee finishing with an excellent reverse stick shot past the out coming Briscoe.
The home side still battled on and won a series of short corners, but excellent defensive work from Maddie Denman, Louise Murray and Hollie Limmer frustrated the University side. After a further Cambridge attack they were awarded with a penalty stroke which they duly converted after the ball hitting a Dragon foot on the line. This gave the home side some hope and they pushed forward, wave of attacks were kept out and Dragons were relived to hear the final whistle giving them their second win of the season.
—————————————————————————————————————–
Women's East Hockey League Division 1N
Norwich Dragons 2s 1-1 Wisbech 1
Dragons welcomed 3rd placed Wisbech 1's to the Den for what they knew would be a tough encounter. With illness hitting a number of Dragons teams this week, the squad of 13 went out determined to battle hard.
Once again Dragons started brightly with some surging runs down the right by Marcy Windsor- Waite, however unfortunately an early muscle injury restricted her involvement it the game. Aoife Lowe-Davies was working hard looking to link up with the forwards, to put pressure on the Wisbech defence. Dragons forced the early pace and had a chance which resulted in a short corner within the first 10 minutes. Pollyanna Watson dragged out accurately wth pace, Gail Thomas and Hannah Hardy linked up well and the the goal bound effort was forced home at the far post by Laura Shreeve. A subsequent short corner from Dragons almost resulted in a second, but the goal bound effort from Aoife Lowe-Davies was well saved by the Keeper.
Whilst the home team had their share of possession, it is fair to say the Visitors were very strong opposition, moving the ball around the back sharply, with confidence and playing some excellent triangles in midfield, to put the Dragons midfield and defence under pressure. Karen O'Neill Simpson was in inspired form in the middle, breaking down play both inside and outside the D. Wisbech started to dominate the play and eventually earned the equaliser following a couple of short corners, one saw a decent strike at the top of the D, which deflected off a Dragons defenders stick to fly past GK Amy Forse.
The call at half-time was for more belief from the team, as Dragons were well in this game. A slight formation change enabled Dragons to become a little more attacking and the team had chances. Again the short corner routines looked good and they were unlucky not to add to the scoring through Gail Thomas and Laura Shreeve. Another effort in open play saw Shreeve take on the Keeper and somehow her goal bound effort was deflected onto the post by the Keeper.
With time running down, Dragons saw a nasty injury to their hard working forward Shelly Seaman, who was tracking back as usual and saw a firm strike from a Wisbech defender strike her firmly on her gloved hand, breaking her knuckle – the team wish her a speedy recovery.
The final whistle went with the points shared, which was probably a fair result. Captain Karen O'Neill Simpson (who was Dragons deserved Player of the Match), called for the team to be pleased with this result against a strong Wisbech team. There is room for improvement and plenty for the team to work on, but at the end of the season, this is likely to be considered a well earned point.
Thanks go to a strong vocal sideline for all their encouragement.

—————————————————————————————————————–
Empresa Norfolk Women's Premier Division
Norwich Dragons 3s 0-1 Norwich City 2
—————————————————————————————————————–
Empresa Norfolk Women's Division 1
Norwich Dragons 4s 4-3 Norwich City 4
The ladies fourth team hoped to bounce back after their disappointing defeat to Thetford ladies last week. We were expecting a tough game, our opponents were undefeated all season, and in fact they had not conceded a goal. To make matters worse, they had the best goal scoring statistics in the league, managing to score no less than 22 goals in their league game against Dereham Ladies 4.
Captain Kate Atkins gave a rousing pre match talk, the aim to be the first team to score against our visitors. Unfortunately things did not go according to plan, within 60 seconds of the start Dragons were picking the ball out from the back of their net.
Undaunted by this, Dragons kept pressing the whole team working hard and gradually the balance of play began to change in favour of Dragons. After ten minutes of battling, Dragons drew level by a well worked goal from Sophie Farrow.
The second goal was scored by Sue Cross. Lara Taylor won a short corner after the ball clipped a City foot.  Sophie Farrow injected the ball to Sue who was waiting at the top of the area. A direct shot was stopped on the line, and rebounded to Sue who took another opportunity to score a goal.
The third goal was scored by Sophie Woods. The ball was fed in by Claire from the right and unchallenged took a shot which gave us the two goal advantage at half time.
Norwich City came back very determined after regrouping at half time. Norwich Dragons saw their two goal advantage lost within the first fifteen minutes. Then followed a very frantic twenty minutes with end to end action. Dragons and City both had many opportunities to take the lead.
Norwich City were able to break quickly, and as the final whistle approached the defence were on hand to quash a number of attempts at goal. Bella Capp and Laura Bruce worked well together to limit the number of City opportunities. Louise Davis used her experience keep discipline in the defence.
Lara Taylor had an exceptional game to earn her the player of the match award. She used her speed to make a number of breaks from the left midfield, and worked hard to get back to tackle when required.
Anja Finegan troubled the city defence by taking the ball at speed and running straight for the goal.
Gemma Rump was on hand to stifle the creativity of Cities play makers which undoubtedly had a big impact on the outcome of the game.
With ten minutes of the game left, Lara Taylor intercepted the ball in midfield and slipped it to Sophie Farrow who scored Dragons fourth goal.
This was an excellent result for the Dragons making up for the disappointments of last week. Next week see Watton Ladies 2 visiting the Den.
Scorers: Sophie Wood, Sophie Farrow 2, Sue Cross
POM : Lara Taylor.
—————————————————————————————————————–
Empresa Norfolk Women's Division 2
Norwich Dragons 5s 2-1 Herlings
Finally a cooler temperature for a game!! Currently still holding the top table position the home side knew only another win would hold Dragons Ladies 5s there.  It was going to a tougher game than the team have had lately against a strong team used to hard hitting on natural grass.  These hard long balls hard to be intercepted at every opportunity.
Dragons lined up ready for the start, however it took the the home side a little while to get up to speed and get in free positions.  Herlings defended with high numbers in the D.  Despite having the majority of the possession, the final finish was lacking for the home side.  Lynne Price was doing a sterling job of picking up those balls and cutting across early before the Herlings had a chance.  There was lovely play between Lynne and Rachel Bruce, pushing the ball out wide and running around the opposition.  The Herlings were quickly picked up by Dragons defence of Jess Tye-Leech, Freya Clogan and Charlotte Pounder.  Supporting the midfield with passes around the back and cracking shots up the line.  Alice Smith had little to do until Herlings managed to sneak one of those long balls past the defence and to a high forward, who managed to clot the ball away.  This gave the Dragons a bit of a shock and they knew they could perform much better.  The midfield of Chiara Bond, Racheal Matthews, Mel Widdows and Vicky Earley stepped up and passed the ball up and around the Herlings players.  The Dragons found the Herlings keeper in fine form blocking several shots and with others hitting posts, there was not goal at halftime from the home side.
Half time talks focussed on Dragons picking up the pace, using the ball to pass early to those free players and calling when free.  Off the Dragons set fired up.  The play now was much better from the home side who dominated from the start, and movement into free positions, Zara Howes and Megan Farrant picked up those balls fired into the D and took their chance.  Megan slotted a ball through the keepers diving legs and Lisa Harwood pushed it into goal just to make sure.  Now scores were level, time for more goals from Dragons.  Helen Marsh showed fine form injecting the ball fast and smooth and also delivered some fast balls into the D for the forwards to collect.  The opposition keeper was under pressure and Rachel Bruce showing again determination in the D, picked up a rebound and slotted it in the goal.  Lots of cheering!  Alice Smith finally was called into action and saved a cracking shot with her right hand, like a superman pose! Final score 2-1 another win! For her continual speedy running back and forth Charlotte Pounder was awarded player of the match.  Thanks to David for keeping the subs running and motivation high.
———————————————————————————————————
Empresa Norfolk Women's Division 2
Norwich Dragons 6s 0-0 Yarmouth 2
Dragons renewed their friendly rivalry with Yarmouth, and like last season this was an end to end battle with no quarter asked or given. The first half in particularly was probably the best the 6s have played this season so far. They started very positively, and within the first five minutes had the ball in the goal, but the whistle had gone for an infringement and Dragons were unable to convert the resulting penalty corner.
Dragons might have missed Jo Eke and Gill Walker, but with availability high throughout the club they were able to play Emma Buxton and Laura Hansell. Emma was outstanding at the bottom of the diamond and justifiably won pom for her high energy performance, solid in defence and capable of backing up the attack. Laura also made an excellent contribution, playing in all the right-sided positions and making some particularly strong runs. Two other young players catching the eye were Lucy Morton and Catherine Matthews, who were particularly effective when they could be played on the pitch at the same time as twin forwards. Beth Elgood is no longer considered a defender – though she can still put in the crunching tackles – because the 6s can make better use of her speed and accurate passing in midfield.
So in the first half Dragons had most of the possession and played their passing game, with the strongest moves coming from Emma, Laura, Catherine, Lucy and Beth in triangles all over the pitch. Katy Saide and Katie Franks were both very solid in defence, with Dani Winteringham gaining in confiden as the match progressed.
Yarmouth fought back, but found Amy Forse in fine form in the Dragons goal. Just before half time she pulled off a great series of saves including a block, a rebound, a dive and finally a great clearance.  The visitors continued their onslaught in the second half, and Dragons were lucky that some of their hard shots were off target and the rest snuffed out by Amy.
This was a good all-round performance by the 6s, with Lois McGregor and Sarah Norman contributing as forwards, Bridget Le Good at top of the diamond, and Jasmine Mansfield showing great versatility by playing up front, in the mids and subbing on in defence. The team ended the match strongly, once again pressing for a goal, which is the final area of their game play really needing attention.
—————————————————————————————————————–
Empresa Norfolk Women's Division 3
Norwich Dragons 7s 0-5 Lowestoft Railway 2
Dragons Ladies 7s were prepared for a challenging match away against Lowestoft Railway 2, and a challenge was what Dragons got.Lowestoft were on the attack from the start and Dragons conceded a short corner in the first few minutes. A shot from Lowestoft found its way into goal through the legs of keeper Alessandra Pelligrini. This early goal didn't deter Dragons who fought hard to get the ball up the pitch, making Lowestoft work hard. When Lowestoft did get into Dragons D, the defence of Ruth Barton, Ginny Simkin, Frankie Paul or Alice McNeile aided Alessandra in getting the ball away, with Alessandra making some great saves. Emma North was in a new role at bottom of the diamond and she helped get the ball up the pitch, pushing out to midfielders Beth Coates, Becky Gallagher or Arabella Sabberton or top of the diamond Claire Fairhurst. Arabella made some good interceptions, stopping the ball and running up the pitch in a great partnership with forward Mia McGhee. Other forwards Lois McGregor and Katrina Speirs got into the D and made some attempts at scoring, all of which were thwarted by Lowestoft's defence. The first half ended with the score at 1:0 to Lowestoft.
The second half got underway with both teams eager to score and Lowestoft were noticeably more determined. Both sides were given a green card during the second half although neither team managed to capitalise on either occasion with the other team being a player down. Unfortunately for Dragons Lowestoft did score 4 more goals but Dragons could only manage a few near misses. Final score on a wet afternoon was 0:5 to Lowestoft.
—————————————————————————————————————–
Mens East League Division 2N
Norwich Dragons 1s 0-5 Norwich City 2
—————————————————————————————————————–
Mens East League Division 3NE
Norwich Dragons 2s 2-2 Norwich City 4
A superb defensive performance from Norwich City helped them share the points in a game Dragons feel they should have won. A bouncy playing surface seemed to affect the visitors much more than it should have, and allowed the home team to settle in to a pattern of counter-attacking hockey which saw them take an early lead after the Dragons defence were caught a little flat-footed.
The visitors finally drew level, and after a prolonged period of pressure managed to go ahead through Matt Jenkins and Jason Wolfe. However, another relatively rare counter-attack from the City forwards levelled the scores once more. The remainder of the game was a frustrating pattern of attacking moves that were constantly breaking down either through good defending or poor execution from the Dragons players. Several clear chances were squandered, including one in the final minute. Dragons can have no complaints though. The challenge for them is to try and put a good away performance together next week against Ipswich and East Suffolk.
—————————————————————————————————————–
Men's East Hockey League Division 3NE
Norwich Dragons 3s 4-6 Pelicans 2
This week Dragons faced Pelican 2s at The Den.  From the start, Pelicans pushed Dragons hard and it was a tough first 10 minutes.  Dragons then started to get into the game and regain some composure on the ball, playing their usual style.  Pelicans scored first, but it wasn't long after that, that Dragons equalised from a short corner, after Will KIRBY slotted the ball in.  Dragons continued to defend well and were rewarded by another goal to put them in the lead.  This spurred Pelicans on, who counterattacked well and they managed to draw level with Dragons.
The second half started with the same intensity from Pelicans, which Dragons struggled to match, and within a short space of time, pelicans had put in 3 goals.  Dragons then started to pass the ball around and were linking up, however never could get back in the lead.  Good goals from Graeme SMITH, Ben HARVEY and John IVES, added to Dragon's tally, but with Pelicans putting another goal in towards the end, the game ended 6-4 to Pelicans.  Man of the Match goes to Ben HARVEY, for tireless work on and off the ball.
A disappointing game, in which Dragons struggled to really get going at times.  Next week sees an earlier fixture against local rivals Norwich City 4s, in which Dragons are hoping to achieve their first league points in their Div 3NE campaign.
—————————————————————————————————————–
Men's East League Division 4NE
Norwich Dragons 4s 2-3 North Norfolk 2
Dragons Men's 4s made the trip to Cromer knowing that North Norfolk 2s would be a tough team to beat in that chilly morning. Although a strong defence would be required, some last minute changes forced the team to be set in a 3-5-2 configuration. Nevertheless, the defence worked fine with the continuous support of the midfield.
The match started with a strong local team taking the lead of the attack in the first ten minutes, pushing Dragon's defence to their limit. As a result of their pressure, North Norfolk managed to connect a couple of crossing passes from the side lines into the D, but their dangerous final shots ended up missing the goal by centimetres. Rather than setting the team to a defence mode, Dragons kept calm and carried on with their offensive play, getting more control of the ball and driving it forward on the sides. The defence did a nice job with Paul Keating and Jon Price building up the attack on both sides, while Will Ives, who played in an unusual defence position, was great connecting on the right wing with a great Nick Turner, who managed to link with the strikers every now and again with precise passes.
In one of the multiple local strikes, a long missed pass turned into a dangerous situation when it hit the left post of the Dragons' goal and was bounced straight to Chris Millar's feet, who couldn't avoid contact and pushed the ball into the goal when trying to keep it away from an oncoming striker. Given that the umpire could not clearly see the action, the local striker was asked and showed the honesty of their club by recognising that he did not get to touch the ball, what turned a possible goal into a long corner. This exemplary behaviour was maintained by both teams along the whole match. It was a tough day for a brilliant Chris Millar, who had to do his best in multiple occasions to keep Dragons goal safe.
As time went by, Dragons started to attack fiercely, but their multiple shots either missed the target really close to the posts or were stopped by the strong local goalkeeper. After a number of good attempts, an always reliable Adie Kemp managed to break the defence line running to the left of the goal, and his shot could only be stopped by the last defender using his body, action that was awarded by the umpires with a flick penalty. The penalty was intelligently transformed by Adie by pushing the ball close to the left post, as he could foresee the intention of the keeper to move to the opposite side. But the advantage didn´t last long, as North Norfolk guys kept trying and got the equalizer a few minutes before the break.
The second half started with some rain, but the general tone of the match was the same, with continuous attacks form both teams. The young Rob Chaney-Baxter, showing some excellent dribbling skills, broke the local defence a few times on the right wing, managing to pass the ball to a teammate in the centre of a crowded local D, but Dragons strikers found it really difficult to get a clear shoot. Once again, after several good attempts, a wonderful Geoff Roberts pushed Dragons ahead with a great hit to the wood. This action, along with the skills he showed during the math gave him a well-deserved title of Man of the Match.
The team worked fine for at least another 20 minutes, having the match under control at all times, partly thanks to a great defence. Jon Price was crucial when he saved Dragons goal in a short corner, right over the line, and pushed the danger away to the left side. Also Neil shorten played brilliantly in defence all the match, and left everyone in shock when stopped a dangerous North Norfolk ball with his head, on a free interpretation of the captain's words during the break "play easy, use your head". The captain, Rob Jenkins, also played a key role, being really strong in defence and driving the ball up through the centre of the field in number of occasions. For this purpose, Rob was supported by Cameron McFadyen, who played well his part in the midfield showing some nice dribbling skills.
However, Dragons' good play was not enough to stop North Norfolk guys, who managed to score again in the last ten minutes, who kept trying to connect with their strikers from the defence, mainly with quick long passes. This situation gave North Norfolk an extra motivation point that gave them enough confidence to keep pushing. Eventually, they got their reward when a young well-positioned local striker got a long ball behind the Dragons defence line and managed to score the victory goal in a perfectly executed movement. 3-2 was a fair final score for a luckier North Norfolk team. Nevertheless, Dragons played well and the opposite result would also have been fair. Better luck next time.
————————————————————————————————————–
Men's East League Division 6NE
Norwich Dragons 5s 5-3 Pelicans 4
—————————————————————————————————————
Men's East League Division 7NE
Norwich Dragons 6s 0-5 IES 6
Dragons 6s continued to clock up the miles with a trip to Ipswich to face IES 6s. Unfortunately, only 11 were available to travel but after a lengthy pre-match talk, we felt we had learned lessons from last week's defeat at Sudbury. Dragons started strongly with great attacking play, especially from Pedro Goss down the left side. Despite being on the front foot, Dragons conceded the first goal tamely, being caught out waiting for a whistle that never came.
Undaunted, the attacking continued. Quick ball from free hits created good chances but once again, the final ball into the D proved elusive. A cruel and scrappy second goal on the stroke of half-time meant Dragons headed into the break 2-0 down but not dispirited as we knew this was a huge step forward from last week's performance.
Disaster struck early in the second half as keeper Robert Coyle allowed a shot beat him at the near post and despite an immediate response from Dragons, some good saves by the IES defence kept us out once again. Sol Blazer continued to bring the ball through midfield but despite a couple of good balls across the D from Rob Lee, a goal remained elusive. The lack of substitutes began to show at this stage and despite tireless running from George Bowman and Guy Cranfield in the midfield and some great attacking up the right by McCartney Aldous and Man of the Match John Butler, we just could not get through a well organised defence. IES continued to be quick on the break and James Hansell tracked back to make a goal-saving tackle. A lifted ball into the D caused a mix-up between the ever imposing Mike Banham and Coyle and allowed IES to tap in a fourth. A fifth followed soon after, another quick ball and a stunning touch from a young IES forward taking the ball clear of the keeper.
Ray Hansell's tireless work in defence and midfield came to an early end as he received a green card for using the back of his stick two minutes from time. The game came to a dramatic end as keeper Coyle raced out to kick clear, colliding with the sizeable incoming player and briefly knocking himself out.
Despite the 5-0 scoreline, this was a good performance from Dragons against strong opposition and it is a pity there was not a goal to show for it. With a few tweaks of position and tactic, this team will get it right soon and the goals will come. IES showed us what can be achieved with the right balance of young players and more experienced heads and this will drive us on to find the right mix of players for the 6s.
—————————————————————————————————————
Empresa Norfolk Boys Development League
Norwich Dragons 6-4 Pelicans
Dragons started brightly with Jose & James controlling the middle of the pitch, fairly quickly the team were 2 -0 up with goals for Jono and Jose.   Pelicans had a couple of handy individuals these two combined to reduce the arrears to 2-1.   Dragons continued to move forward with Jono & Johnny getting plenty of space upfront, ably assisted by good runs from midfield by Isaac & Will.  Jose continued to dominate in the middle.   Any attacks by Pelicans were comfortably dealt with by Tom, Joe, Harry & Blue at the back.
Before half –time Johnny added a good individual goals with Jose scoring his 2nd from a short corner.
4-1 at half time appeared to provide an opportunity to rest 3 of the stronger players ….however whilst they were off, Pelicans ran through and scored 3 quick goals!
The 3rd quarter ended at 4-4.   With the proper line up restored, Dragons regained control and added 2 further goals through Isaac & Jose to complete his hattrick.
Player of the match was Jose.
—————————————————————————————————————–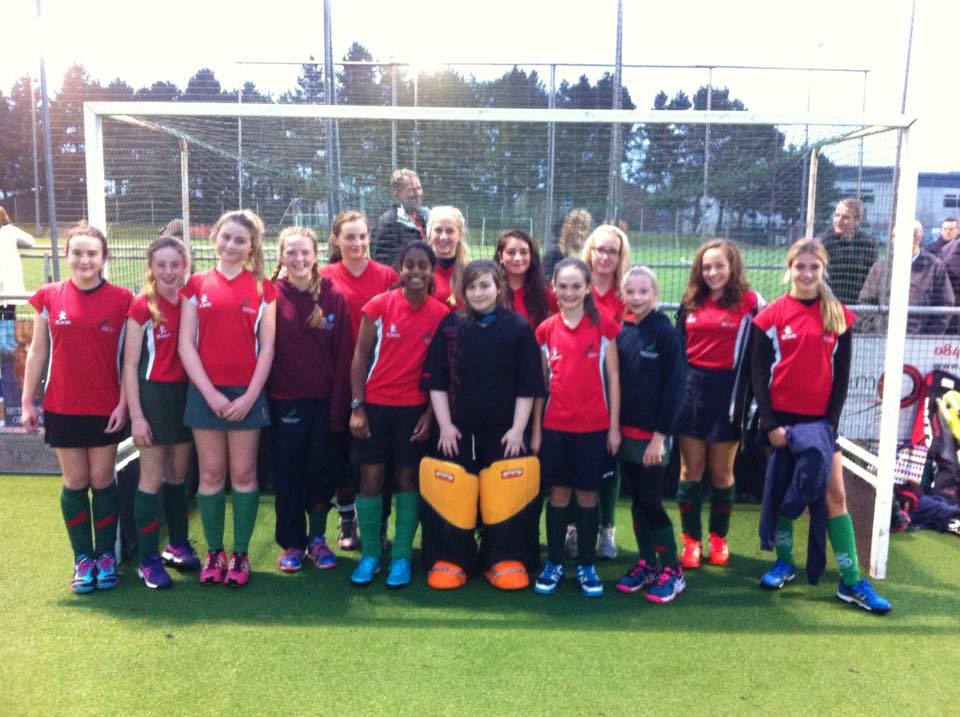 Empresa Norfolk Girls Development League
Norwich Dragons 3-1 Norwich City