Women's East Hockey League East Prem
Norwich Dragons 1s 0-4 Bromley & Beckenham 1
Dragons suffered their first defeat in 8 games, dating back to October 2015 when they came up against 2nd placed Bromley and Beckenham.
Bright sunshine in London meant there was no doubt that this game could go ahead despite the cooler temperature. Dragons knew they would be in for a tough match but for most of the first half Dragons matched the home side's attack. It was the home side who had most of the possession but thanks to strong defending from Holly Reding, Lou Murray and Sophie Thomas , GK Siobhan Cleeve had little to do. Tireless running upfront from Hayley Toleman Emma Tabrett and Aoife Lowe Davies, pressurised the home sides defence and combining with Rachel King were able to create chances.  It was from one of Dragons' attacks that the home side opened the scoring. A contentious decision in the Dragons' attacking half saw the home side break at pace and were able to go into half time with a 1 -0 lead.
Dragons remained positive at half time and went into the second half in search for an equaliser. However, it was the home side who scored next following a well worked short corner which deflected high into the goal.   With Marie James and Pollyanna Watson working hard in the middle of the pitch for Dragons, they began to see a little more possession of the ball. Olivia Thomas and Niamh Lowe-Davies causing problems on either wing created a goal mouth scramble where the Bromley and Beckenham GK managed to keep the ball from the crossing the line. This gave the away side some hope but unfortunately this was soon squashed when despite some more good defending from the away side and player of the match, Lizzie Moulton, another short corner from the home side which was going wide deflected into the goal. This was soon followed by another well worked short corner to slighter flatter the home side with a final 4-0 score line.
Credit to Bromley and Beckenham who were a well drilled and organised side showing  why they are 2nd in the league. Dragons will take a lot form this defeat as they travel to Maidstone next Saturday to make amends.
—————————————————————————————————————–
Women's East Hockey League Division 1N
Norwich Dragons 2s 0-1 Norwich City 1
With the clouds clearing and the sun burning away the last of the frost, the match was given the go ahead by Captains Karen O'Neill-Simpson and Debs Painter. In fact conditions were perfect for hockey, all be it cold for the hardy spectators. Dragons welcomed Natalie Beal back to the team and Emma Cleland making her debut against the league leaders.

Dragons started the half on the front foot and dominated the early encounters with Natalie Beal and Laura Shreeve combining well upfront, ably supported by the pace of Marcy Windsor-Waite. An early encounter saw an excellent cross by Marcy Windsor-Waite glanced goalwards, only for Gina Hunt to make a smart save at the near post.
With the Dragons defence and midfield pushing up high and putting pressure on City, the visitors struggled to create too many clear cut chances, however always looked dangerous on the break. Dragons continued to apply the pressure winning a number of short corners, a few of which came mighty close, Gail Thomas striking well and Pip Howes having a couple of smart efforts saved. The home team thought they had scored with one opportunity, following a bit of a 'melee' in the D, the ball fell to Geo Beckwith, who forced the ball home. However on appeal, the furthest umpire deemed there to have been a Dragons foot in the D.
Defensively Dragons looked strong – Rowan York-Smith at left defender, was in inspired form, deservedly earning player of the match, working well with fellow defenders Angela Murgatroyd and Ally Windsor-Waite, with Emma Cleland's strong communication, this defensive unit were combining well to snuff out any danger. Dragons unfortunately lost the influential Natalie Beal before half time to a back injury, which undoubtedly impacted their attacking potential for the remainder of the game – they wish Nat a speedy recovery.
The second half saw City look to press the Dragons a bit more and whilst the visitors certainly had better spells of possession and pressure, keeper Cleland was rarely troubled. Shelly Seaman, Karen O'Neill-Simpson and Hannah Hardy were working hard in front of the back 3, however Dragons possibly were beginning to sink a little deep and their chances in the second half were generally on the break through the pace of Laura Shreeve and Marcy Windsor-Waite.
With 3 minutes left on the watch, City managed to force a short corner. This was injected at pace to Lucy Ripman at the top of the D, her first time strike was well defended by Karen O'Neill Simpson, out quickly to make the block, however the ball flew into the air. Most thought the ball was flying harmlessly to safety, however it seemed to drop at the last second and drop just under the cross bar into the goal. There was understandable delight from the league leaders, whilst Dragons were disappointed to concede, particularly given the 'freak' nature of the goal. There was no time to respond and the final whistle went – City players and Coach were very humble in victory, accepting they had been somewhat fortuitous to take all 3 points.
Whilst disappointed to come away with nothing, the team had done what was asked, given their all and shown they can more than compete with the top teams in this league. The team remain strong and know they have to continue to work hard to reach their target, but they undoubtedly have the players and spirit to do this. Thanks to the sideline support for braving the colder climes!

—————————————————————————————————————–
Empresa Norfolk Women's Premier Division
Norwich Dragons 3s P-P Magpies 3
—————————————————————————————————————–
Empresa Norfolk Women's Division 1
Norwich Dragons 4s P-P Magpies 5
—————————————————————————————————————–
Empresa Norfolk Women's Division 2
Norwich Dragons 5s P-P Magpies 6
———————————————————————————————————
Empresa Norfolk Women's Division 2
Norwich Dragons 6s P-P Evergreens 2
—————————————————————————————————————–
Empresa Norfolk Women's Division 3
Norwich Dragons 7s 0-0 Norwich City 7
Dragons 7 were happy to have a game on a cold January day after a number of other matches had been postponed due to frozen pitches. Norwich City 7 was a meeting of a team of a similar standard to Dragons.Both teams got under way, battling for the ball, with a lot of end to end play. Dragons defenders of Emily Roper, Emma Cadley, Jo Baker, Ruth Barton and Frankie Paul did a great job yet again, aiding POM goalkeeper Alessandra Pelligrini in getting the ball away from the goal, although City did have some near misses. The midfield of Becky Gallagher, Beth Coates and Dani Winteringham made excellent tackles and with bottom of the diamond Emma North and top of the diamond Amy Hunter, kept pushing the ball up to forwards Mia Amiss, Katrina Speirs and Claire Fairhurst. Dragons had a number of shots at goal, but each one was thwarted by City's defence.
The second half carried on the same as the first, with both Dragons and City fighting for the ball and making numerous attempts at the respective goals. The match ended with a 0:0 draw and finished before the snow flurries returned. Thanks to Alice Smith for coming down to get her hockey fix after the weather stopped her from playing. Her sideline support was most encouraging and welcomed!
—————————————————————————————————————–
Mens East League Division 2N
Norwich Dragons 1s 1-5 UEA 1
"Always turn a negative situation into a positive situation." 
― Michael Jordan
Saturday was glorious.
The sun was out, the club was bustling with activity and Sam brought some deliciously mass produced flapjacks for us all to enjoy.
Dragons got off to a slow start but UEA were really good. During the first 15 mins Dragons set up a friendly half court press that the UEA midfield seemed to really enjoy playing against. Being the good hosts that we are, we hospitably presented the opposition with 2 goal scoring opportunities that they gratefully converted….. It's so nice watching other people enjoy something that you've given them.
At half time we were 3-0 down having not entered the opposition's D, had a shot on target or earned a short corner.
We drew the second half 1-1!
Dragons reacted positively and began playing hockey better. We started putting passes together, winning battles, getting the ball into the D and creating goal-scoring opportunities. Mark Fatman dispatched one of these opportunities and Dragons were unlucky not to give the UEA supporters more opportunities to further their enjoyment of the game.
Lots of positives to build on an important game against Peterborough next week.
—————————————————————————————————————–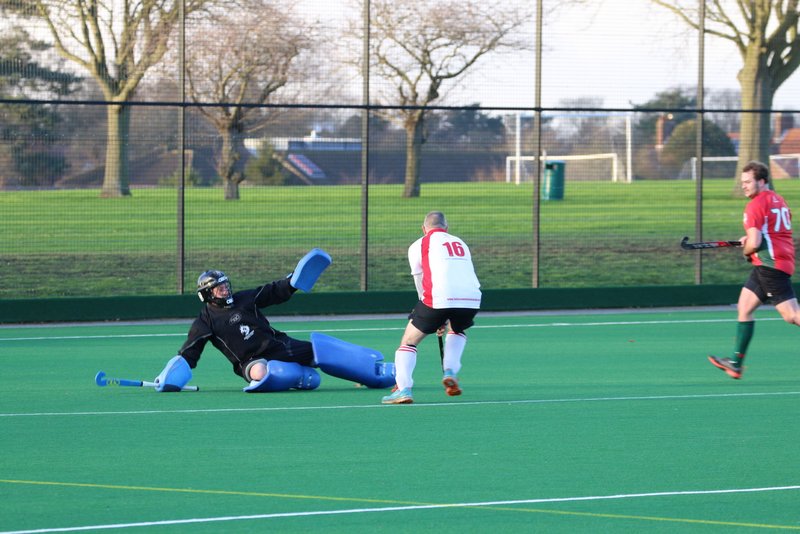 More photos here.
Mens East League Division 3NE
Norwich Dragons 2s 4-2 Felixstowe 2
On a chilly afternoon, Dragons lined up with possibly the strongest team they have managed to put on the park all season. The team benefitted from the younger legs of some of the Norwich School boys, and the early pace of the game suggested the home side would be looking for all three points.
The opening 10 minutes led to half a dozen clear cut chances, but none ended up in the net and it was with some relief when Snelling put the final touch on a good move and open the scoring. However, that was short-lived when Felixstowe scored on a very rare counter-attack, perhaps benefitting from some over ambitious play by Dragons.
A wonderful slide pass from Gill to Gosling on the far post restored the lead just before half time, but it was clear that Dragons weren't quite playing at their best.
The second half was a slightly more even affair, with Felixstowe creating a handful of counter-attacking opportunities, and Dragons continuing to squander theirs. Then with 10 minutes remaining the visitors scrapped well for a loose ball before creating a 2 on 1 against Brooks in the Dragons goal. Despite a valiant effort from Gordon-Brown, the ball found its way home and the scores were level.
This finally stung the home team into life sufficiently that they were able to reply almost immediately, a nicely worked short corner finished off by Gill, before Gosling rounded out a good individual game by scoring from a narrow angle
—————————————————————————————————————–
Men's East Hockey League Division 3NE
Norwich Dragons 3s 2-4 North Norfolk 1
Riding high on the success of their win last week, the Mens 3s travelled to a chilly Cromer for their next game.  Their opponents, North Norfolk were sitting 3rd in the league, and having beaten Dragons 4-0 in the 1st half of the season, Dragons knew they would have to up their game.
North Norfolk started strong and pressed Dragons high from the start.  Their quick attacking and link up play, certainly kept the Dragons defence busy.  Jon GOODSON, Peter DAVISON and James GOODOSON worked as a unit to keep the goal clear, and to release the ball forward.  Keeper Dim IVES made some key saves early on to keep the scores level, weathering some short corner attacks.
Dragons found their footing and with Stu KELLY and Rob GOODSON serving as linchpins, were able to get the ball rolling for some Dragon attacks.  This opened up the game more, and put pressure on the North Norfolk back line.
A brilliant tackle by J GOODSON led to a short corner awarded to North Norfolk, who put the ball in the back of the Dragon goal.  However their lead was short lived, as Dragons worked the ball well up the pitch, with good link play from John IVES, Will MAIN, Rich PHILLIS and LLOYD SAYER.  A short corner to Dragons allowed Adam SAYER to smack the ball into the back left corner, taking the scores level into the break.
Dragons played much better the 2nd half and came close to taking the lead, with forward Will KIRBY unlucky not to knock the ball in the back corner as it went by him.  North Norfolk continued to attack strong and were fortunate to capitalise on their chances to get another 3 goals, a couple from short corner routines.
Dragons continued to battle, working the ball up from the back, trying to get it to their forwards.  Will MAIN came close to scoring on a reverse stick shot, and was later rewarded with a goal.  This was after a short corner slip pass from Lloyd SAYER found Ali SMYTH, whose shot flew in the air, for MAIN to slap it in.
Final score 4-2 to North Norfolk who now sit joint second in the league.  Man of the Match awarded to Peter Davison for some fine defending.   Another promising performance from Dragons who look to carry on their form into their game next week with league leaders Norwich City.

—————————————————————————————————————–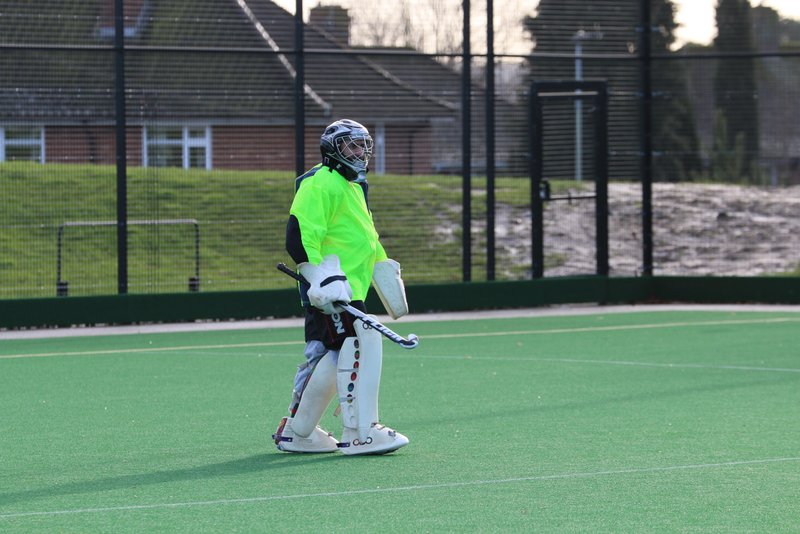 More photos here.
Men's East League Division 4NE
Norwich Dragons 4s 0-0 UEA 2
Looking  to continue on from last week's excellent result, a strong Dragon's team turned up at a chilly but very sunny Den.  With a playable pitch and a youthful & exuberant opposition in place the game kicked off and almost immediately fell into a pattern that the rest of game would follow.
UEA pressed high and pushed the dragons to play deeper in their half, the well marshalled Dragons defence held firm against strong UEA possession and on occasion Dragons were able to launch strong counter attacks.  This dominant UEA possession but Dragons having the better chances played out through the half.  UEA failed to converted their possession into a single shot on target whilst Dragons came close several times with Ben Harvey going just wide shortly before half time.
The second half saw UEA continue to press high and pushing wider to stretch the defence to their limits.  UEA were able to get shots on target, but it also opened up the game and Dragons were able to have a more concerted periods of control & attacks.
However in the end both defences proved to be dominant and honours had to be shared.  Man of the Match was shared by defenders – Andy Hipper & Paul Kassulke, with the remaining defenders Jon Price, Paul Keating & Neil Shorten deserving of mention for their steadfast performances.
————————————————————————————————————–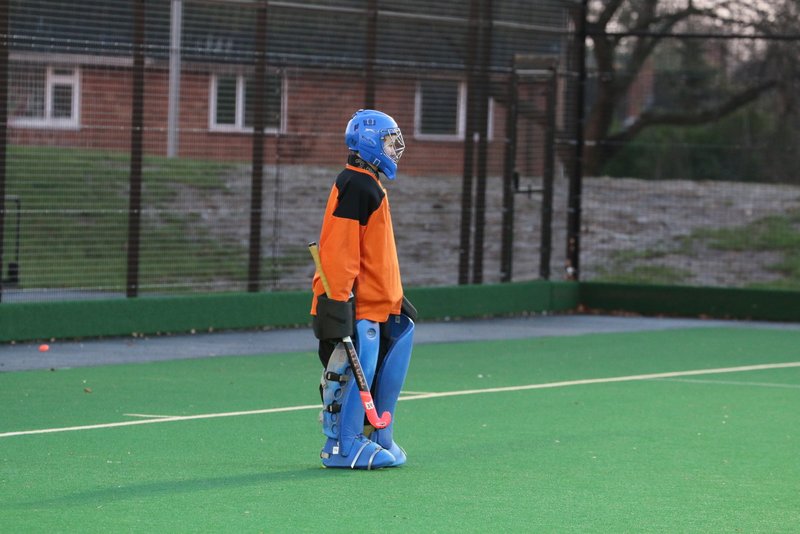 More photos here.
Men's East League Division 6NE
Norwich Dragons 5s 0-1 UEA 3
—————————————————————————————————————
Some photos here.
Men's East League Division 7NE
Norwich Dragons 6s 0-1 UEA 4
The lead up to the game was more tiring than the game itself. The 6's switch from UEA to the Den happened more default with only one selected player failing to appear whilst sickness, injury & a wrong pushback time lost the team 3 players overnight but with the help of Facebook, Rob Wagstaff, Harry Williams & Barney Price offered their services. Then the overlap with the 5's created another issue as Freddie Dixon could not play both games but Giles Brooks stepped in to help out.
The game itself was an excellent contest & was end to end. Goalless at HT, Dragons tightened midfield to stem youthful midfield attacks from UEA & for the second half they had the majority of play at the UEA end. The UEA keeper thwarted a couple of one on ones & their defenders deflected good chances including 2 short corners angled inside each post. The UEA goal followed a UEA short which was angled outside the post for an runner coming in. MOM – Rob Lee who worked tirelessly in attack to later provide solidity in defence to release the attacking backs.
—————————————————————————————————————
Empresa Norfolk Boys Development League
Norwich Dragons 4-2 Dereham
The game didn't start well, Angus got hit by a ball in the warm up, he sadly only lasted 3 minutes into the game….by this time Dragons were 1-0 down as  Dereham started strongly and we didn't quite clear it.
So five minutes later play restarted with Freddie Roques in goal, shortly after he going in goal (for the first time ever) he made a cracking save coming out of his goal.  After a swift half time chat the second half got under way. Jose scored a hat trick one of them was by a mazy dribble through every one and taking it round the keeper. At the back the brothers Huck and Blue played very well. Jonno and Tom Bailey worked hard up front closing down and making lots of runs. On the left and right Josh and Ed played well staying wide. Freddie continued form were he started the game making several good saves (afterwards his dad announced he used to play in goal….trying to take the credit for Freddie's display by virtue of 'his genes')  As ever Jose and James worked tirelessly in the middle, James getting his reward with a goal from a reverse stick shot….this sealed the game with 7 minutes to go.  After a 'rusty' start the  team gradually improved despite the cold night!
Man of the match; Freddie for a) stepping in at the last minute and b) for playing very well for his first time in goal.
—————————————————————————————————————–
Empresa Norfolk Girls Development League
Norwich Dragons P-P Magpies