Women's East Hockey League East Prem
Norwich Dragons 1s 2-0 Ipswich 2
Having had some really tough fixtures since Christmas Norwich Dragons travelled to Ipswich determined to take all three points.
The Dragons started the stronger of the two teams but were unable to penetrate the Ipswich defence in the early stages of the match however they became stronger and stronger and began to dominate creating a number of chances which sadly went begging. The last move of the first half looked like they were going to break the deadlock as Kate TRELAWNY-GOWER broke down the left drilling the ball into the circle for the on coming Hayley TOLEMAN who had made a great run anticipating the cross but the Ipswich defence matched the move and made a fantastic clearance.
The Dragons started the second half as they had ended the first and were putting the defence under immense pressure once again. They enjoyed the majority of the possession and continued to probe the defence finally breaking the deadlock as Hayley TOLEMAN, being hungry in front of goal, converted a short corner routine. The relief was clear to see resulting in even more confidence in the players who were already playing attractive flowing hockey; they played the ball around with ease and speed producing some fantastic patterns of play. The second goal was a great team effort. One touch hockey saw  Marie James square the ball to Lizzie Moulton who played it to the feet of Sophie MULLAN who found player of the match Shelly SEAMAN in front of goal who coolly slotted the ball,reverse stick, past the keeper.
The Dragons had numerous chances to add to their tally and a number of short corners but efforts either went wide or were cleared by the, gamefully employed, Ipswich keeper.
It looked likely that a third would be scored as TRELAWNY GOWER stepped up confidently to take a penalty flick that had been awarded for foul play by the keeper on SEAMAN preventing a goal scoring opportunity. As the team watched on expecting the net to shake from the power of the flick a massive gust of wind saw the ball go high in the air above TRELAWNY GOWER's head but not in the direction of the goal.
It mattered not, the Dragons spirits were high as they romped to victory securing the three points even though the scoreline did not reflect the overall superb team performance.
—————————————————————————————————————–
Women's East Hockey League Division 2NE
Norwich Dragons 2s 3-0 Christchurch
A slightly delayed start meant a shortened warm-up, with 6 games being played at the Den on Valentines Day. Dragons were aware going into this fixture that a single point would all but mathematically secure them promotion, however this did not weigh on their minds, knowing they were looking to take all three.
A strong looking Ladies 2's squad were boosted by the addition of Emma Tabrett this week. A slightly slowish start was soon turned over, with the usual pace and flair from Marcy Windsor-Waite and Laura Shreeve, putting early pressure on the Christchurch defence. Shreeve's pace was clearly a concern for Dragon's opponents with an early tackle flooring the speedy forward who was driving at pace.
Any early nerves were settled with strong build up play in midfield from Hannah Ellis and Gail Thomas, finding Emma Tabrett in space on the left of the D, with composure and power, Tabrett drag flicked the ball at pace into the far corner, to take the lead. Dragons pushed on from here and were in control, with Alfie Lowe-Davies, Natalie Beal and Laura Shreeve combining well, to put pressure on the Christcurch defence. Unfortunately on another quick break (after just 18 minutes), Laura Shreeve was once again 'up ended' at pace, this time she wasn't so fortunate and was forced off the field with a number of injuries.
Christchurch always threatened in the middle of the pitch with Louise Jukes in particular showing good stick skills to weave through Dragons, however the defensive line stood firm and defended shots both in open play and from shorts well, with Freddie Briscoe commanding the D in fine fashion.
The second goal came before the break – a fine run from Marcy Windsor Waite, whose performances improve week on week, saw her drive at pace along the baseline and place a pin-point cross for Nat Beal, to sweep the ball home.
The second half saw a similar pattern emerge, Dragons had a good opportunity right from the push back with Beal and Lowe-Davies combining well to force the Christchurch keeper into an early save. Christchurch always threatened on the break and ensured the backline of Sophie Thomas, Ally Windsor-Waite, Angela Murgatroyd and Freddie Briscoe needed to be on their game,which they certainly were. Once again Karen O'Neill Simpson had an excellent game in the middle, countering the threat that Christchurch, showed to protect the defensive line.
A third goal came following a spell of good pressure from Dragons, the Christchurch keeper Linzi Everett had played excellently, but following a bit of 'pinball in the D' the ball fell to Dragon's Player of the Match Emma Tabrett, who firmly struck the ball goalwards and fired home through a number of players and evading the GK. Despite further pressure, the scoreline remained 3 – 0, securing the win and mathematical promotion for Dragons Ladies 2's to Div 1 next season.
To achieve promotion with 5 games remaining is a fine achievement by the whole squad of players, who work hard, week in week out and are consistently available, which makes such a difference in building strong team spirit and understanding.  Now to push on, to finish the season in style, but to also look to build a squad for next season, who I'm sure will rise to the challenges of Div 1.  Let's keep it going Ladies 🙂
Our thanks as a squad, go to the many who have helped make this happen – most notably Pete Thomas, Mark Flatman, Richard Gill, Mike Hardy and our loyal supporters!
—————————————————————————————————————–
Empresa Norfolk Women's Premier Division
Norwich Dragons 3s 2-1 UEA 2
The game started with some robust exchanges between the two teams which set the tone for the game. When Dragons got their slick patterns of play going, they produced some attractive hockey however, all to often this was countered by some good expansive play from UEA.
Midway through the first half in a goal mouth melee, UEA managed to breech the Dragon's goal and go one up. Dragons rallied and Lucy Hopgood got on the end of a move which sent her through one-on-one with the keeper, who unfortunately for Dragon's, produced a sharp save.
Half time UEA 2XI 1 Norwich Dragons 3XI 0
Captain Falzon and Coach Flatman, reshaped Dragons to counter UEA and create more space for Dragons to penetrate which resulted in some very effective attacking play and Dragons got their reward, poacher Geo Beckwith converting from a short corner. Dragons grew in confidence and began to put lots of pressure on UEA with UEA finally succumbing to a Tompson-Wright strike.
This seemed to galvanise UEA, who for the remainder of the game took the game to Dragons but Dragons showed excellent grit and determination to ensure they didn't concede again.
This was an brilliant team effort with every player contributing, getting stuck in and putting in a huge 'shift' for the team. Captain Natasha Falzon drove her team on with her calm and constructive leadership and was deservedly joint player of the match with Lucy Hopgood. Thanks for the support from coach Flatman. Well done everyone!

—————————————————————————————————————–
Empresa Norfolk Women's Division 1
Norwich Dragons 4s: No Fixture
—————————————————————————————————————–
Empresa Norfolk Women's Division 2
Norwich Dragons 5s 0-4 UEA 3
Norwich Dragons  Ladies 5s had a disappointing 4-0 loss against UEA 3s. Starting off well Dragons with some excellent movements in midfield and up front, we found it hard to sustain  our pace. Once UEA were awake, they showed the strong individual and team skills they have. UEA demonstrated much improvement from the previous season and showed us why they are competing for the top the table position.
Norwich Dragons did  play fantastic hockey at points but unfortunately large gaps in mid field, some scrappy play and an inability to finish meant they could not capitalise. We were missing the tenacity of Rachael Matthews in midfield through illnesss however note should be given to the excellent work of the defensive unit  (Jess Tye-Leech, Emma Buxton & Freya Clogan) Carmel Windsor-Waite (Player of the match) at bottom of the diamond continues to be a mature & classy player who closed down more attempts by UEA than I could count.
Dragons had a few chances with Issy Wolfe & Anja Finegan driving the ball up the pitch. Lisa Harwood made an excellent cross and a number of attempts on goal. At short corners, Jade Blanchflower continues to do us proud. Although she was feeling under the weather she still managed 2 cracking shots.
The ball moved up and down the pitch with Christina Murgatroyd forced to dive around all over the place and our midfielders (Helen Marsh, Laura Hansell & Jade Blanchflower to work really hard). In the final minute, it really looked like we may get  one goal but alas a flick was awarded. Stepping up Anja Finegan did a classy high corner shot which would have duped most goal keepers but not UEA. Well done Anja for stepping up, you've got the skills and did a really nice shot under a lot of pressure. Overall, a disappointment but not unexpected against such a high performing team.
—————————————————————————————————————–
Empresa Norfolk Women's Division 3
Norwich Dragons 6s 4-2 Lowestoft Railway 2
Dragons 6s secured the win they needed to keep their promotion hopes alive, but it is desperately close at the top of Division 3 with unplayed games and goal difference both factoring in the calculations. But for a few hours at least, 6s could bask in their second place in the division and celebrate a good win over Rails, who are an up and coming club at the lower and development levels.
6s know they need plenty of goals, and are gradually adapting their shape to give them more attacking opportunities.  However, it was a risk to put this into a game 'cold' and with three different players, and while 6s sorted themselves out at the back Rails scored. Bizarrely, it was not the fact that we were one defender down that upset the rhythm, it was the fact that we could not play four upfront and looked very overcrowded on the left!
Alice Whitmore, unfortunately seldom available for club hockey, relieved the pressure with a fabulous solo run at pace and a composed shot past the keeper. Alice looked as though she could repeat the feat at will, and was involved in excellent linking play with Megan Farrant, Izzi Ferguson and Anna Brook in particular.
Dragons switched Bella Capps from left mid to right back, and from that point on it was business as usual for the defence. Katy Saide moved into the centre, where she is so comfortable, Katy Franks again did a solid marking number on the dangerous right forward, and Jasmin Daniels deserves another rave review for her interpretation of the bottom of the diamond role. She now has the confidence, fitness and skills to move up and support the attacks but is quickly back when needed with telling tackles. This enables Jo Eke to push on at the top of the diamond, and it was no surprise when Jo's drive and determination resulted in a goal in close play from the top of the circle.
However, Rails were full of running and they equalised, but after that Alice Smith fiercely defended her goal and once again blocked and cleared with power. Gradually 6s began to wear down the home team, and Jasmine Mansfield, back after an absence of several weeks, was in a perfect position on the near post to score Dragons' third. Unfortunately, Jo was injured by a severe blow to the foot, which allowed Bridget Le Good to come on and she duly obliged with a fourth goal from a penalty corner when her shot took a deflection from a defender.
From this point, Dragons always believed they were going to win. The defence had a tight grip, everyone was full of running, Jo came on to be part of the party and there were no volunteers to sub. There were no goals in the second half, though certainly Megan Farrant deserved something once again for her unselfish running off the ball. Perhaps Dragons lacked a clinical finish, and at times did not get players onto the post. The young midfielders were excellent, including Sarah Norman who was a hard-working link on the right. As befits an excellent team performance, there were several contenders for player of the match, with Jasmin and Alice among the votes. But once again, it was our youngest player Anna Brook who took the accolade. Fast, accurate with her passes, excellent distribution and never shirking a tackle, Anna is an unassuming player whose performance gets the respect of the team.
Comparing notes afterwards, Jo and Bridget concluded that though this was a very satisfying win, perhaps it was not our best performance of the season. We could improve our 'first to the ball' and we need to remember to get players on the posts.  But hey, compared with where we were a year ago we are in a different league. And given that is where we want to be, we will commit to training hard, improving our individual performance and aiming high.
—————————————————————————————————————–
Empresa Norfolk Women's Division 3
Norwich Dragons 7s 1-4 UEA 4
Dragon 7s were keen to get out on the pitch to play after waiting impatiently all day for the 5.00 pm push back, but didn't count on UEA 4s being such tough opposition.
From the start, both teams were pushing hard, trying to win and keep hold of the ball, which meant that it was quite an end-to-end game initially. Dragons mids of Catherine Matthews on the right, Rosie Skipp on the left and Lucy Morton at Top of the Diamond were running up and down the pitch, trying to intercept the ball and pass it on to forwards Jane Morton, Katrina Speirs, Claire Fairhurst or Amy Hunter. One of the attacks on UEA's goal result in success, a lovely shot past the keeper into the corner by Rosie. Dragons were buoyed by taking the lead and continued fighting off UEA until the whistle went for half-time.
The second half started with Dragons keen to keep hold of the lead and changed the formation slightly with Katrina moving up to centre midfield to try to stop UEA getting through and to try to force them to go around. Unfortunately tiredness was beginning to show and UEA kept getting through to Dragons goal. The defence of Emma Cadley, Emma North, Persy Magdalene and Jo Baker tried fighting them off, with goalkeeper Amy Forse (POM) making plenty of saves and strong kicks. At the end of the match, UEA had got 4 balls past Dragons into the goal, one of which came from a penalty flick.
Dragons were disappointed with the result but go onwards, knowing they need to put their all into training in order to get the results they desire.

—————————————————————————————————————–
Mens East League Division 2N
Norwich Dragons 1s 3-1 Saffron Walden 2
Dragons, on their quest for promotion, welcomed a Saffron Walden side knowing that securing all 3 points was crucial to keeping their hopes alive.The game started evenly with both sides trading possession with quick succession of chances at either ends. Dragons having their best chance through a flicked penalty corner by Rupert Snelling. Saffron Walden having their chances snuffed out by the in form Robbie Bell between the posts. The first half finished much in the same fashion as it started, 0-0 being the scoreline as the teams swapped ends.
Dragons came out firing in the second half looking to capitalize on their possession, and it wasn't soon after the restart that Alex Browne did just that. Aggressive wing play from Rory Jackson created an opening for a pass to the base line for Mark Flatman, a pull back to the top of the circle setup Browne to dispatch a slap shot. Just like buses, a second came for dragons in similar fashion. It was the turn of Snelling to drive towards the D, and after beating the first defender he squared the ball across the circle towards the incoming Browne, who needed no more than 1 touch to slot another past the opposing keeper. True to form Dragons had their ten minutes of uncertainty, conceding a trio of short corners. It was the third of these that opened up a shooting opportunity to right slip, who was quick to put the ball beneath the diving Bell. It was to be Dragons day however as the final few minutes were played out. After spells of poor possession, Dragons were able to string half a dozen passes together and released a forward pass into the D for oncoming runner Flatman. A miss controlled cut back from Flatmanwas what lead to Browne coming through and stealing his third of the day.
It would be unfair to report on this game without paying special mentions to the defensive back line of Dragons. Centre back combination of Mike Farrow and Ed Smith took full advantage of Overstalls absence, being seen in the oppositions 25 more than once. Whilst wing backs Nick Deayton and Mitch Smith held the fort so arrogantly they even got keeper Bell to show off some his fancy footwork in the passing moves. All round a good day for Dragons who look to continue current form into next weeks home tie against local rivals Norwich City.
Photos from the match here.
—————————————————————————————————————–
Mens East League Division 3NE
Norwich Dragons 2s 1-0 Bury
The Men's 2nd XI team came up against a strong Bury St Edmunds 1st XI, who were at the top of the league table.
From the start of the game it was clear that the dragons side were on top. With good defensive play and movement of the ball they were able to retain possession for a large part of the match. Our first goal came from a deflected short corner flick from Henry Laming which landed in front of Jason Wolfe who calmly put it in the back of the goal.
In the second half it was clear that the Bury side were becoming frustrated and kept on making errors. However, the dragons side stayed strong and kept control over the game. This led to a 1-0 win at full time. The effort of the team should be commended.
Man of the match: Henry Laming
—————————————————————————————————————–
Men's East Hockey League Division 4NE
Norwich Dragons 3s 3-1 North Norfolk 2
Having unfortunately lost last week in a fantastic battle against 2nd place Norwich City, Dragons 3's really wanted to make sure they got back to winning ways and finish the rest of the season with maximum points. The game started well with attacks at both ends. Dim Ives making some good saves as usual. But Dragons took a while to settle into the game and get their trademark style of passing hockey going. This resulted in North Norfolk taking the lead with a goal on the break. The dragon's defence of Ali Smyth, Peter Davidson and Jim Goodson started switching the play from the back and this enabled Dragons to use the width resulting driving runs down the left and right from Will Main and John Ives. The dragons midfield of Stu Kelly and Tom Rutledge worked hard in midfield to win balls and worked with Adam Sayer to feed balls up to the forwards Will Kirby, Matt Jenkins and Aide Kemp who all created chances in the North Norfolk D. The Dragons used their subs effectively with Man of the match Jon Goodson coming on in Midfield and setting up both goals which were both well taken by Will Main and Will Kirby respectively as Dragons pulled it back to 2-1 at half time.
The half time talk was positive but we discussed, moving the ball around and using the width, more dynamic movement off the ball and pushing up the pitch. The 2nd half Dragons really started to play the passing hockey that has helped them this season, with again the defence of Jim, Pete, Jon and Ali all winning their tackles and working the ball wide to John Ives now on the left wing and Adam Sayer enjoying himself down the right.  Again Stu Kelly and Rob Goodson having a real impact in the middle of the pitch and distributing well to the forwards and a number of chances on goal were created.  Dragons were now putting the pressure on and when John Ives hit a ball into the D, Adie Kemp smashed it into the backboard resulting in a final 3-1 win to Dragons. This was a good performance by dragons overall and now need to do the same to Dereham next week.
Photos from the match here.
—————————————————————————————————————–
Men's East League Division 5NE
Norwich Dragons 4s 2-3 Bury 3
In a game of two halves, Dragons ended up disappointed not to get something from their game against Bury 3rds as they lost for just the second time this season.  Dragons are now 2 points clear of IES 4 with a game in hand and 3 points clear of Ipswich 3.  With six games left, the title race looks like it will go down to the wire.
Bury fielded a strong team and the intensity and combative nature of the game proved a challenge to the umpires.
It was Bury who asserted themselves in the game first, passing well through midfield and using aerial balls to get behind the Dragons defence.  They won a number of short corners and took the lead midway through the first half.
Dragons were struggling for fluency but won a penalty flick when Robbie Whiting's shot was knocked off the line illegally.  Unfortunately, Andy Hipper's 'flick' was saved by the Bury keeper.
Ricky Powley picked up a calf injury, meaning Chris Wilkinson, Jon Price and Paul Keating took turns in the midfield, getting into some good attacking positions.
Bury added to Dragon's woes as they scored a second goal before half time, an unlucky deflection taking the ball past the lunging Giles Brooks in goal.
Inspiring half time team talks from Wilko and Rich Moulson saw Dragons make significant improvements in the second half and they were unlucky to concede a controversial 3rd goal.  This only served to motivate the Dragons as they started to control the game and create a host of chances.  Paul Keating's first career goal reduced the deficit and a rasping shot from Rob Jenkins following a short corner saw Dragons reduce Bury's advantage to a single goal.
Sam Mann showed great attacking intent, having moved into midfield for the second half and Man of the Match Tom Harris stopped numerous Bury attacks down the right hand side as well as distributing confidently.
The last quarter of the game saw Dragons dominating the play and creating a number of chances, but not managing to find a 3rd goal.  A great second half performance, but not good enough in the first half.
————————————————————————————————————–
Men's East League Division 6NE
Norwich Dragons 5s 1-0 Felixstowe 3
Dragons 5th team were at home this weekend against promotion challengers Felixstowe. With the dragons fielding a youthful outfit, the game was shaping up to be a battle of David vs Goliath.
The opposition started strongly and were looking like they could take control of the game, however as the dragons were spurred on by coach Phil York-smith, the midfield of Hamish Packham, Eddie Murphy and the not-as-young Tim Allen pulled some possession together and the dragons began taking the game to Felixstowe.
Both teams looked threatening throughout the game and 5th team debutant, Ben Nkuramh in goal stood strong and gave very little mercy to Felixstowes attack.
It took 68 minutes and 34 seconds for the deadlock to be broken by none other than Rob Chaney-Baxter who netted home from a considered impossible angle.
A great performance by dragons has given them mathematically safe status within the league. Full credit to our opponents who helped us make hockey the truly beautiful game. Many thanks to our umpires. Man of the match was given to the dynamite midfielder Eddie Murphy.
Photos from the match here.
—————————————————————————————————————
Men's East League Division 7NE
Norwich Dragons 6s 0-6  Bury 6
Dragons travelled to Bury with a bare 11 players to face a Bury team which had shown rapid improvement in results in recent weeks. In perfect conditions, Dragons captain Robert Coyle completed the customary loss of the toss and the Dragons started the game. Bury scored with their first attack, catching Dragons out with the pace of their passing. Despite a series of short corners, the first half was dominated by Bury attacks with Dragons struggling to stay with Bury's young midfield players. Every missed tackle and mistake was punished and despite some good saves from man of the match Chris Millar, half-time saw Dragons 5-0 down.
Some half time changes of positions and tactics meant that Dragons started the second half brightly. Rob Lee was unfortunate not to score from a good through ball from Ray Hansell. Connor Adams was making some good runs through midfield but running into a solid wall of Bury defenders. A scrappy goalmouth melee saw the ball poked home by Bury after a good save from Millar once again. Dragons ended the half  brightly and pushed for a goal until the final whistle. The second half improvement was  a big positive but a stronger start will be required when we travel to Taverham in 2 weeks time. Every player ran themselves in to the ground with very little reward and we must try to distribute the ball better to get some return from all that effort. All credit to Bury for a good game, played in good spirit and it is very clear that some of their young players have a very bright future.
—————————————————————————————————————
Empresa Norfolk Boys Development League
Norwich Dragons: No Fixture
—————————————————————————————————————–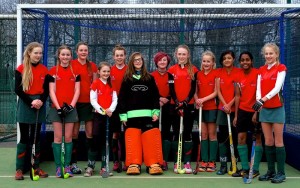 Empresa Norfolk Girls Development League
Norwich Dragons 0-1 Dereham
A fairly evenly matched two sides produced a rather scrappy first half. Dereham produced the greater pressure on the goal, which was evidenced by a long series of short corners coming from Dragons foot faults in the D. Dragons weren't out off their line to challenge quickly enough but fortunately Dereham didn't have a big hitter. Esme, Sophie, Sophia and Arabella were tested in defence but battled away to keep the scoreline at 0-0 right up to the half-time whistle. Dragons managed few attacking runs, a couple of counter-attacks from Lucy in the centre and two runs down the left wing by Mia.
Both teams upped their game in the second half. Dereham had three clear shots on goal close together and a goal came early on after the turnaround. The weakest part of our game was completion of passes in midfield and particularly getting our own ball off a free hit to a red shirt – something to practice in training perhaps. Both strength and accuracy of passing must be on the training agenda too. Too many incomplete passes handed the initiative back to Dereham each time. But the tenacity of defence improved in the second half and did our counter attacking, which could have made two or three scores. Jodie and Lily did some good work on the attack and, switching to right mid, Heather's work rate was high, producing three or four long counter-attacking incursions and some useful injections and crosses. A stick down in the D or a player on the post might have levelled it for us.
This is a team with several new and developing players and they went out and put a huge effort in. Hockey is about the development of individual skills and gameplay confidence, and there's no substitute for getting all the training and playing you can. Well done to everyone who turned out and worked hard and thanks to Bridget and Rachel for giving up their time.
Player of the Match was Sophia for her terrific performance in defence! Only her second game for Dragons and one to watch in the future.