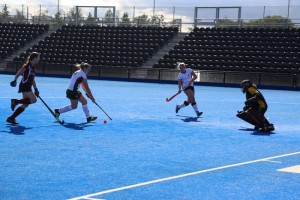 The Norfolk Women's League campaign started this weekend, with Norwich Dragons HC Ladies 3rd, 4th, 5th and 6th teams all in action.
Match reports below for the Ladies 3s and 4s who both had convincing wins over Carrow teams, 4-0 and 8-0, respectively.
A season opener in Division 2 saw Dragons Ladies 5s play the Dragons 6th team, with the 6th team having achieved promotion last season.  A win for the 5th team came in the form of a 7-0 victory with mother and daughter newcomers to the Club scoring 5 of those goals, Den Howes bagged four goals with 13 year old daughter Zara also on the scoresheet, another newcomer Sophie Wood also netted and completing the scorers was Jade Blanchflower.
No game for the Ladies 7s, they start their campaign next week.
The Ladies 1s completed their very successful pre-season with previous wins over Dereham 1s (4-0), Royston 1s (6-2), this weekend saw an away trip to play Wapping at the Olympic Park, the visitors returned with a 2-1 win to spoil Wapping's Club Day celebrations.
The Ladies 2s took on a strong Ipswich 2s side at the Den in their last pre-season friendly and came away with a good 1-1 draw.  That's a win, draw and loss for the 2nd team's pre-season with lots of positives to take into a league campaign at the highest level the 2s have played in the club's history, however after winning 22 of 22 games last season, expectations need to be reset for a tough campaign ahead in East Division 1N.
—————————————————————————————————————–
Empresa Norfolk Women's Premier Division
Norwich Dragons 3s 4-0 Carrow 1
On a surprisingly hot and sunny afternoon Dragons took on local rivals Carrow in this opening league game. Dragons quickly asserted themselves and moved the ball efficiently around the pitch leaving little opportunity for Carrow to get into the game. Tash Falzon and Laura Bruce were able to press forward and which enabled the wide players of Sam Franklin and Hazel Summers to over lap the forwards and dominate the goal area. Eventually Dragons were awarded a penalty corner which was neatly converted by Sian Lawrie after Debs Smith's shot from Caroline Wolfe's slip was initially saved. After this Dragons played with even greater freedom, with Tash Blyth, Lawrie and Laura Goodbun driving round the back of the Carrow defence. Carrow were defending stoutly until Dragons scored from another short corner, Tash Blyth scoring spectacularly from another half clearance of a Smith shot. Smith and Pollyanna Watson were combining brilliantly in the central midfield roles and instigating most attacks whilst snuffing out anything Carrow managed to turnover. Sophie Farrow and Lauren Lawrie were getting on the end of moves and giving the Carrow defence little respite and Dragons hit the post and had many near misses. They were eventually rewarded with another short slipped to Smith who converted her second of the game.
Half-time score: Dragons 3 Carrow 0
Carrow rallied at half-time and came out stronger and were able to make forays into the Dragons half but the Dragons defence were equal to it and keeper Kristina Smyth making some smart clearances and Dragons player of the match Watson moping up anything loose to launch another attack. Carrow had little answer to the stranglehold on the game that Watson and Smith had and their neat penetrating passes and willing runners opening up space meant for some very attractive hockey. As in the first half Dragons had many near misses and hit the post but eventually were successful in converting another short with a well struck Wolfe strike.
This was a fine start for Dragons with each player performing well and creating patterns of play which should provide a good platform for future games.
Final score: Dragons 4 Carrow 0
—————————————————————————————————————–
Empresa Norfolk Women's Division 1
Norwich Dragons 4s 8-0 Carrow 2
This Saturday Dragons L4 played their first ever league game on the new pitch at the Den. We welcomed Carrow L2 on this drizzly autumn morning. It was the first opportunity many of our team had had to play together. The youthful energy possessed by many of the new team members (Izzy Wolfe, Anja Finegan, and Lara Taylor) complemented the experience of the "old guard"( Kate Atkins, Louise Davis, Sue Cross, Gemma Rump and Mel Widdows), resulting in a convincing 8:0 score line at the final whistle.
The Dragons started well with some very fluid passing through mid-field to our waiting forwards. In the first half we were awarded ten short corners, which illustrated our dominance in their quarter. The first goal came from some slick passing with Carrow only able to look on. A ball from Gemma Rump at the bottom of the diamond, to mid field, one touch out to Kate McKenna on the wing and straight in to Izzy Wolf who slot it past the keeper. This was to be the first of her three goals. The second goal came from some exquisite play from our new recruit Lara Taylor who showed maturity beyond her years as she hit the ball from the base line, pass two defenders and a keeper into the goal. Everybody including her own team had anticipated a pass.
At half time we were two nil up, and after some words of support from the bench we took to the field with confidence. Six goals followed in the next thirty five minutes. Kate McKenna scored her first of the season with a powerful slap from the edge of the circle.
Then followed a devastating period when Anja Finegan (player of the match) and Izzy Wolfe slotted 5 goals between them past the Carrow keeper. As legs began to tire they used their speed to stretch Carrow's defence with attacks down both flanks. Amelia Dawson also had several shots saved by Carrow's keeper.
Although the excitement was mostly in the Carrow half special mention needs to go to the Dragons defence, who managed to close down every Carrow attack efficiently so that the ball rarely entered the final quarter. Carmel Windsor Waite made some timely interceptions to turn over the ball, and Bella Capps looked comfortable in her new role in the back line. Gemma Rump as always was there to switch the ball and dictate the play. Chelsea Crawford demonstrated her versatility playing all over the pitch.
Uncharacteristically Louise Davis ran forward to the edge of the D and finding herself unchallenged took a shot which was narrowly saved. In reality we had many chances to score more.
It was a very pleasing and promising start for the season.
Goals : Issy Wolf 3, Anja Finegan 3, Kate McKenna 1, Lara Taylor 1.
POM : Anja Finegan