Photos from home fixtures shown here.
Women's East Hockey League Prem
Norwich Dragons 1s 5-2 Tunbridge Wells 1
Dragons set off on their last away match of the season, a 300 mile round trip, in search of 3 points. After last week's unfortunate abandonment and a previous defeat, the team were keen to play and return to winning ways. The team welcomed Goal Keeper, Kristina Smyth for her first team debut.
Dragons got off to an unbelievable start. With less than a minute on the clock, the team passed the ball decisively from the left across to Holly Reding on the right, who coolly slotted the ball past the goal keeper for her first goal of the season and to give Dragons the lead. This settled the Dragons, who were able to contain the forwards of the home side and limit any clear chances they had on goal. The home side did win a series of short corners but solid defending from Maddie Denman, Sophie Thomas and Louise Murray kept the ball out. Dragons always looked threating on the break. With the pace of Rachel King, Stacey Lee and Emma Tabrett leading the forward line, Dragons won their own number of short corners and were unfortunate not to score after some good defending from the home side and their goal keeper. Shortly before half time, the home side did make the score sheet, when their captain struck a fierce short corner which the Dragons defensive could do nothing about.
The second half started identically to the first, with Reding doubling her tally for the season and putting Dragons back in front. This time her shot coming from the left was initially saved by the goalkeeper but she reacted quickly to the rebound and was able to force the ball home. Dragons didn't hold back and continued to press forward. Rachel King driving forward as always was able to draw the keeper out. She passed to Stacey Lee whose shot, was saved but King was able to react quickly and fire the rebound home.  At 3-1, the home side battled on and were rewarded once again from a short corner strike. Trying to avoid relegation Tunbridge Wells, who had been unbeaten since Christmas, continued to push forward in search of an equaliser but some great clearances on her debut form Kristina Smyth left the home side frustrated.  Reding, putting in another player of match performance, was able to score Dragon's fourth and complete her hat-trick, when once again from the left, her shot nestled in the corner giving the home keeper no chance.  Dragons completed the scoring from a short corner when Stacey Lee was able to reverse stick strike the ball home.
This was a fantastic all round team performance, with every player working hard and deserving to travel home with the 3 points.
—————————————————————————————————————–
Women's East Hockey League Division 1N
Norwich Dragons 2s 3-1 Saffron Walden 1
Dragons knew they needed to bounce back following a poor team performance against Blueharts the week before. With a few changes seeing Aoife Lowe-Davies and Hollie Limmer return to the team and Donna Vaughan back for her first league game, following a couple of run outs for the Masters, the squad went out with confidence knowing where they needed to improve. Emma Cleland was playing in goal once again, covering for the poorly Amy Forse – get well soon Amy.
From the pushback the team looked as if they meant business, on the front foot with plenty of energy and sharpness in the tackle. With Gail Thomas and Jess Bennett holding the middle any early threats from the visitors were quickly snuffed out. The Dragons forwards of Laura Shreeve, Aoife Lowe-Davies and Marcy Windsor-Waite were linking up together really well and caused problems to the Walden defence from the outset. An early goal looked inevitable and this came following some fine work by Jess Bennett, beating two or three players to get into the D and then unleashing a strike past the goalkeeper.
This spurred Dragons on and chances kept coming, however the defensive unit needed to be on their toes as the strong Saffron Walden always threatened to break quickly. The defensive line of Donna Vaughan, Rowie York-Smith, Shelly Seaman and Angela Murgatroyd, worked extremely well as a unit and cleared any danger wide. In addition, Emma Cleland in goal made a number of smart saves to ensure Dragons held a lead they deserved.
With the midfield winning every 50/50 ball, particularly through the sharp tackling of Hollie Limmer, Karen O'Neill Simpson and Pip Howes, the home team were back to some of the best hockey they had played this season. Deservedly a second goal came before half-time, Laura Shreeve showing composure in the D and having restored her partnership with Alfie Lowe-Davies, found her at the back post to neatly slot past the Keeper on her return to the squad.
The team were pleased with their efforts at halftime, but knew they had a hard 35 mins ahead of them. Defensively Player of the Match, Donna Vaughan was showing her class, through her strong clearances bypassing the Saffron Walden press or through her calm talking to the defensive unit. Every player was giving their all, knowing that they needed to remain tight. The team kept possession so much better than they had in previous weeks and when the 3rd goal came, it was nothing more than they deserved. The goal was another excellent effort from Jess Bennett, who worked her way into the D, and found herself a yard of space to unleash a powerful reverse stick strike through the keeper's legs, giving Dragons a 3-0 lead.
Saffron Walden were not going to lay down quietly and found a great strike of their own from the top of the D, which just beat the impressive Cleland. This inspired the visitors and Emma Cleland was called into action again, as were the impressive defensive line, but there was a steely side to the Dragons, who were determined to make this their day.
The final whistle went and the 3 points were secured, but more importantly earned in some style. Every single Dragon should take huge credit from this performance, as this absolutely showed the Dragons Ladies 2's very much deserve to be in this league and have worked extremely hard to achieve what they set out to at the beginning of the season. Credit and thanks go to many people, notably 'Captain Karen', 'Sideline Mike', all who have played their part in this year's 2nd team squad and of course, to all our great supporters – so good to see many 'old' faces cheering us on this week. One game to go, League status secured, good times :-D.

———————————————————————————————————
Empresa Norfolk Women's Premier Division
Norwich Dragons 3s 3-0 Dereham 3
With only two games left of the season and no threat of demotion or promotion Dragons Ladies 3's decided to go out and have fun for their last games. Visiting Dereham with yet another change of personnel – keeper Kristina Smyth having been taken by the 1s for a trip to Tunbridge Wells, left a vacancy between the posts. PoM Geo Beckwith, with her football skills, stepped up to the mark. Once she figured out which bit of kit was worn where, the warm up showed the potential for the match to come.
From the offset Dragons kept possession and worked together passing around the whole pitch and building towards goal. Receiving the ball at top D Issy Wolfe carried it in through several Dereham players, slipping it to Caroline Wolfe who pushed it wide of the keeper's left foot and into the goal.
Other opportunities followed throughout the first half, however Dragons were unable to capitalise on these chances with shots going wide of goal or straight into the Dereham pads.
Half time score 1:0 to Dragons.
The second half started much like the first with Dragons maintaining the majority of possession. Recycling the ball well through midfield, and fast pace switching through defenders Carmel Windsor-Wait, Sarah Wagstaff and Laura Goodbun. Dragons showed great patience this week, waiting for the opportune moment to drive forward. The second goal came from a side-line hit taken by Goodbun. Driving up the line, weaving through Dereham players and working seamlessly with Hazel Sumner and Sam Franklin the Dragons were on the attack with lightening pace. Switched back through Lauren Lawrie in midfield and out to Lara Taylor who drove towards the D. Crossing the ball to a waiting Natasha Blyth the Dragon hit the ball through the keeper from 5 yards out.
Dereham took their 10 minutes and used it well, closing in on the Dragon D. A foot resulted in a short corner being awarded to the home side and they were determined to capitalise on it. A straight strike to the keepers left post was seen away by the sure foot of keeper Beckwith. With lightening reactions she pelted the ball clear along the line and away from danger.
In retaliation to the shot Dragons gained possession and assaulted the Dereham defending half again, picked up by Captain Natasha Falzon and distributed well out through the midfield. Once in the D Dereham fouled gifting a short corner to the Dragon side. Injected by Wolfe Jr to Snr, slipped to Blyth and back to Wolfe Snr around the 1 runner Wolfe hit towards the left post. A waiting Wolfe Jr sent the ball across the mouth of the goal, and was seen in by a waiting Franklin on the far side.
—————————————————————————————————————–
Empresa Norfolk Women's Division 1
Norwich Dragons 4s 3-2 Dereham 4
—————————————————————————————————————–
Empresa Norfolk Women's Division 2
Norwich Dragons 5s 0-0 Beccles
The team started with a great positive mindset of which showed in our play from the beginning.
It was obvious how much we wanted this match and the forwards made it their job to try and make this happen, with an array of short corners they tried their best to convert into a goal but the opposition were just too strong for us to finish, but the efforts were there.
The midfield worked hard to keep the ball from travelling down the pitch, their determination and constant pressure prevented Beccles from being able to travel towards our goalkeeper.
Our defence worked well to back up our midfield and forward players. Beccles were determined to test our defence but they didn't realise they were up against such strong opposition, the defensive skills were a force to be reckoned with, and with a strong save off the line, our defence and our goalie were definitely the saving grace for dragons 5's.
Both halves were much the same but it was obvious we wanted it more and we were the better team. Even though Dragons 5 had already been promoted they did not give up at all throughout this match, they wanted to be champions!
It is hard to pick out a player that was more outstanding than the other, all girls played their hearts out and greatly deserved to be happy with their performance.
Final score 0-0

—————————————————————————————————————
Empresa Norfolk Women's Division 2
Norwich Dragons 6s 1-1 North Norfolk 2
The 6s agreed this thrilling home draw was their 'best match of the season so far' and a fitting end to their home programme. It represented a considerable improvement from their 2-4 defeat in the away fixture. Of course, this being the 6s there had to be some ups and downs – the downs were conceding a very soft goal through the middle in the first 10 minutes, and then squandering a penalty flick threequarters of the way through the game after they had been pressing hard for the equaliser. But it all came right in the end when Catherine Matthews scored with a fine shot from the edge of the circle which went through a forest of players to reach the nearside corner.
The absence of captain Jo Eke , and learning from the last match, gave the 6s the opportunity to use their flexibility once again and resulted in some praiseworthy performances for players trying different positions.. Katy Saide had probably her strongest game of the season when she had two spells at the bottom of the diamond. Rosie Skipp, usually a left forward, switched to the right and turned in a POM performance. Always known for her determined running and tackling back, in this match her footwork was faultless!
Ginny Simkin returned and demonstrated her best position is in defence, whilst Ilona Motyer showed once again how much she has improved from her 'Get back into' status by playing in defence, bottom of the diamond and in midfield. Praise, also, to our 'big' little players – Katie Franks at left defence and Esme Potter on the right – were calm and collected and never let the visitos' forwards get their crosses in. Katie is very experienced at this level, and Esme, in only her second adult game, matched her for confidence and ability to read the game. When North Norfolk threatened, it was from their favourite move, the hard pass through the centre, and there were half a dozen measured saves and powerful clearances from Alice Smith in the second half which kept Dragons in the game.
Dragons' passing game was working really well, with the defences outletting to the mids who were finding Rosie and Izzy Ferguson on the wings, both of them capable of burning the astro.  Izzy is very quick and skilful, but unfortunately also in demand for school commitments. It made a big difference to the Dragons to have speed on both wings, giving Gill Walker a choice for her distribution from the top of the diamond where she put in her usual strong performance. Catherine and Sarah Norman played a traditional 'inner' type role and were particularly impressive when moving up front, cutting inside and bursting into the circle. Catherine had several shots on target, and Sarah sent several sweeps through that were saved. Kat Speirs held her high forward position well and also had shots on target. The team was completed by Bridget Le Good. The best part of her game was the reverse passes through to Izzy who made some very telling runs.The worst was undoubtedly the feeble penalty flick, which was a reminder (after reading about other Dragons) about our need to take responsibility for practising flicks and pen corners. One match to go, it is still worth it!
This game was packed with end-to-end moves and incidents, played in a good spirit, and a draw was a fair result. Thanks to Sue Cullum for stepping up and running the subs and skilfully adapting The Plan to meet what we were discovering about our players' potential. So late in the season. Who knew! Just one more match to go – a little trip up the road to Taverham, where the 6s, based on this performance, hope to finish safe in Division 2 with a flourish.
—————————————————————————————————————–
Empresa Norfolk Women's Division 3
Norwich Dragons 7s 0-7 Pelicans 3
Dragons 7 made the drive to King's Lynn to face Pelicans 3, a match that Dragons expected to be tough.
Dragons changed the usual formation slightly, aware that they would need to be more defensive against a strong, young Pelicans side. Alessandra Pellegrini in goal was supported by Jo Baker, Frankie Paul and Johanne Steward in defence. The deviation from the usual formation had two players at bottom of the diamond, Emily Roper and Ruth Barton. Beth Coates was in her usual position of top of the diamond, with Becky Gallagher and Emma North on the wings. Mia Amiss and Claire Fairhurst were the forwards.
The change in formation worked to a certain extent in the first half. Although Pelicans were dominating play from the start, Dragons made several interceptions and tackling Pelicans. The defence worked hard to keep Pelicans out of the D, with Alessandra making some great saves. Pelicans managed to score once in the first half, and Dragons were buoyed by this going into half time.
The second half wasn't as encouraging for Dragons. Without the benefit of any subs to give players a break, tiredness obviously set in. Dragons battled as hard as they could, defending several short corners, one of which resulted in Pelicans being awarded a penalty flick. Dragons nervously looked on as Alessandra faced Pelicans' captain. Alessandra successfully saved the shot, resulting in whoops of delight from the rest of the team. Unfortunately the umpire ruled that the shot had to be re-done as Alessandra had moved off her line too early. Dragons nervously looked on, wondering if she could repeat the save. To their delight she did! The match continued with Alessandra making some more good saves, obviously encouraged by the penalty save and earning her Player of the Match. Unfortunately Dragons couldn't stop Pelicans and who managed to get six more goals.
The match ended with a 0:7 win for Pelicans. Despite the loss, Dragons weren't too despondent and look forward to their last match of the season.
—————————————————————————————————————–
Mens East League Division 2N
Norwich Dragons 1s 1-3 St Ives 1
—————————————————————————————————————–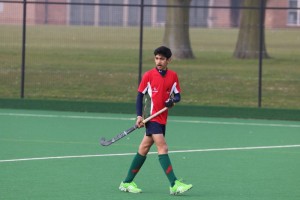 Mens East League Division 3NE
Norwich Dragons 2s 4-1 Pelicans 2
—————————————————————————————————————–
Men's East Hockey League Division 3NE
Norwich Dragons 3s 1-7 Newmarket 1
The Men's 3s travelled to Newmarket in their penultimate game of their season.  The team were grateful to Adrian HOWES for stepping in at the last minute to take the team to 11.
Newmarket pressed high and were trying to get the ball through to their forwards.  Dragons stuck to their formation and this created lots of space and some lovely passing.  Stu KELLY distributed the ball in the middle to the forwards and wingers, allowing for some chances for Dragons.  Will MAIN and Adrian HOWES were unlucky not to score in this first half, with the Newmarket defence acting solid.
A succession of short corners led to Newmarket getting their first goal, despite the effects of keeper Dim IVES.  The defence worked hard, with Piers GORDON-BROWN and Adam SAYER keeping their men quiet.  Peter DAVISON was at hand to pick up anything that came through, then calmly moving the ball on.
In a move aimed at confusing the Newmarket midfield, Rob and James GOODSON joined KELLY in the middle, keeping the attacks at bay.
After a ball was deflected from a short corner strike into DAVISON'S shoulder, Newmarket were awarded a penalty flick which they scored.  Despite trailing 2-0 at halftime, Dragons were happy with the way they had played.
The second half was frustrating for Dragons as the game became drawn out.  Wingers John IVES and Rich PHILLIS provided good attacks for Dragons, and linked up well with Will MAIN.  The Newmarket defence and keeper managed to counter these attacks.  At the other end, the Newmarket forwards won some more short corners, scoring again, and another penalty flick awarded, from which they scored.  They also managed to bag a couple of goals from open play.
There was a glimmer of hope when Adrian HOWES slammed the ball in the goal to give Dragons their goal.  However, the game ended and Dragons had lost 7-1.  A very frustrating game where Dragons felt that on a another day this game could have been theirs.
—————————————————————————————————————–
Men's East League Division 4NE
Norwich Dragons 4s 2-1 Newmarket 2
The mens 4th team went in to the game with a win ensuring safety in a very tight but competitive division. Newmarket 2's started brightly and put the Dragons under pressure from the first minute but the defence helped out by Alberto and Ali in midfield contained there attack. Unfortunately just before half time Newmarket won a short corner and scored with a speedy shot to the corner. The Dragons roared into life after half time with everyone working hard to create an opening,  after missing a couple of reasonable chances Adie Kemp steps in to score twice and gain a deserved win. The whole team played well but big performances from Alberto and Ali in the middle and hard work from RCB and Ben Harvey helped to swing the game with Alberto winning man of the match. Well done Dragon s 4th Team.
————————————————————————————————————–
Men's East League Division 6NE
Norwich Dragons 5s 3-3 IES 5
—————————————————————————————————————
Men's East League Division 7NE
Norwich Dragons 6s 1-3 UEA 4
—————————————————————————————————————
Empresa Norfolk Boys Development League
Norwich Dragons 4-3 Magpies
On Saturday 12th march, dragons dev boys faced magpies who, at the start of the game, were only one point behind us. Magpies went one up but Ed Taylor equalised shortly after.  Magpies went 2-1 up in the second half but two consecutive goals from dragons meant we were 3-2 up going into the last few minutes. to make it a nervous end magpies equalised but we hit back shortly after making the game finish 4-3. So with one game remaining, dragons are champions, 4 points clear at the top. POM was Tom Bailey.
—————————————————————————————————————–
Empresa Norfolk Girls Development League
Norwich Dragons 1-4 Norwich City
—————————————————————————————————————–
Empresa Norfolk Girls Development League (13/03/2016)
Norwich Dragons 2-1 Magpies 
We started off strong and kept putting pressure on their defence with some close goals. Magpies made it very hard for us but about half way through a goal was finally scored, by Blanca making a beautiful run and passing it to Charlotte who scored. Magpies made a couple of nippy break throughs and without a goalie this was very hard. Unfortunately they scored from one, making it 1-1 with about ten minutes to spare. We kept on giving the opposition lots of pressure leading to a short corner where Blanca did an incredible reverse hit into the back of the goal. Unfortunately Magpies made another break through but thanks to Sophia who stopped the ball nearly on the line, no goal was scored! The whistle blew and we had a 2-1 victory!!! The joint players of the match were Blanca and Willow. Well done to everyone who played.