A few photos from this week's matches can be found in the Gallery – Ladies 5s, Ladies 4s and Boys Dev.
Mens East League Division 2N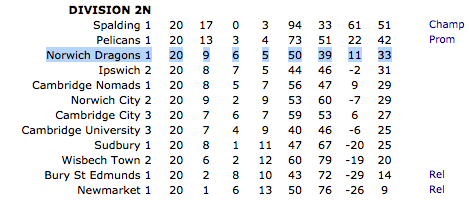 Norwich Dragons 1s 3:1 Cambridge Nomads
Having lost and drawn the last few games dragons needed a result to maintain their third place in the league. With a well drilled warm up the team were fired up for a competitive match. The game started well with good attacking play from both sides. Youngster Jonty Gosling looked strong at the back for Dragons whilst Alex Overstall provide strong options down the right for the team. The first goal for dragons came from a powerful cross into the d from captain Ed Smith which was neatly defected into the goal by Mark Flatman. Half time soon came and coach Rob Wagstaff was confident that if we continued to play as well we would have no problems in the second half. He was so confident he left to go to London!
The second half however Dragons were caught napping which allowed a well worked attack by Cambridge Nomads to equal the score to 1-1. This fired up dragons forwards and within a couple of minutes Rupert Snelling broke away and scored a reverse shot screamer making it 2-1. Further chances were had but the finial nail in the coffin came when Alex Browne blew away the keeper with a power shot from the top of the d from a short corner. Making the score 3-1 to dragons. Man of the match was Alex Overstall.
—————————————————————————————————————–
Mens East League Division 3NE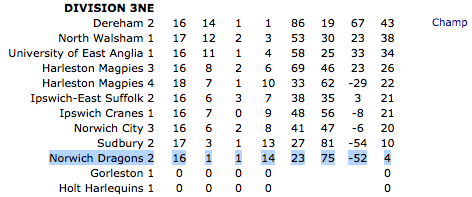 Norwich Dragons 2s 0:1 IES 2
—————————————————————————————————————–
Men's East Hockey League Division 4NE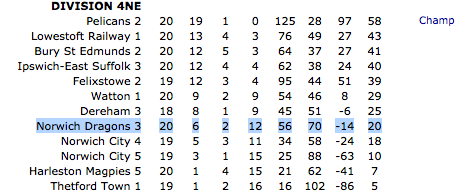 Norwich Dragons 3s 3:4 Lowestoft Railway 1
Norwich Dragons showed an improved urgency, effort and energy after a disappointing result last week.  Though Railway came out the victors, this was a close game with a balance in possession and chances at either end.  A fine goal from Henry Laming kept the game within the Dragons grasp, converting an outstanding drag flick, after a subtle slip left form a short corner by Will Kirby.
Railway had the better of the first half, with a strong midfield held at bay by a compact Dragons formation, crowned by Adrian Kemp's fine defensive midfield performance. In the second half a switch of positions, allowed Will Ives to put in his performance elf the season, marking Railway's most potent attacking player out of the game.  Equally strong in the Dragons midfield was Henry Laming, who help possession well and kept the ball moving nicely.  Despite two second half goals from Will Kirby, including a penalty flick, the Dragons were unable to gain parity and were destined to end up a goal behind a full time.
—————————————————————————————————————–
Mens East League Division 5NE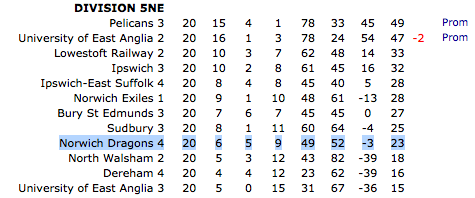 Norwich Dragons 4s 1:1 Bury 3
With only 11 players and the weather being on the warm side for the time of year, it was going to be a tough game.
Dragons started well and had plenty of chances to score early on but a combination of the Bury Keeper and some poor finishing by Dragons saw no goals for all Dragons efforts. Bury came more into the game, but with the Dragons defence playing well they had limited chances to score. Despite many more goal chances for Dragons it was still 0 : 0 at half time.
The second half started much the same as the first with Dragons missing more chances. Bury had swapped it around at half time and they were more threatening in attack, and unfortunately they got a break-away goal. The cross got a deflection which took the ball away from the Dragon's defender and straight to the Bury forward who slotted it home from close range.
Dragons were not going to be defeated and kept pressing for a goal, which came with a great move which found Jon Price in the D and he pulled it back for Ollie Browne to fire home.  There was still time for a win and if there was going to be a winner it looked like Dragons. There was a great chance near the end for our Captain to be the hero of the day and score the winner but unfortunately, like many of the Team's chances on the day, he missed 'a sitter'. Despite a fine team performance and hard work it was not going to be Dragons day, and it finished 1 : 1.
There were some fine performances and good Hockey played in a good game. Richard Moulson, and Garnett Jones put in fine performances  but the man of the match goes to Ollie Browne for his all round play and of course that all important goal, which at least earned a point rather than going home with nothing.
—————————————————————————————————————–
Men's East League Division 7NE
Norwich Dragons 5s 2:0 Sudbury 4
For the final flight this season for the men's fifths a trip to sunny Sudbury and the prospect of good beer made light of the fact only 11 fit dragons travelled.
Late volunteering from Andy Carver (happy to play again after his last trip to Felixstowe) and a travelling but injured Butler meant Dragons weren't left short this week.
Dragons had their normal 'warm up' trying not to injure Key in goal who once again donned the keepers kit. This completed the standard speech was used for the last time and everyone except Davies (is this our last game of the season) happily slotted into formation.
Sudbury started strongly and fast forward work left the dragons defence flapping but not totally overwhelmed. Having looked dangerous Sudbury were then exposed to a fine move from York-Smith to Quinine for Cross to finish from some distance this time! An unfortunate injury to a Sudbury forward (stepped on Latoy!) meant Dragons were freed up a bit from defensive duties to press forward again with Webb finding Quinine in the D form him to slot calmly past the keeper for his first goal of the season. An 'injury' to (Icepack) Bingham resulted in Butler stripping off and filling in a valuable 10 of so minutes up front.
Ending the first half two up was a great position but Sudbury used their subs well and countered in the second half. Good defending and some fine stops from Key in goal meant for once a clean sheet beckoned even with Latoy in defence. Dragons still had the counter attack as an option and the captain was seen to shed a tear as a move started inside the Sudbury half involving the three forwards working the ball around (yes i mean multiple completed passes) the Sudbury defence resulting in a fine save from the keeper to stop a Bingham effort.
Endless (almost thankless) running by Coyle and Webb helped Dragons keep pace with the final ten minutes of pressure with Lawrence also putting in a considerable shift to help share the load.
In the end a fine finish to the season showing just how far this new team has come. I have been proud to captain of the second highest scoring team in the league (by that i mean we scored all our goals and received nothing for free) who played with 9,10 and 16 players without conceding a game.
Many thanks to you all for helping from Ali Symth (always on hand to help me dig up players) , the other captains , Mike Hardy (he never really wanted to play in goal) , Sam (work commitments ruled his second half of the season out) to all those people who came out of retirement to play for me and especially those regular guys who just turned up.
BTW Rutledge I have finished on 3…beat that for a Guinness!
—————————————————————————————————————–
Women's East Hockey League Division 1N
Norwich Dragons 1s 3:2 Cambridge City 2
Norwich Dragons Ladies 1st team played hosts to Cambridge City on Saturday at the UEA needing only one point to secure promotion.
The home team were unable to dominant as they had been used to in recent weeks and it was the visitors who enjoyed more of the possession in the early stages of the first half but they were unable to break down the Dragons defence. The Dragons showed experience by soaking up this pressure and waited patiently for their opportunity which came some 20minutes into the match. Some quality short sharpe passing led to Hannah Palmer striking the ball cleanly at the top of the circle scoring her first goal for the Dragons. The home side took the game to Cambs looking menacing and soon found themselves two nil up, Rachel KING finding the net from a well worked short corner routine.
The second half kept the home supporters on edge as Cambs pulled themselves back into the match scoring within the first ten minutes. The Dragons retaliated within 5 minutes; Nat Beal getting on the end of a through ball from Emily Rolls giving the home team a bit of a cushion. However the nerves were evident and Cambs exploited this by scoring a second with 15 minutes left to play.
This caused a nerve raking finish to the game for everyone that was supporting the home team however the Dragons dug dig and hung on to get the victory and secure promotion.
This wasn't the Dragons finest performance they looked lethargic and never really got out of second gear. They never showed their form of late and did not play their free flowing hockey but credit has to be given to their opponents who played some great hockey, worked hard and frustrated the Dragons by closing down effectively allowing little time on the ball.
Player of the match this week was deservedly awarded to Hannah Palmer who worked tirelessly for the team defensively and was involved in the positive passages of play that the Dragons displayed and scored the important first goal that settled the Dragons.
Back to back promotions is no easy feat and has smashed the expectations of the club. This is amazing achievement for the players, their coach, Pete Thomas, and the Club. The Premier next year will be a massive challenge but one which this team are ready for.
—————————————————————————————————————–
Women's East Hockey League Division 2NE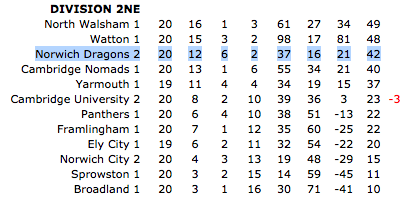 Norwich Dragons 2s 2:3 Panthers
On a sunny day by the seaside, Dragons arrived bright and breezy following a strong performance last week, to see them regain 3rd place. With availability across the Club low this weekend, Dragons were without a few of their regular players, yet still fielded a strong squad. This weekend saw a first with Gail Thomas playing alongside her twin daughters, Sophie and Olivia, in a league game.
Despite the ideal conditions, Dragons made an unusually slow start, struggling to find their passing game and rhythm. To Panthers credit, they were much sharper to the ball and seemed more 'up for the fight' than Dragons. Mid way through the half Panthers made their possession count with the first of 3 goals from Jessica Bennett, who troubled the Dragons defence all afternoon.
Having gone a goal down, Dragons forced a series of short corners and were unfortunate not to have earned something when a shot appeared to be blocked on the line. Dragons continued to push forward, Player of the Match Olivia Thomas was starting to threaten more and more down the right, well supported by Aoife Lowe-Davies, making intelligent runs upfront, however Panthers Keeper Sharon Weeks was having an outstanding game, to keep the Dragons at bay.
With 16 secs of the first half remaining Dragons conceded a 2nd goal, ensuring Panthers went into the break with their 'tails up'!
Half time saw a slight reshuffle from Dragons and a plea for them to up their work rate and show a bit more determination, to force themselves back into the game. Dragons responding, with an early goal following good build up play, the ball broke for Sarah Radley who fired home with great confidence. This spurred more Dragons' pressure, eventually the equaliser came following a smart angled pass from Debs Smith, finding Emma Tabrett in space who combined with Olivia Thomas and Aoife Lowe-Davies, Lowe-Davies squared the ball perfectly for Hannah Hardy to finish from close range.
From here Dragons felt they could press on and win the game, however this was not to be, as a Dragons attack broke down in the D, the long hit up-field found Bennett on the halfway line, despite having a number of Dragons defenders to beat, she managed to work her way down the field and fire a good strike past Amy Forse for the winner, a fine hat-trick.
Dragons were disappointed not to leave the seaside with at least a point, however it's a lesson learnt, when facing a strong opposition who are that bit more determined and more robust in the tackle. Given this was only their second defeat of the season, Dragons must not be too disheartened, as you often learn more about yourselves in defeat than you do in victory. Third place in what is a highly competitive league, remains in their grasp, and this would still be a fine achievement for this squad of players.
———————————————————————————————————
Empresa Norfolk Women's Premier League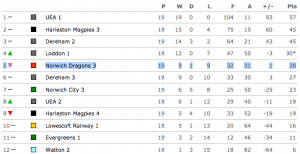 Norwich Dragons 3s 0:6 Dereham 2
Dragons ladies 3s faced Dereham 2s this week. Dragons knew this was going to be a tough game but went out focused and determined.
They struggled early on with Dereham pressing hard and scoring quickly. Though Dragons rallied and played some great technical passing hockey, Dereham were clinical in their attack and 3 more goals followed in the first half. The second half saw Dragons get several opportunities in the D but just could not find the back of the goal. Dereham scored twice more in open play and left the final score at 6-0 to Dereham. A tough game for Dragons against a young, powerful and technical Dereham team.
—————————————————————————————————————–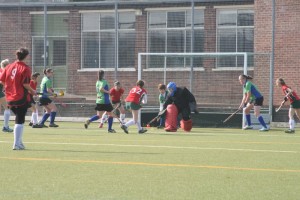 Empresa Norfolk Women's League Division 1

Norwich Dragons 4s 2:1 North Walsham 2
On a very sunny day in the lovely seaside town of Cromer a cheery Dragons team took to a pitch that seemed to contain most of the beach! This made it a very slow pitch and difficult to move the ball quickly from player to player – you really had to come and meet the ball and this initially caused Dragons a few problems , but once we had adjusted our hits accordingly we had some lovely play. Flora Gregorie, Rosie Korn and Mel Widdows all made some great runs down the line and towards the D, but with so many defenders in there it was hard to see the goal, yet alone get a ball to it.
Hazel Sumner (PoM) made some excellent intercepts and speedy manoeuvres in the middle of the pitch and with Gemma Rump kept driving the ball forwards and towards the D – Sophie Farrow and Lucy Campbell made the most of the space and kept making runs to try and create even more opportunities. Excellent keeper work saw numerous on target shots denied. The first goal came from Lorna Travers (her first for the club) a lovely push to the opposite side of the goal from the keeper. However a very determined North Walsham side fought straight back and scored from a break less than 2 minutes later – just before half time.
After the break Dragons as usual came back in fighting spirit, both Abi Cowe and Freya Clogan had the chance to move the ball all the way from defence up to the D, this constant shifting and changing of player position seemed to disconcert the North Walsham side and provide further opportunities for Dragons. There were some lovely short corners, which were so nearly goals you could have cried.
In the last ten minutes of the game, when the heat and only having one sub began to take its toll North Walsham had a few chances of their own, but some strong kicks from Alice Smith in goal cleared the ball straight back to a defender and play switched again. Dragons scored the winning goal 2 minutes from the end, a lovely shot from Sophie Farrow snuck passed the keeper who had already made one save and couldn't quite get back in position in time.
A really lovely game that saw Dragon's playing as a cohesive unit, good communication and lovely movement clinched a great game – so good we celebrated by the sea with an ice-cream!
—————————————————————————————————————–
Empresa Norfolk Women's League Division 2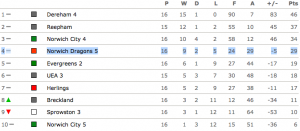 Norwich Dragons 5s 0:4 Dereham 4
Norwich Dragsons 5s achieved a respectable result in a hard fought battle against league leaders Dereham 5s.
The game started very quickly with Dragons quickly conceding a goal. The defence were put under a continual pressure by these young Dereham players. The defence line up this week of Sarah Norcliff, Jasmin Daniels and Jess Tye-Leech stood strong under pressure. Laura Tuck made a number of critical saves but Dereham managed to sneak a few past them.
The big difference between this and when we played was that we had some excellent play in this game. There was some wonderful pressure and possession by the midfield of Charlotte Stace and Katie Buxton (Joint Man of the Match) who both put in some excellent tackles and were relentless in chasing the play down. Rachael Matthews continues to go from strength to strength showing great tenacity in every move she makes and the improvement in her skills is very noticeable.  After a third goal the defence had a bit of a reshuffle to create a bit of strength with Charlotte Pounder continuing to shine in her excellent defensive skills.
This really was an excellent effort given the result the previous time these teams had met as Dragons were able to win a number of  shorts and opportunities in the D. Lisa Harwood continues to go from strength to strength with her improvement in play extremely noticeable as she wins and retains possession and makes a bee line for the D.
This week, Anja Finegan played an absolutely blinder playing with her speed and grace which makes her hard to beat. She moved the ball confidently up the pitch a number of times taking her opportunities really well. Her execution on short corners was also excellent and although didn't come off was completely the right thing to do.  Izzy Woodcock back after a couple of weeks played in a lovely wide position creating some great opportunities and Chiara Bond continues to impress with her pace on the ball and ability to win back and turn  around play. The fourth goal was both unlucky and unfortunate.
All in all Dragons 5s should be proud they remain at 4th in the table and are 10 points clear of the Evergreens below them.  Onwards and upwards for the last 2 games of the season.
—————————————————————————————————————–
Empresa Norfolk Women's League Division 3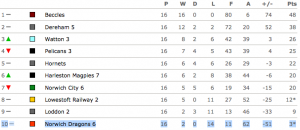 Norwich Dragons 6s 0:8 Dereham 5
Having managed to hold a lowly team to a single goal defeat the previous week, the 6s knew they would face a very different prospect against high-flying Dereham.  The home team were 5-0 up at half time, and then put their sharp shooters into defence which allowed the Dragons to make some useful forays into the attacking third in the second half, and keep the score down to a single digit – one of their ambitions for the season.
The pattern was set in the first minute, when a smart shot from the top of the D hit a hopefully placed Dragons' stick and rocketed into the top left corner of the net. Three similar, but less spectacular, goals followed, with weak clearances presenting Dereham with gift-wrapped opportunities they were too polite to refuse. The Dragons defence were trying to protect their goalkeeper, but learned the hard way that the defenders have to make the tackles and let the keeper block the shots. Gradually, and inspired by player of the match Jo Eke, Dragons began to play their own game and Jo, Jasmin Daniels, Lottie Korn and Katie Franks tackled and blocked the forwards to excellent effect. The hit outs were working well too, and there were several moves in which five passes were completed. A combination of Jasmin to Katie or Lottie to Laura Hansell, Tara Johnson and then Claire Fairhurst was a route that worked before the move broke down, usually because the Dragons are just not fast enough, accurate enough or determined enough to create clear-cut scoring chances. This is a criticism of the whole team, not just the forwards – we know that we all have responsibility for attacking, just as we must all defend.
In mid-week, Dragons looked to have a potentially strong squad available, but eventually the call offs meant a bare 11 made it to the match, and that was  thanks to the hours spent by co-captain Claire emailing and texting. Thanks also to the players who volunteered to help out the development team who were also very short of players.
————————————————————————————————————–
Empresa Norfolk Girls Development League

Norwich Dragons 0:1 Dereham

Player of the match was Carmel Windsor-Waite because she was in the right position at the right time which helped the team majorly.  Also she used the space and didn't stay crowded.
Memorable moments:
1. When us as a team got the ball into the 'D' and had a shot!!
2. When me the goal keeper saved a lifted shot at goal!!
3. When the opposition got close to goal we got the ball away and stopped them from shooting 🙂
————————————————————————————————————–
Empresa Norfolk Boys Development League

Norwich Dragons 3:2 Dereham
The hockey match between Dragons and Dereham was a very well balanced match. The Dragons team, led by Tom Williams had a good first half, but unfortunately Dereham had a strong first half as well, scoring a goal making it 1-0. Strong defending kept out a couple of goals and a few good attacks by Connor Adams and Edward Murphy nearly got a goal for us.
The second half started off a lot better with a brilliant goal from Edward Murphy and some good attacking down the wings led to another goal by Connor Adams and then a fantastic shot by Edward Murphy from a short corner made the score 3-1 to Dragons. Unfortunately, shortly after this Dereham managed to scramble out another goal taking the final score 3-2 Dragons.
Credit must go to the defending of McCartney and Andy as they held out well at the back and not letting any balls through and a special mention goes to Ruben for a great match and a good performance in the defense. Man of the Match went to Edward for his all round great performance around the pitch and his 2 goals that got Dragons into the game.
Final Score Dragons 3 Dereham 2
Tom Williams
9/3/14