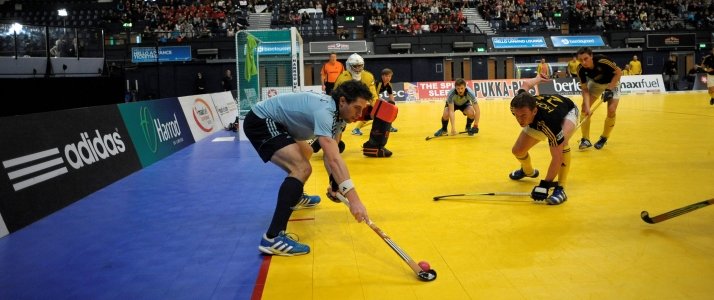 Indoor hockey returns to Wembley Arena for one day only on Sunday 2 February 2014. The Maxinutrition Hockey 5s, previously known as the Maxifuel Super Sixes, will see England's premier men's and women's clubs battle to be crowned champions.
The blisteringly quick tournament which features halves of just twenty minutes produces breathtaking hockey, dazzling skills and spectacular goals. This year the event will be even more exhilarating with one fewer player per team meaning even more speed, energy and goal-mouth action!
It's an exciting time for indoor hockey! Be the first to see the new tournament's showcase finale live!
Never been before? Take a look at our top 5 reasons to go along:
Four super-fast, top quality matches
It's all indoors! It may be February but the action will be red hot inside Wembley Arena
See your Olympic heroes in action showcasing their skills in the new 5-a-side format
Tickets from just £5 for U18s, £15 for adults make it an affordable day out for all the family
It's much more than a hockey event – there's a Fun Zone, chance to meet England stars, a big screen plus much more!
Times:
11.30 – Doors open
12.30 – Men's Semi Final 1 – East Grinstead v Holcombe
13.45 – Men's Semi Final 2 – Reading v Canterbury
15.15 – Women's Championship Final – Bowdon Hightown v Reading
16.45 – Men's Championship Final
Start talking about the event on
Twitter
#maxi5s
Be the first to hear about England Hockey events –
click here
to register for all the latest ticketing updates from England Hockey.
And don't forget to secure your tickets for Wembley! Book your tickets here.