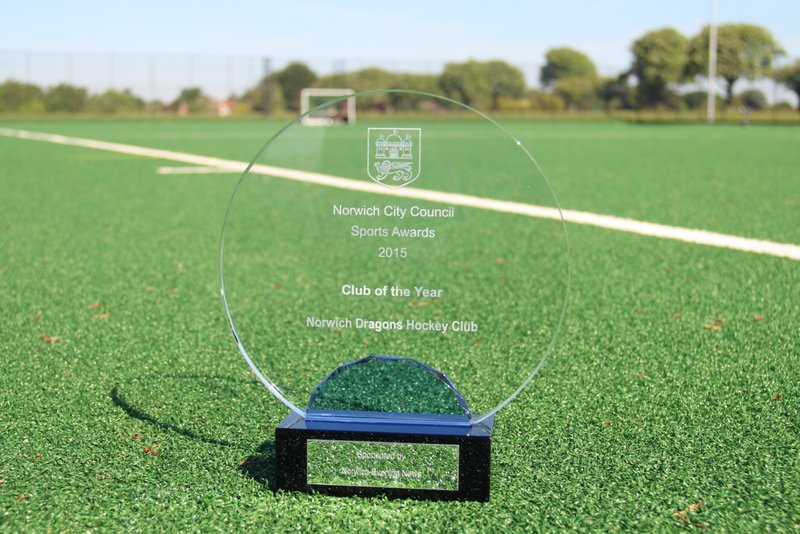 An extremely proud evening with many of this Club's finest ambassadors receiving the Sports Club of the Year 2015 Award from the Lord Mayor of Norwich and the Sheriff of Norwich at Norwich City Hall.
Thank you to the many stars that make this such a fantastic Club to be associated with. Great to see several more Dragons representing Norwich High School for Girls, who picked up the Sports School of the Year for 2015.
Turns out the Lord Mayor and Sheriff are former hockey girls, so we are looking to get them down to the pitch in all their robes, to help us celebrate the award!!
During the Awards Ceremony, the Sports Development Team at Norwich City Council, said:
"With the closure of Pinebanks in 2008, this Club could very easily have disappeared, however, thanks to a small group of members, passionate about the sport of hockey, survival plans were developed.  Renamed as Norwich Dragons Hockey Club, reflecting the strong links between our Fine City of Norwich and Dragons, the foundations for a great Club were put in place.
In 2009 there were very few adult players and a small Junior section, with Friday night training sessions sometimes seeing 3 youngsters coached by 3 dedicated coaches!
After years of planning, fundraising and project management a new hockey pitch was opened in 2011 on the Hewett School site, in partnership with the Hewett and Town Close schools.
A second pitch is now complete on the site thanks to a great partnership with Sports School of the Year, Norwich High School for Girls.
Thanks to its volunteers, the Club now provides the opportunity for well over 400 Club Members to take part in hockey and provide voluntary coaching for many more local school children.
A major success for this year has been the 'Get Back Into' sessions that have welcomed members to the Club having not played for many years, if at all.
To finish, a recent quote from a parent "My son only joined the Dragons half way through this season, having never played hockey before.  I have been so impressed by the organisation of the club, the coaching, the ethos, the excellent communication – I don't think any of my kids have been involved in such a well run organisation before, and I've been a parent for 15 years!  The second pitch must have been a massive project to get off the ground.  So just thought I'd pass on a really big thumbs up to all of you." "