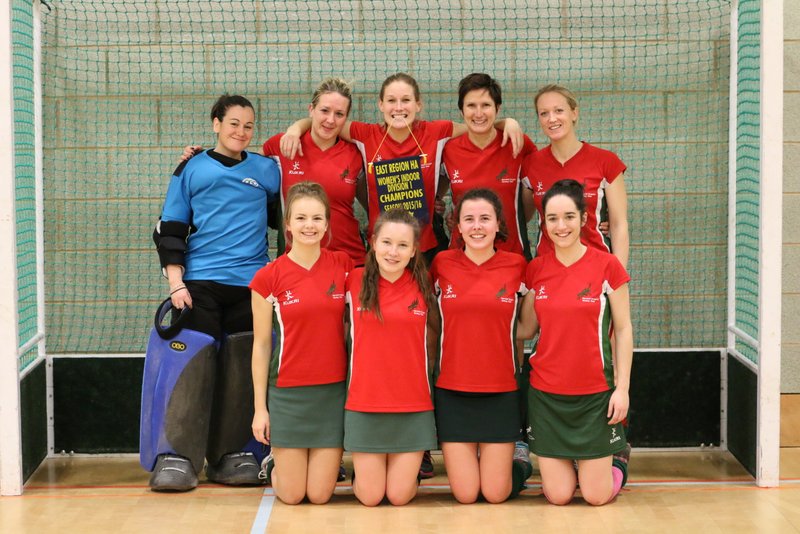 A busy weekend of East Indoor Hockey culminated in Norwich Dragons Ladies being crowned East Indoor Women's Division 1  Champions.
Having been runners up last season, Norwich Dragons HC Ladies Indoor Team were determined to put in a good performance in this season's East Region Hockey Association's Women's Division 1 Championship this weekend.
Captained by indoor specialist Kate Trelawny Gower and coached by Pete Thomas, the squad of Marie James, Lizzie Moulton, Rachel King, Siobhan Cleeve, Hayley Toleman, Maddie Denman, Olivia Thomas, Niamh Lowe-Davies and Louise Murray got off to a good start against Bishop's Stortford with a 4-2 win.
Expected to be the toughest game of the day, the squad had a long wait for their next fixture against Wapping and despite getting ahead quickly and moving to a seemingly comfortable lead, Dragons allowed Wapping to get right back into the match, holding on for a 7-6 victory.
With Wapping having beaten Bishop's Stortford in the penultimate game of the Tournament, Dragons knew that avoiding defeat in their last game would secure the title.
With a convincing 8-0 win over Broadland, Norwich Dragons finished undefeated and were crowned East Region Hockey Association Women's Division 1 Champions, giving them promotion to the East Premier event next season.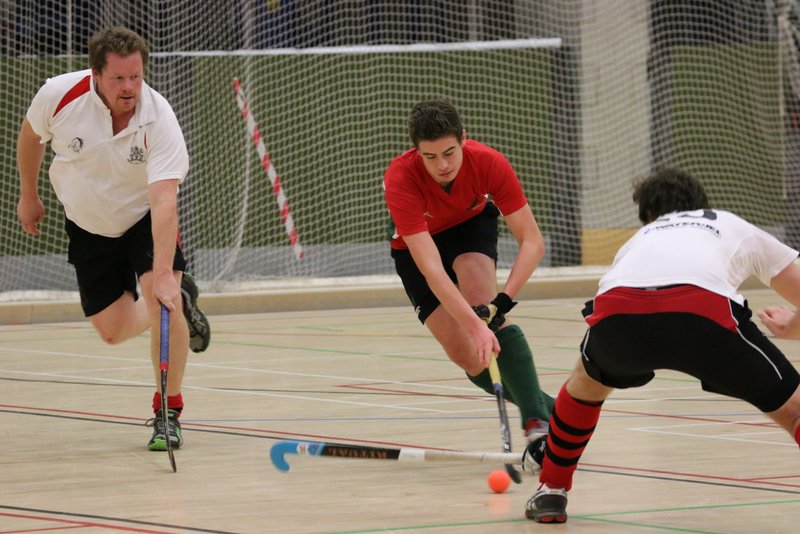 The Men were also in action and finished 7th in a tough tournament.
On Saturday, the Men were edged out 3-4 by Waltham Forest (Pebble stroke, Rohan x2). Second game got off well with a stroke from Ben but ended 1-9, with 2 disallowed. Lost to a well organised Bourne Deeping side by 3-11.  Goals for Pebble (glorious solo effort), Mitchell Smith and a BD foot (Henry). Tough day at the office but enjoyable all the same. Perhaps a bit late to get things organised on the pitch but Jason is giving it a good try. Mentions too for Richard Smith, Ali Smyth, Robbie Bell, Sam Avery (upgraded from Manager to winger in an unselfish transfer by Phil York-Smith) and Peg-Leg Snelling(cameo).
First up on Sunday was the Old Southendian's side featuring a suspiciously familiar left back. A close fought game ran out 4-7 in OSE's favour with goals from Alec Steele, Jason Wolfe and Sam Avery x2.
In the second game things didn't quite seem to go right. What seemed like a largely even contest ran out 1-6 to Wisbech with Alec slamming home another goal.
Last up were Bedford – Prem A side and likely champions this was a daunting final game and there were some slightly negative pre-match conversations. Not a bit of that showed in the game with Dragons forcing Bedford to forget any thoughts of an easy win. Wolfe, exhausted by his exertions fell asleep on a Bedford shoulder late in the first period and was rewarded with a 1 minute "rest" by the umpire. With the score 1-3 at half-time (an incredibly "experienced" link-up between York-Smith and the slightly hobbling Snelling) an upset was a real possibility. A coolly taken corner from Pebble Billy-Stone set up a dramatic end to the day's play and another was added again by Pebble. The game finally ran out 3-5 and Bedford were duly crowned champions.
Well done everyone who played. Indoor hockey is a gruelling game at times but we fought all the way to the end. The final day was wildly polarised between youth and experience and there will be some sore bodies tonight.