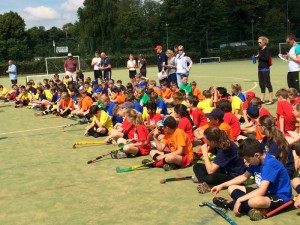 What an excellent day supporting the Norfolk School Games Quicksticks event.  14 Norwich Dragons HC volunteers gave up their day or took a day off work to help organise a great event for youngsters across Norfolk.
Great to see Kirsty Mackay (England Keeper) and England Basketball player Dru Spinks there to inspire the youngsters.
Pleased to see our partner schools in the South Norfolk SSP and Norwich SSP doing so well, but a great day of hockey had by all.
Full results:
Small Schools
1st – Glebe
2nd – Alpington
3rd – Trowse
4th Langham
5th North Elmham – Plate Winners
6th Frettenham
7th Rollesby
Large Schools
1st Pulham
2nd Cringleford
3rd Bure Valley
4th Cliff Park
=5th Hillside A
=5th Sheringham
7th Martham
8th Hillside B
9th Gayton – Plate Winners
10th St Marthas
11th St Augustines A
12th Harleston
13th St Augustines B