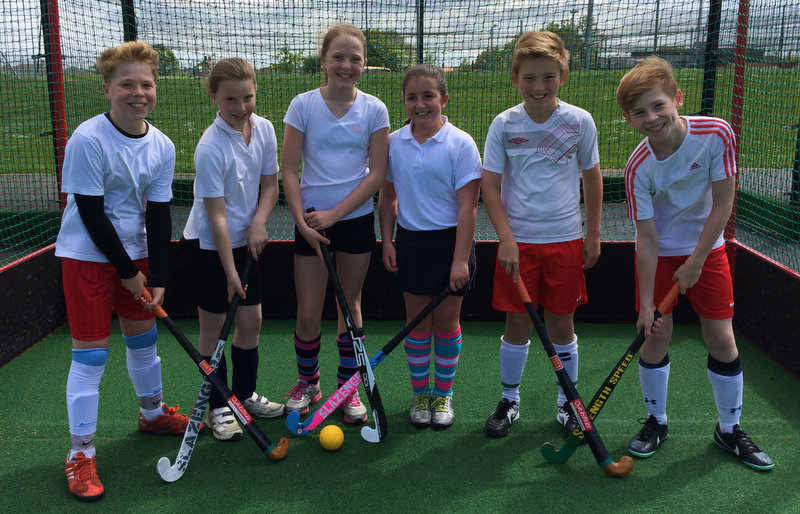 Photo of winning Cringleford Team featuring 3 Dragons Girls and 3 future Dragons Boys as well as 3 other Dragons representing other teams on the day
Report by Norwich School Sports Partnership:
Today saw teams of Year 5-6 pupils come together to battle the elements and take part in the SSP Quicksticks Hockey competition. The event was held at the "Dragons Den" the home of Norwich Dragons Hockey Club which is on the site of the Hewett School on Hall Road in Norwich.
The competition was held in partnership between the SSP and the Norwich Dragons Hockey Club. Club volunteers delivered a hockey ased warm up at the start of the day and then officiated all of the matches.
The competition saw teams of four boys and girls (squads of six) compete against each other in 12 minute matches. The matches were organised in a round robin format to maximise the number of games that they got to play in. The weather proved challenging with bright sunshine turning into heavy rain and back again throughout the event.
At the end of the day when all of the results added together the following overall results were announced;
1st – Cringleford Primary School 1 (12 pts)
2nd – Avenue Junior School 1 (10 pts)
3rd – Cringleford Primary School 2 (8 pts)
4th – Avenue Junior School 2 (6 pts)
5th – Avenue Junior School 3 (4 pts)
Jon Osborne, Partnership Development Manager for the Norwich SSP said;
"Today was a great example of how the SSP teams up with local community clubs to provide really great sports opportunities for young people. We would like to thank Norwich Dragons for their support today and for allowing us to hold the event at their amazing home ground." 
All of the pupils that took part in the competition were given a certificate of participation by the SSP and also information about regular hockey coaching sessions run by Norwich Dragons.
The top two places teams (Cringleford Primary 1 and Avenue Junior 1) will now be invited to represent the SSP at the Norfolk Summer School Games Quicksticks Hockey Finals on Wednesday 2nd July at the Sportspark in Norwich. For more information about the Norfolk School Games please visit the website www.norfolkschoolgames.co.uk.
To view photos from the competition please click here.