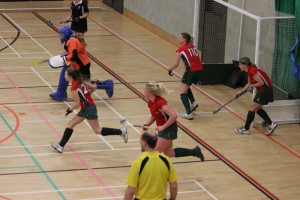 Both the Men and Ladies took part in the East Indoor Division 1 Championships this weekend.  The Men had some tough opposition including Ipswich, Bourne Deeping, Bishop's Stortford, Wapping, Wisbech Town and Sudbury.
The ladies played 5 and won 4, losing to winners and last season's Premier Division team West Herts.
Results as follows:
vs Broadland – 8-1 win
vs Phoenix – 7-1 win
vs Royston – 14-1 win

vs Bishop Stortford – 4-1 win
This set up a deciding game against West Herts.  Unfortunately the time of the game had been changed without the team being advised, so one player was not at the Sportspark and the rest had just eaten, expecting another hour until the game.
West Herts pressed hard from the start and soon found themselves 2 goals up, they scored another before Dragons replied to make the score 3-1 at halftime.  Another two goals for West Herts in the second half gave them the 5-1 win and promotion to the East Premier.

A fantastic performance for the Ladies in their first experience of this tournament. Well done to coach Tom Vaughan, Captain Kate Trelawny Gower and the squad of Freddie Briscoe, Donna Vaughan, Maddie Denman, Lizzie Moulton, Emma Tabrett, Hannah Hardy, Laura Tompson-Wright and Hayley Toleman.