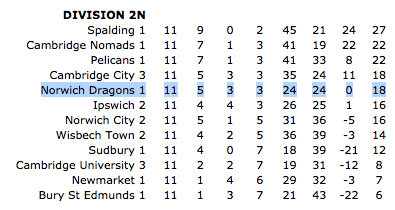 Mens East League Division 2N
Norwich Dragons 1s 0-3  Spalding 1s

Dragons' struggles on the road continued with a battling 3-0 defeat at league leaders Spalding on Saturday.  There was plenty to admire in Dragons' performance, though, as they continue to work to impose their pattern of play and dominated the second half against a strong Spalding side.
Hit by late injury-withdrawals from Charlish and skipper Smith, Lewis Wilkins was handed a seasonal debut and Sloman pushed into midfield.  Dragons started the game well, Turnbull prominent as a very false 9 and Wagstaff a rock at right-back, repeatedly leaving a host of despairing tacklers in what might generously have been termed his wake were it not, as Woodward learnedly observed, that "a standing vessel casts no wash."  The visitors were caught on the break, though, a fine individual goal putting Spalding ahead after a smart turn and an excellent finish, Smith for once caught for pace, and a second followed after a speculative ball came back off the post and despite two scrambling saves was eventually bundled into the net.
A tactical reshuffle at half-time led to an excellent second half for which Dragons were unlucky not to have more to show.  Against disciplined Dragons pressing, Spalding struggled to get their passing game going and Dragons should have got themselves back into the game with a succession of half-chances.  Instead it was the home team who added a third from a short-corner rebound.  A fourth should have followed when Rich Smith was left wringing his hands after kicking the ball off the line.  A brilliant Collinge save, though, inspired Dragons and they penned Spalding back for the final fifteen minutes, belatedly reduced to nine men following an afternoon of poorly-timed challenges.  Sloman was lucky to survive one particularly brutal assault and the courage he showed – "just a flesh-wound, boys" – gave the whole team a lift.
After the match, Wagstaff was full of praise for his team:  "it's a tough place to come up here – I thought Overstall coped with his agrophobia particularly well and they interpret the tackle-area a bit differently in the north so it took us a bit of time to adjust."  When asked about the side's continuing commitment to its youth policy he was in no mood to compromise:  "sure, experience can help when you're on the road and the game would most certainly have unfolded differently had Simmonds and Woodruff been in the side."  He saved a special word of praise for Wilkins:  "he fitted in seamlessly.  It shows the depth we have at the club.  At times it was just like watching a younger Wolfe out there."
—————————————————————————————————————–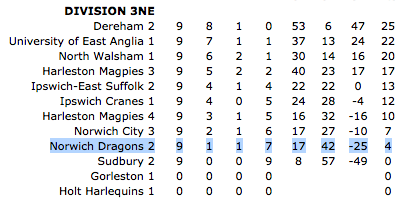 Mens East League Division 3NE
Norwich Dragons 2s 7-0 North Walsham 1s

—————————————————————————————————————–
Men's East Hockey League Division 4NE
Norwich Dragons 3s 1-3 Dereham 3s

—————————————————————————————————————–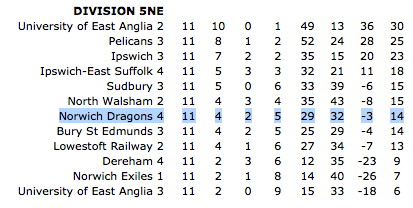 Men's East Hockey League Division 5NE
Norwich Dragons 4s 3:3 North Walsham 2s

—————————————————————————————————————–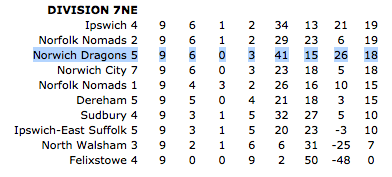 Men's East Hockey League Division 7NE
Norwich Dragons 5s 1-4 Sudbury 4s

Norwich Dragons had an early start and some within the team wondered if one young Dragon's alarm clock would be set. The alarm worked for the young Dragon but unfortunately an old returning Dragon was seen flying towards the pitch at 10.02!
Dragons started with 10 whilst waiting for Latoy to remove his layers. Familiar with most of the new rules Latoy settled into the 'Rock' position. Unfortunately this rock was a little more permeable than the previous version. Early pressure by some fairly handy Sudbury forwards resulted in the 'Aquifer' scoring the first past a wrong footed Key (bless you for kitting up for us otherwise it would have been Crossie) and serving the second up on a plate (with a side order of salad) for a hungry Sudbury forward.
Otherwise Key was fairly comfortable in goal (often to be seen sitting on the back board) as Dragons pushed for a goal. Great midfield work from the 'Hilux' (repaired by mid week ultrasound) Quintana, a returning Hodbell, an alert Packham and a skilful Watson meant surely a goal was due. Chances came from great work down the right with text book drives along the baseline by Watson but these passed by the golden stick contenders of Crossman and Lawrence yet again. Webb was also unrewarded for his efforts except for a few turf burns.
Dragons did have the ball in the against the backboard but it was ruled that the ever poaching Saville had finished this post the whistle going for the short corner. Unfortunately at the break Dragons were 3 down but the normal communist circle of feedback resulted in a confidence to continue despite the impending hail.
The second half saw the game stretch out and breaks were on at both ends. Lawrence finally converted one of numerous short corners with his deceptive trademark drag flick and Dragon's tails were up. The end to end nature resulted in drama at both ends and the defensive work of Franks, Davis (pleased not to have conceded another own goal) and Lee helped clear up numerous breaks.
Unfortunately Dragons were second best to a good natured Sudbury team with a good mixture of youth and experience. Thanks to Freya and Mike for umpiring and Mrs Lee for chatting to Millie while I got the teas out.
This result leaves the 5ths (at the halfway point) perfectly placed 3rd in the league and on plan where Dragons always like to be with our eyes fixed upwards on the 1st and 2nd placed teams.
—————————————————————————————————————–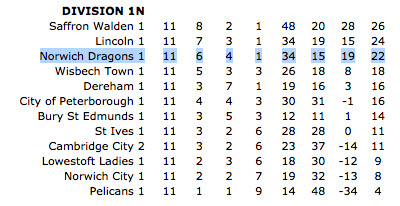 Women's East Hockey League Division 1N 
Norwich Dragons 1s 1:1 Dereham 1s

—————————————————————————————————————–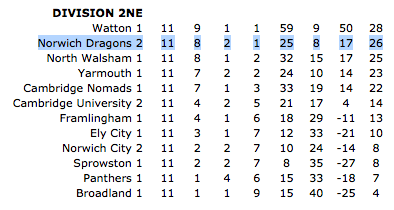 Women's East Hockey League Division 2NE
Norwich Dragons 2s 3:2 Framlingham 1s

Dragons went into this game, knowing it was likely to be a tough encounter against a well organised Framlingham team. The weather took a turn for the worse at the start of the game, however Dragons were keen not to let this dampen their game.
An early spell of pressure saw Dragons take the lead inside 4 minutes, following good work at the top of the D, Charly Burgess found Hannah Hardy in space in the D, who turned and got a shot away, which trickled under the keepers foot and just crossed the line! Dragons continued to press, with Niamh Lowe-Davies working hard on the left, well supported by Ruth Willmott in behind her. A number of short corners were forced, following some good build-up play involving Olivia Thomas, Laura Tompson-Wright and George Stannett. From one of these shorts, Gail Thomas increased her recent prolific goal tally to 5 goals in 4 games, with a well worked short corner routine, which crashed into the backboard.
Whilst Dragons were reasonably dominant in terms of possession, Framlingham always posed a threat on the break, specifically on the left hand side, therefore the back line of Ally Windsor-Waite, Angela Murgatroyd and Ruth Willmott needed to be on their toes to ensure GK Amy Forse was limited to a few touches in the first half.
Before half-time, Dragons consolidated their lead, following another well worked short corner – the old favourite 'SS' was called into action. Olivia Thomas was in the right position to pick-up the square pass, her initial effort was blocked on the line, however she remained composed and slotted away the rebound for her first East League goal.
Dragons talked at half time about continuing their high workrate, but also being aware of Framlingham on the break. Unfortunately Dragons didn't heed this warning and were quickly on the back foot against a team determined to prove they were better than the first half scoreline suggested. Dragons conceded their first goal in a few weeks, following a scramble in the D, which was forced over the line from close range.
Having conceded the first, Dragons became a little anxious in their play and weren't moving the ball as fluently or effectively. They were unfortunate to concede the 2nd, as the impressive Alice Guest, pulled up with a hamstring injury, which Framlingham took advantage of to break through the centre of the field. The Framlingham forward picked up the ball smartly and rounded keeper Amy Forse, who was unfortunate not to make the save. Dragons were forced to re-adjust following the injury and took a little time to settle.
Despite momentum very much being with the away team, Dragons worked their way back into the 2nd half, and had a couple of good opportunities to make the game safe. In the dying moments, Dragons were unfortunate not to add to the scoreline following a great break by Olivia Thomas and Amy Brown, however the ball slid just outside the near post.
A hard test for Dragons, who played some good hockey at times, but were punished for giving away possession too easily in the 2nd half and not having the focus and tenacity to win the ball back, once they have given it away. Hopefully this will be a good lesson for this team, who finish the first half of the season in a strong position, but who will know there are areas they need to improve on.
—————————————————————————————————————–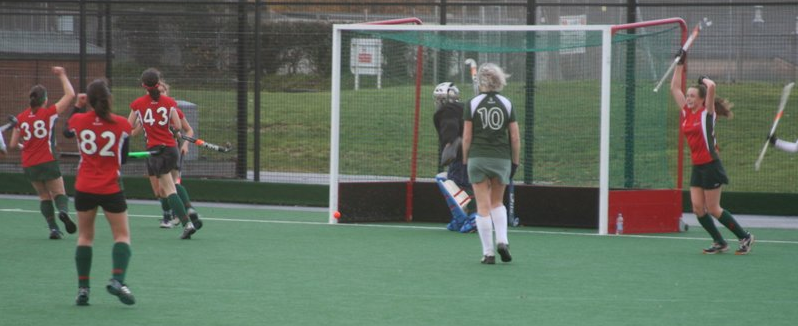 The girls celebrate their goal against Evergreens, more photos from this game here.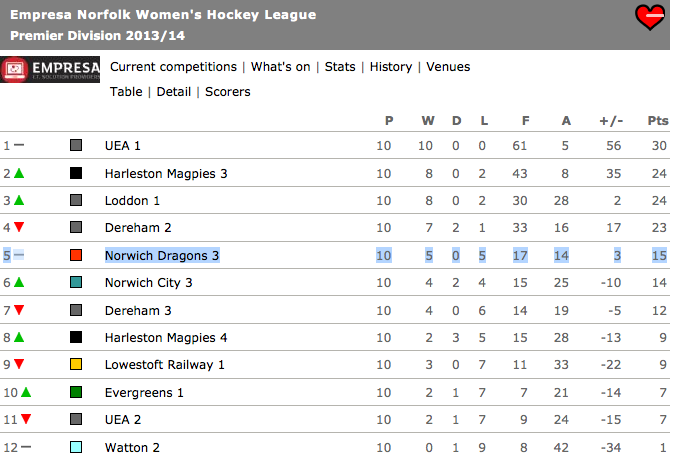 Empresa Norfolk Women's Premier League
Norwich Dragons 3s 1-0 Evergreens 1s

—————————————————————————————————————–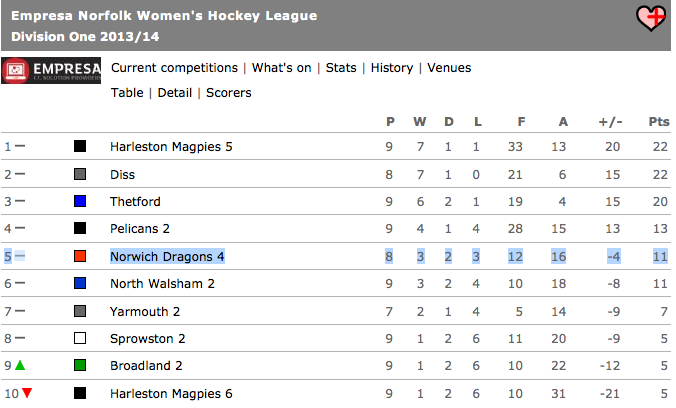 Empresa Norfolk Women's League Division 1
Norwich Dragons 4s

Yarmouth 2 withdrawn from league.
—————————————————————————————————————–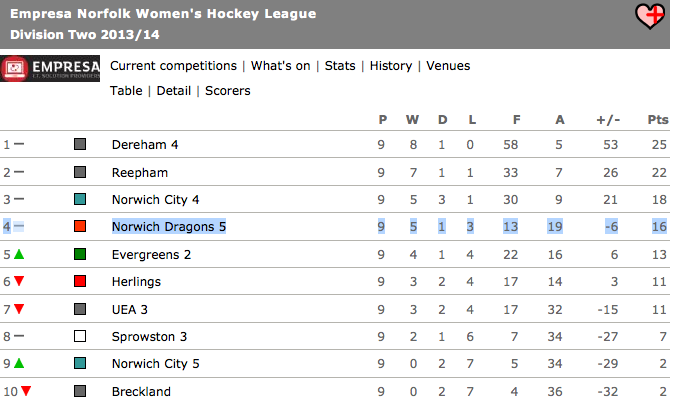 Empresa Norfolk Women's League Division 2
Norwich Dragons 5s 1-0 UEA 3s
Ladies Norwich Dragons 5s secure the win they wanted but it could have been so different in that last minute. The win means they continue in the 4th position in Division 2 which makes them all very happy !
The first half started off well with Dragons winning a short corner which was manoeuvred  into a slick routine. Holly Bailey looked for the space and slipped to Rosie Korn who confidently fired into the back of the goal. The defensive unit were also on fire seeing off any attacks from UEA. Jess Tye Leach, Emma Buxton, Freya Clogan & Sarah Norcliff all deserved a man of the match this week for the way they worked together however it was Sarah who clinched it with her tackles & tenacious manner.
The forwards had some good chances, Katie Buxton also pushed up and made some excellent play. It felt it could have been 3-0, howevertheir captain (Lois McGregor) managed to have a hole in her stick and fluffed finishing two excellent injections from Holly Bailey & Chiara Bond.
UEA were fast and furious and this game turned on its head quickly.  Alice Smith was under pressure and made some smart saves and managed to catch one ball in her arm for which a short was awarded, luckily for Dragons UEA did not pull off a very slick short and it remained 1-0 at half time (despite Rosie Korn's determination that it was 1-1, even double checking with the umpire).
In the second half, UEA came back strong and dominated putting the Dragons defence under more pressure.  They worked well together and every single one of them was amazing. Alice Smith continued to make some very good saves both keeping up her concentrating and coming off her  line when appropriate. Dragons kept turning it round with tenacity from Charlotte Stace and Lorna Travers in midfield but  UEA really wanted this win subbing off their keeper for an additional forward. There may have been an empty goal but Dragons could not get the ball to the D. Until the last minute the Dragons win was under threat and as the whistle blew the final of many shorts against Dragons were awarded. Ever part of the team, Sarah Norcliff shouting encouragement on the sideline the defence saw away the short and off the side of the pitch where the UEA player flew after the ball.
UEA really wanted the win and put us under pressure at every second but Dragons showed their true colours this week and wanted it more.
—————————————————————————————————————–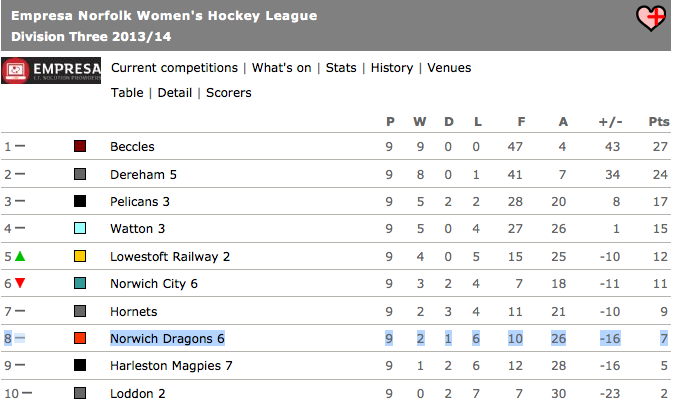 Empresa Norfolk Women's League Division 3
Norwich Dragons 6s 0:2 Watton 3s

Step by step the 6s are gradually pulling themselves into a position where they are playing competitive hockey in this division, and this game represented further improvement on the week before. Using four development players, who seemed to be as fast, energetic and enthusiastic as they were for their own game, Dragons held the visitors goalless in the first half. As usual, it was the Dragons defence who caught the eye –  led by Jasmin Daniels, with Lottie Korn and Katie Franks on either side. These three now have an excellent understanding, and are seldom wrong-footed, either by long balls through the middle or by raids down either side, because they channel and cover.
The biggest improvements came from the mids this week, and with only 11 players, the whole team benefited because all the players train and play 'Dragons hockey' and settled into their positions. The team was warned  that they would all be 'encouraged' to get first to the ball and be far bolder when going in to tackle. Rachael Matthews inspired the right side into an effective flowing unit using Laura Hansell and Sarah Norman. She linked into the middle, where Ciara Willmott really stepped up to the mark and won the player of the match vote for a tenacious performance at the top of the diamond.
It took a little while for the left side to get going, with a tendency to move over and 'clump' in the middle, but in the second half Helen Marsh and Jasmine Mansfield worked the ball down the line and proved to themselves that when they take up good positions, the ball will come and they can 'go'.
In this match we at last succeeded in getting the ball over the attacking 23, and we had our chances. A few more practice at shooting drills – and penalty corners – and we will be there. Watton's goals, well into the second half, were carefully worked to move round the defence. Harriet Williams, another player who has made  progress this season, had another good game in goal and was only beaten by skilful placement.
We are just getting the hang of this game, and now we have a long break! All the 6s must promise to keep fit, play when they can, and not forget any of the hard lessons we have learned in the first half of the season. Let's  remember how much fun we have had when we play at our best and look forward to a fresh start in the New Year.
————————————————————————————————————–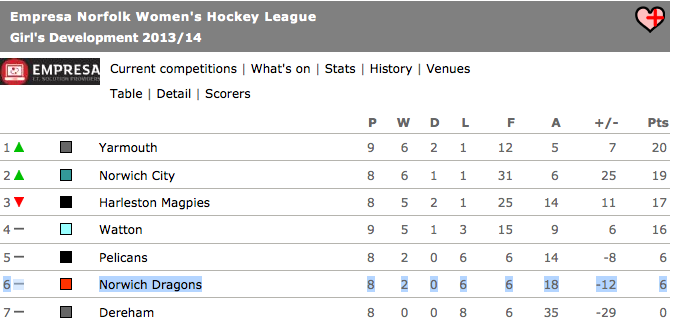 Empresa Norfolk Girls Development League
Norwich Dragons 1:3 Watton
————————————————————————————————————–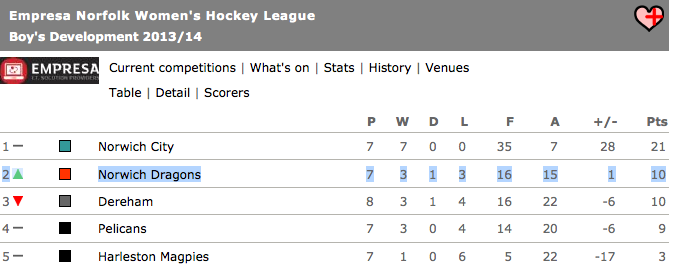 Empresa Norfolk Boys Development League
Norwich Dragons: 4:1 Magpies