Mens East League Division 2 North
City of Peterborough 1:1 Norwich Dragons 1s
Dragons made the long trip to Peterborough looking to pick up their first points on the road this season against a side promoted into their division. Dragons were expecting a tough game against a disciplined side, with Peterborough starting life in Div 2 well, beaten just once in their opening six games, and that by a single goal.
For probably the first time this season Dragons came out the stronger side, passing the ball quickly and opening up gaps in the Peterborough defence. Dragons then suffered a scare when centre-back Ed Smith was struck in the face by an attempted aerial pass. Luckily the ball only grazed Ed and he was able to return to the pitch a few minutes later. After a couple of half chances, Dragons won the first penalty corner of the game. The injection was slightly off, but Rupert Snelling improvised well to crash a shot into the corner of the goal. After initially awarding the goal, the umpire conferred with his colleague and adjudged the shot to have been too high, a correct decision which unfortunately ruled the goal out.
Despite this disappointment, Dragons continued to press Peterborough hard, with both Jason Wolfe and Alex Browne having half chances that they couldn't quite convert. Dragons did take the lead after some good work down the right by Lewis Wilkins, who drove forward and fired in a cross towards Matt Knights in the D. Knights met it with a first time sweep into the corner of the goal.
Dragons continued to press through the rest of the half, but couldn't find any further breakthroughs. The only scare of the half came when Peterborough broke in numbers and eliminated Robbie Whiting in the Dragons goal, only to find Dragons Captain Danny Knights covering to block the shot.
Half-time Peterborough 0-1 Dragons
Dragons half-time team talk focused on keeping up the level of play from the first 20 minutes of the game and trying to be a bit more incisive in the final third. Peterborough, however, had other ideas and stepped their game up after the break, gaining more possession.
Following a broken down Dragons attack, Peterborough broke forwards in numbers and found themselves with an overload on the Dragons left hand side. A couple of quick passes eliminated the Dragons defence leaving Peterborough with a two on one against Whiting, who was left with no chance as one forward slipped the ball to his colleague for a simple finish.
Despite Peterborough's increased possession, they struggled to create chances, with the Dragons defence shutting down the Peterborough forward line, and continuing to launch attacks of their own. Despite this, Dragons were unable to create clear chances of their own, Sam Parmenter found his way through a couple of tackles but a Peterborough defender made a crucial last second tackle before he could pull the trigger. Alex Browne also went close, but could only knock Wolfe's cross straight at the keeper as he stretched to make contact.
As Dragons pushed for the winner they left themselves open at the back and were indebted to Whiting who made himself big to turn away two late Peterborough strikes that could have made for a different outcome.
Dragons did win a late penalty corner, but a miss-trap forced Snelling onto his reverse stick and he was unable to get a clean connection on his effort.
Full Time – Peterborough 1-1 Dragons
Dragons came away pleased to have picked up their first away point, but on a weekend of draws in their division, were disappointed not to have taken the 3 points their first half performance should have resulted in.
Next week Dragons welcome local rivals Harleston Magpies to The Den, who will be looking to move up the table following their first win of the season this weekend.
Player of the Match Dave Sloman
—————————————————————————————————————–
Mens East League Division 4 North East
Norwich Dragons 2s 1:0 Sudbury 3s
The Dragon 2XI came out strong against Sudbury at the den. Maintaining high pressure and camping high up in Sudbury's territory. Good movement and passing proving not good enough to break down the Sudbury defence. Debut were handed to youngsters Will Ives and Henry Laming who very much held there own playing great hockey and showing a clean pair of heels to get down the byline before crossing fantastic balls. The match goalless heading into the break.
The second half witnessed more dragon pressure. Adam Sayer providing a delightful display of passing and ball retention. After a couple of surges from Sudbury the dragons effort finally paid off with a quick midfield movement leaving Dan Cheesman to dispatch the ball low into the goal. The dragons held on for the rest of the half to victory. Final score 1-0, joint players of the match Henry Laming, Adam Sayer and Cley Hamilton.
—————————————————————————————————————–
East Men's Hockey League Division 5NE
Bury St Edmunds 3s 0:0 Norwich Dragons 3s
This match was played in the first Autumn weather of the season with the teams have to play in heavy rain and strong winds and the sky becoming so grey and dark that floodlights had to be turned on at 11:30 when the second half started!
Despite these difficult conditions both teams played good passing hockey. Dragons made the brighter start playing strongly down their right flank with Jon Price playing John Ives the ball for him to cross from the base-line. From one of these attacks the Bury keeper had to make two great reflex saves to prevent Dragons taking the lead. Bury started to come into the match and Dragons keeper Sam Clark made a good save from a drag flick from a Bury short corner. As the first half progressed the match became a midfield battle with the Dragons midfielders Jon Goodson, George Walker and Rich Phillis matching their opposite numbers.
In the second half Bury gained the ascendency but were prevented from scoring by solid defending by Peter Davison and man of the match Jon Price who was also always providing an outlet to start attacks from defence. When Bury did break through Sam Clark was smartly off his line to snuff out the danger. Dragons were making a few openings with fast breaks but neither team could find the net. The match ended in a draw which was a fair result for both teams in a match which was played in very good spirits by all the players.
This was the Dragons 3rd team's first real challenge in this Division, which they passed well.
—————————————————————————————————————–
East Men's Hockey League Division 6 North East
Norwich Dragons 4s 2:2 Norwich Exiles 1s
Given their league position, Dragons 4s expected a tough game against Norwich Exiles, and this was certainly the case.
The initial part of the game belonged to Exiles, with Dragons playing as though nervous of their opposition, with unusually poor passing and tackling. It was a ball not stopped by the defence that gave Exile's Stuart Hall a chance, which he took extremely well. This gave Dragons the wakeup call they needed as they started to settle on the ball. Ray Hansell at centre back had a superb game and from here on allowed nothing to pass.
Dragons began to move the ball through the midfield and Rob Jenkins started to get the ball in behind the Exiles defence. Exiles conceded a short corner which Andy Key injected to Mike Banham who's usual accurate strike went straight past the keeper to level the game at 1 -1 for half time.
The second half saw Exiles' Stuart Hall bag his second to put the visitors 2 -1 ahead, slightly against the run of play. Dragons continued to penetrate behind the Exiles defence and this pressure eventually paid off when an Exiles defender did not bring the ball under control quickly enough, allowing Dave Thornton to pounce, he rounded the keeper and popped it into the net. The score remained at 2 – 2 until the final whistle. Overall a good performance from the team and a good result against an experienced Exiles side.
—————————————————————————————————————–

East Women's Hockey League Division 2 North East
Norwich Dragons 1s 3:3 Norwich City 1s
This local derby didn't fail to disappoint the neutrals. With both sides having been relegated from Division 1 last year and going into this game unbeaten it was always going to be a very candid and tight game. Although, in the main the teams shared the possession in the first half, it was City that edged it but they failed to penetrate the Norwich Dragons defence. The Dragons were not quite on their game today, their first touch was sloppy but they maintained their discipline by keeping their shape and defended solidly. The Dragons were patient and waited their opportunity. This came mid way through the first half. An excellent passage of play led to a goal; the City keeper failing to clear the ball from the area but some good improvisation by Nat BEAL gave the Dragons the lead. City responded just before half time; a short corner strike from Emily ANTHONY deflected into the net.
After their half time team talk the Dragons came out fighting working hard and putting the city players under pressure. This forced an error by one of the defenders; a free hit intercepted by Marie JAMES who found Laura SHREEVE in the circle who struck the ball sweetly to make it 2-1. With 15 minutes to go the Dragons looked comfortable and in control of the game and looked the more likely to score but City, who did not stop working hard, managed to skip past two Dragons defenders and win a short corner which they were clinical with making it 2-2. With Dragons pushing forwards to find a winner, City broke again and were awarded a penalty corner which again Emily ANTHONY smartly finished to get complete her hat-trick. To the Dragons credit they always had belief in their ability and showed great character to bring the game back to 3-3. Marie JAMES finding SHREEVE in space again who drove the ball to the back line finding Claire BAKER with a pin-point cross which BAKER connected with, leaving the City keeper no chance.
This wasn't the best performance from the Dragons although in the second half they played better and looked the likely winners but City worked harder and definitely seemed more determined and 'up for this game'. In the end a draw was probably a fair result.
—————————————————————————————————————–

East Women's Hockey League Division 2 North East
Broadland 1s 0:6 Norwich Dragons 2s
With the rain and hail falling relentlessly, the Taverham pitch was completely saturated, however a glimmer of blue sky on the horizon, meant that sensibly the decision was made to delay the start for half an hour.
Dragons were keen to get going and started brightly, earning an early short corner, which Debs Smith aimed towards the far post, for Niamh Lowe-Davies to deflect the ball past the keeper. Having got the early goal, Dragons continued to press hard, with Player of the Match Laura Bailey and Saskia Delacave playing some lovely hockey in attack.
Broadland won a series of short corners in quick succession, these were expertly dealt with, particularly by Maddie Denman who was out quickly to break down play and Freddie Briscoe in goal, who dominated the line with some strong kicking.
Dragons made their extra work rate and desire to win this game count, with further goals before half time, two from Hannah Hardy and two from Kerri White, who made some excellent runs in from the left, picking up the ball pulled back to her on the P spot and confidently slotting past the Broadland keeper.
The second half saw the sun shine, and despite playing some good hockey, Dragons found themselves under a bit more pressure from Broadland, however the returning Lizzie Moulton marshalled the defence superbly and as always Maddie Denman was outstanding at left-back, both being well supported by Ally Windsor-Waite.
With Debs Smith, Ruth Willmott and Louise Bunning all strong in midfield, Dragons finally got their sixth following a run down the right by Hannah Hardy, pulling the ball back to Debs Smith, to neatly tuck inside the near post.
A really strong performance by a Dragons team who showed the sort of desire and commitment which will stand them in great stead in this League.
—————————————————————————————————————–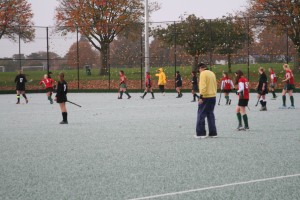 Marshall Motor Group Norfolk Women's League Division 1
Norwich Dragons 3s 2:0 Sprowston 2s
Norwich Dragons ladies threes started off strongly during this home game against Sprowston 2s. Some lovely passing and excellent lateral running from forwards and midfielders presented several opportunities for Dragons despite the hail. Sprowston had a strong defence who continued to keep Dragons out the goal. Sprowston had several breaks in play and Dragons defenders did a great job in clearing the ball and switching play back in favour of Dragons so the game felt very "end to end".
The second half saw Dragons really fall into the lovely hockey which has kept them at the top of the table so far this season. Lynne Price and Olivia Thomas ran tirelessly in midfield creating opportunities. A lovely cross from Caroline Wolfe found Amy Brown's stick and Dragons had their first goal.
Second goal for Dragons resulted from some excellent overlapping on the right by Olivia Thomas and Amelia Dawson and was struck beautifully into the back of the goal by Lynne Price. Final score Dragons 2 – Sprowston 0
The Dragons' Player of the Match was Amy Brown.
Photos from first 20 minutes here
—————————————————————————————————————–
Marshall Motor Group Norfolk Women's League Division 2
Lowestoft Railway 2s P:P Norwich Dragons 4s
Due to hail on the hockey pitch first thing this morning, Lowestoft called off the game.
—————————————————————————————————————–
Marshall Motor Group Norfolk Women's League Division 2
Norwich Dragons 5s 0:5 Sprowston 3s
There is currently a fragility about the 5s play as they try to accommodate the 27 or so players in their squad, build up their core skills and come to terms with using the 'diamond' which, once they get it, will strengthen their game.
Unfortunately for the 5s, the Sprowston players who had already played at a higher level were still full of running and power, and gave them an object lesson in how to hit the ball and how to get to the ball first. The 5s kept plugging away, but all too often they wilted under the pressure and passes were either aimless or not gathered up. When they did get the ball to do the work, keep their composure and move laterally, they showed glimpses of the side they can be. Goalkeeper Laura Tuck was player of the match for a very spirited performance which kept the score respectable.
Lizzy McDonnell, Beth Elgood, Rhianna Belham and Cath Power all showed improving form. The 5s will not be discouraged, and will go back to training knowing what they have to do to get back on track, and will carry more of it forward into their game next week.
—————————————————————————————————————–
Marshall Motor Group Norfolk Boys Development League
No fixture
—————————————————————————————————————–
Marshall Motor Group Norfolk Girls Development League
No fixture
—————————————————————————————————————–
The Hoof table is as follows
Position Team Hoof Average
1 Ladies 4s 5.00
2 Ladies 3s 4.25
3 Ladies 1s 4.22
4 Mens 2s 3.50
5 Mens 3s 3.43
6 Ladies 2s 2.50
7 Mens 4s 2.25
7 Mens 1s 2.25
9 Ladies 5s 1.63
10 Boys Development 1.25
11 Girls Development 1.00