Mens East League Division 2 North
Norwich Dragons 1s 2: 2 Cambridge City 3
It was an early start for Dragons this week as they travelled to Cambridge for a 10.30 start against the University. Despite the frost not clearing from the pitch it played well in the warmup and it was agreed to go ahead with the game. Dragons enjoyed the best of the early exchanges, passing the ball well and creating some good opportunities in attack. Steve Woodward opened the scoring for Dragons, following up on a partially saved shot with a reverse sweep into the net. Cambridge started to find some form as the half moved on, winning a couple of penalty corners. From the second of these they won a penalty stroke: Piers Gordon-Brown's great save on the line rolling onto his foot. The Cambridge player calmly converted the stroke, making the score 1-1. Dragons continued to create opportunities and were unlucky when their one penalty corner of the game hit a Cambridge player foot on the line to see a long corner awarded. The score at half-time was 1-1.
The start of the second half saw Cambridge push more men forward and they started to enjoy more possession through the midfield as they created greater movement across the pitch. However, they were not able to create many scoring opportunities and Dragons always looked dangerous on the break. Dragons found themselves undone when they turned the ball over from their own 16 yard hit, the Cambridge attack quickly reacting to score easily (2-1 Dragons). However, Dragons kept playing, searching for the deserved equaliser. Of a number of chances Jason Wolfe came closest, calmly shooting past the University keeper to see his shot come back off the post. Finally Matt Knights scored for Dragons, forcing the ball over the line from close distance.
Final score 2-2.
Dragons man of the match was Ed Smith
—————————————————————————————————————–
Mens East League Division 4 North East
Norwich Dragons 2s 1:0 Bury St Edmunds 2s
Dragons faced Bury at home, and after their performance the previous week, were hoping to carry on the team spirit and get the win.
Dragons knew a win against a 3rd placed Bury, would extend their 2nd place gap.
The game started fast with both teams showing a desire to get a goal early on.  Dragons displayed some good passing, with the defence linking up well with the midfield, who in turn moved it on to the forwards.  This certainly gave Bury cause for concern.  Once again, star performances in defence were fending off any Bury attacks.  A strong show by Man of Match Rich Phillis made sure that Bury would find it difficult attacking down their right.
Having won a short corner, Dragons took a 1-0 lead through a great shot from Andy Kelsall, which took a deflection and sent the ball slamming into the backboard.  Bury renewed their attacks before half time, but couldn't get through the Dragon defence enough to get off a shot.
The half time team talk focussed on Dragons continuing to show determination to keep the passing and movement up.
The second half started fast again as Bury were fighting to draw even.  Mark Flatman, Adam Sayer and Rob Panter continually worked hard in the centre of the pitch and put some great balls through to the forwards.  Dragons were unlucky not to get another goal from a Dan Cheesman shot which hit the post.
Henry Laming once again had a great game and was certainly worrying the Bury defence whenever he was on the ball.  Dragons were unlucky not to get on the end of a few Henry Laming reverse-stick crosses.
Captain Cley Hamilton provided inspiration in the last 10 minutes of the half, spurring Dragons on to keep up the attack and to keep pressing Bury when they had the ball.
Despite their determination, Dragons couldn't extend their lead, and the game ended 1-0 to Dragons.  A well-earned 3 points, which takes the gap between 2nd and 3rd to 11 points.
Notable performances by Andy Hipper, Andy Kelsall and Rich Phillis.
—————————————————————————————————————–
East Men's Hockey League Division 5NE
Norwich Dragons 3s 3:1 Norwich City 5s
The Dragons Mens 3rd team travelled across Norwich as Division leaders for this local derby which was given added spice as City were their closest challengers in second place. The late afternoon start coincided with rain showers and a slightly greasy pitch. This did not affect Dragons who made a positive start with Chris Wilkinson and Jon Goodson prominent in centre midfield and John Ives making strong runs down the right and good crosses into the D. This early pressure was converted into a goal lead when Dragons man of the match Adrian Kemp scored.
An injury to a Dragons player caused rearrangement and the match became tempestuous and Dragons were reduced to 10 players when one of their players was sent to the sin-bin. Despite this player disadvantage Dragons coped with it well thanks to strong defending by the fullbacks Ben Dures and Henry Eades and sweeper Peter Davison. City finally pulled an equaliser back even though Dragons were back to full strength when a short corner strike from Guy Marchant hit the astro carpet and bounced up and over the Dragons keeper's dive and the half finished level.
Dragons had not performed to their peak in this half but an excellent half-time team talk calmly delivered by Peter Davison inspired the team to go out for the second half to raise their levels. The youth and pace of Barney Price and Will Ives started to trouble the City defence and help create chances. Dragons scored the next crucial goal to regain the lead when Gary Burgess showed great patience when he had the ball in the City D to wait for the perfect shooting opportunity to fire a drilled reverse stick shot into the corner of the goal. Though City tried to come back David Pentin in central defence made some crucial tackles and if the defence was breached Dragons keeper Robbie Bell was there to make saves to deny City's forwards.
Crucially midway through the second half City had a player permanently dismissed and the Dragons took advantage by using their passing style to stretch the 10 man City team. A crucial third goal was scored to kill the match off when a cross to the back post was swept into the goal by Matt Jenkins and Dragons were able to play the match out safely to achieve a great victory.
————————————————————————————————————–
East Men's Hockey League Division 6 North East
Norwich Dragons 4s 0:3 Norwich City 6
After a run of victories and with a strong side, confidence was high for Dragons' to continue their good form and faced a very experienced Norwich City side, who had also been on a good run in recent matches.
Unfortunately, Dragons started poorly on this occasion after doing the opposite in recent weeks, the formation and style of play that City had was causing numerous problems which Dragons could not match.  Within a matter of minutes City had won a short corner which was converted, leaving Dragons on the back foot.  A few key players for City were causing the problems and it didn't get any better for Dragons as through simple errors allowed City to have a further 3 short corners and they duly converted another.
Dragons could not get foot hold in the game as City then went 3-0 up, all within 15 minutes leaving a lot of work to do.  The man-marking which had worked most of the season for Dragons just didn't have the same effect, but more stability within the Dragons team started to show as they went on creating some good passing moves and threating the City goal.  The score remained 3-0 at half time.
The second half saw Dragons start to take a bit more control of the game and create chances, on any other day, the chances might have fallen just that bit more in favour of Dragons.  The teams performance in the second half was much improved and City only had a few minor efforts on the Dragons goal, Dragons really deserved something to show for from the game, but it wasn't to be and failed to score for the first time this season.  In summary, the game was lost after the first 10 minutes and Dragons must work hard next week to ensure this isn't repeated.
Dragons will be looking for an immediate response against tough opposition next week in Ipswich Cranes and will look at Saturdays result as a 'one-off'.
Man of the Match was Dave Thornton with his tireless running up front and dropping back into midfield when required.
—————————————————————————————————————–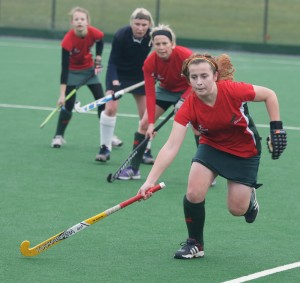 East Women's Hockey League Division 2 North East
Norwich Dragons 1s 1:0 Yarmouth
Photos here

In this top of the table clash with Great Yarmouth Norwich Dragons Ladies 1st team were delighted to welcome two young new comers to the squad who thoroughly deserved their debuts; the goalkeeper Freddie BRISCOE and defender Maddie DENMAN who both hugely contributed to this excellent team performance.
The Dragons played some excellent hockey from the start of the game moving the ball freely and pushing Great Yarmouth deep in their own half for long periods of the game. It was clear that Yarmouth came to defend and hoped to hit the Dragons on the counter attack. To their credit they were well organised and stuck to their game plan defending very well; in particular defender Clare PATTERSON and the goalkeeper Marie-Laure WARNER who both had outstanding games and helped keep the Dragons at bay.
The Dragons had wave after wave of attacks resulting in attempts on goal and a number of short corners but the Great Yarmouth defence held strong. As the game grew deep into the second half, although the Dragons tried to continue to be patient in their play and remain optimistic that they would get a break through naturally as the minutes passed frustration started to creep in and you could also really sense it from the spectators that were supporting the home team, everyone willing the ball into the Yarmouth goal.
With two minutes left the Dragons threw everything at the Yarmouth defence who continued to clear their defensive lines. In the last second of the match the final clearance by the Yarmouth defence fell to Sarah BORRETT, the Dragons right back who had also joined the attack; BORRETT delivered a pin point cross to Dragons striker Clare BAKER who received the ball and showed great composure as she skillfully guided it past WARNER. This was a jubilant moment for not just the players but also the spectators who the team was greatly appreciative of their support.
This was an exciting well fought battle from both teams. The Dragons displayed some excellent hockey maintaining their unbeaten record and this win has put them top of the league table. Maddie DENMAN was faultless in her first outing for the Ladies first team showing amazing composure on the ball and deservedly was awarded the player of the match.
—————————————————————————————————————–
East Women's Hockey League Division 2 North East
Norwich Dragons 2s P:P  Sprowston 1s
—————————————————————————————————————–
Marshall Motor Group Norfolk Women's League Division 1
Norwich Dragons 3s 4:3 UEA 2s
This week saw Dragons 3s playing UEA 2s; first and second in the division respectively.  So all was set to be an exciting contest and the supporters for both sides were not disappointed.
In the first 5 minutes, UEA showed just how challenging they would be for the Dragons' defence.  However against the run of play Dragons' gained a penalty corner.  Caroline Wolfe struck from the top of the 'D', which the UEA keeper saved, only for Caroline to follow up the rebound with an equally hard shot.  This time clearing the keeper to put Dragons into an early lead.
This seemed to fire Dragons up, who played some superb possession hockey dominating the play.  Very quickly Caroline scored again with a strike just wide of the goal which took a deflection from a UEA defender, lifting the ball clean into the back of the net.  Amy Brown then added a third goal.  To be followed by Pollyanna Watson as Dragons forwards and midfielders pressurised the UEA goal relentlessly chasing down rebounds.
Despite domination of this half by Dragons, UEA never looked defeated, attacking at pace and narrowly missing an opportunity right in front of Dragons' goal.  So Dragons' could not take a lead of 4 nil at half time for granted.
Sure enough UEA came back fighting to dominate the second half.  It wasn't long before a cross from UEA's Lou was intercepted by a Dragons' defender only for a deflection to result in UEA's first goal.  This added further determination to UEA who came at Dragons with wave after wave of pressure.  This exposed holes in Dragons' ability to defend as a team and UEA players were left unmarked at the top of the 'D', stretching Dragons' defence.  Inevitable UEA scored again, when Jess Millington converted Amy Corfield's cross.
Dragons' inexperience started to show and when they did clear the ball, possession was soon lost through panic.  UEA were pushed on by their enthusiastic supporters and Emily Sturman followed up a rebound of her own shot to bring UEA up to 3-4 and a win for Dragons' looking even less certain.
There were seven minutes remaining on the clock and although Dragons appeared to lose confidence as they felt their lead slipping away, they continued to fight hard and benefitted from encouragement from their own supporters.  Dragons managed to put two very promising attacks together and by taking the game into the UEA half, Dragons bought enough time to hold onto the win.
This was by far the most challenging match Dragons have faced all season, yet the most thrilling.  UEA were unable to take 3 points off Dragons, but they were able to put an end to Dragons' clean sheet.  Dragons' player of the match votes were spread across the team but the winner was Caroline Wolfe, whose goals gave Dragons the early crucial lead they clung onto.
—————————————————————————————————————–
Marshall Motor Group Norfolk Women's League Division 2
Norwich Dragons 4s 1:3 Herlings
The team's confidence was dented today, with our first defeat of the season. We all agreed we were beaten by a team who stuck to their own game and just out played us.
We were an inexperienced team, with a few of the whiley old heads missing from the squad today.
Annika Richardson was a big miss. When our leading scorer slipped on a hard pitch in the opening 5 minutes and sustained a nasty gash to her lip, we lost one of our most attacking players.
There were some positive points we can take from today. Marcy Windsor-Waite (man of the match) made some lovely runs on the right, and with her pace managed to avoid a lot of the hard tackles.
Holly Francis worked  hard, and  had a couple of near misses close to the goal, which on another day I am sure would have gone in and we would have had a very different result. Some days they go in and some days they don't.
Felicia Roberts was solid as bottom of the diamond, as was able to intercept some of the hard hits coming out of their half of the pitch.
Debbie Santa Clara as always kept on running, encouraging the others as she went.
Freya Clogan, Megan Harvey and Laura Bruce  tried hard against a very strong team.
We have areas to work on but intend to be back to our winning ways next week.
—————————————————————————————————————–
Marshall Motor Group Norfolk Women's League Division 2
Norwich Dragons 5s 0:2 Norwich City 4s
This was a fast, open end-to-end game between two evenly-matched teams, with the difference being that Dragons were unable to convert their runs into shots on target – and City scored one goasl in each half from slightly more chances. From the defence to the forwards, Dragons played their best hockey of the season so far. Giselle Nieuwoudt blocked a dozen or so shots and initiated attacks from her clearances.
Towards the end of the match, Dragons looked at their most dangerous when Abi Cowe and Emma Buxton pushed up from defence and gave the 5s an attacking overload. Abi, Emma, Beth Elgood and Cath Power proved themselves more than capable of getting back and putting their tackles in. Switching Katie Buxton from right mid to bottom of the diamond gave her a chance to show what an accomplished player she has become; Katie is a fearless tackler and a good distributor of the ball. Chiara Bond and Sophie Farrow, who both have pace to burn, flourished on the right and left of midfield. Chiara has improved her ball carrying and Sophie has excellent positional sense. Once again Laura Goodbun proved the strongest driving force in the 5s, and sent in some excellent crosses from the right which unfortunately her team matches could just not pick up, Lisa Harwood and Lois McGregor showed they had benefited from Taff's shooting masterclass in training earlier in the week and on another day they might just have got a touch or two on target, but in fairness City were not flattered by the scoreline having created more chances – and they may well have been disappointed that the Dragons defence coped so well with the City short corners.
Dragons' player of the match was Rosie Korn who worked tirelessly at the top of the diamond.
—————————————————————————————————————–
Marshall Motor Group Norfolk Boys Development League
Norwich Dragons 3:2 Dereham
We started off well with some good play but Dereham's defence was equal to it.  A lapse of concentration lead to a well taken Dereham goal. Ben Nkrumah,on his debut, made some excellent saves to keep them to a one goal advantage. Unfortunately we couldn't hold down a swift counter-attack and conceded another goal just before halftime.  At halftime the score was 0-2.
We put the pressure on in the second half with good runs from our midfield and wingers, Rohan Kaushal and Harry Cullens. In a goal mouth scramble Harry Cullens coolly slotted the ball into the goal. With Ed Murphy and Andy Carver not letting anything through the midfield were able to press on. Tom Byrne deflected a cross into the goal to make the score 2-2.  Late into the second half Pedro Goss scored the winner from close range, the score now 3-2. The team showed great spirit and character to come back and win the match, everyone should be commended for their effort.
Man of the match: Mark Savill for his utter skill and determination.
Thanks to Adam sayer and Mark Flatman for their assistance.
—————————————————————————————————————–
Marshall Motor Group Norfolk Girls Development League
No Fixture
—————————————————————————————————————–
The hoof table this week is as follows
| | | |
| --- | --- | --- |
| Position | Team | Hoof Average |
| 1 | Ladies 3s | 4.58 |
| 2 | Ladies 4s | 4.36 |
| 3 | Ladies 1s | 4.33 |
| 4 | Mens 2s | 3.75 |
| 5 | Mens 3s | 3.73 |
| 6 | Mens 4s | 2.50 |
| 7 | Ladies 2s | 2.18 |
| 8 | Ladies 5s | 2.08 |
| 9 | Mens 1s | 2.00 |
| 10 | Girls Development | 1.50 |
| 10 | Boys Development | 1.50 |