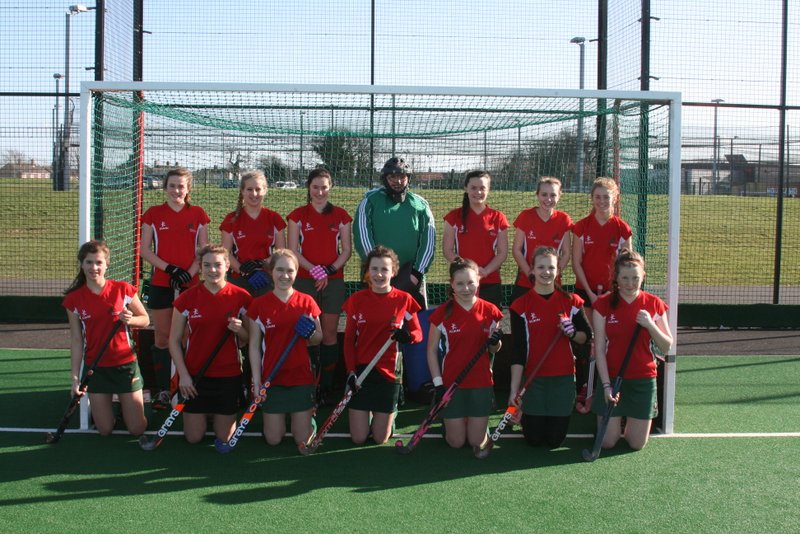 England U16 Girls Championships
Norwich Dragons 4 Bury St Edmunds 4
In a thrilling match at the Den, Dragons drew 4-4 with Bury St Edmunds. Because of the previous results in the pool matches, Dragons had to win to progress and so went out of the competition with by the narrowest of margins – having lost to Ipswich (1-2), but beating Harleston Magpies (4-0) and Norwich City (5-0).
With conditions almost perfect for hockey (unbelievably the brightness of the sun being a bit of a nuisance) both sides quickly settled. Dragons were neat, fast and accurate, and at times their stick skills and their ability to find each other were nothing short of brilliant. Bury, in contrast, were very strong and direct on the ball, with powerful hitting skills.
In the opening minutes, Dragons confidently worked the ball out from the back, with Laura Bruce sweeping to Marcy Windsor-Waite who pushed laterally to Olivia Thomas who then went on one of her curving runs along the base line before finding Amy Brown whose shot was blocked. This move illustrated Dragons' preferred pattern of play, working the ball out wide from the back and switching the ball laterally in flowing, controlled passes.
Bury were quick on the counter, preferring the direct route, and forced a penalty corner. From the second shot goalkeeper Alice Smith made the save of the match to steer a high shot away with stick and glove. Bury attacked again, and in the 8th minute Ellie Sarson was not picked up at the back of the circle and the ball flew in.
Dragons began to dominate, and in an exceptional period of play, Olivia and Amy combined to send Sophie Farrow through, and her reverse sweep just failed. Then Amy intercepted and sent Aoife Lowe-Davies on a run, and only just missed with the return. Amy got her reward and the equaliser in the 11th minute when she clinically finished a reverse pass from Marcy.
The good spell continued and Dragons went ahead four minutes later, when Aoife went on another strong run down the left. Anja Finnegan had got ahead and neatly slotted the ball passed the keeper. At this stage, with Ruth Willmott, Maddie Denman and Laura Bruce stopping everything near the circle, Dragons were proving resilient, but Bury looked dangerous if they could break. When their equaliser came, it was an exceptional goal. Maria Andrews worked herself some space on her reverse stick side and rocketed the ball into the roof of the net from the back of the circle.
Many a side would have wilted, but Dragons showed their spirit. Niamh Lowe-Davies tackled, harried and ran down the left. Pollyanna Watson played solidly at the bottom of the diamond, and Sophie Thomas was a rock wherever she was asked to play. Coach Pete Thomas used his subs innovatively, and rang the changes with Laura Goodbun, Sophie Farrow, Anja, Aoife and Amy passing and weaving and creating chances which the Bury defence repelled.
Just at the right psychological moment, 40 seconds from half time, Dragons went 3-2 up. Laura Goodbun ran powerfully through the middle, passed to Niamh whose well-weighted pass found Anja once again perfectly positioned to beat the keeper.
Dragons lost some of their sharpness at the start of the second half, and although they managed  to work some penalty corners, they lacked a clinical finish. They were disappointed when Ruth swept the ball home only for the goal to be disallowed for a foot. Bury, in contrast, looked dangerous when they were able to power through and scored twice at 10 minute intervals to lead 4-3. Their fourth goal was a well taken drag flick from a penalty corner by Maria Andrews.
The hockey became a little ragged as both sides gave everything they had to assert their superiority, and lost a little composure. Urged on by their supporters, Dragons gave themselves every chance when Amy scored their equaliser. She had been at her predatory best,cutting out balls and surging forward, and finished another move in which nearly every Dragon had a pass.
With 7 minutes to go, Dragons stayed tight at the back, and the moves flowed from Ruth, Sophie T, Laura B, Maddie (voted player of the match by her team) and Pollyanna. But hard as Niamh, Olivia, Aoife and Marcy ran, they could not get through a packed Bury defence, and the match finished 4-4.
This is a squad which is already a pleasure to watch for their fast, flowing, creative hockey and their strong team spirit.
More photos here.