Mens East League Division 2 North
Norwich Dragons 1s 4:4 Cambridge City 3s

After a couple of reverses on the road in previous weeks Dragons wanted to get back to winning ways at the Dragons' Den. Cambridge had the better of the early exchanges, though Dragons were playing at a better pace and intensity than previous weeks. Cambridge scored first, after a quickly taken free hit, overloading the Dragons defence. Dragons were soon back into the game when Matt Knights followed up a penalty corner with a low reverse stick sweep after picking up the rebound (1-1). Dragons scored a second through Ed Smith, picking up the rebound from a penalty corner and slapping home from close range. Half-time 2-1 Dragons.
The game continued to be well matched in the second half. Cambridge scored first, shooting home from close range (2-2). Dragons restored their lead through Matt Knights who, on receiving a long pass calmly rounded the keeper and scored into an open net (3-2 Dragons). Though Dragons cleared one Cambridge penalty corner off the line, they were not able to keep out a well executed drag-flick which went high between the keeper and post man (3-3). With the game looking to be heading for a draw Cambridge scored their 4th with 5 minutes to go: their initial shot was well saved by Robbie Whiting in goal, but Cambridge were first to the rebound and flicked the ball into the roof of the Dragons net (4-3). However, Dragons rallied strongly and after good approach play down the left Matt Knights completed his hat trick, volleying the ball into the Cambridge net at the far post. Final score 4-4.
Dragons man of the match was Matt Knights.
—————————————————————————————————————–

Mens East League Division 4 North East
Watton 1s 1:3 Norwich Dragons 2s
Norwich Dragons Men's 2s started their game with a flurry against a strong Watton side. Having all of the possession they played fast attacking hockey and were bearing down on goal for the majority of the first half.  After a series of short corners Dragons finally struck when Dan Cheesman fired home a delightful reverse stick undercut. The second came shortly after an Andy Kelsall shot from the top of the D caught a deflection off an opponent. The high work rate pushing forward cost the Dragons, as a goal was conceded late in the first half, Watton won a couple of scrappy free hits, before the ball was bundled in to make it 2-1 at the break.
The Dragons came out flying in the second half buoyed by the team talk. Managing to contain yet more possession and fast attacking that proved too much for Watton as Ricky Powley fired in from close range to seal the win. Final score 3-1 with man of the match Mark Flatman.
—————————————————————————————————————–

East Men's Hockey League Division 5NE
Norwich Dragons 3s 2:1 Lowestoft Railway 2s
On a bright and early Saturday morning Lowestoft Railway faced a slightly altered Dragons team. With the majority of the possession in the first half Dragons saw their early domination of possession lead to a number of chances. Excellent link up play between young prospects Will Ives and Ben Campbell lead to a couple of bet tricky chances flashing past the Railway goal.
In the second half Dragons continued to play their usual passing game and Railway came out of the blocks quickly too, with particularly good play from their younger players. This resulted in the opening goal of the game after a goo break down the left flank.
Not to be deterred, the Dragons persisted with their game plan, creating many more Chances. The dogged persistence of Will Kirby resulted in the equaliser for Dragons, scored by Ben Campbell with a cool finish under pressure from a defender and he railway keeper. Further possession for he Dragons and the support of Dragons Ladies, lead to skipper George Walker getting the winner from an interesting manoeuvre at the top of the D, that some might cruelly say looked suspiciously like a topped shot.
—————————————————————————————————————–

East Men's Hockey League Division 6 North East
Ipswich 3s 6:2 Norwich Dragons 4s

Norwich Dragons travelled to Ipswich for their 4th game of the season, to face a team also unbeaten in Division 6NE, who were looking very strong.
With only a slightly weaker side than normal, Dragons absorbed enormous pressure in the first 10-15 minutes to hold a very well organised Ipswich team and give them probably their toughest test in the league so far.  Despite the pressure Dragons became equal to their opponents and caused Ipswich problems when attacking, this subsequently paid off as Dragons took the lead through a Mike Banham short corner.
Ipswich came back however, with Dragons again holding firm at the back but they equalised through some crisp play, this was followed by 2 more quick goals as Ipswich started to show why they are top of the league. Not to be put back Dragons got themselves back in the game before half time, again through Mike Banham converting another short corner.  Half time was 3-2, with all to play for.
Dragons came out in the second half determined to equalise and played well but just couldn't put enough pressure on the Ipswich goal, short corners came but could not be converted.
Ipswich were held again for a large period in the second half, but began to breakdown the Dragons defence as they sensed more glory.  By now Dragons were playing to prevent conceding any further goals.
Despite the high work rate Ipswich proved to strong and rounded off the game with 3 further goals, which probably flattered the final score line.  Chris Millar was on fine form pulling off a number of vital saves to prevent the score being any higher, which rightfully earned him Man of the Match.
Dragons will take heart from some very strong work rate and positive attitude which will not doubt mean they will be able to see off other opposition in the league with performances like this.
—————————————————————————————————————–

East Women's Hockey League Division 2 North East
Panthers 1s 0:1 Norwich Dragons 1s
Dragons Ladies 1st team struggled to find their recent good form and only just managed to maintain their unbeaten run by a 1-0 victory over a very determined and relentless Panthers Team.
It was the home side that dominated the first half and certainly unsettled the Dragons who found it difficult to get a foothold in the game. In the first half the Panthers work rate was definitely the greater of the two teams and their game plan was proving to be successful with the Dragons being unable to break down the Panthers defence. There were few goalscoring opportunities for the Dragons and those that they did have were confidently cleared by the Panthers keeper who was in great form.
After the break the Dragons began to find their rhythm playing some attractive hockey and they began to boss the game enjoying the greater of the possession and increasing the pressure on the Panthers defence.  The Dragons had a number of penalty corners resulting in good efforts on goal but the Panthers keeper seemed unbeatable on the day making several class clearances. The Dragons persistence and discipline paid off after 20 minutes when they finally broke the deadlock. A well rehearsed penalty corner routine was cleverly finished off by in form Laura SHREEVE who saw her effort loop over the Panthers keeper into the corner of the net.
To the Panthers credit they maintained their dogged determination throughout the match limiting goal scoring opportunities for the Dragons and, to the Dragons credit, although they found this a frustrating game the team stuck together, maintained their discipline and grounded out a win.
—————————————————————————————————————–
East Women's Hockey League Division 2 North East
Norwich Dragons 2s 9:0 Old Buckenham 1s

Dragon's started the game brightly, scoring two goals early on to settle the nerves, through Hannah Hardy and Ruth Wilmott. Dragons Ladies 2's confidence grew, and they started to move the ball around the pitch effortlessly, scoring another 3 before the half-time break. Player of the match, Ruth Wilmott secured a first half hat trick, with Klara Moolman adding her first goal for the 2nd Team.
At halftime, Coach Pete Thomas asked the team to go out and continue the scoring. The Dragons reacted well, continuing to move the ball smartly through the midfield, with good work from Lucy Hopgood and Kerri White. The Dragons defence remained solid, against an Old Buckenham team who never stopped working hard, which was a credit to them.
Further goals in the second half scored by Klara Moolman, Ruth Wilmott, Laura Bailey (first goal for the Club) and Niamh Lowe-Davies (first goal for the Ladies 2's).
A strong team performance and lots to build on for this newly formed team.
—————————————————————————————————————–
Marshall Motor Group Norfolk Women's League Division 1
Norwich Dragons 3s 3:0 Evergreens 2s

Norwich Dragons were dominant throughout the game, however goals were not easy to come by.  The first came from a penalty corner, which Caroline Wolfe slipped left to Amy Brown to convert.  Evergreens' goalie played superbly throughout; saving repeated shots on goal from all angles, during open play and from penalty corners.  Dragons continued to attempt to drive straight into the Evergreens' 'D' only to be met by defense. So the half time score of 1 – 0 did not really reflect the amount of possession Dragons had enjoyed.
Both teams started the second half with more determination and there was a period play when the ball was moved up and down the pitch.  However, Dragon's goalie was never tested.  Dragons always looked in control passing the ball around but did not use it as effectively as they should.  The second goal only came by chance when a slow miss hit ball from Caroline Wolfe seemed to roll in slow motion into the Evergreens goal.  In contrast, the final goal was textbook style with Amy Brown outmanoeuvring the Evergreens' keeper by passing to the right hand post for Amelia Dawson to finish the move.
Dragons did not play their best hockey but deserved the win.  Dragons' player of the match was Olivia Thomas.
—————————————————————————————————————–
Marshall Motor Group Norfolk Women's League Division 2
Norwich City 6s 1:2 Norwich Dragons 4s
—————————————————————————————————————–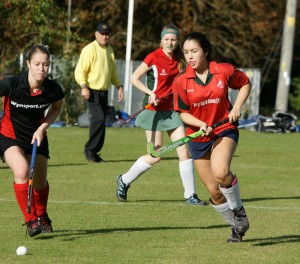 Marshall Motor Group Norfolk Women's League Division 2
Herlings 5:0 Norwich Dragons 5s
This one and only game on grass was a good one for the 5s to get out of the way. They had a plan to counter the hard-hitting Herlings, and it worked well in the first half when Herlings had the advantage of the slope  but only managed to score once, thanks to Amy Forse being in fine form in goal. Unfortunately, in the second half the Dragons just ran out of steam, and with Herlings determined to get to the ball first, they were rewarded with regular opportunities to score. Abi Cowe got the player of the match vote for her bravery and determination going in for the ball and turning defence into attack, and her fellow defenders Emma Buxton and Beth Elgood also played well. Holly Francis, the club's great utility player, held the midfield together and relieved a lot of pressure. Fran Clabon brought energy and determination to her debut performance on the left; Kate Goodrum was undaunted by close marking and pressure; Cath Power and Claire Fairhurst also gave their best on their first league game. Ideally, Dragons would not have given debuts to players in this particular game, but on a week where all the other teams needed to call players up, then the 5s know they did their bit for the club by making their players available. They also have a clear view of what they need to concentrate on in training – it's back to the core skills of passing accurately, passing early, going to the ball. There are times in hockey when the ability to hit the ball hard is useful, but the 5s do not need to over-focus on that. Accuracy will do.
—————————————————————————————————————–
Marshall Motor Group Norfolk Boys Development League
Dereham 1:4 Norwich Dragons

It was a nice sunny day at Dereham and we were unexpectedly pleased to see the arrival of Edward and Henry, which meant that we were only one man short. Each team fielded two adults, and the first twenty minutes was an evenly played, mainly midfield match, with both sides making some good attacking moves. Despite some clean passing between Ben, Connor and Henry we were unable to penetrate into their D.
Dereham pushed up hard, however there was some excellent channelling by Robert and Edward (playing his debut) and some timely block tackles and clearances by Andy. The pressure at times was too much to prevent them shooting, and Sam made a series of brilliant saves, including two shots from short corners, and came out very quickly to block a shot when one of their forwards broke through our defence to a one on one position.
It was 0-0 at half time; and we decided to have a bit more attacking format – though in the first few minutes we were on the defence and Dereham made a good run with some quick short passing and Sam, now with the sun in his eyes, was unable to stop a great hit in the right hand corner.  The Dragons kept persevering with Ben making some great passes for Connor and Henry to push forward; and on one occasion to Henry who then dribbled down the right wing beating four players and followed by a powerful cross, which was deflected by a Dereham defender into their goal to make it one all.
This gave the team sufficient encouragement to more readily pass the Dereham adults and a good ball by Pedro to Ben who had the pace to pass another defender and a clean strike to make it 2:1.
Five minutes later and Ben made another run down the right wing to cross the ball to Robert, who had found space a few metres off the far post and swept the cross into the left hand corner.
From a 16 yard hit Edward made a fine pass to Pedro who made a good through pass to Henry who dribbled past a couple of defenders and made a cracking shot into the top right corner – however he was fractionally outside the D. The second half was not all attacking and Andy, Robert and Edward proved solid in defence, with Sam making another couple of fine blocks. In the last minute of the game a great run by Ben and Henry, ended with another fine strike by Ben from the edge of the D to make the final score 4:1.
A great result and a well deserved win.
Man of the match: Ben
By Pat Goss
The team: Sam Harvey; Ben Watson; Andy Carver; Connor Adams; Pedro Goss (captain); Robert Chaney-Baxter; Henry Laming; and Edward Murphy; and supported by Peter Davison, John Ives and Henry Eades – all three coming straight after playing in a match at the Den, so many thanks to them!
—————————————————————————————————————–
Girls Development
Norwich Dragons 2:1 Pelicans 2s (Friendly)

Captain:  Florence Pond
Scorers: Anja Finegan and Sophie James
Player of the Match: Anja Finegan – because of her intelligent movement around the pitch and her individual skill culminating in the first goal for Dragons.
Coaches: Amelia Dawson (pre-match) and Sarah Wagstaff (during match)
Playing adults: Niamh Lowe-Davies, Ruth Willimott and Sophie Cullens
3 Memorable Moments:
–       Anja Finegan's well-taken goal to open the scoring for Dragons.
–       Sophie James' unstoppable finish to double the Dragon's advantage.
–       Great passing from Lotte Korn, Katie Franks and Rachael Matthews.
Thanks to Sarah Wagstaff for coaching the girls, Amelia Dawson for pre-match supervision and Niamh Lowe-Davies, Ruth Willmott and Sophie Cullens for helping the girls out on the pitch.